Sushi Mastro Nikkei: Diving deeper for oysters, lobsters & more Peruvian Nikkei pearls
May 18, 2022
---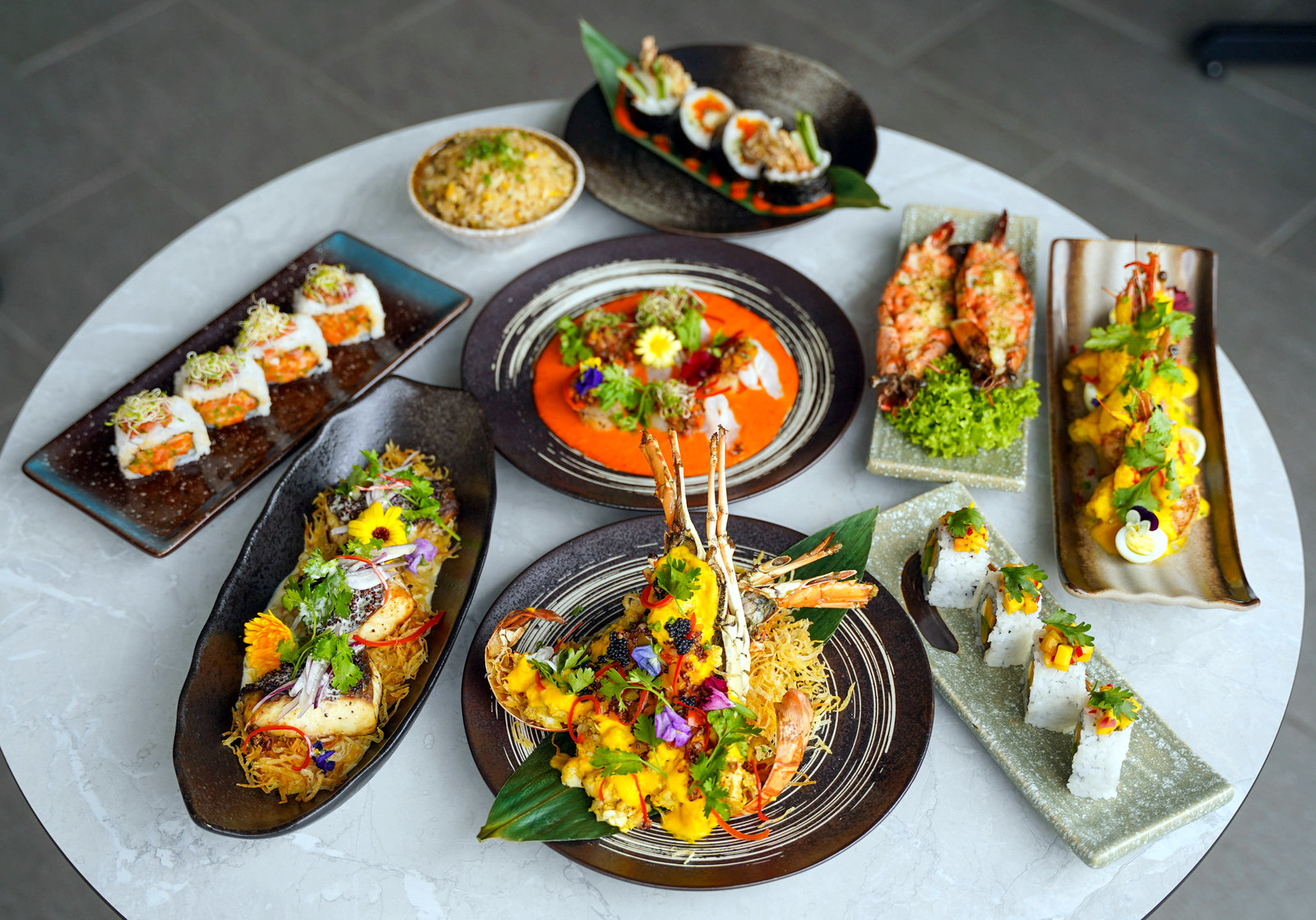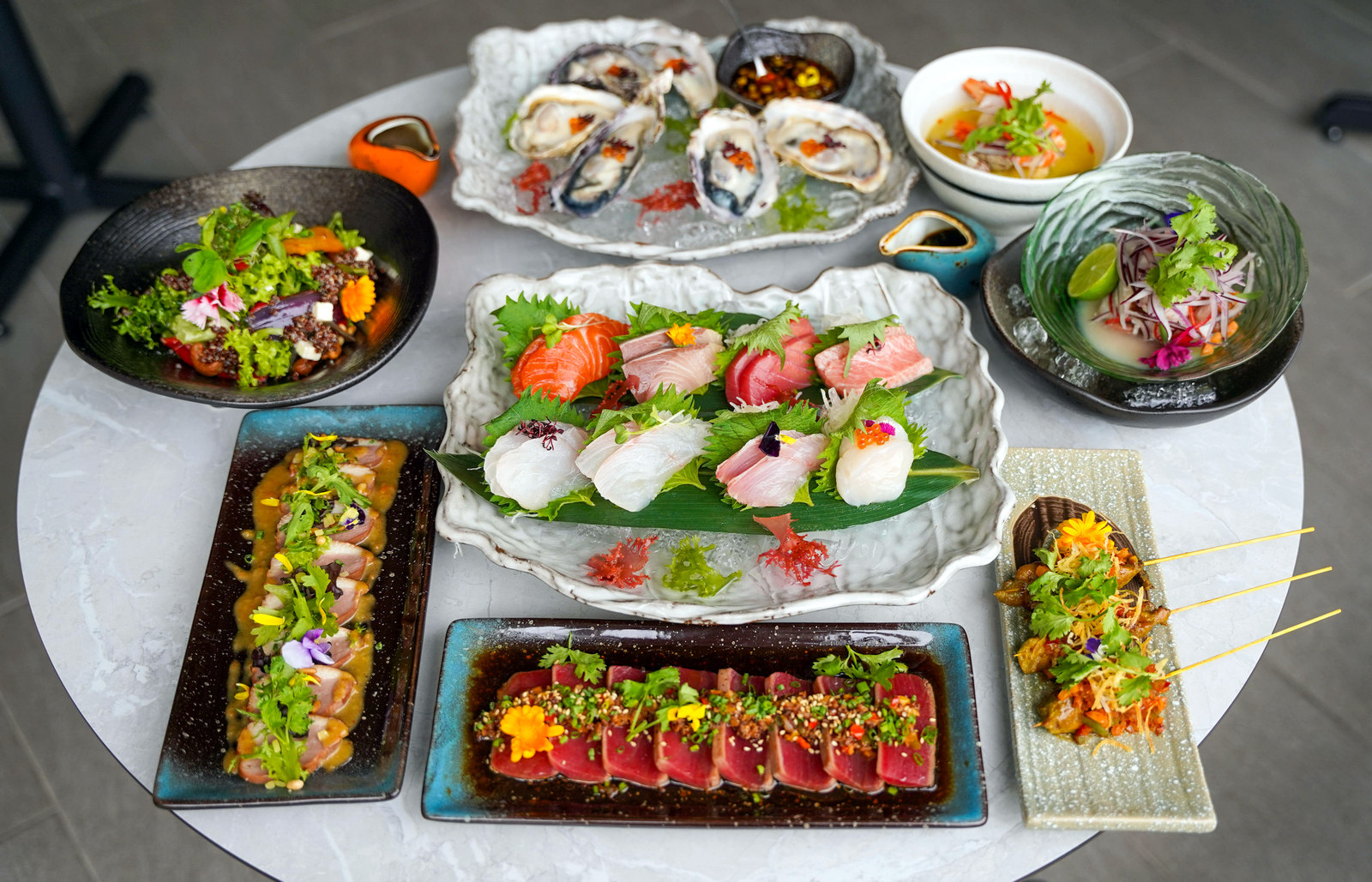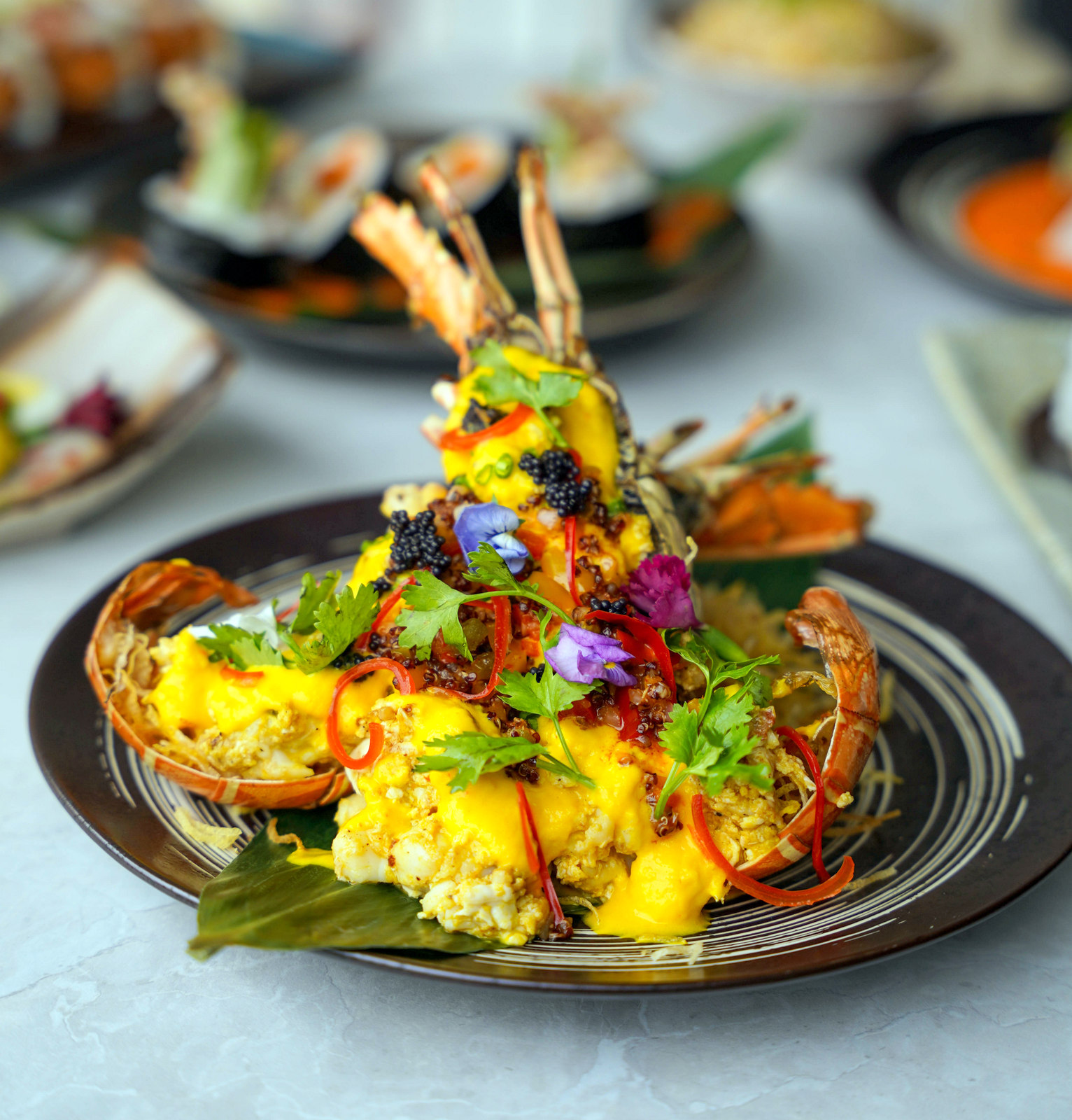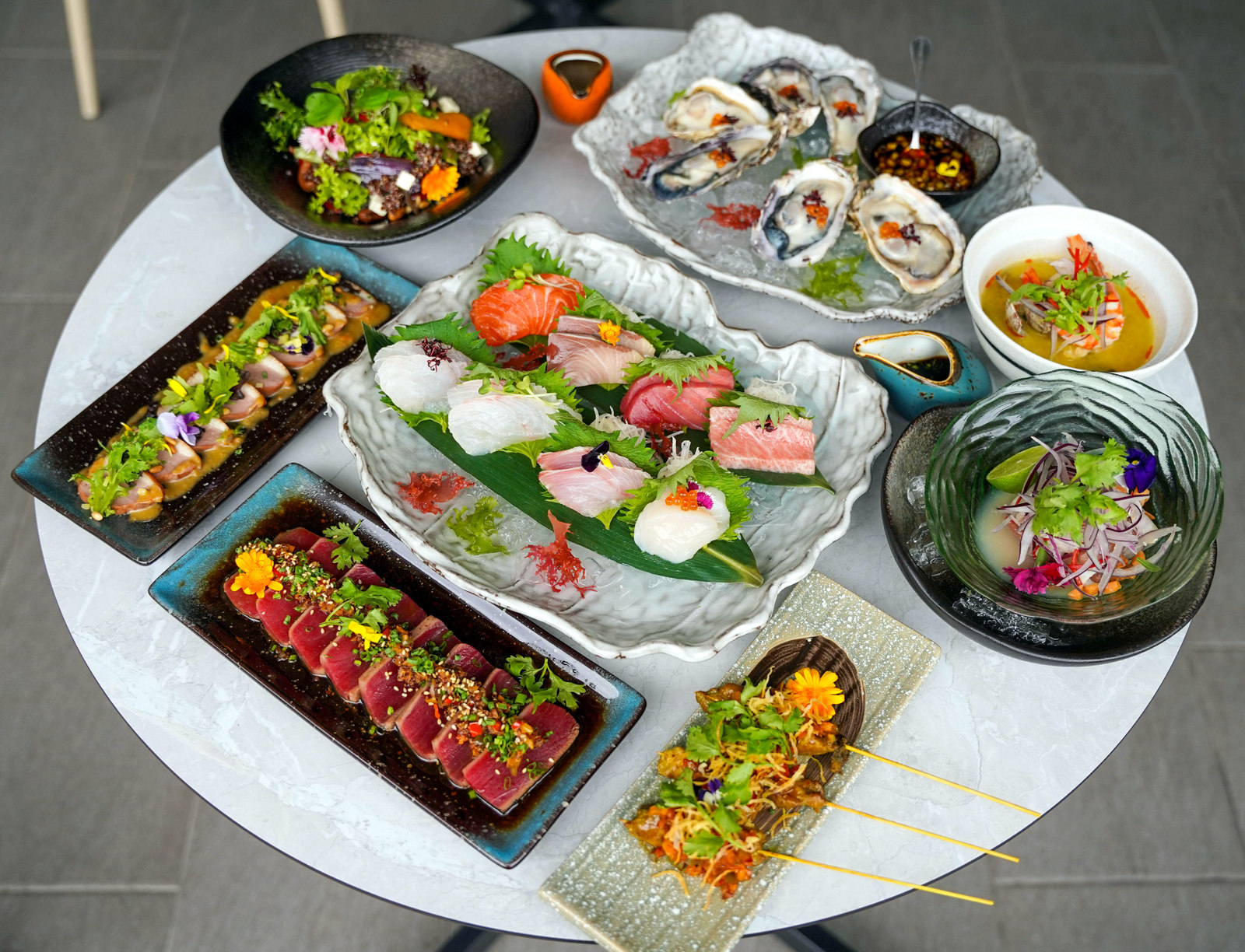 In scarcely six months, Sushi Mastro Nikkei has stamped its mark as KL's new purveyor of Peruvian-style Nikkei cuisine, with a wide variety of fresh seafood jazzed and juiced up with Japanese and South American influences.
Now, Sushi Mastro Nikkei is diving even deeper into this gastronomic genre, surfacing with everything from oysters to lobsters, made memorable with marvellous marinades, spiced up with vibrant peppers and vivid sauces.
We return this month to experience Sushi Mastro Nikkei's new menu, as bright and colourful as a summertime scene, spanning soups to salads, sashimi to skewers and sushi rolls.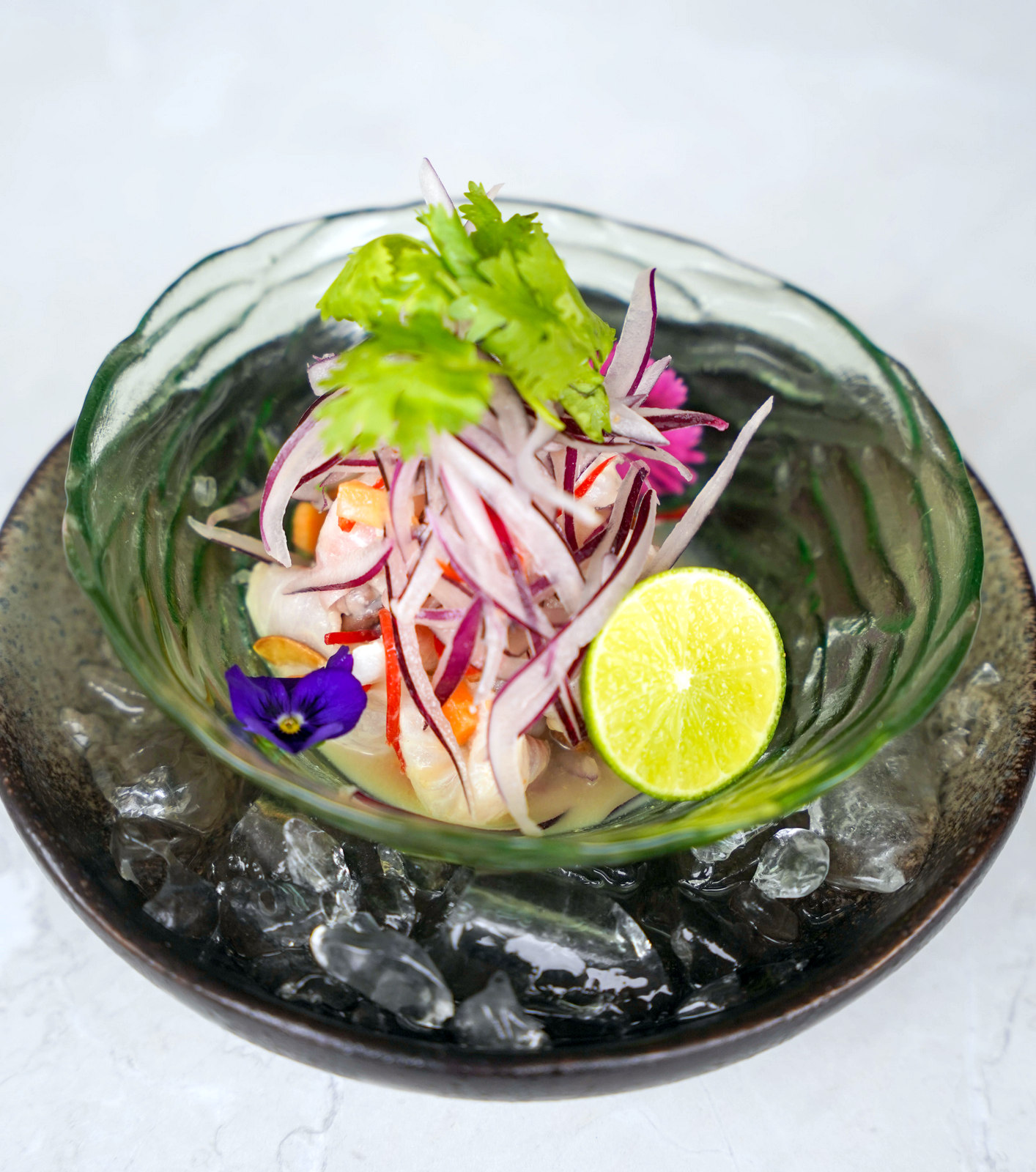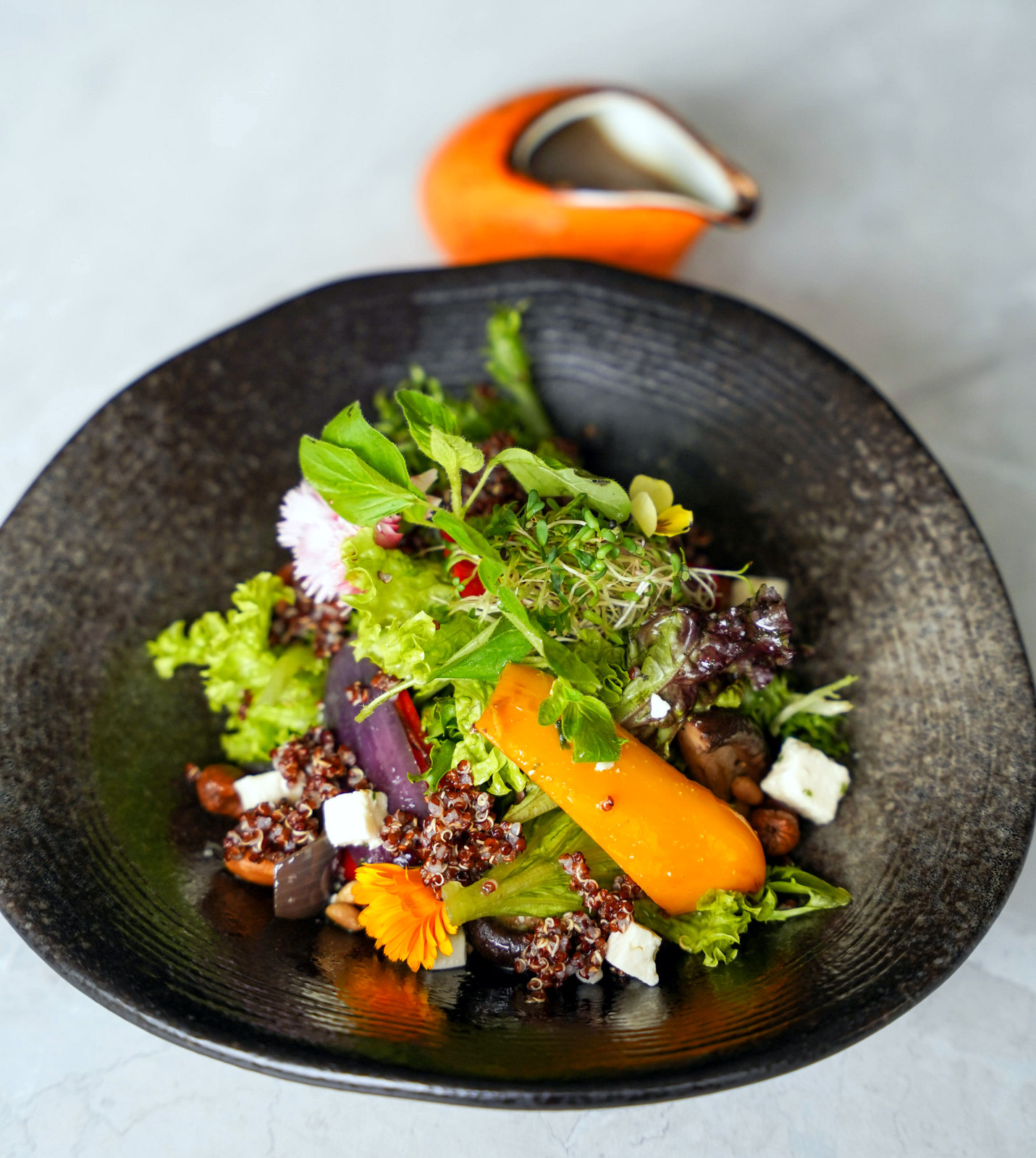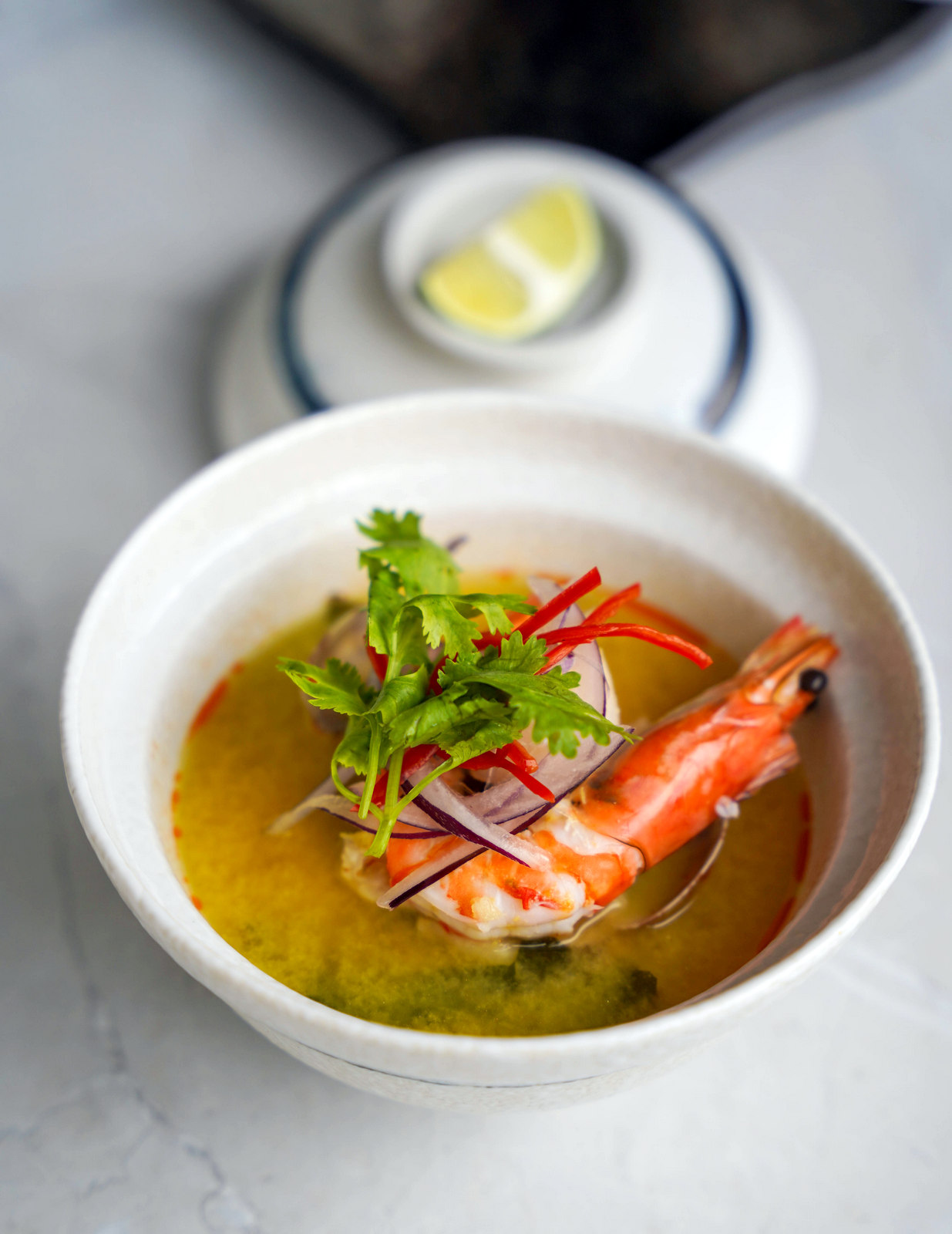 Start with three appetite-whetting wonders that wholesomely represent South American influences.
Sushi Mastro Nikkei does justice to the art of ceviche, South America's quintessential raw seafood dish that originated in Peru. The kitchen harnesses Malaysian-sourced barramundi slaughtered via the Japanese ikejime humane method, cured in the classic citrus-based leche de tigre marinade for a gently acidic spiciness, complete with cashews, habaneros and cilantro for a bowl that's brimming with zing, zest and zip (RM40). 
Fun fact: Quinoa was also first cultivated for consumption in Peru, about 4,000 years ago. Sushi Mastro Nikkei's contemporary use of this crop is sprinkled into a sprightly salad, a medley of mixed leaves, finished with feta cheese and ginger dressing for plenty of punch in a guilt-free, nutrient-dense ensemble (RM28).
Also new to the menu is the Mastro Nikkei Soup - tiger prawns, wild scallops, asari clams and white fish are simmered with a house-blended paste of aji amarillo yellow chilli peppers, yielding a unique seafood soup with a flavoursome, sweet-savoury heat in every sip (RM30).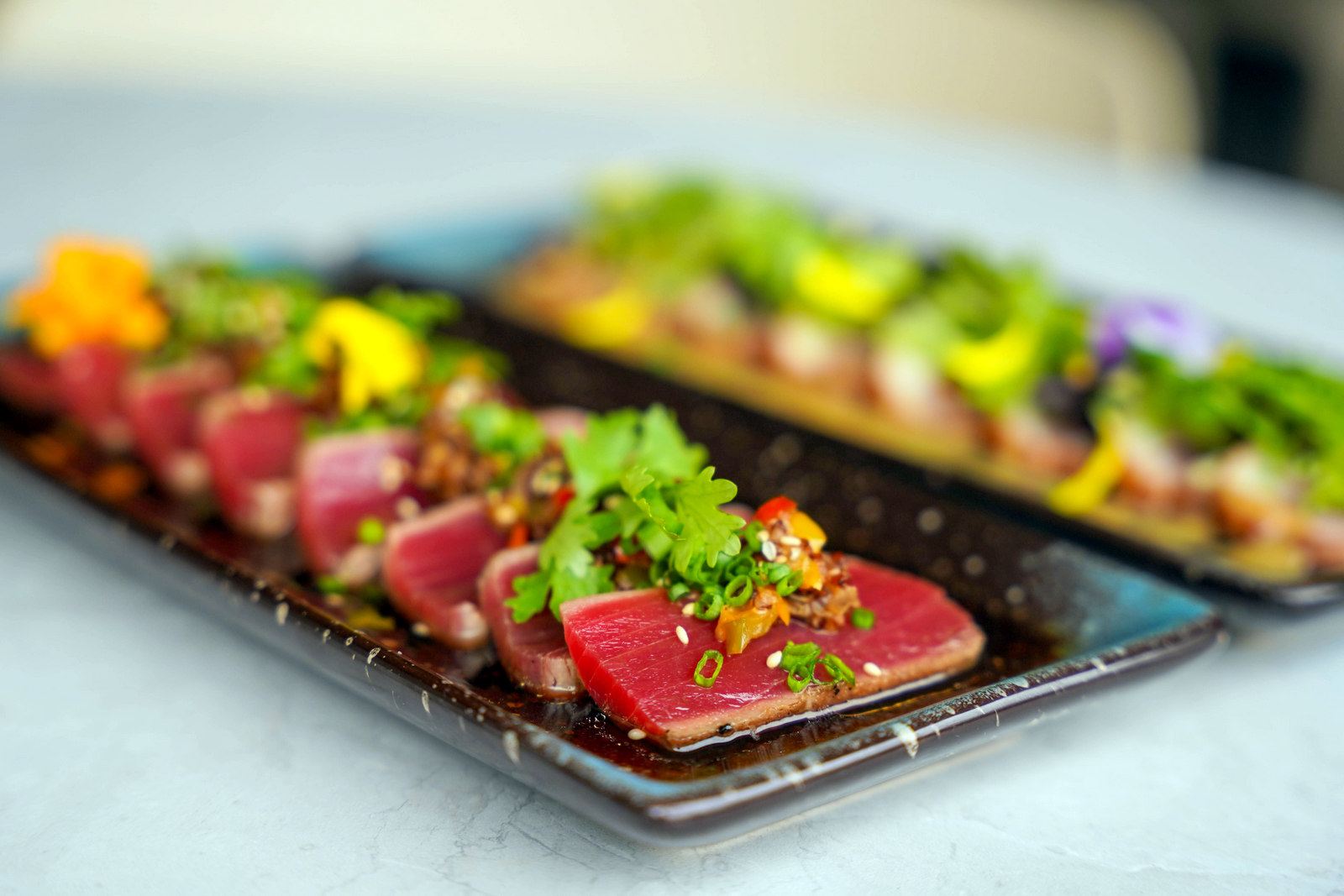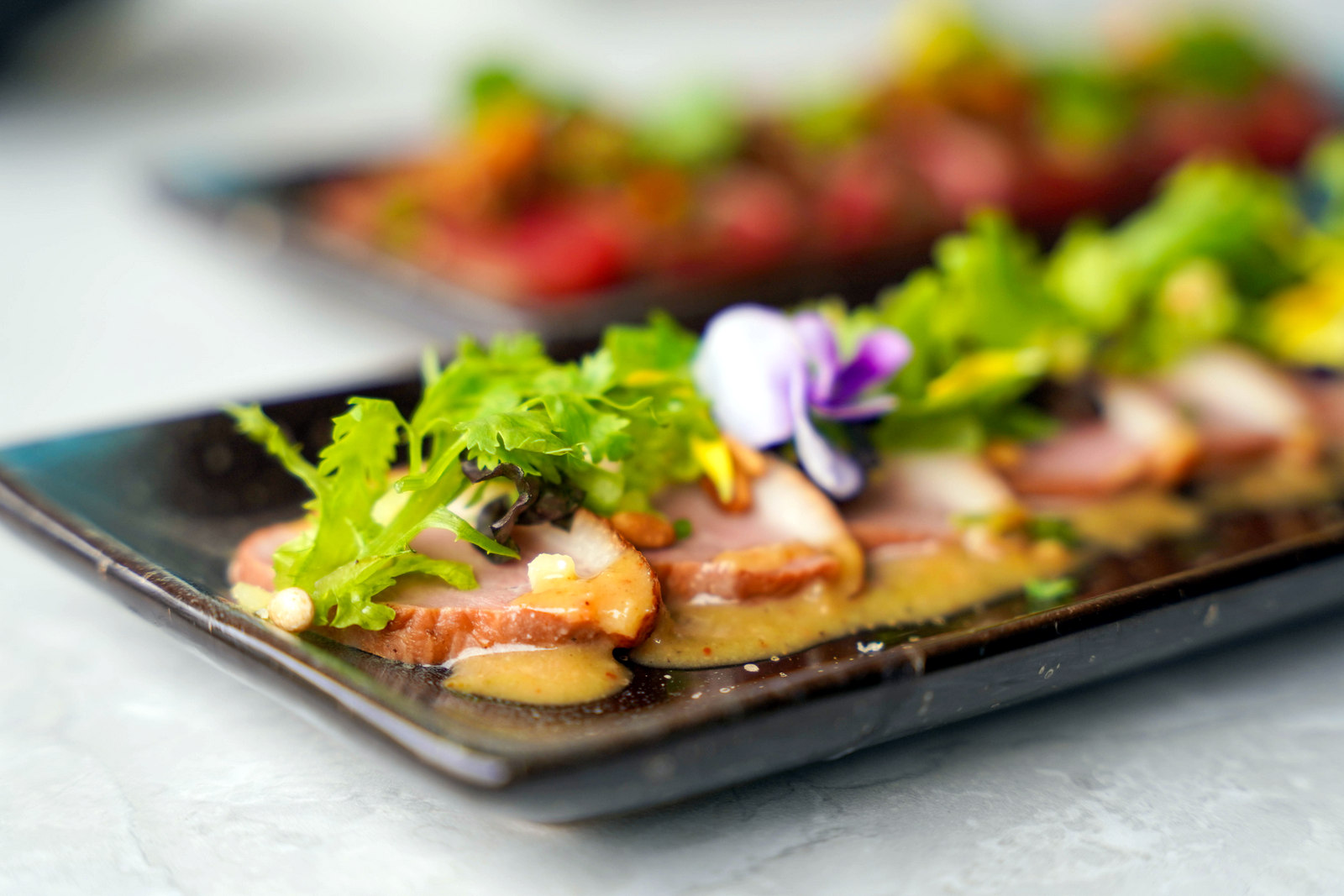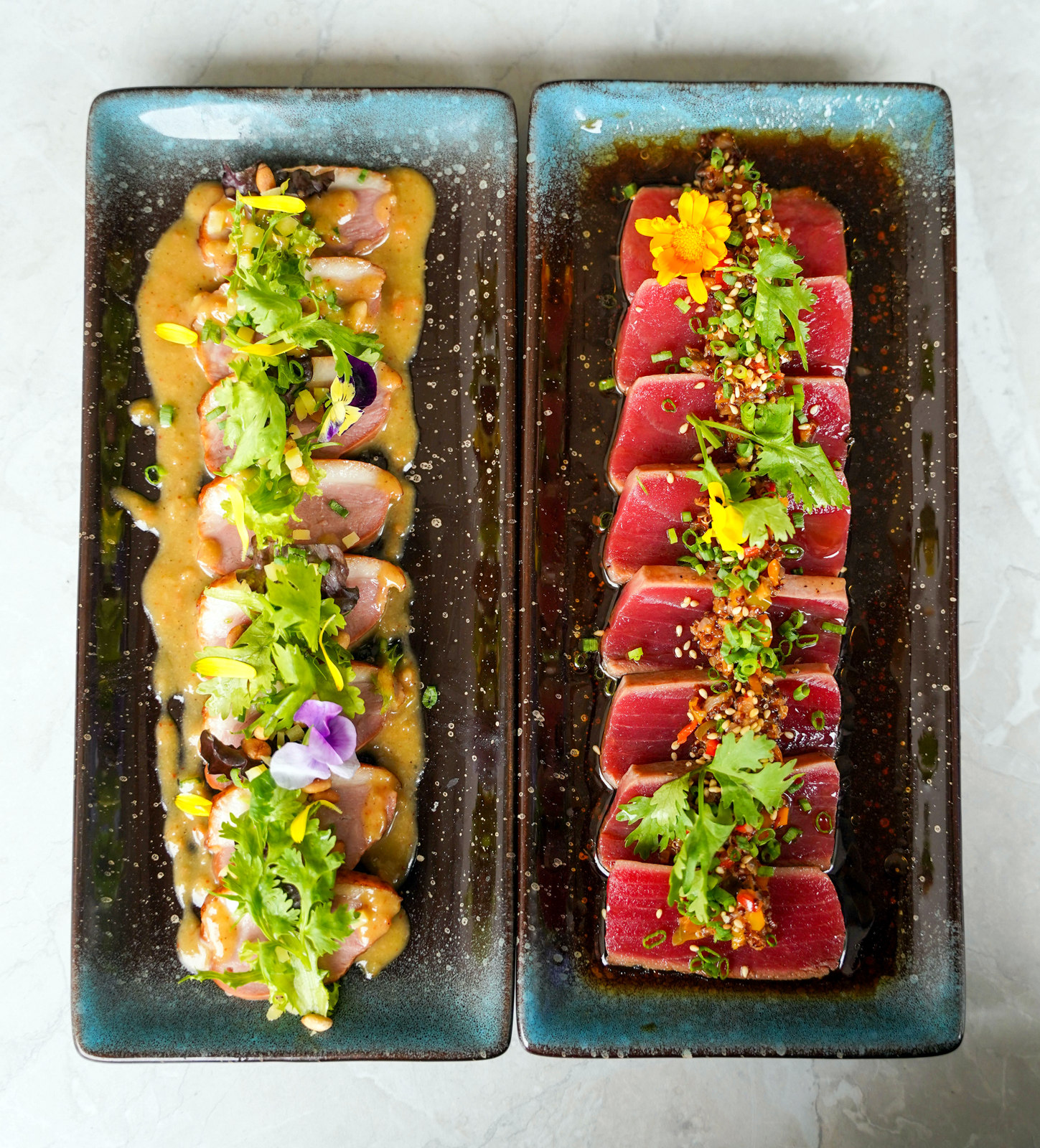 Fans of seared or smoked starters can share the Akami Tataki, distinctively Nikkei with Japanese bluefin tuna dressed not only with ponzu sauce but quinoa, chilli and cilantro for richly nuanced dynamics (RM48), and the Smoked Duck Carpaccio, relying on top-notch Taiping duck breast showered in earthy sesame dressing with Parmesan and pine nuts (RM28).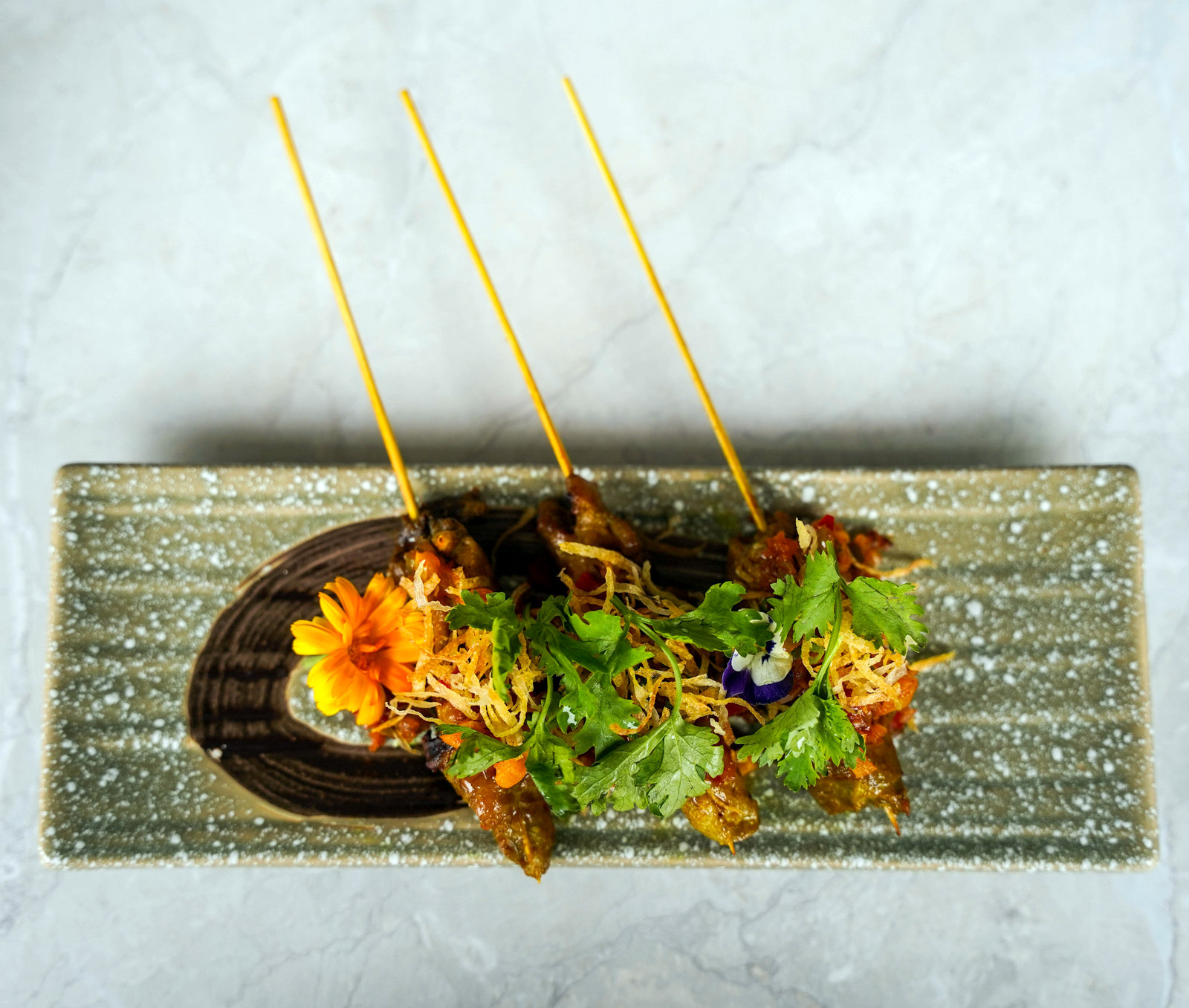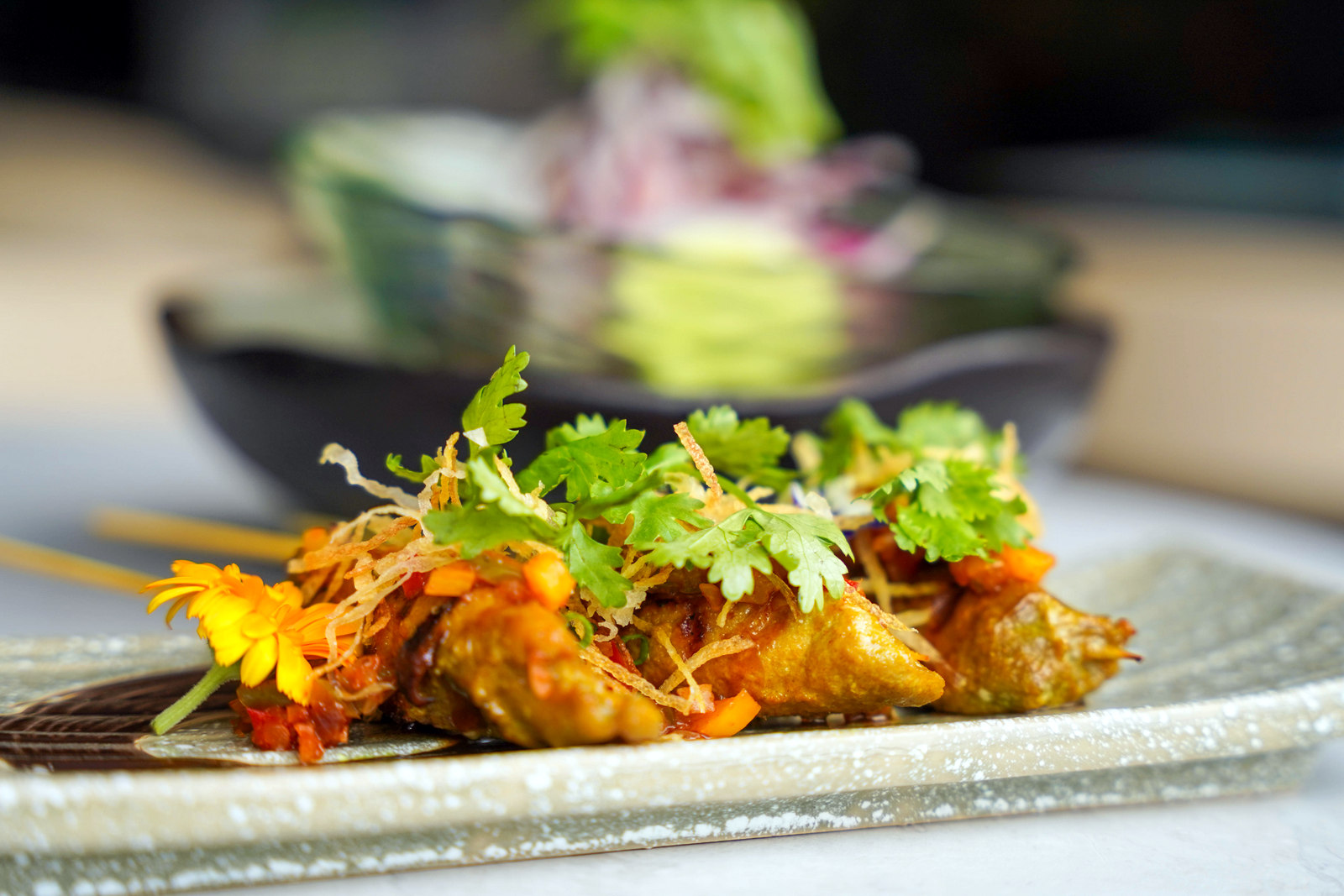 Playfully peckish? Snack on the Nikkei Tuna Satay, showcasing the succulence of Borneo yellowfin tuna with jalapeño salsa and sriracha sauce, bringing together South American and Southeast Asian spices on each stick (RM24 for three skewers).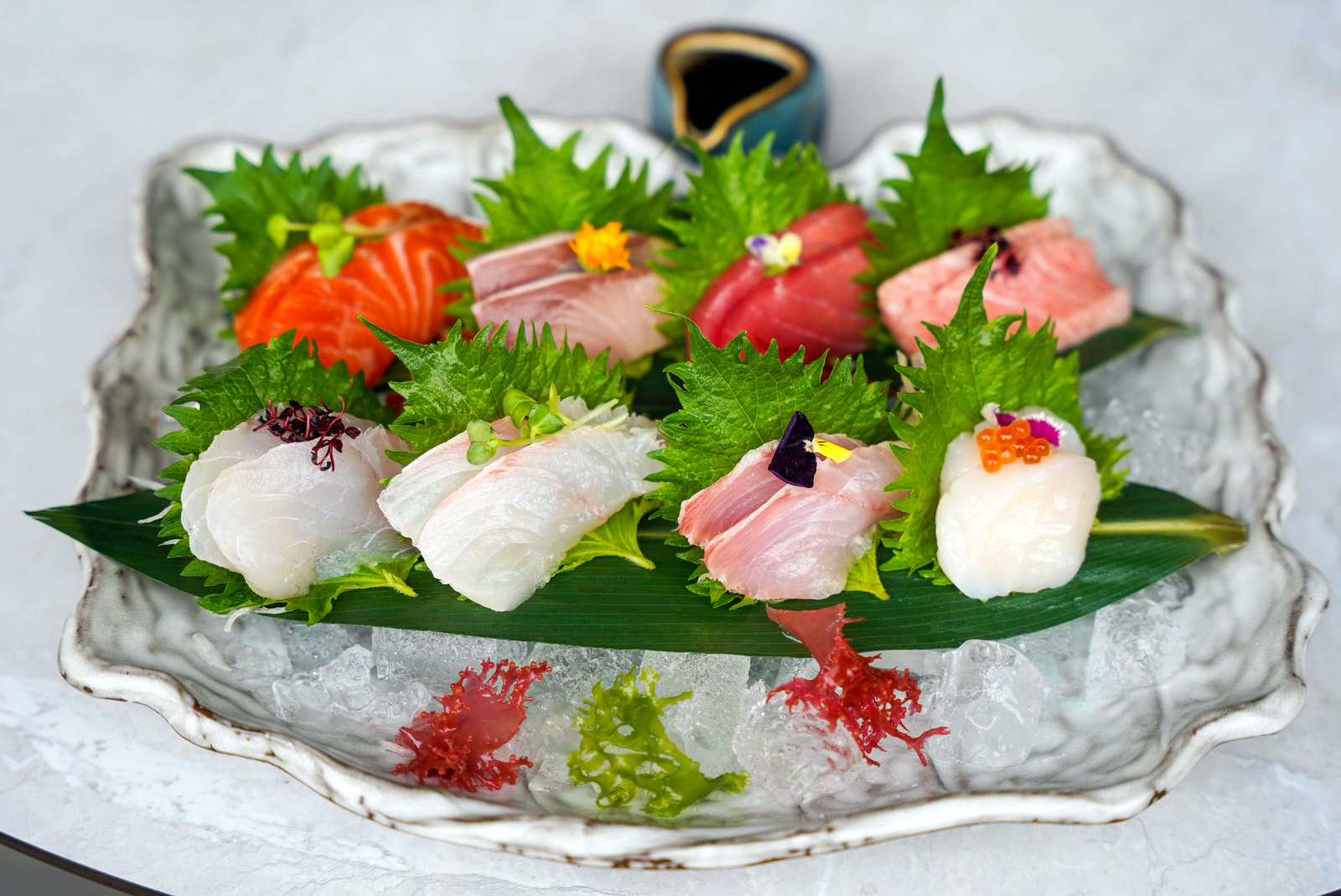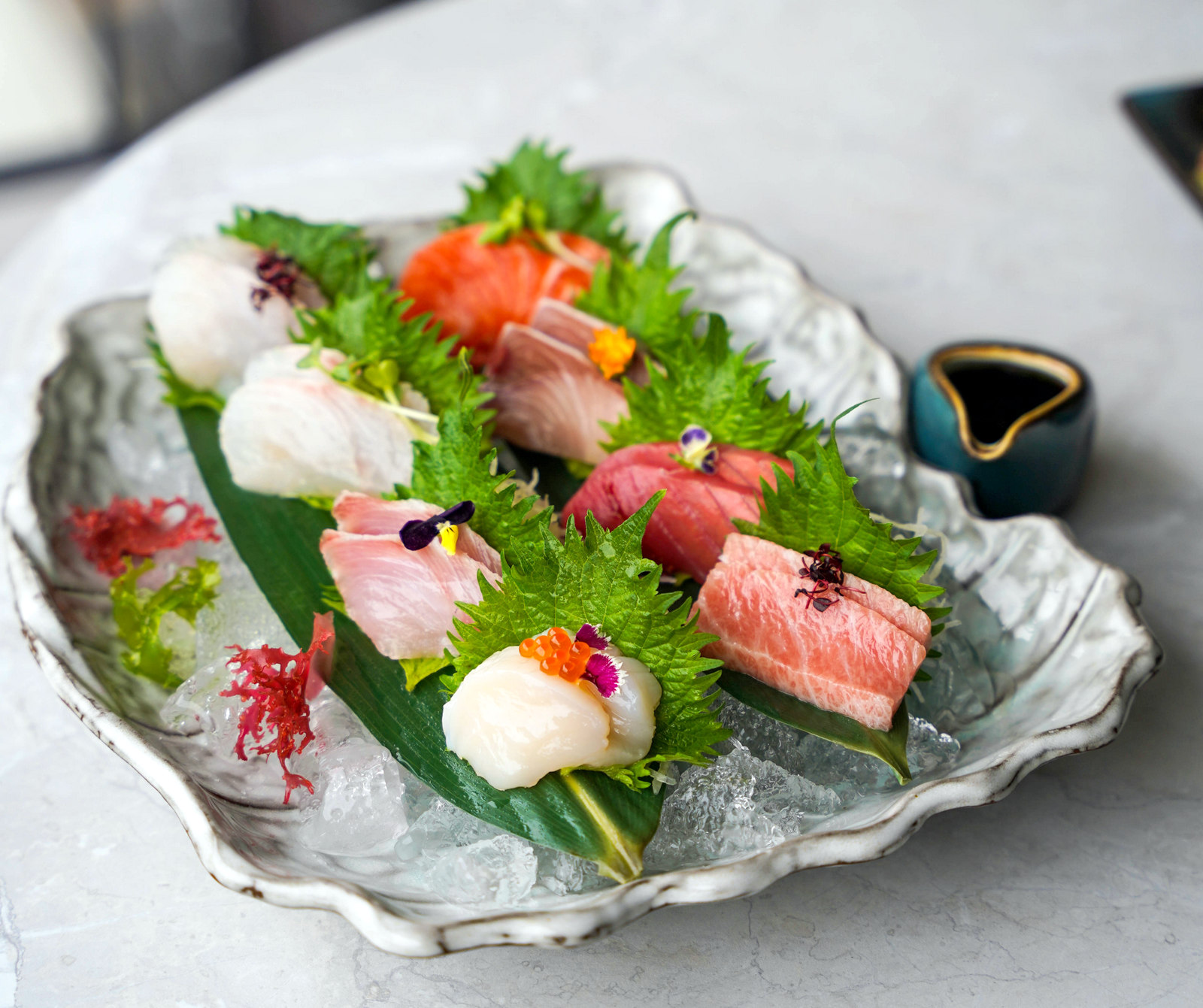 Sushi Mastro Nikkei's servings are perfect for two or three patrons to relish together.
The Sashimi Surtidas (RM158) is an irresistible platter of eight types of assorted fish and seafood, featuring two cuts each - the confident certainties comprise Penang-bred, ikejime-slaughtered siakap, golden snapper and malabar grouper, clean-tasting and fleshy, while other possibilities include Hokkaido scallops, salmon, hamachi, hon maguro akami and otoro.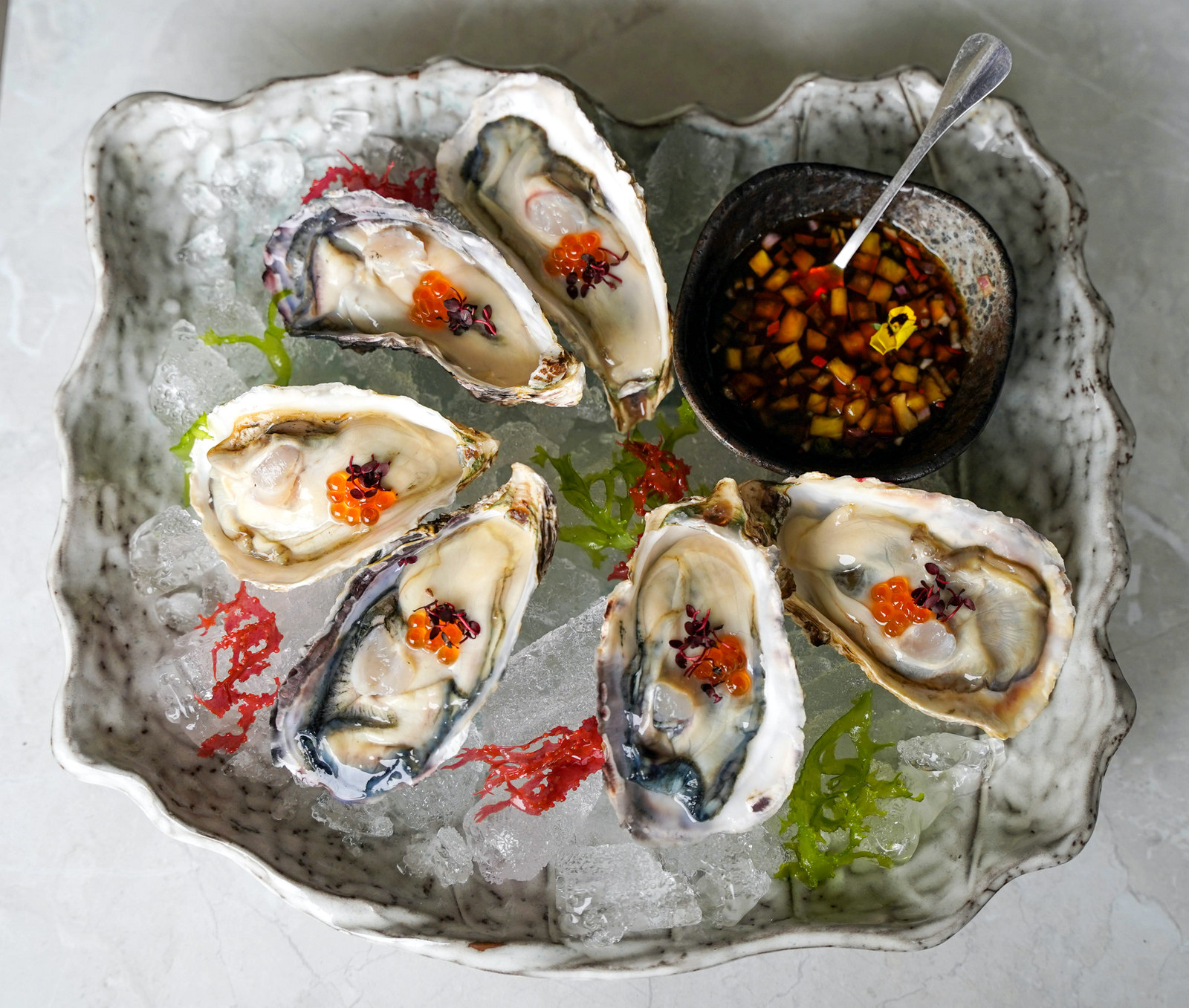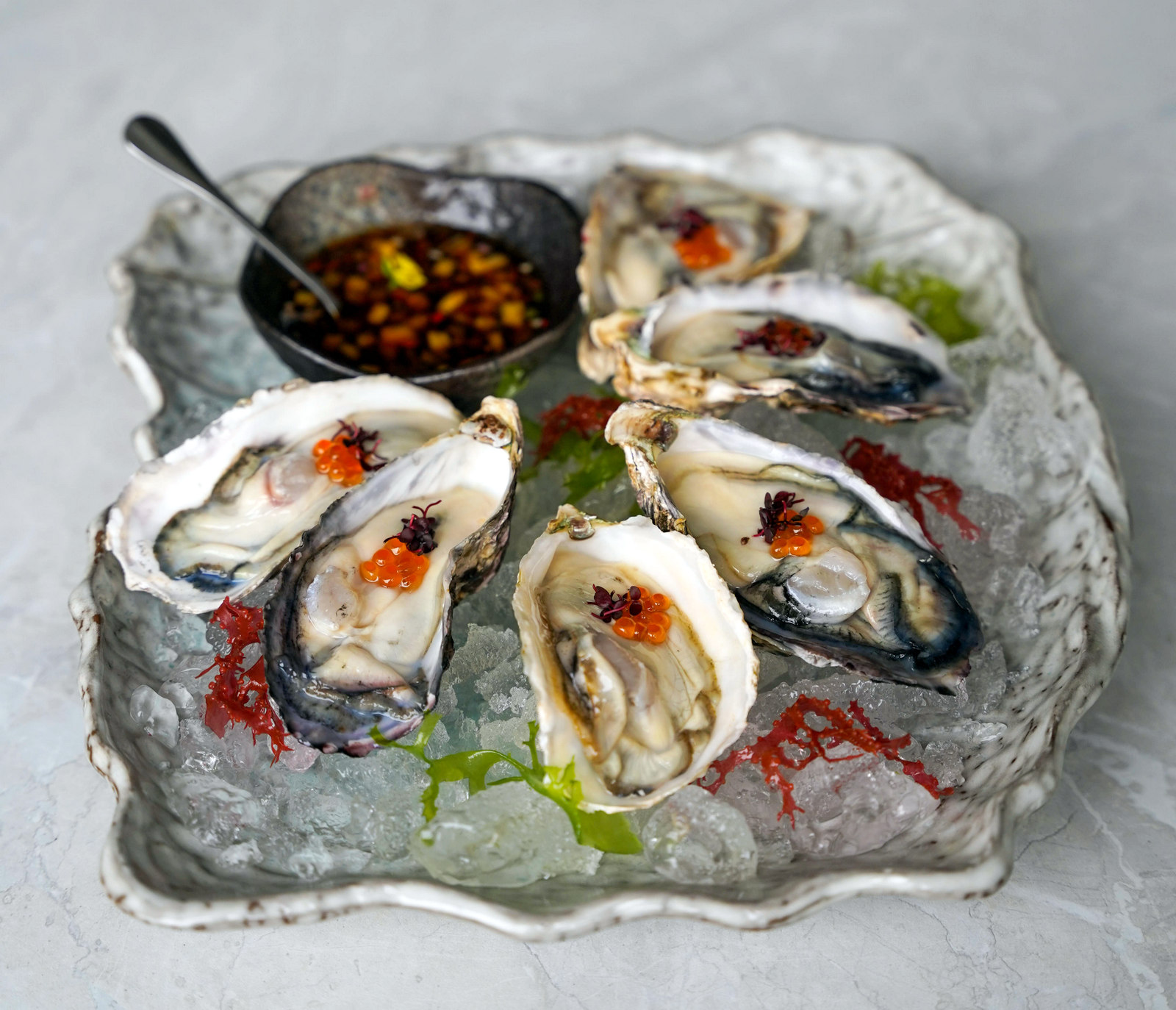 Sashimi-grade Japanese Harima oysters receive the Nikkei treatment too, with a tasty tang from ponzu salsa that emboldens the natural, pristine purity of these oysters (RM50 for three; RM95 for six).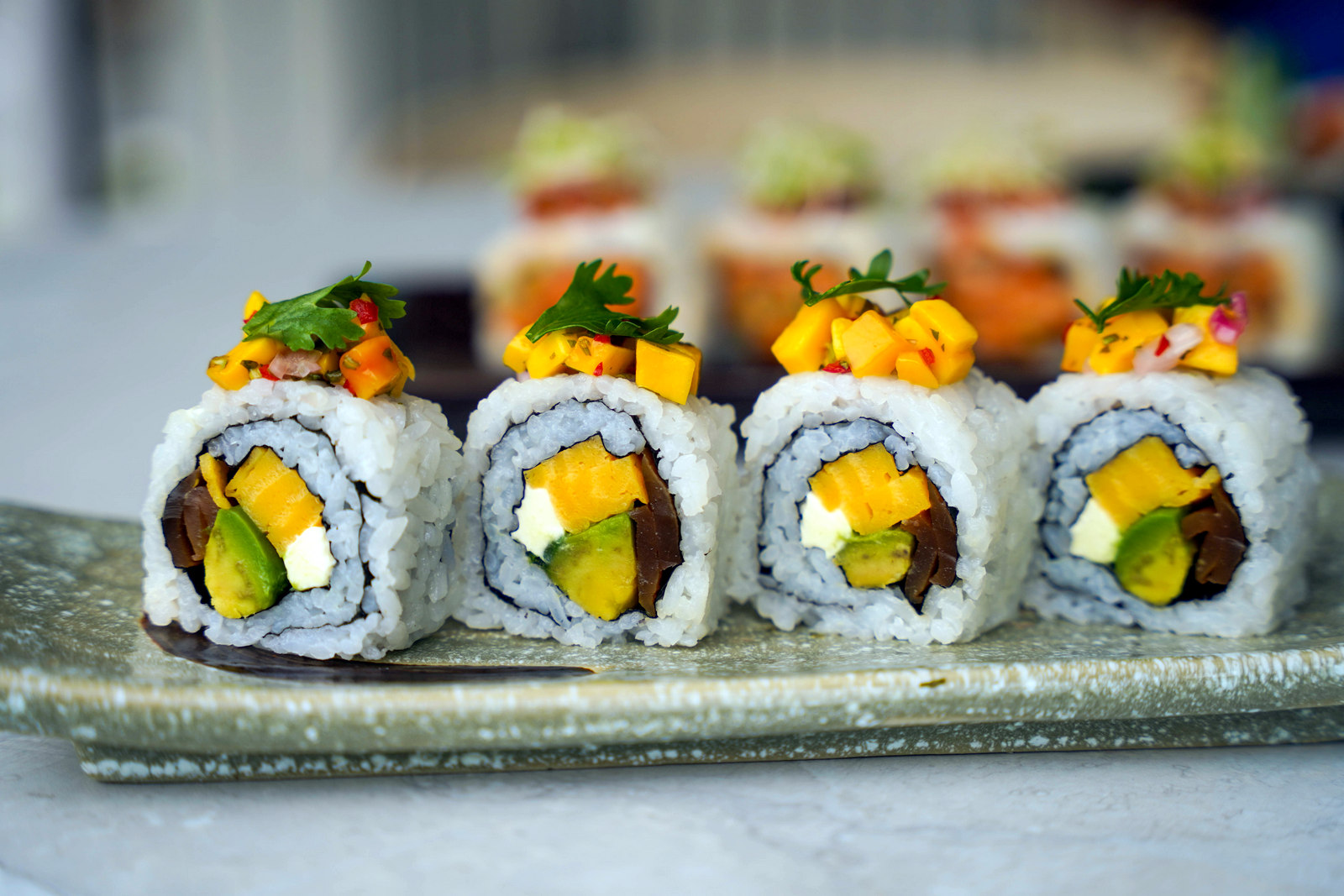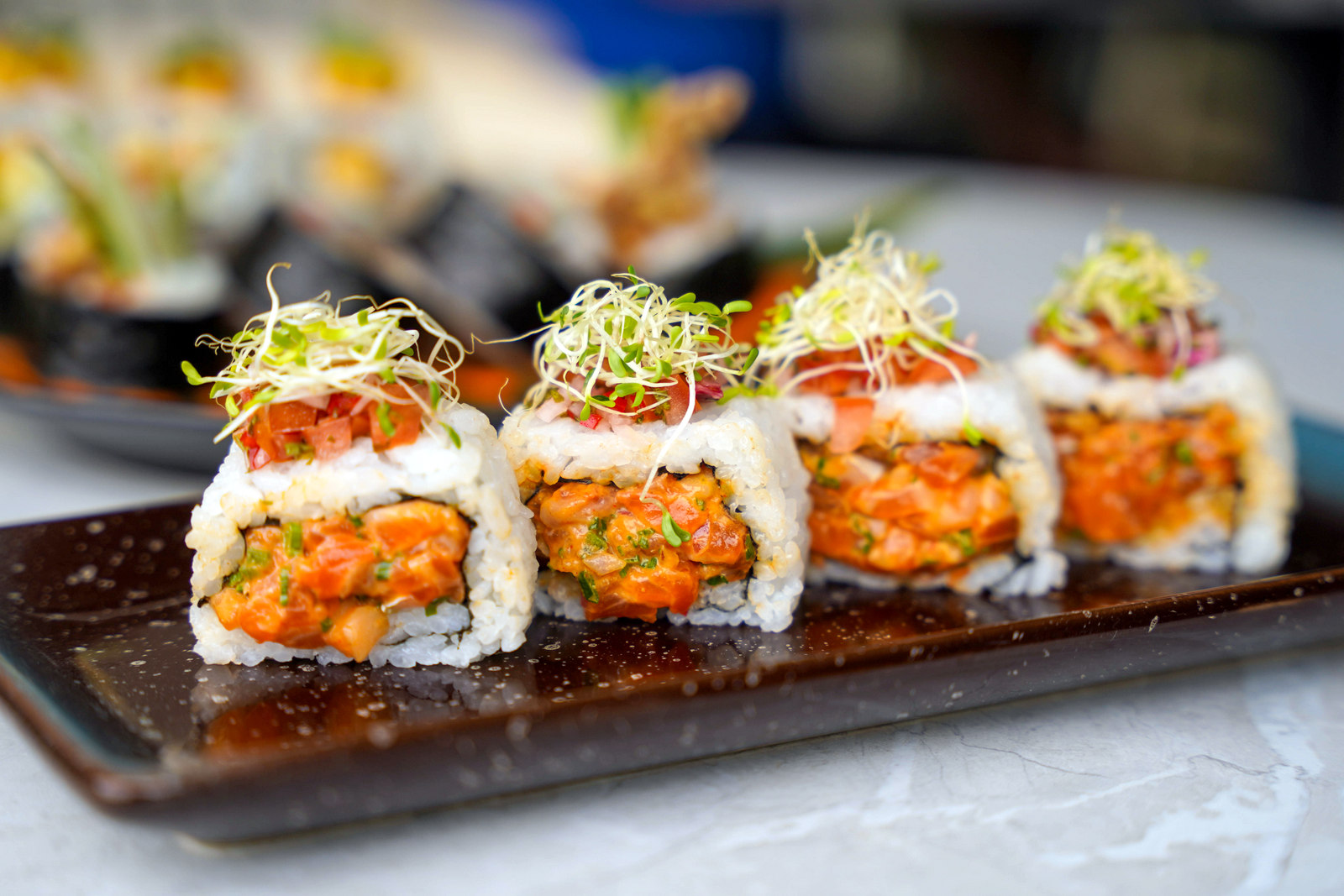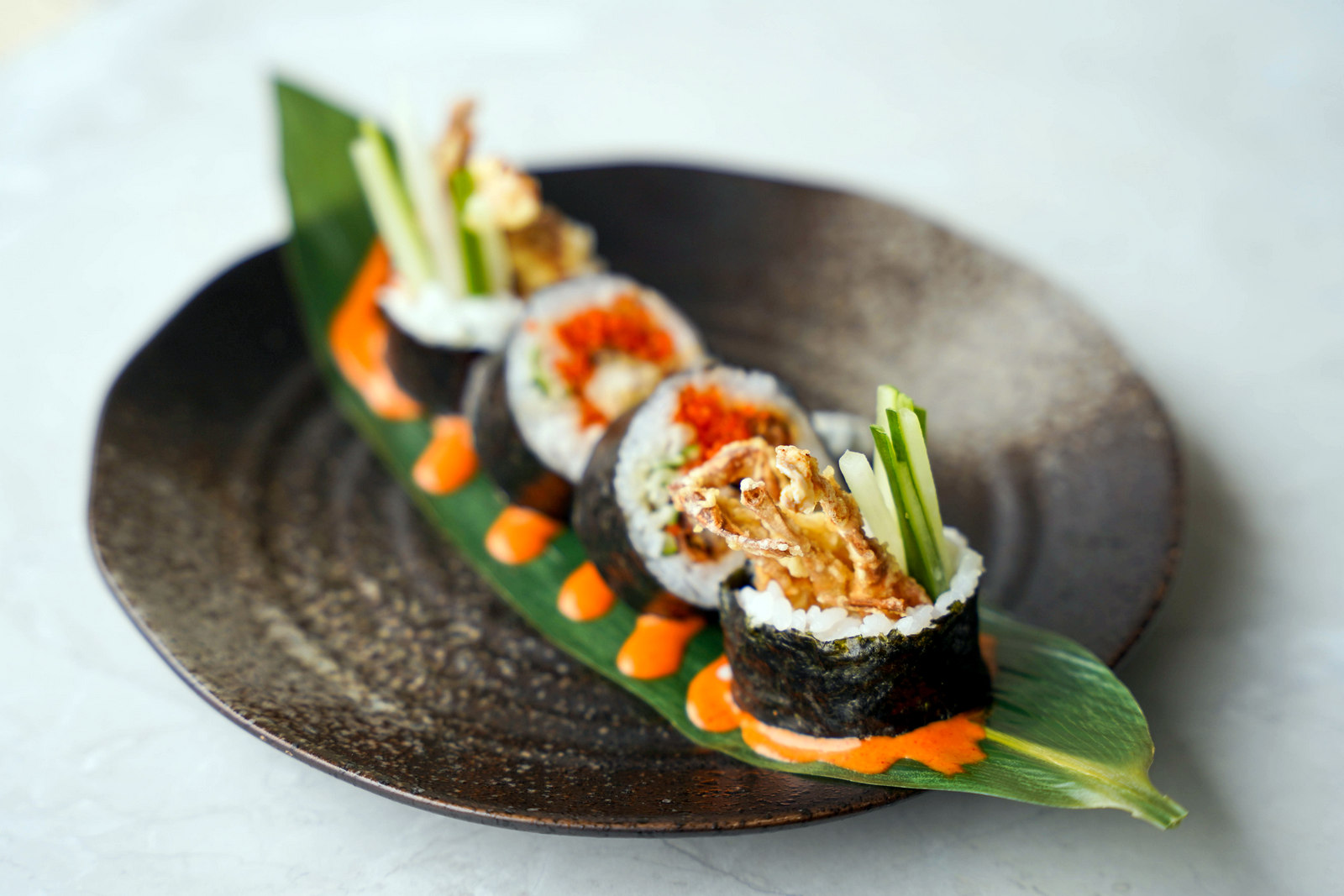 Sushi Mastro Nikkei's uramaki is a safe, crowd-pleasing bet - with eight different ones to pick from, there's something for everyone, sometimes laced with salsa for South American vibes, from the meat-free Tamago Avocado Uramaki with tamago, avocado, kampyo, cream cheese and mango salsa (RM20) to the seafood enthusiast's Spicy Salmon Uramaki, smooth with salmon tartare, tomato salsa and alfalfa sprouts (RM30), and Kani Tobiko Uramaki, crunchy with soft-shell crab, tobiko and kyuri julienne, fired up with thick, tempting hot sauce (RM28).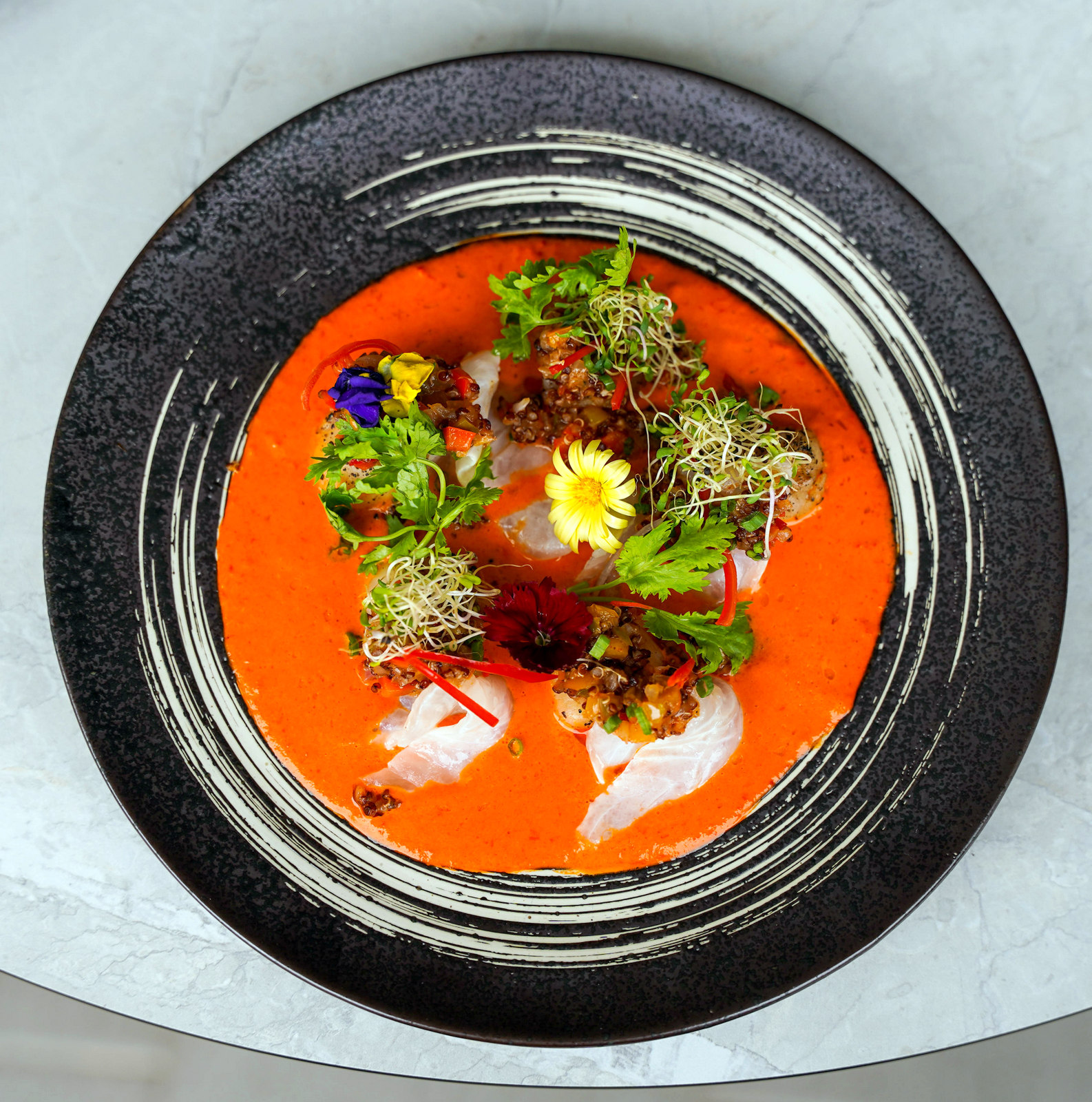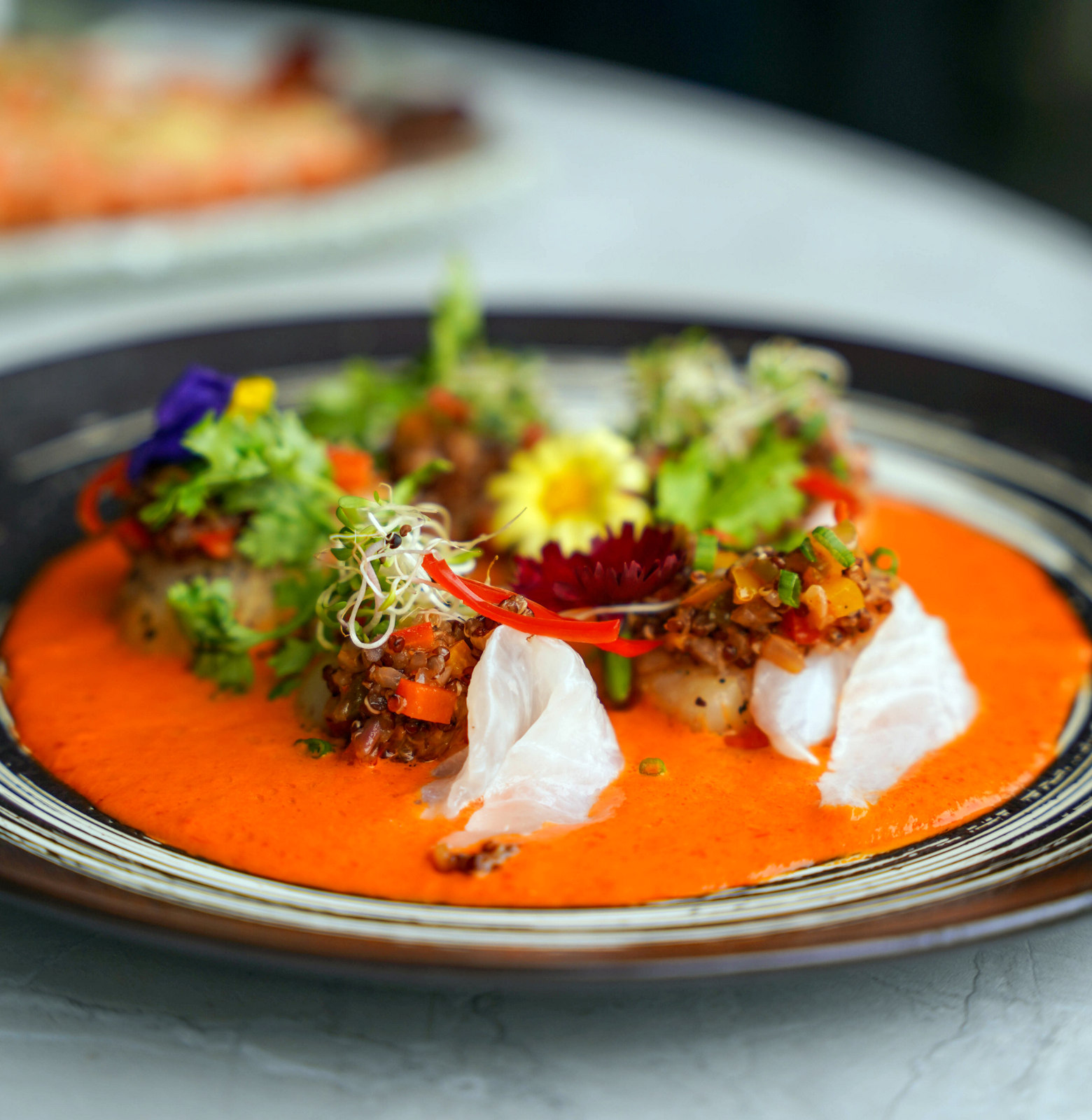 For visual beauty on a plate, the Scallop and Seabass is a striking should-try: Hokkaido scallops and ikejime seabass are artistically adorned with aji amarillo sauce, quinoa, edible flowers and truffle oil (RM58) - the result tastes as dramatically multi-dimensional as it looks.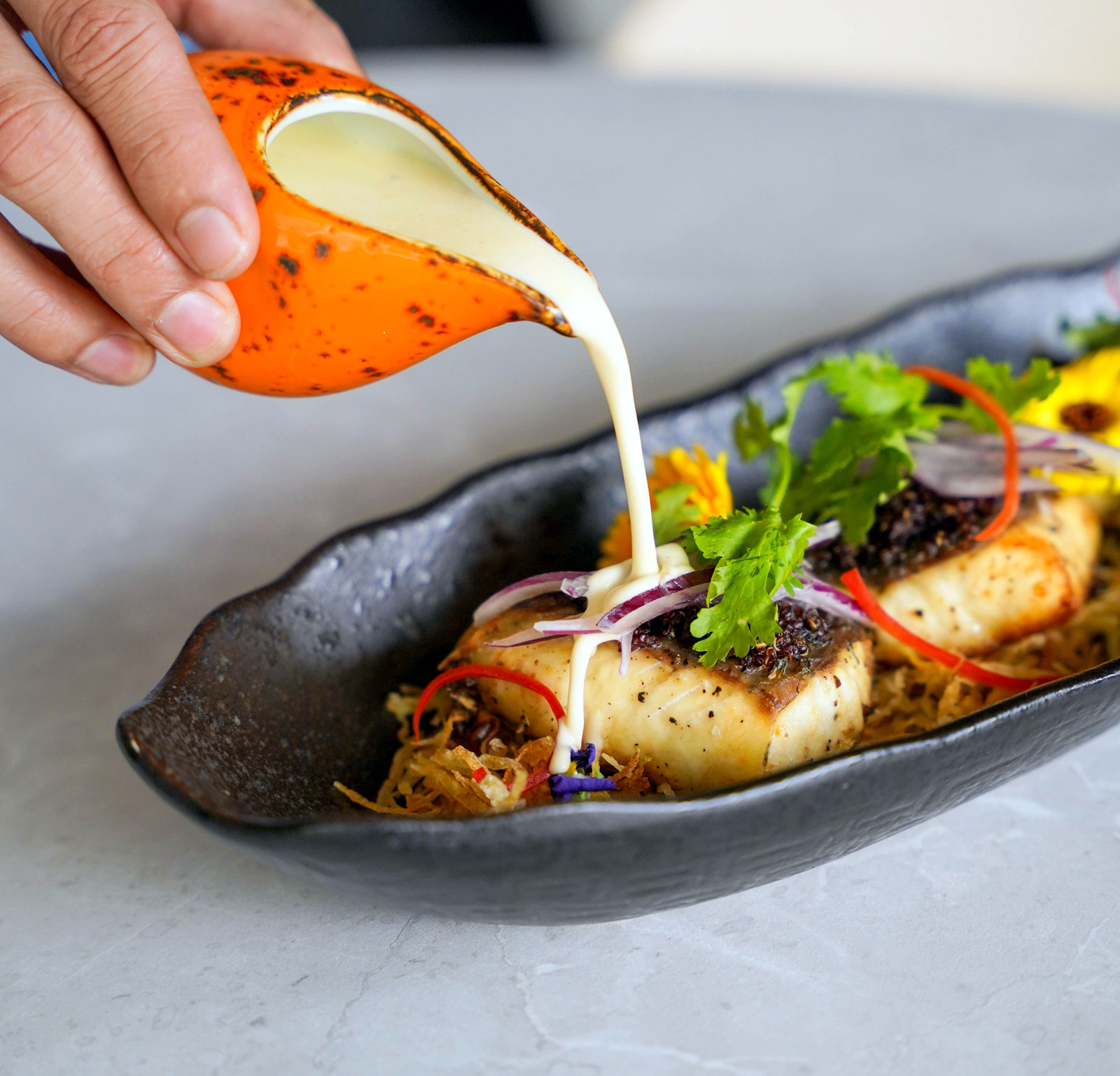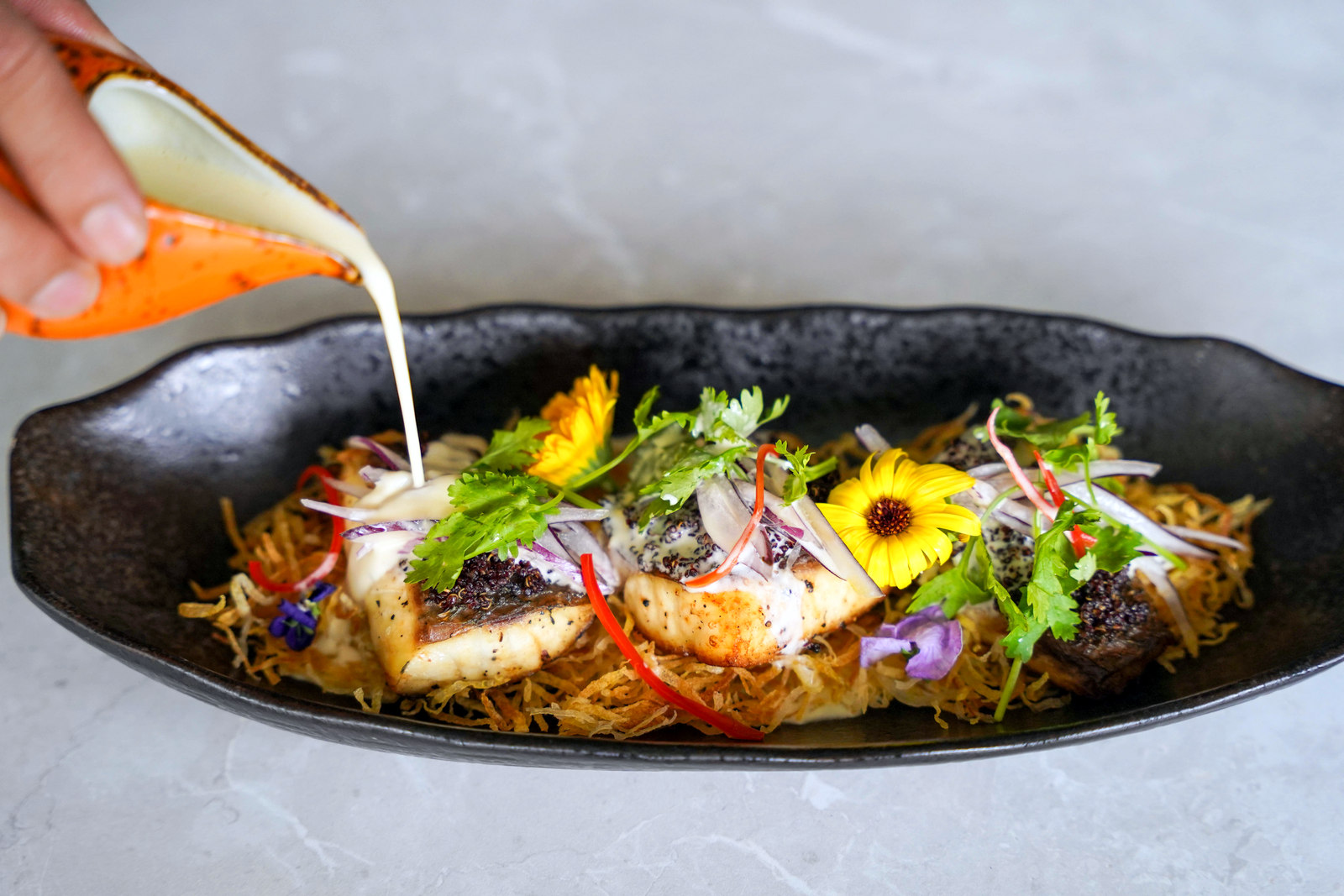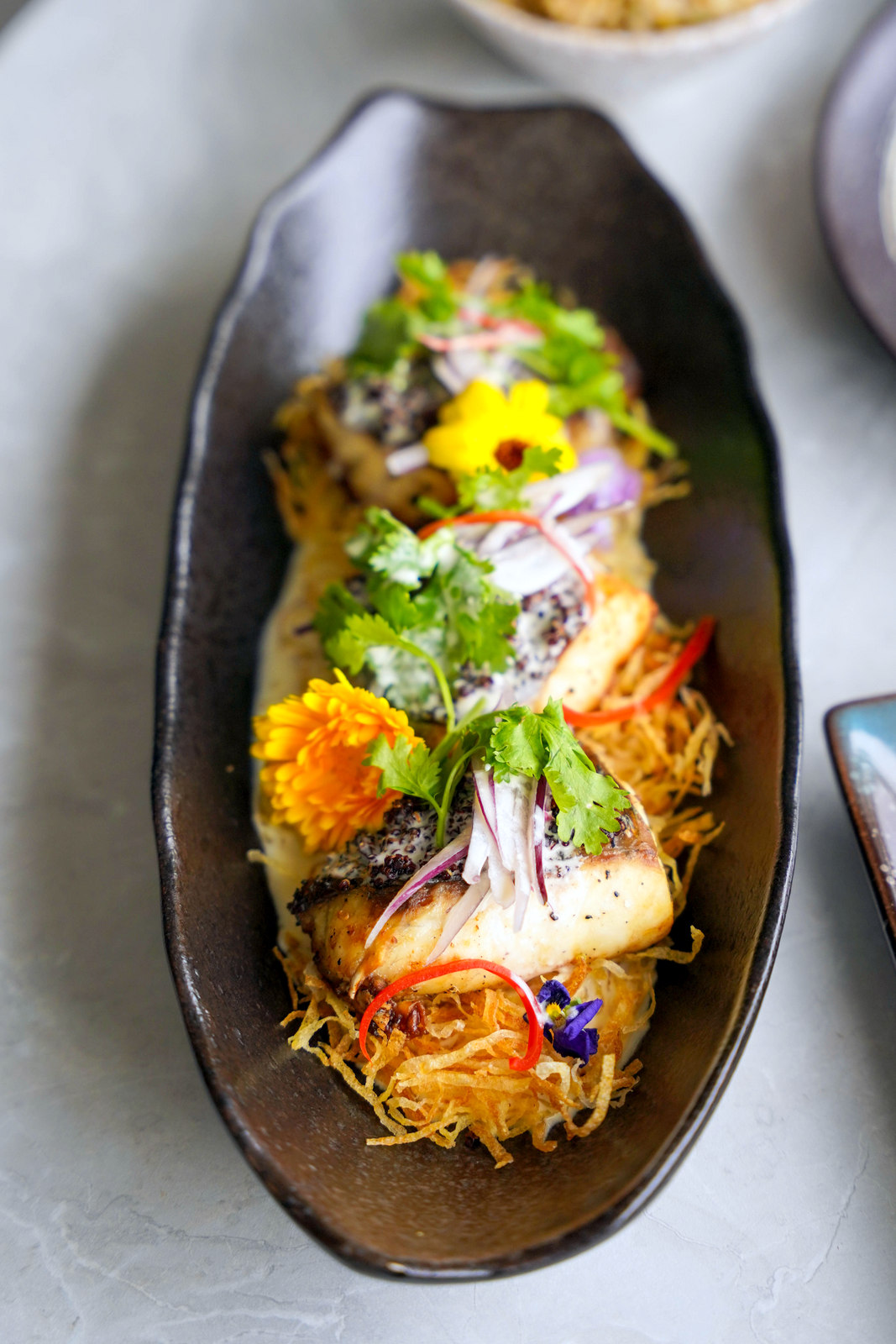 Also looking lust-worthy is the Ikejime Barramundi, pan-seared to a crisp-skinned tenderness and placed on crunchy potatoes and quinoa, poured over with a lemony Nikkei sauce to brighten up the chunky, flaky fish - a fun way to enjoy the best of local barramundi (RM52).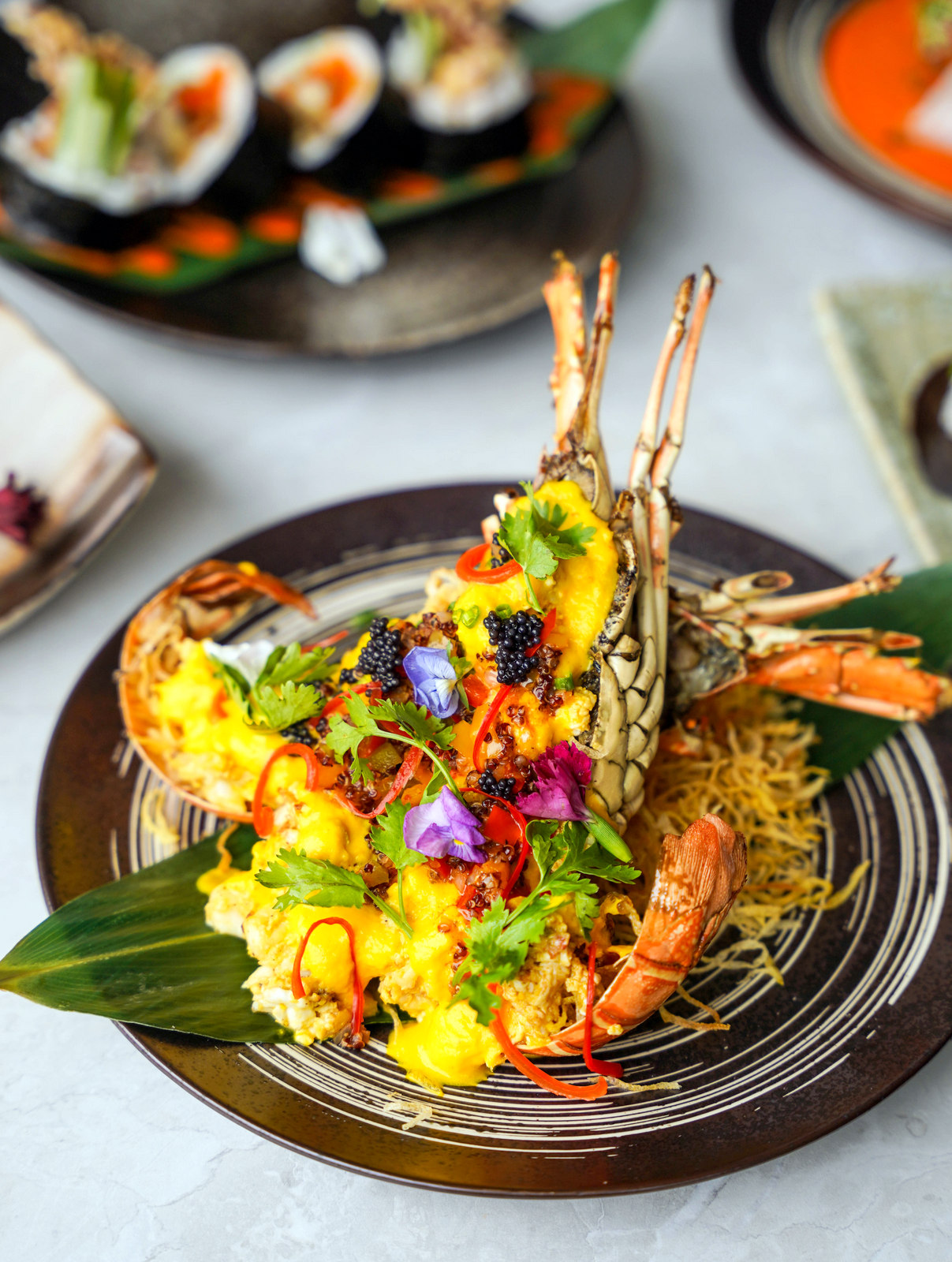 Crustaceans come next, the climax of a captivating feast.
The Sabah Nikkei Lobster is the mighty, majestic pride of the kitchen - wild green lobster with a bouncy, full-bodied juiciness, dressed in the unmistakably sunny-yellow aji amarillo sauce and scrambled eggs over crispy potatoes and quinoa, for a riot of triumphant textures in a poised, photogenic presentation (RM142).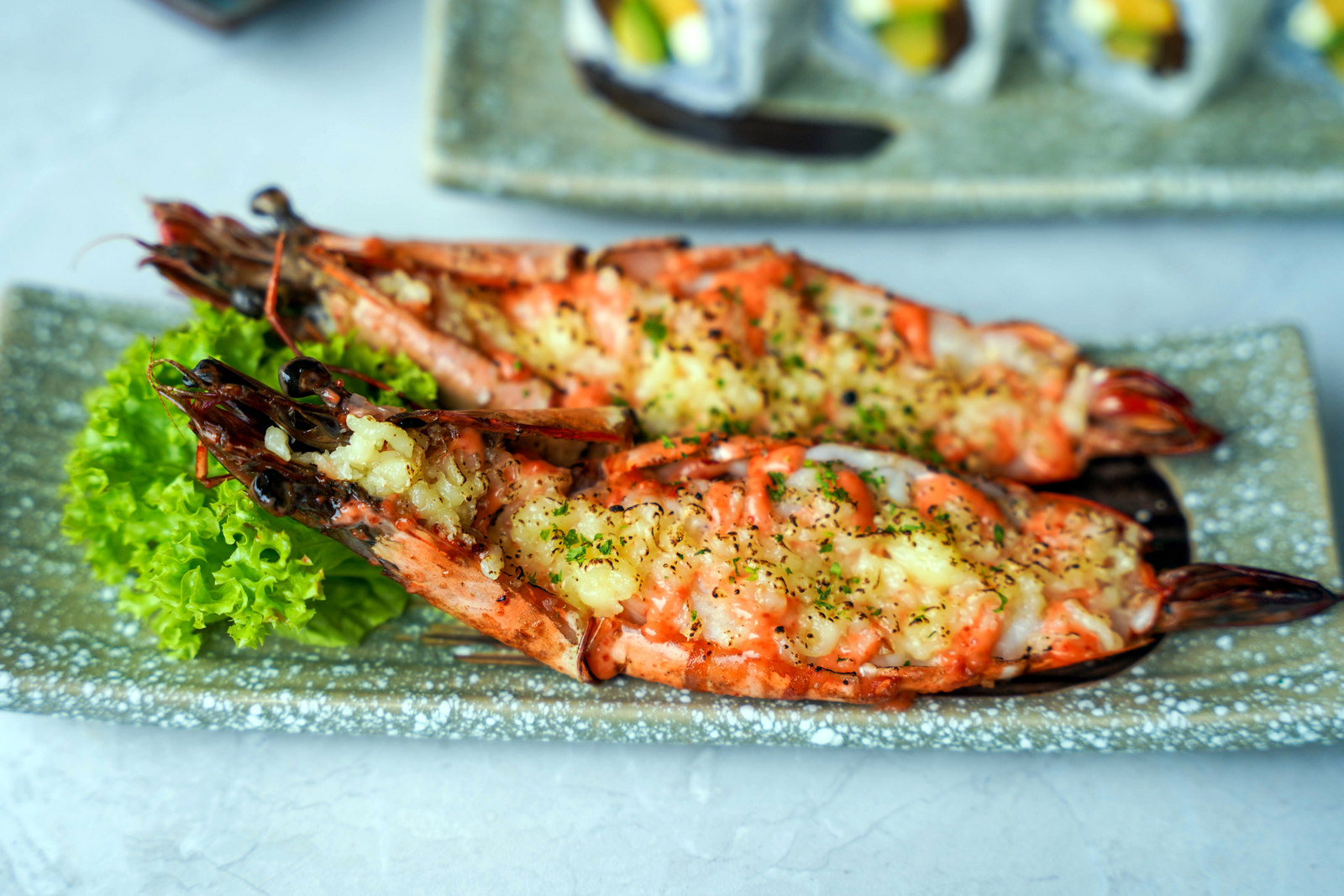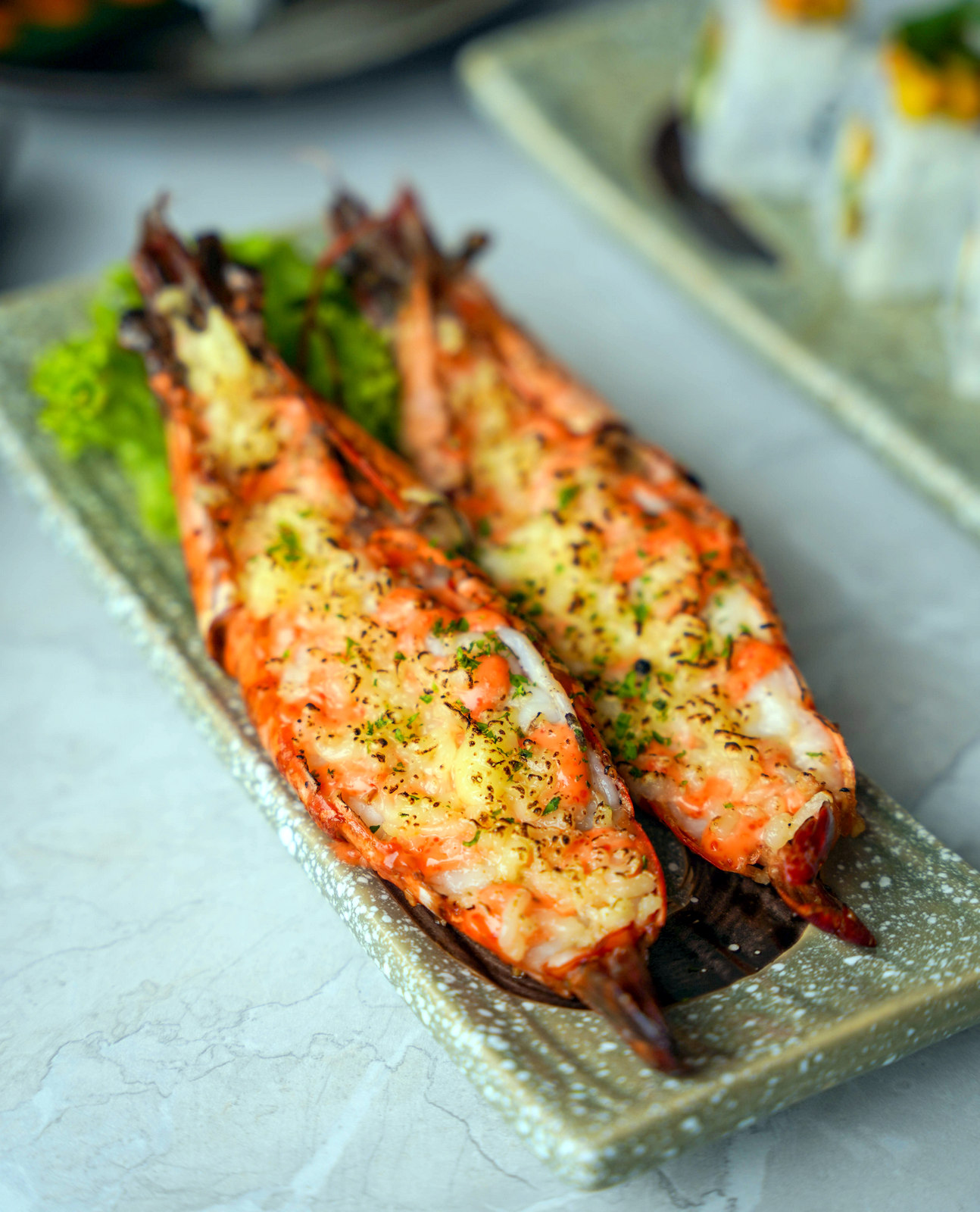 The Tigre Mentai Batayaki (RM32 per piece) also surfaces from the seas off Sabah - a tiger prawn of regal size and stature, enveloped in a decadent mix of mentaiko and torched mozzarella cheese, tasting lavishly buttery, perhaps the single most sinful recipe at Sushi Mastro Nikkei.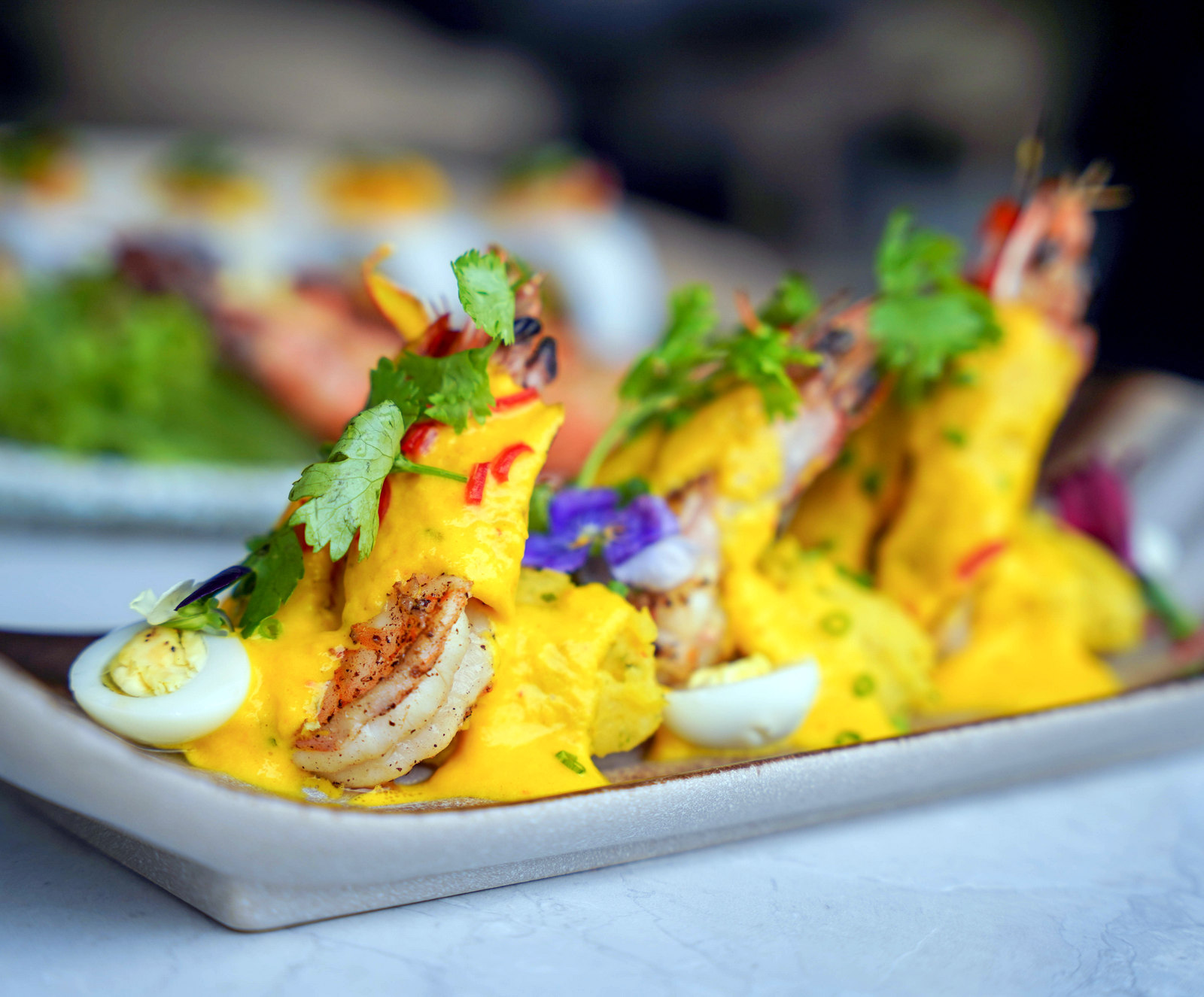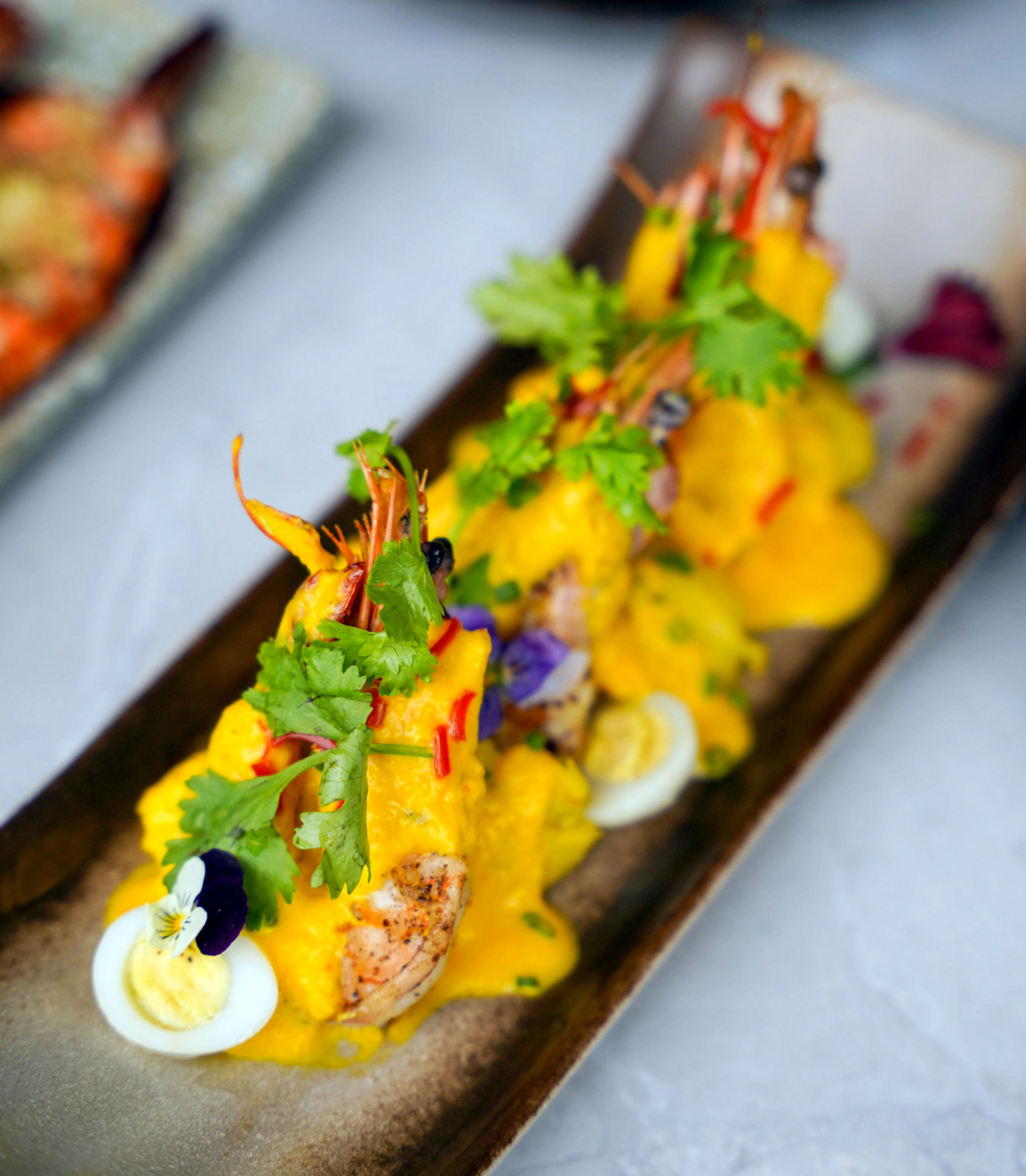 In pursuit of more prawns? Try the Patata Langostino, blanketed in the kitchen's addictive aji amarillo sauce, cushioned with sweet potatoes and quail eggs for sheer comfort fare (RM48).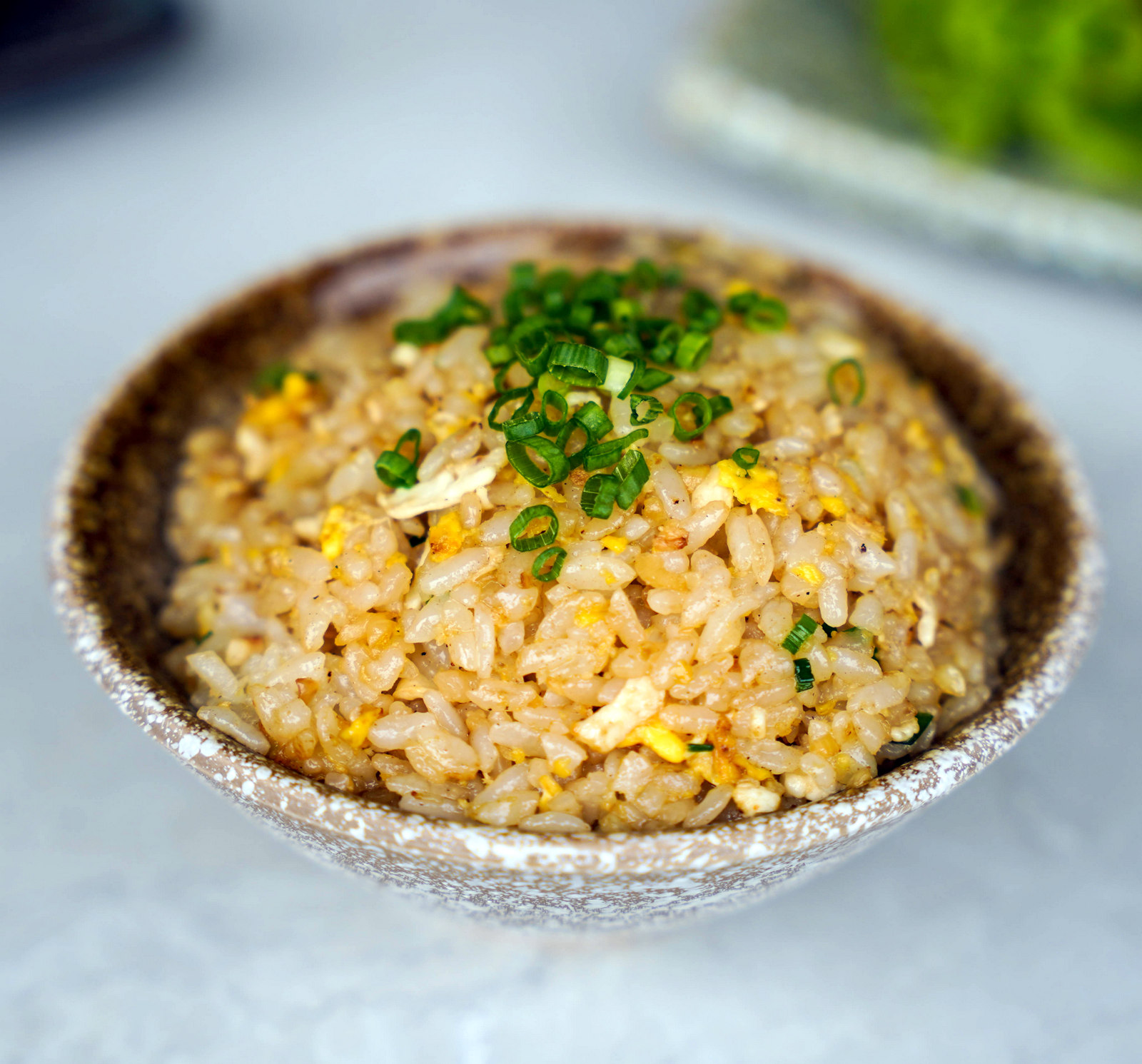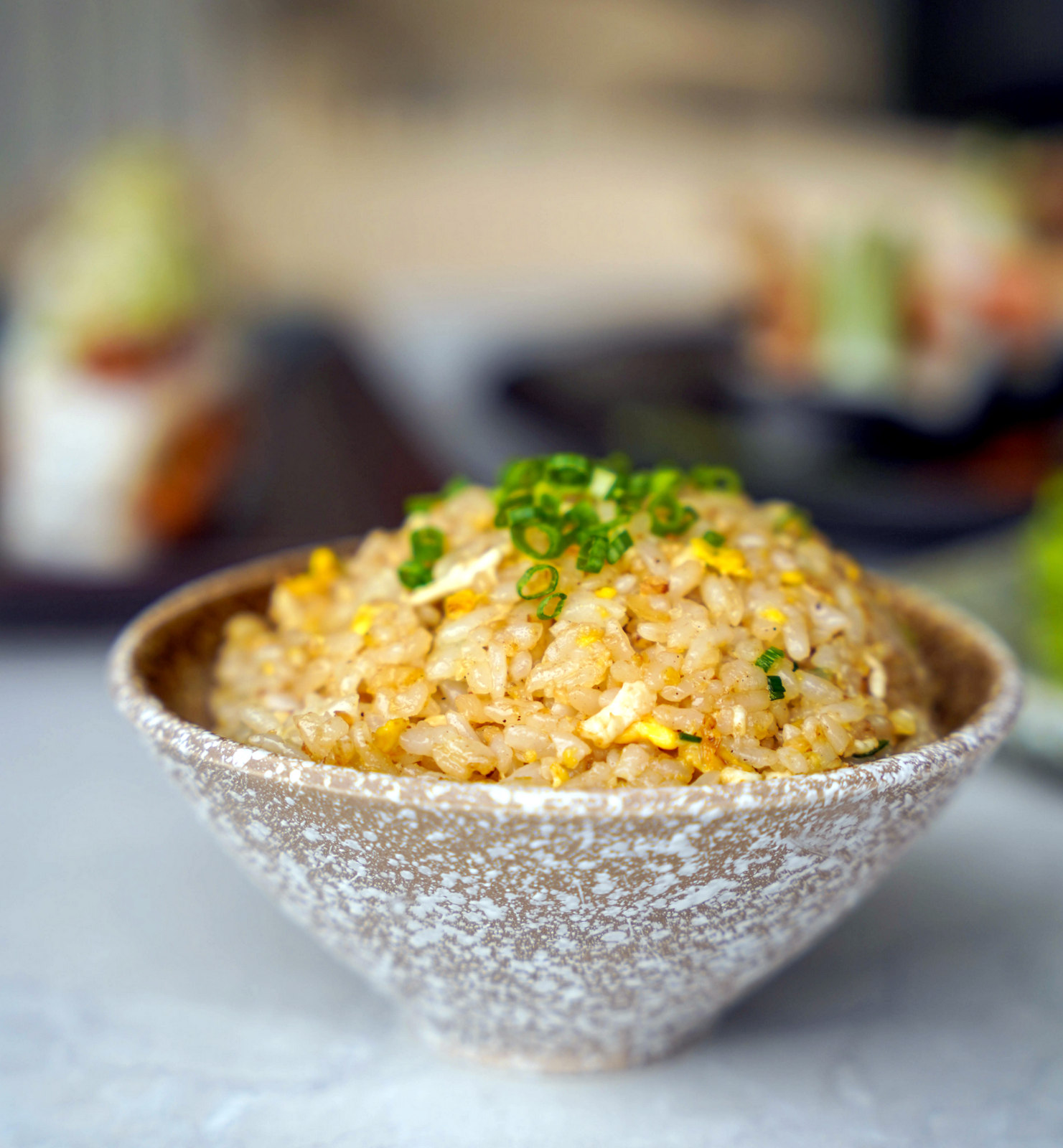 If you crave carbs to complement the seafood, Sushi Mastro Nikkei does a delicious Garlic Fried Rice, traditional and time-honoured, satisfyingly studded with egg and garlic (RM12).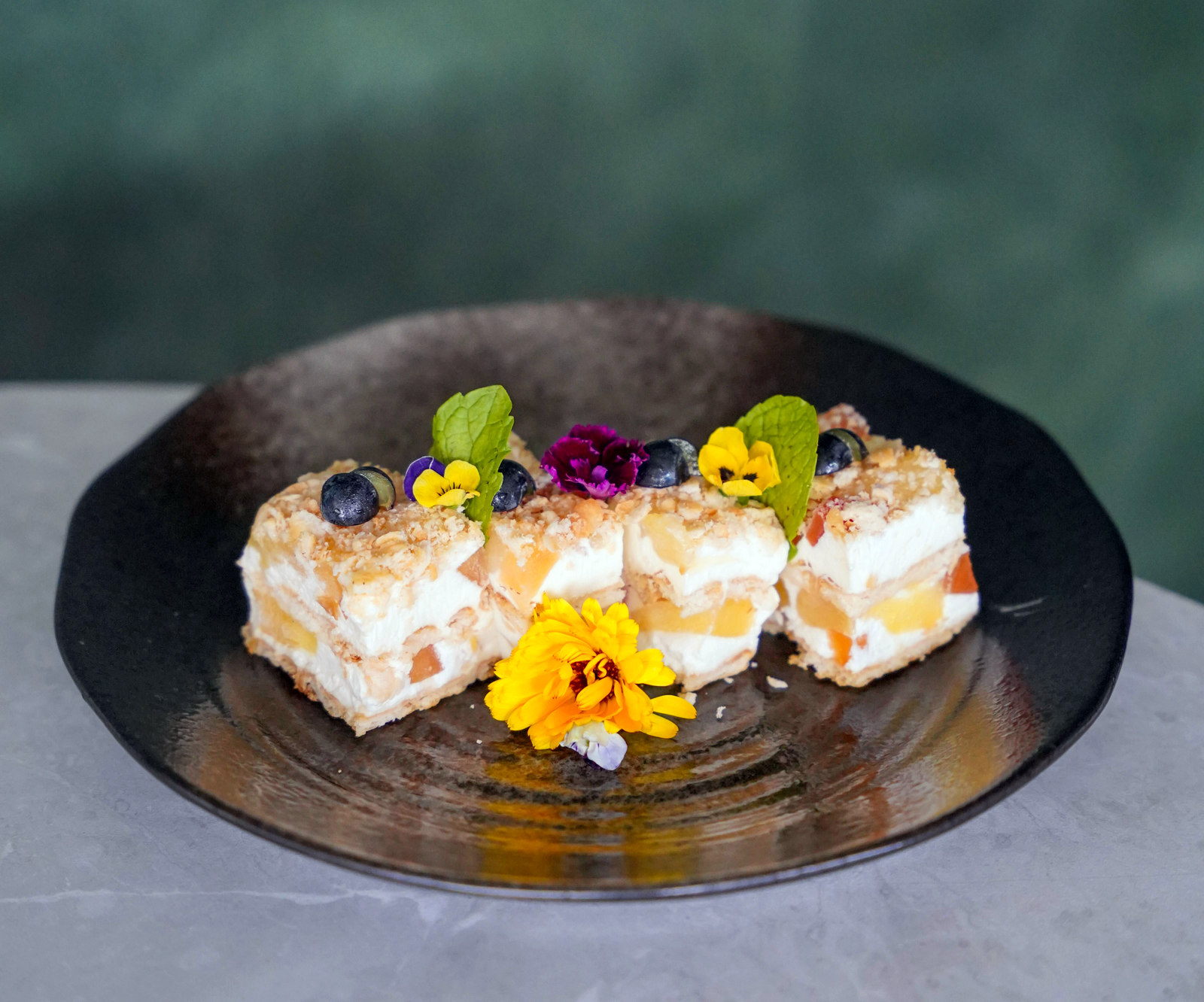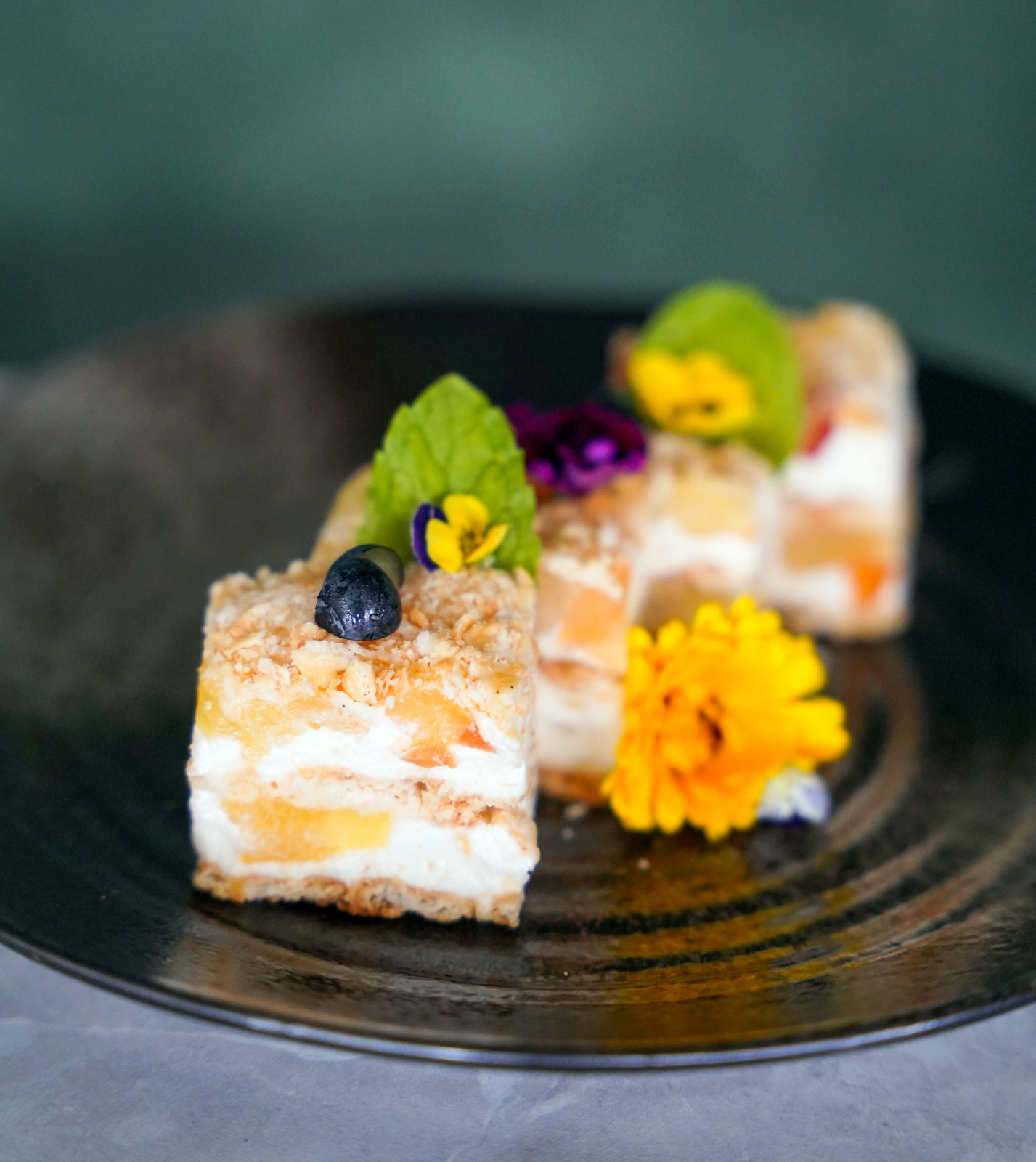 Sushi Mastro Nikkei has only one dessert on its menu - not matcha ice cream, not mochi, but an indulgently sumptuous Graham Cake (RM20) - soft layers of mild cream cheese mingling with fruits over crumbly crackers, immediately rekindling our inner child.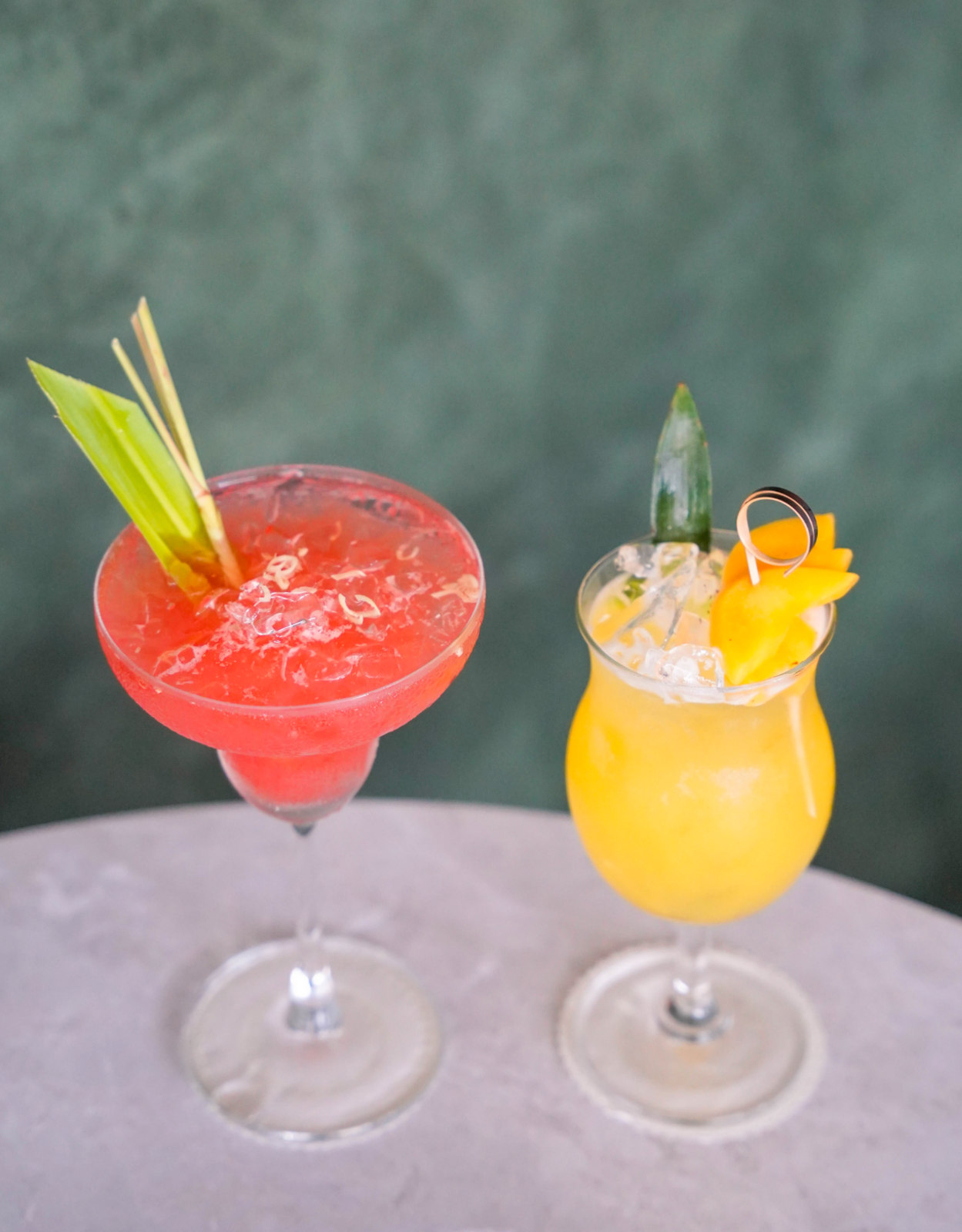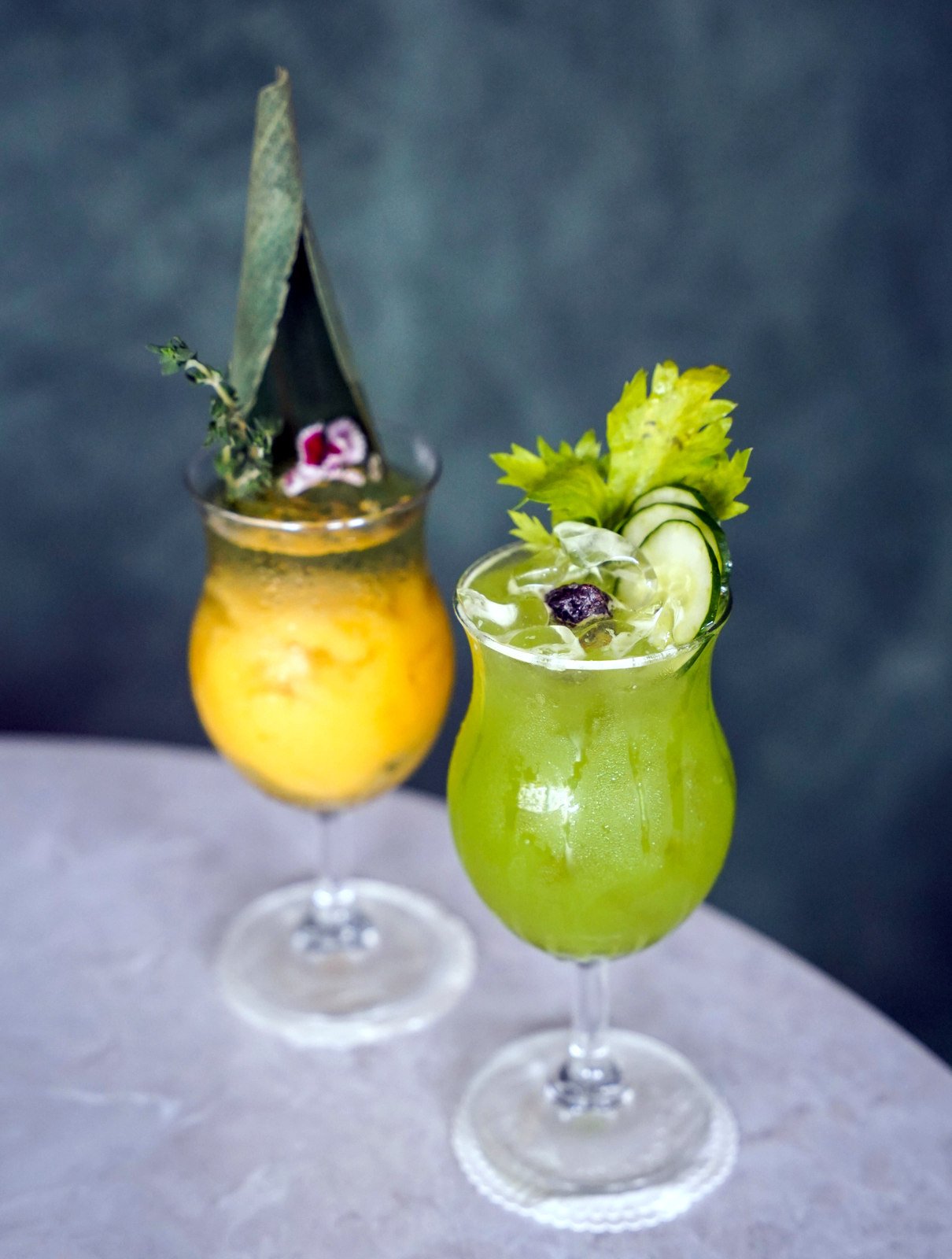 Non-alcoholic mocktails are another reason to revisit Sushi Mastro Nikkei, as the repertoire continues to be fine-tuned with fruits and flair - sip on the Sandia Jengibre (watermelon with pandan and ginger),  Brisa Fresca (orange with pineapple, peach and soda), Fresco Mango (fresh mango with spiced syrup, lime and soda) and Pepino Asam Boi (cucumber and celery with lime and asam boi) for coolers that promise citrusy, plummy, perky pleasure.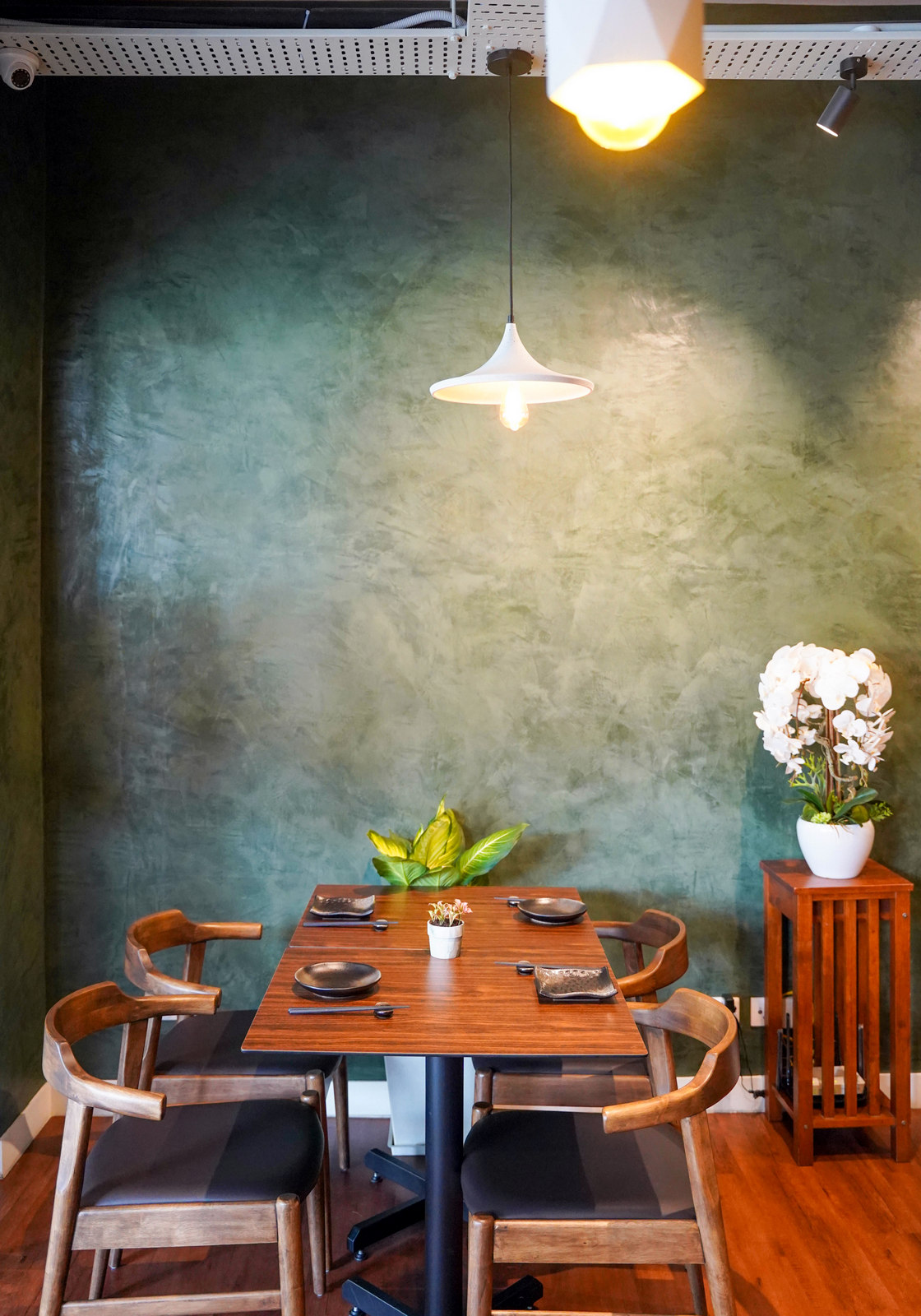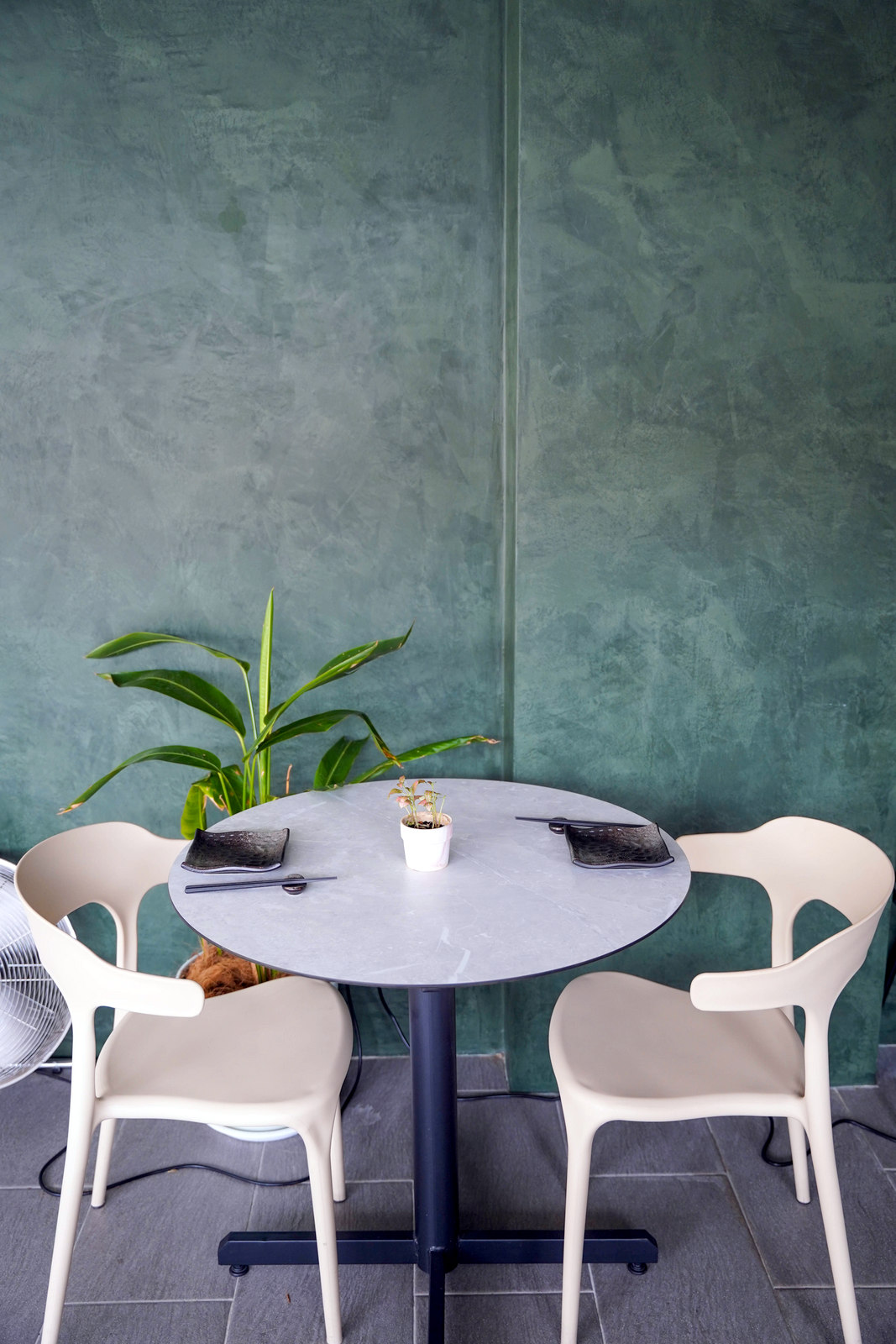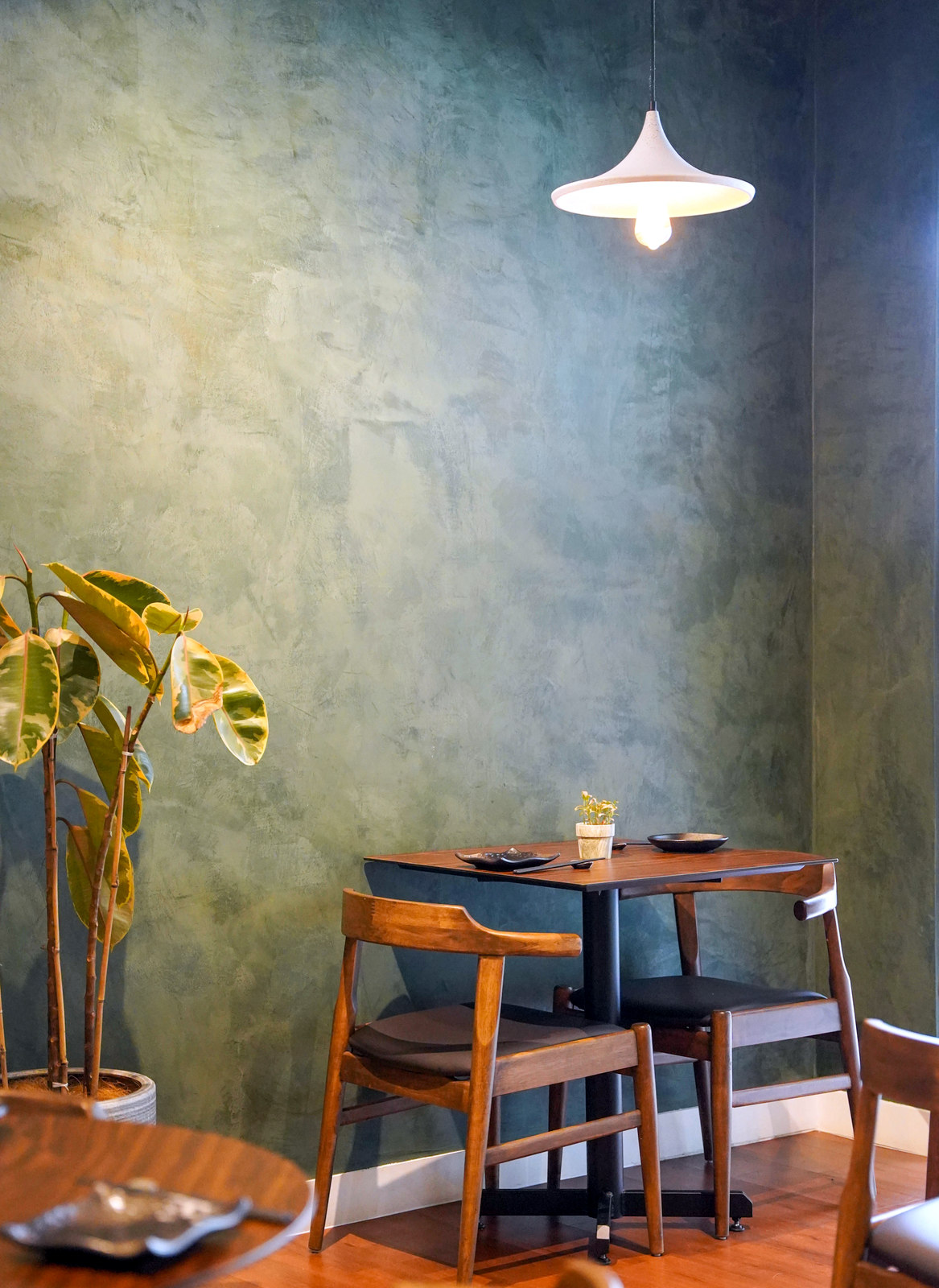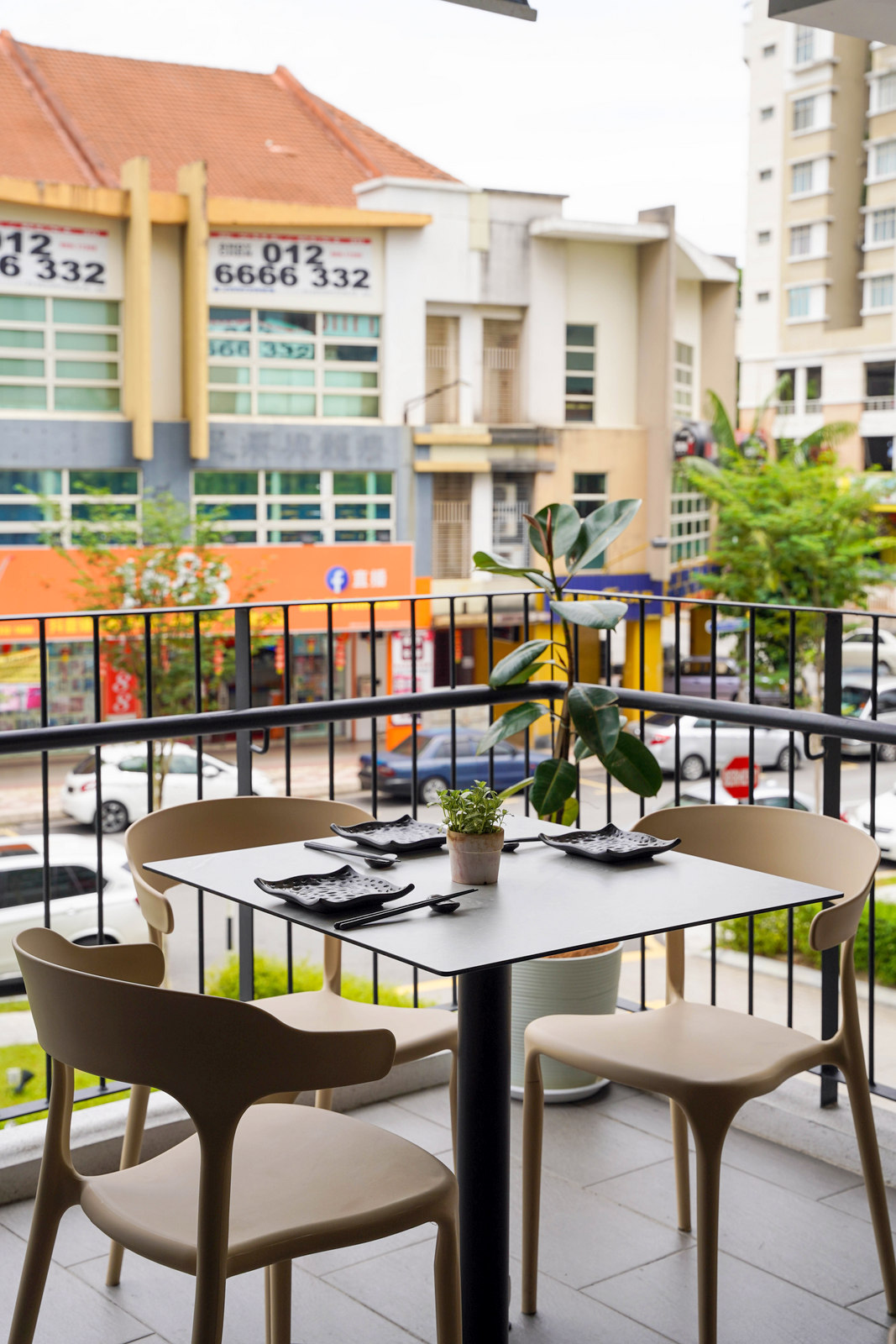 With a leafy, tropical-themed setting that includes an alfresco first-floor terrace, Sushi Mastro Nikkei is an inviting space for everything from family get-togethers to first dates, a 15-minute drive from Taman Tun Dr Ismail.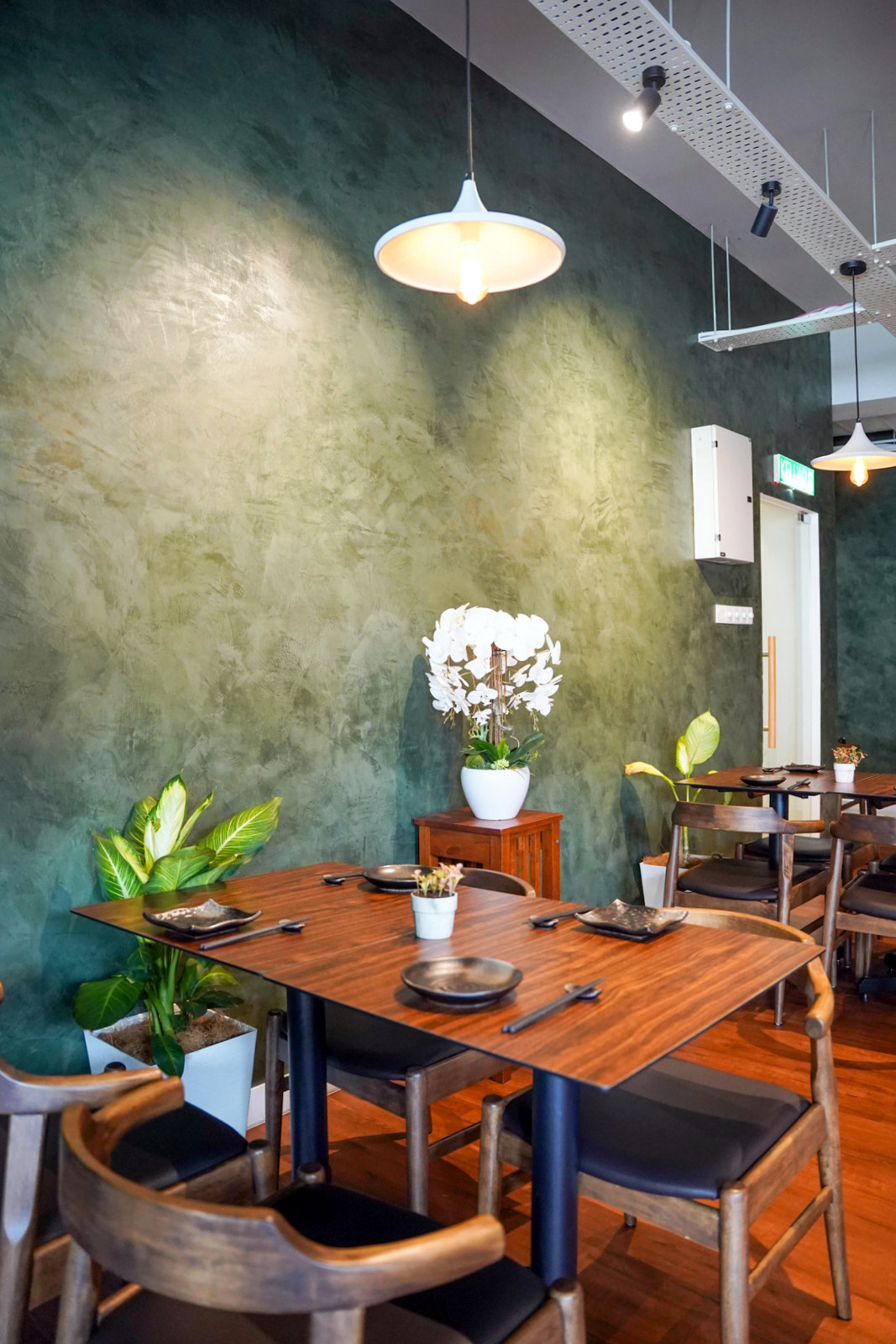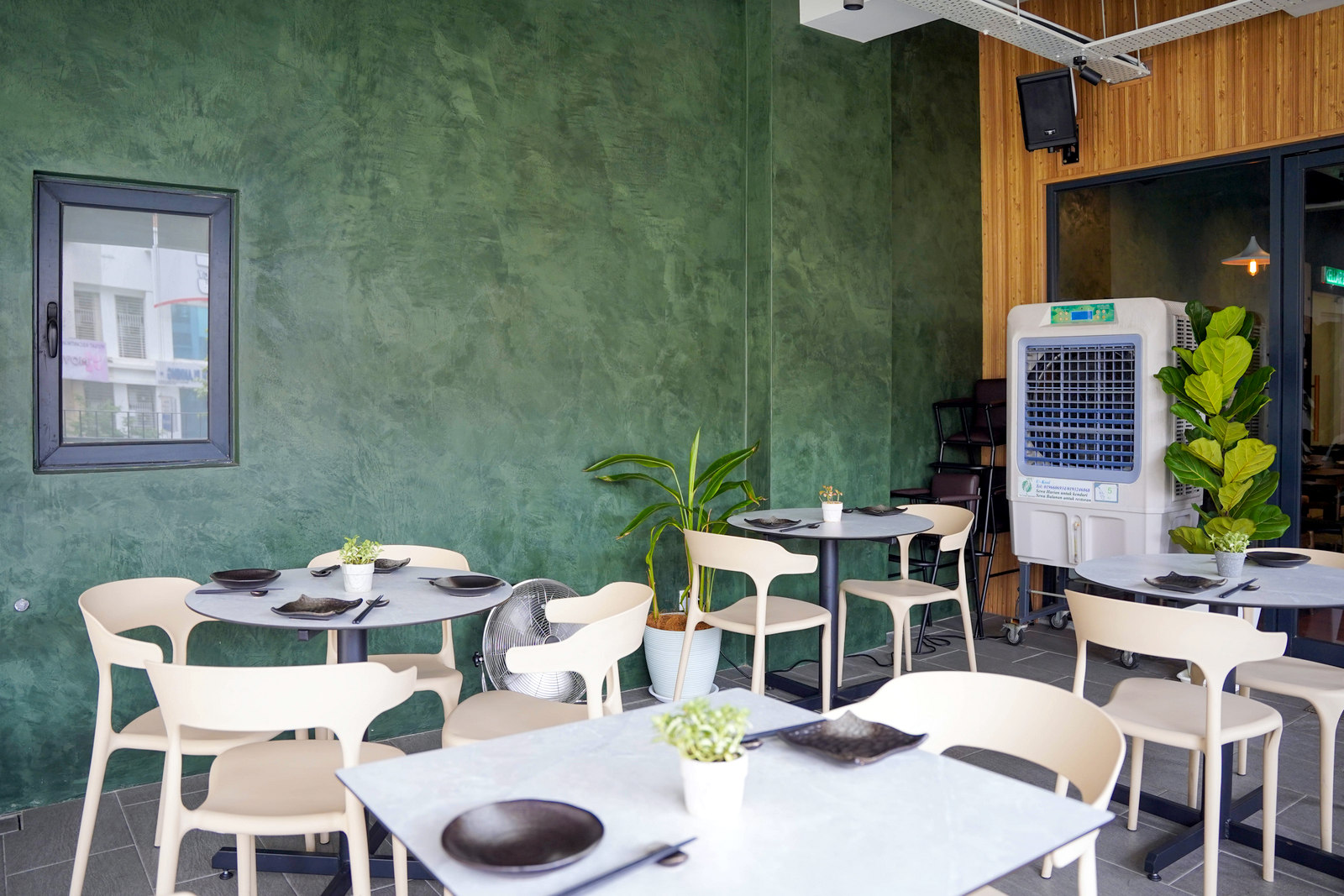 Sushi Mastro Nikkei
Unit 1-1, First Floor, Fortune Centra, Jalan Metro Perdana 6, Taman Usahawan Kepong, 52100 Kepong, Kuala Lumpur.
Open Tuesday-Sunday, 12pm-3pm; 6pm-10pm. 

Pick-up and home delivery services also available. Tel: 012-312-4112  
---
You Might also Like