Wangsa Walk Mall: 2023 Ramadan & Raya feasts to relish & remember
March 31, 2023
---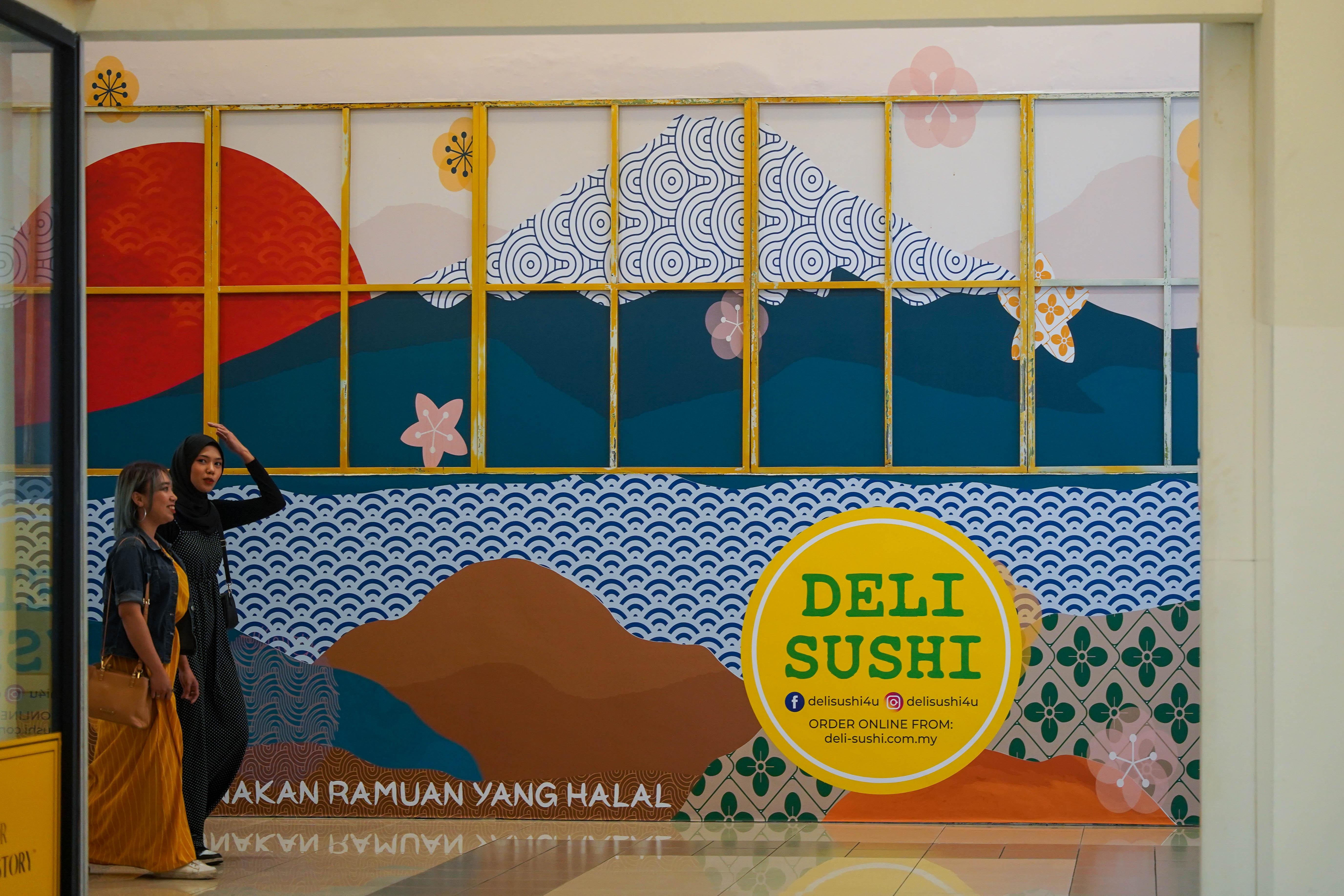 From Korean fried chicken feasts to cherished Malaysian classics like daging masak lemak, tasty Thai temptations to a value-for-money Japanese buffet, Wangsa Walk Mall is a wonderland of seasonal promotions this Ramadan and Raya. If you're planning an Iftar meal with family or an Eid celebration with friends, check out these cheerful food choices!

NENE CHICKEN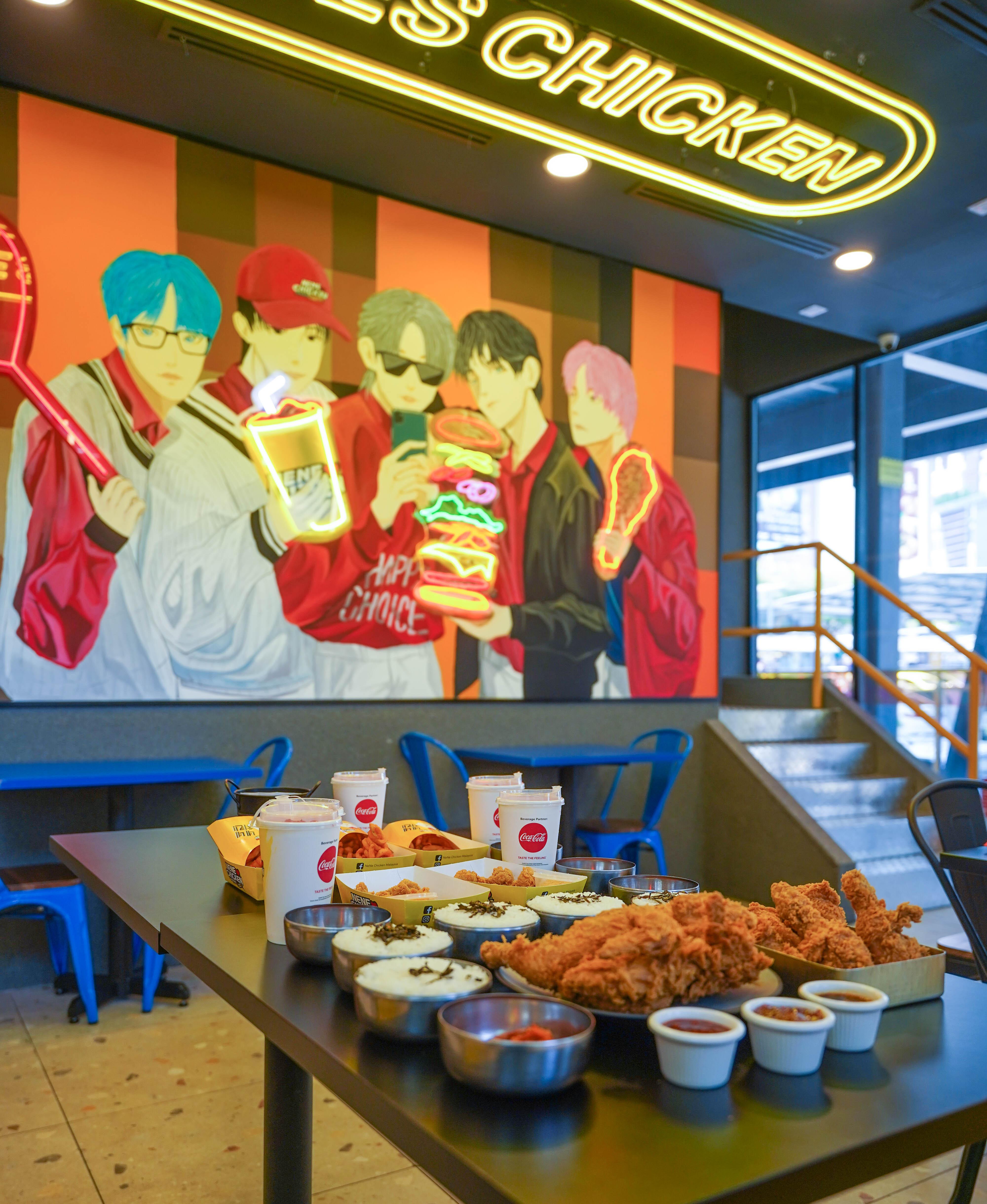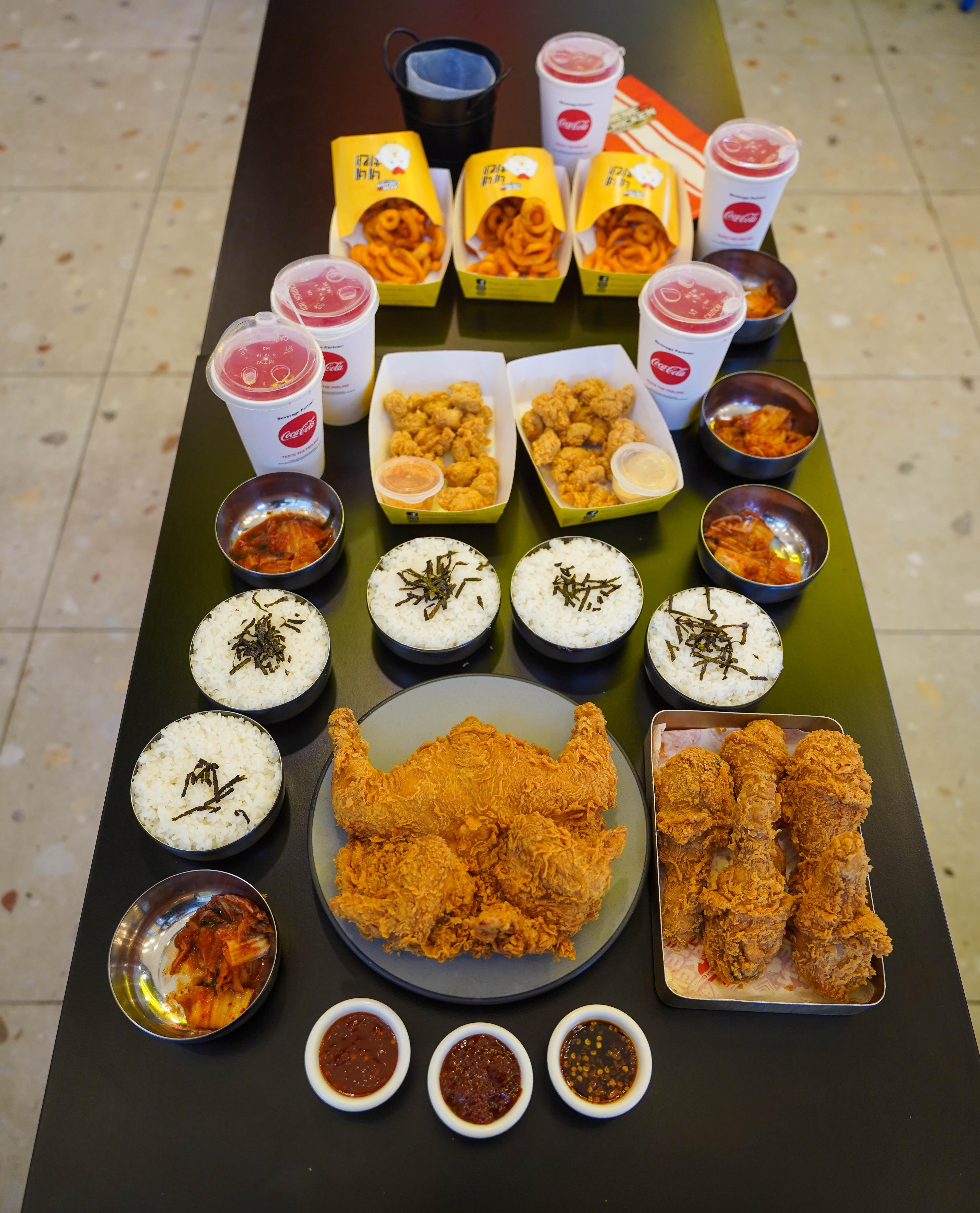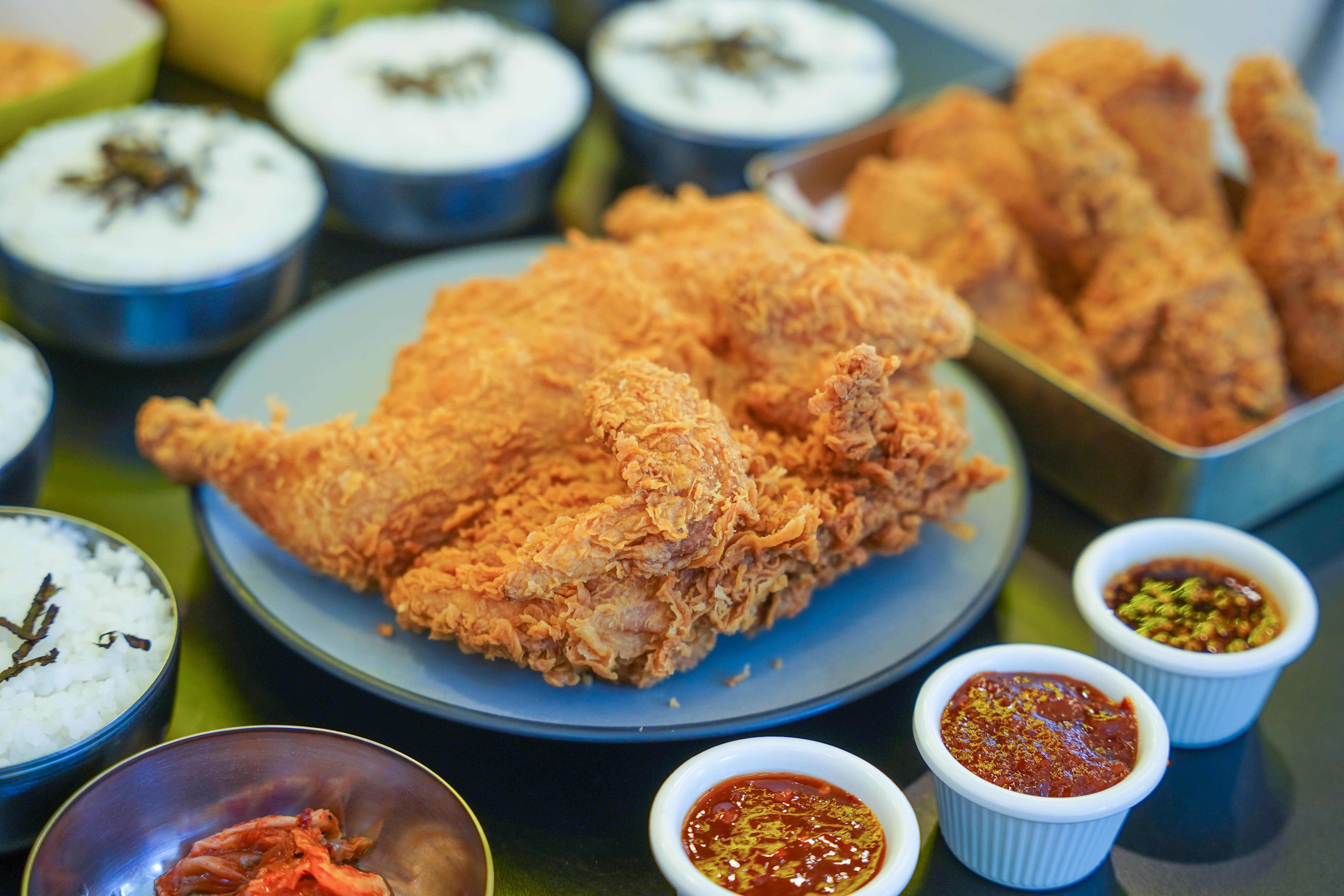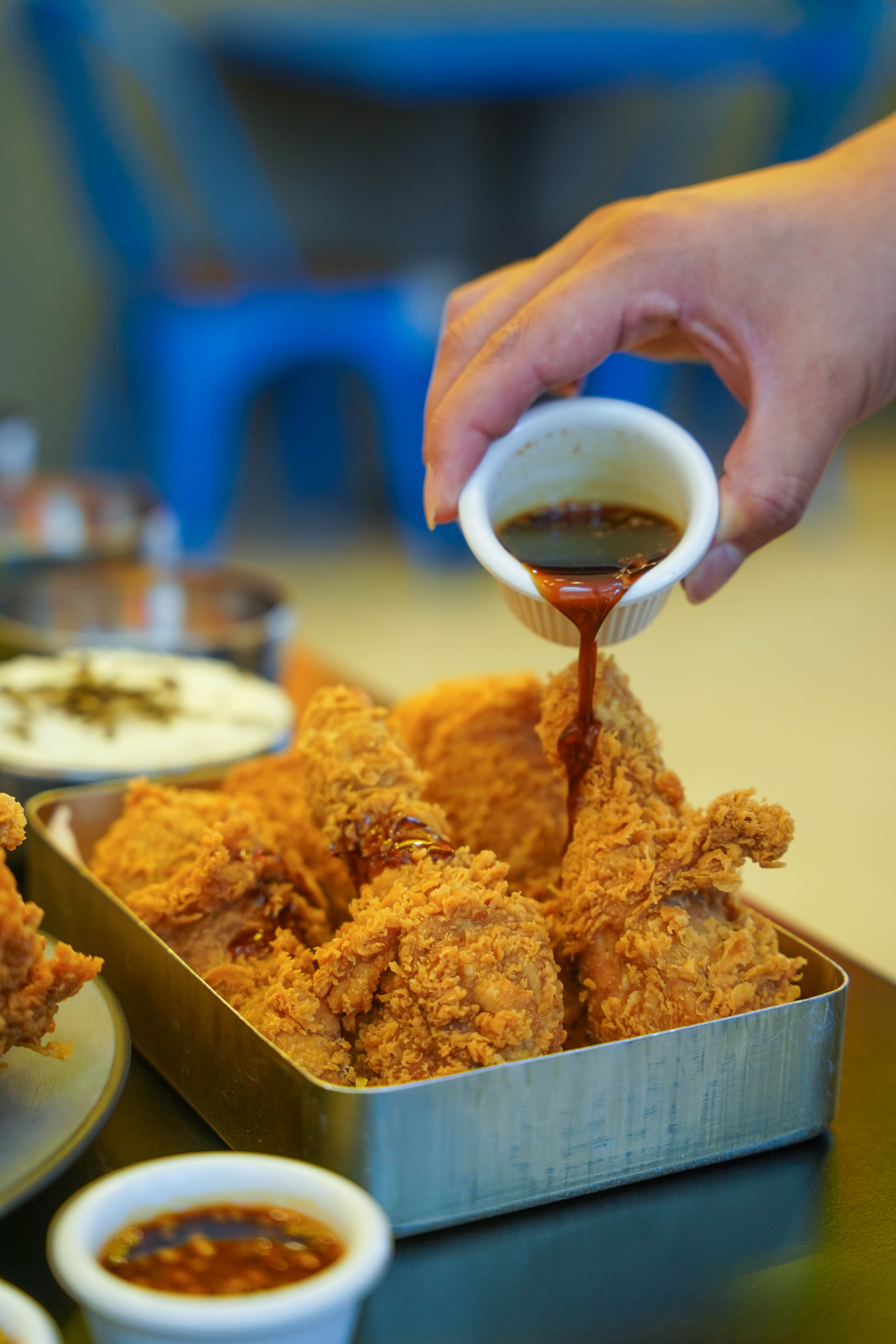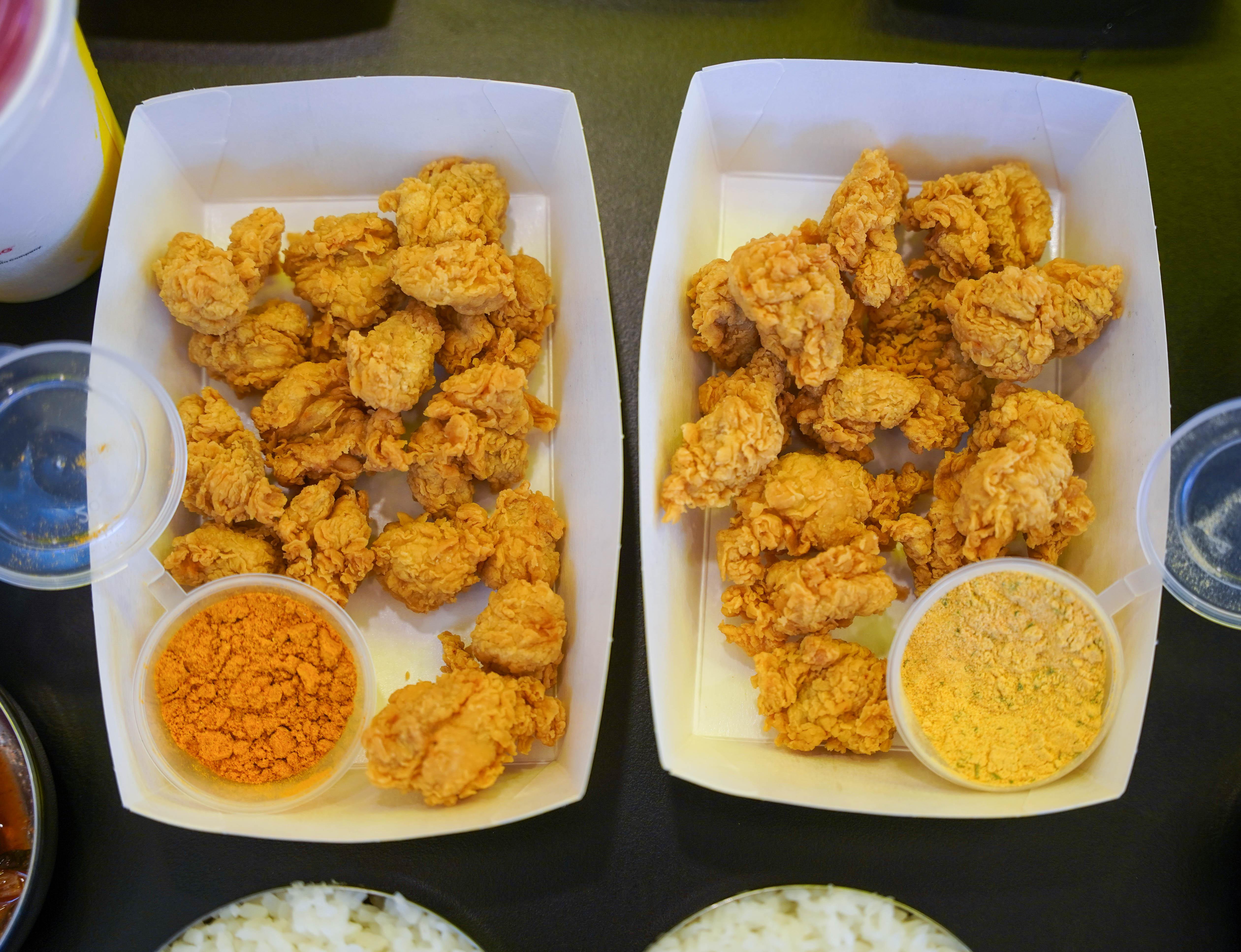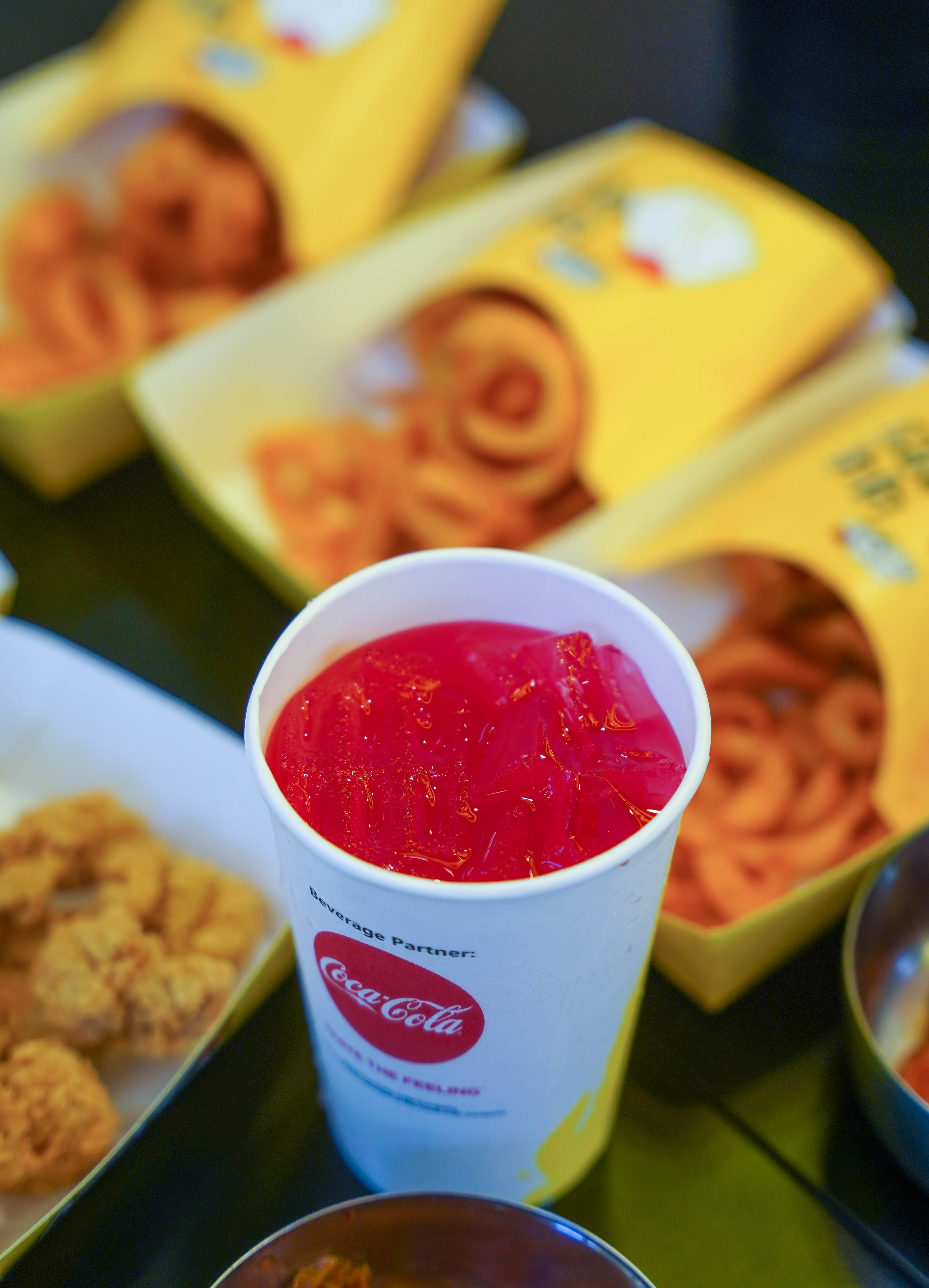 From now until 30 April, Nene Chicken is serving up piping-hot poultry pleasure in its Ramadan Feast for 5 Pax (RM135). This is a mega-hearty meal that features:
A whole spring chicken with choice of 3 sauces - select from mala (new), double freaking hot (new), freaking hot, swinging swicy, honey or bulgogi
5 drumsticks with choice of 1 sauce poured over the chicken
2 boxes of chicken pops, with choice of 'snowing' toppings: classic snowing (vegetable-based), snowing cheese or snowing curry (new) 
3 Tor-ne-do fries 
5 servings of steamed rice and kimchi cabbage
Free flow of iced syrup if you dine-in, or 5 drinks for takeaway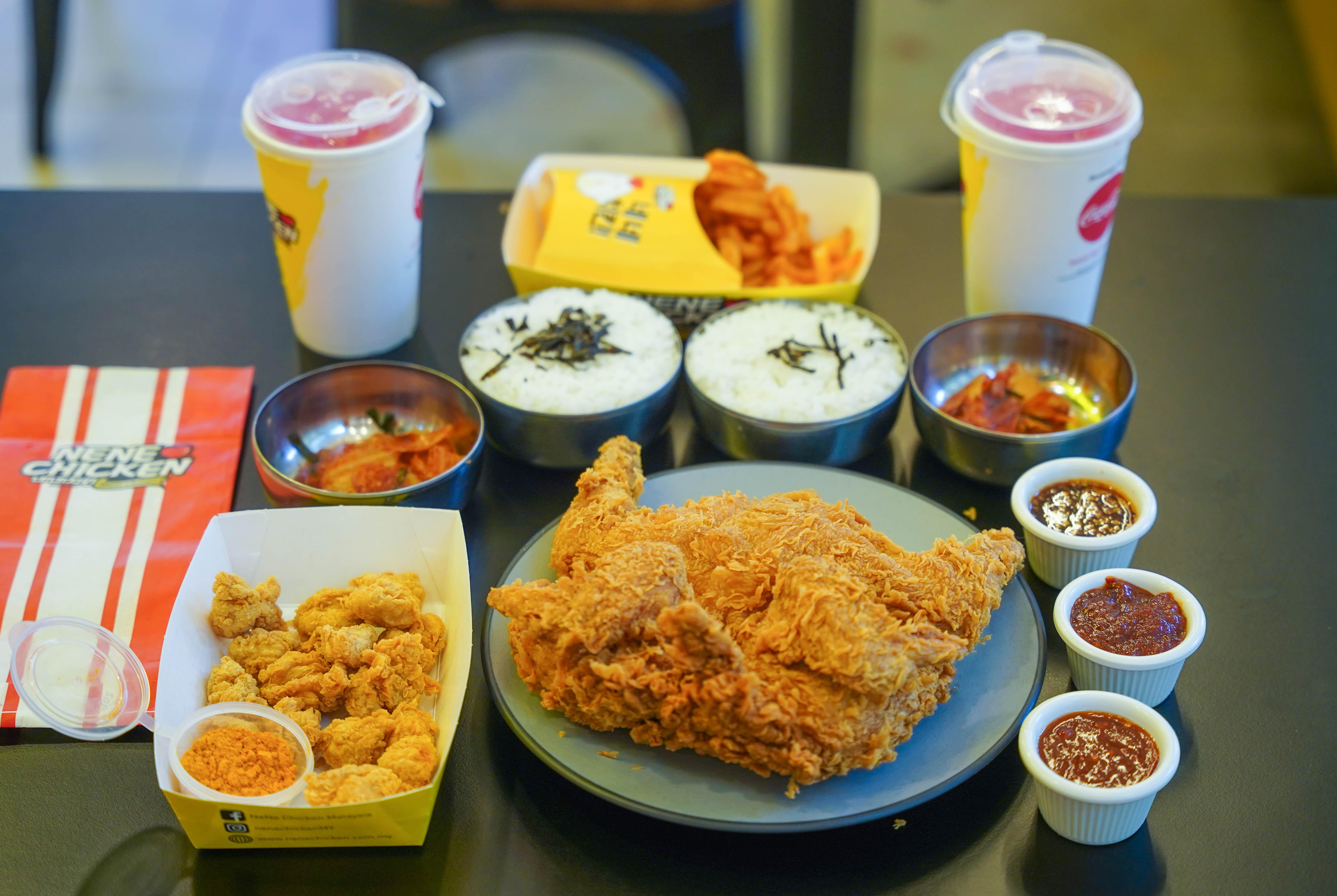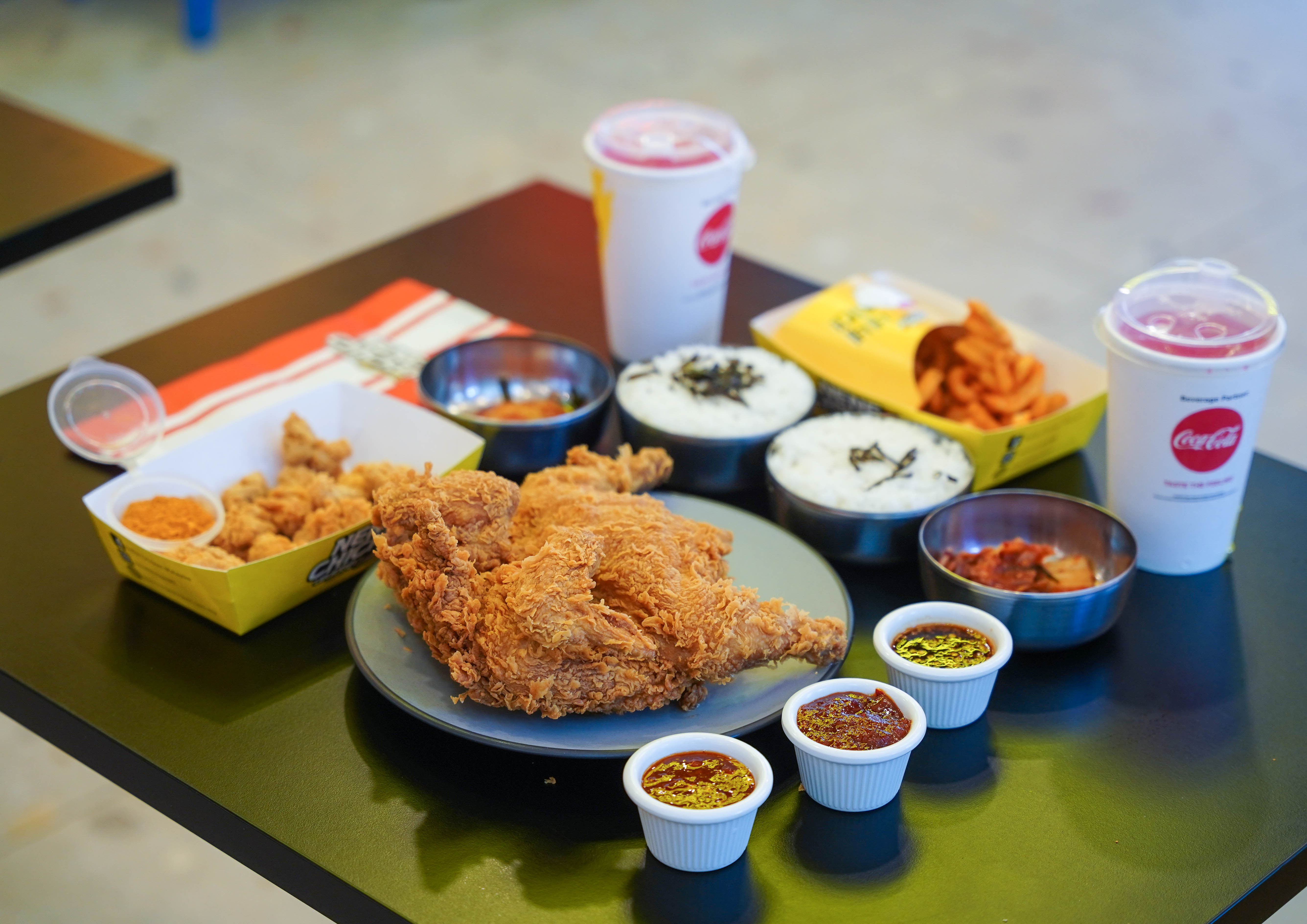 The Ramadan Feast for 2 Pax (RM55) is crafted for couples, comprising:
Whole spring chicken with choice of 3 sauces
1 box of chicken pops
1 box of Tor-nedo fries
2 servings of steamed rice and kimchi cabbage
Free flow of iced syrup if you dine-in, or 2 drinks for takeaway


The whole spring chicken is Nene's newest temptation, extra-juicy and exceptionally tender!
The Ramadan Feast for 2 Pax is marvellous value for money, since it comprises a whole cooked chicken plus plenty of side dishes and drinks to satisfy you after a long day of fasting.
FOODLE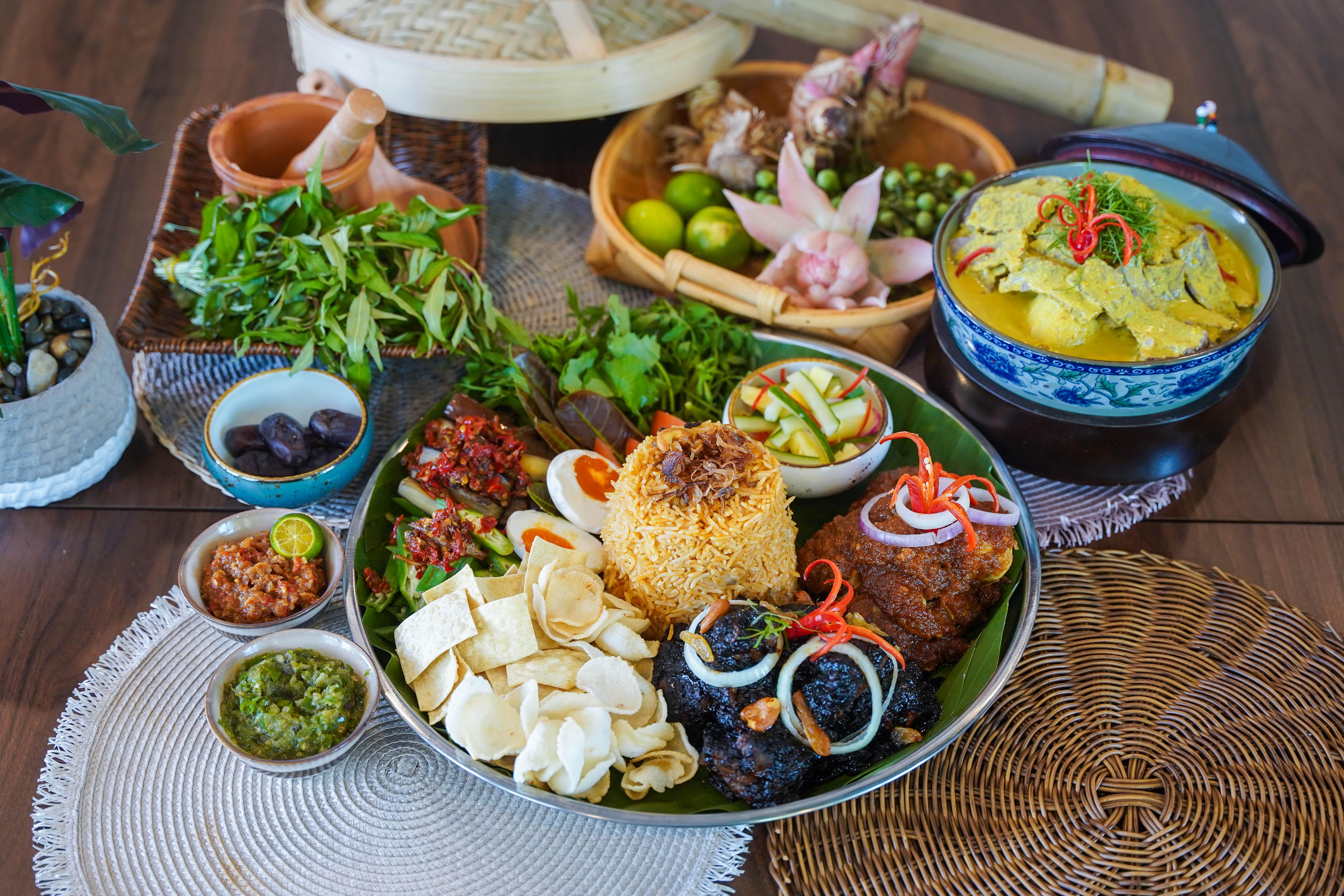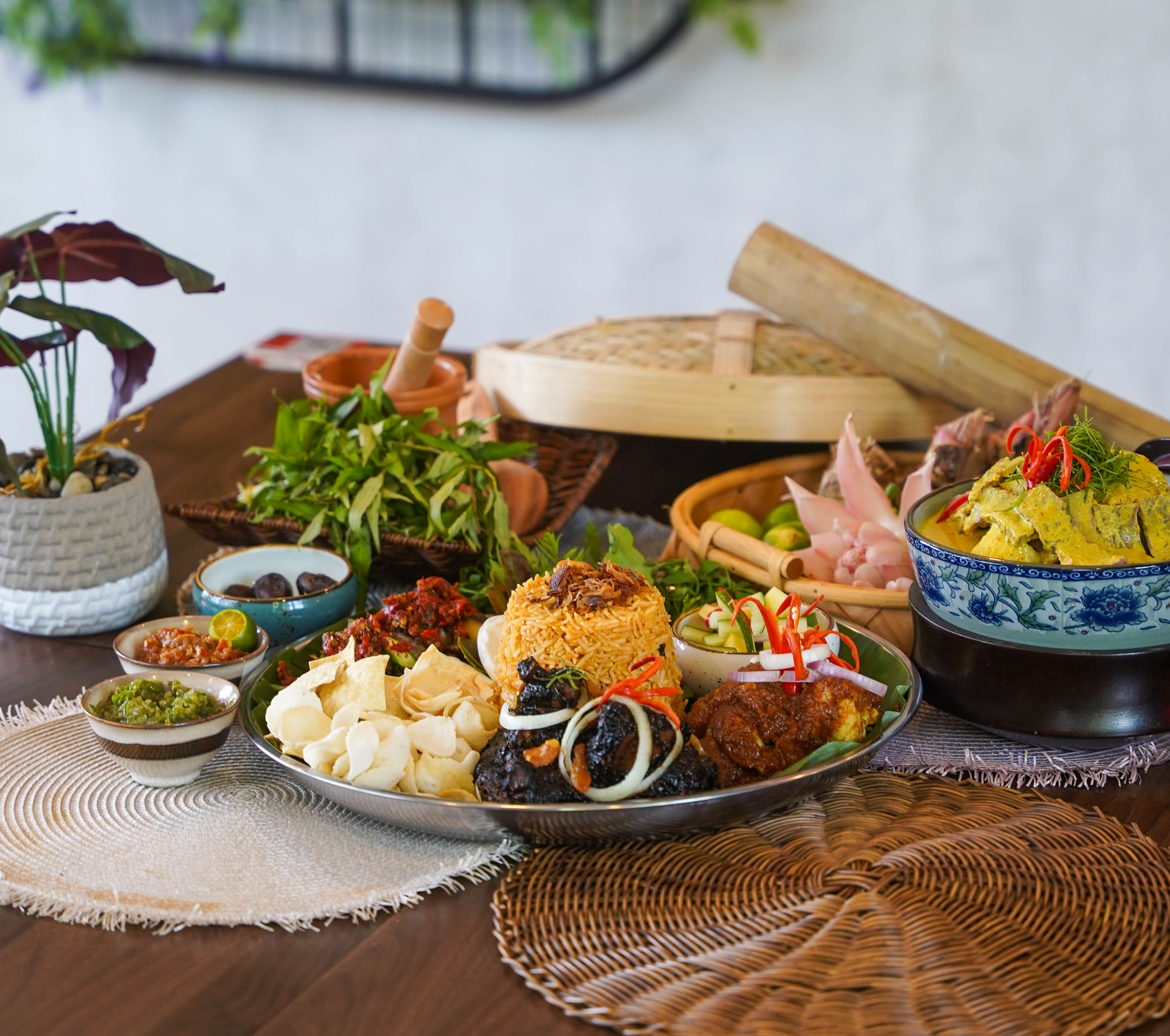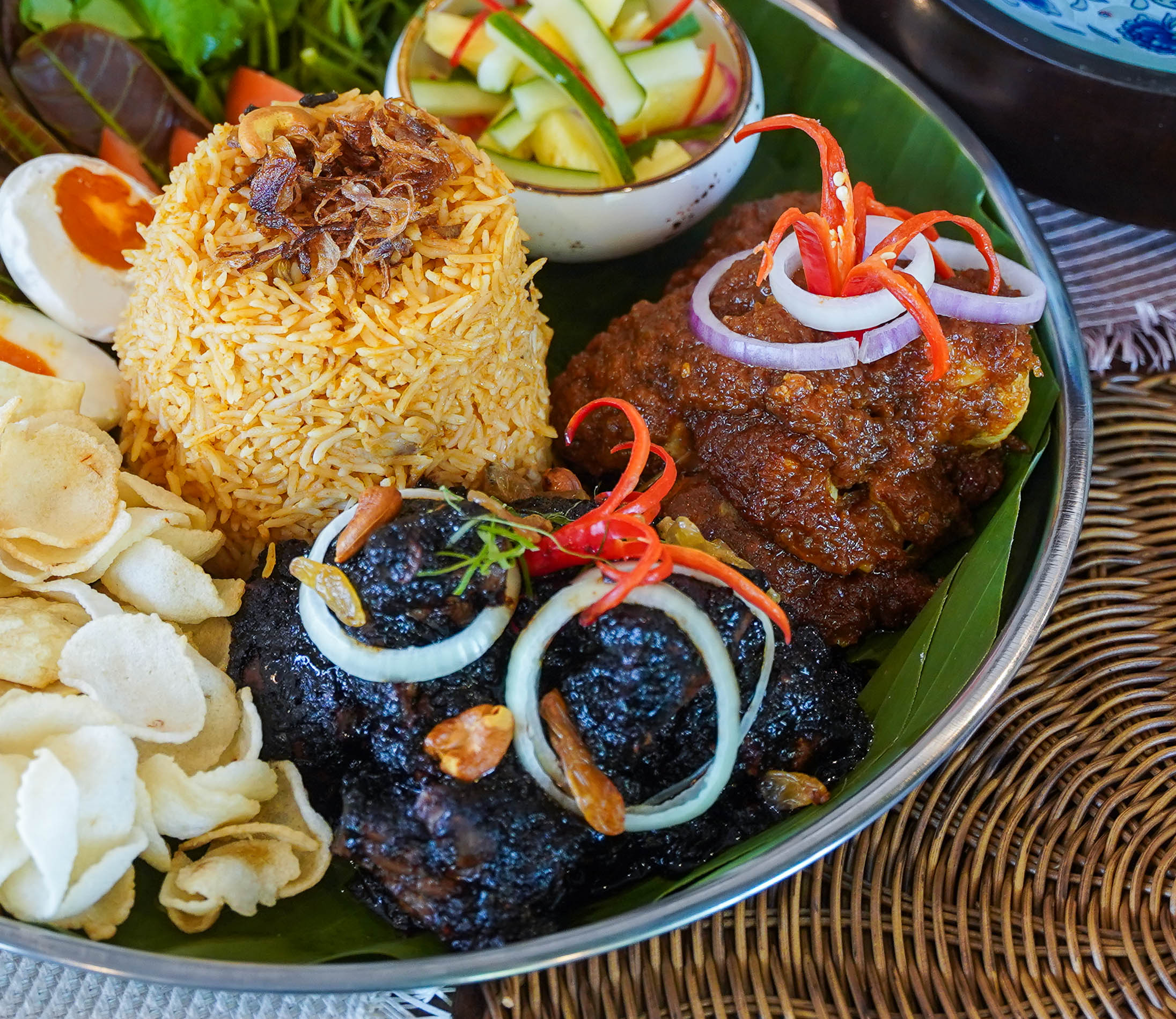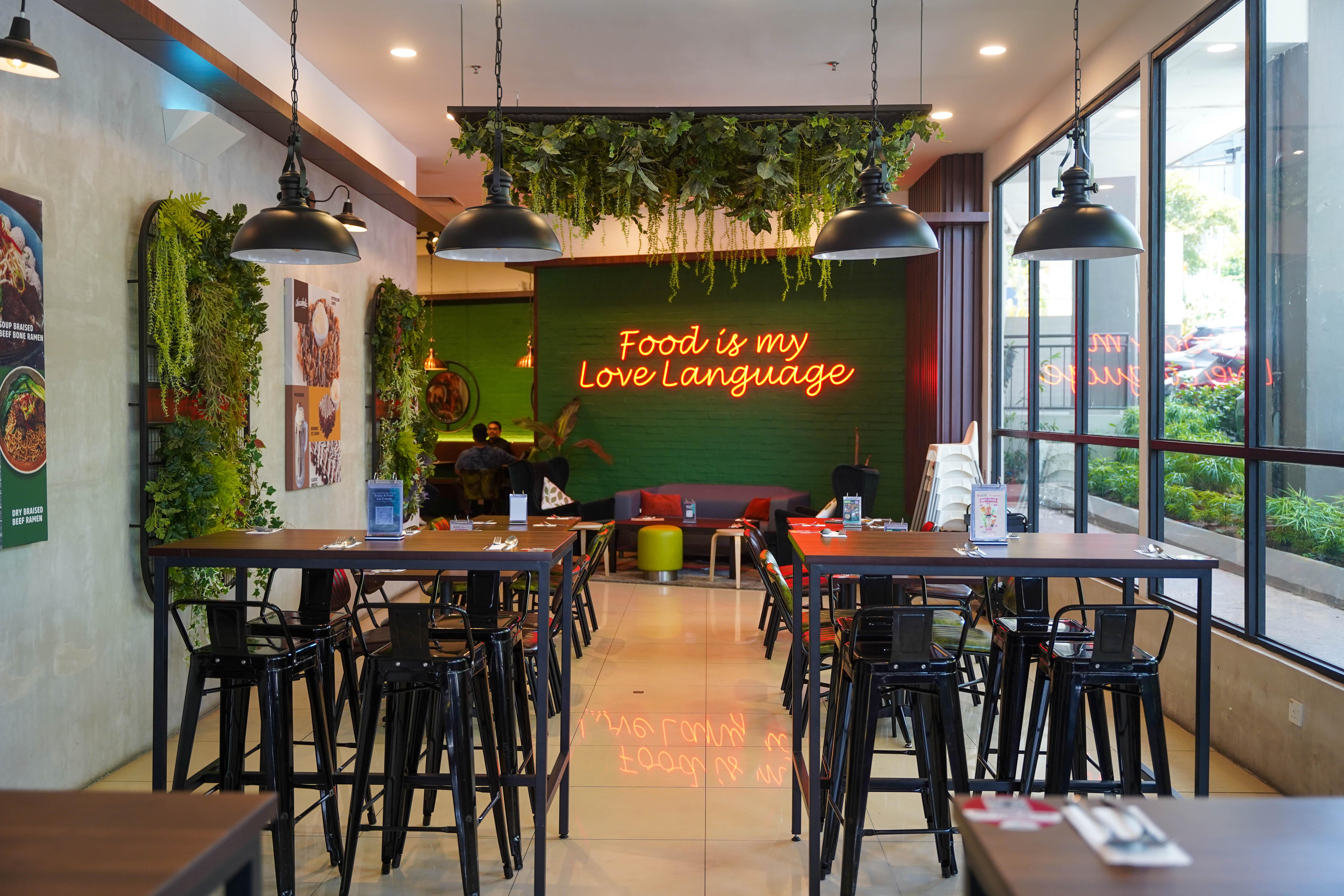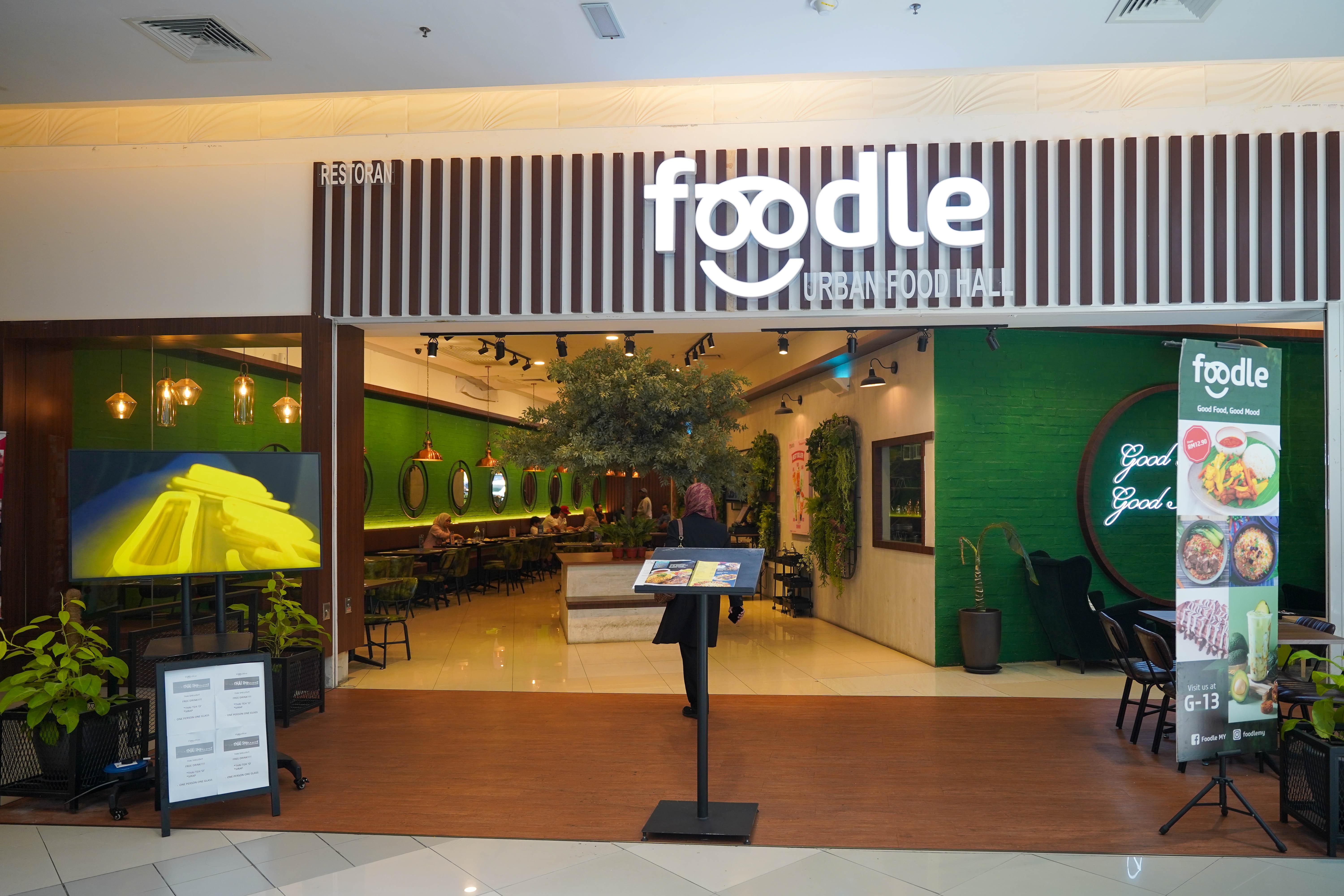 Foodle's fabulous seasonal sensation is the Sedulang Serasa (RM24.90 per person), which promises a taste of tradition to share, showcasing:
Ayam masak merah
Ayam kicap bumbu
Daging masak lemak
Ulam
Ladies' fingers
Acar
Papadom & keropok sayur 
Pilau rice 
Sambal merah & sambal hijau
Drinks (choice of sirap selasih or iced lemon tea)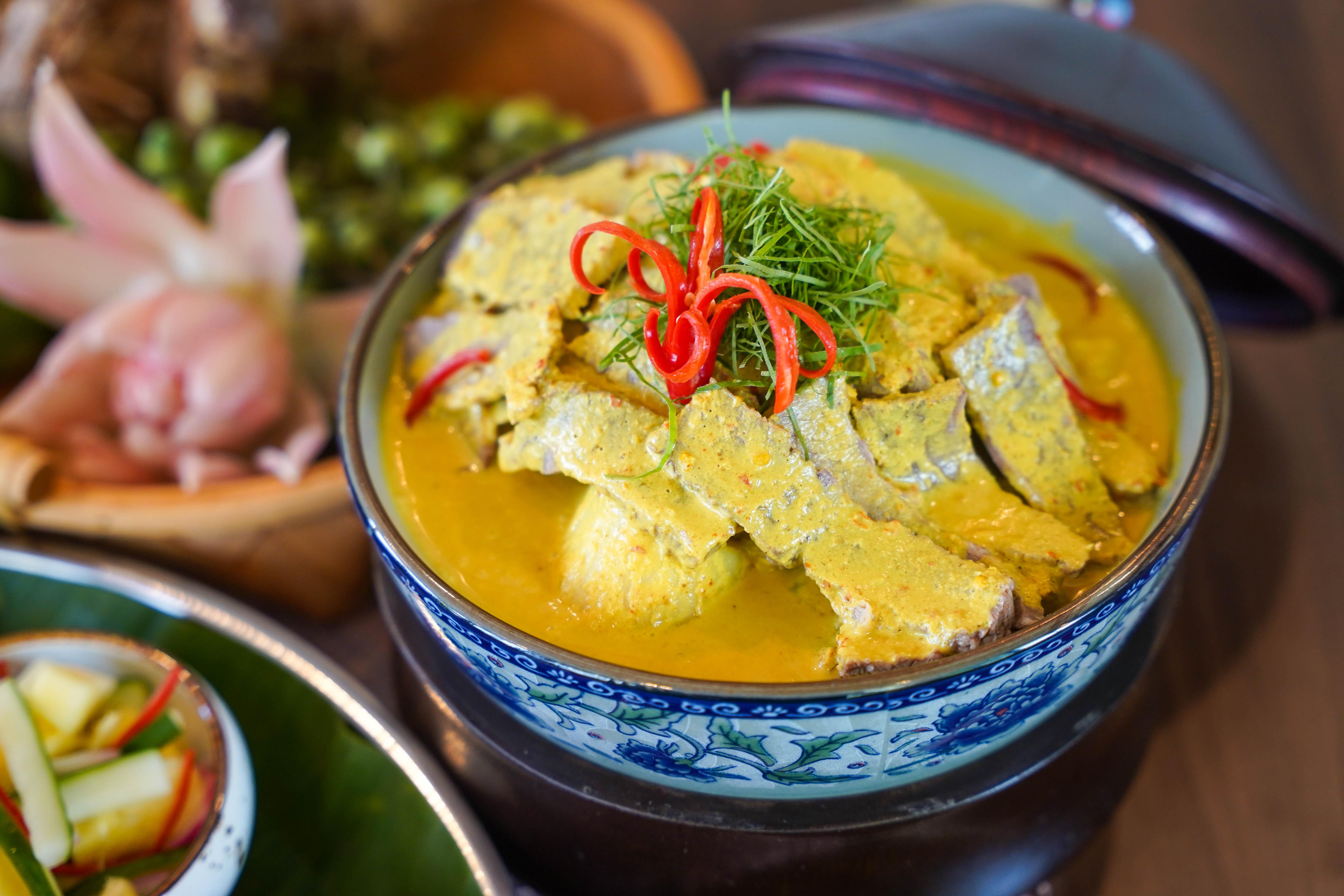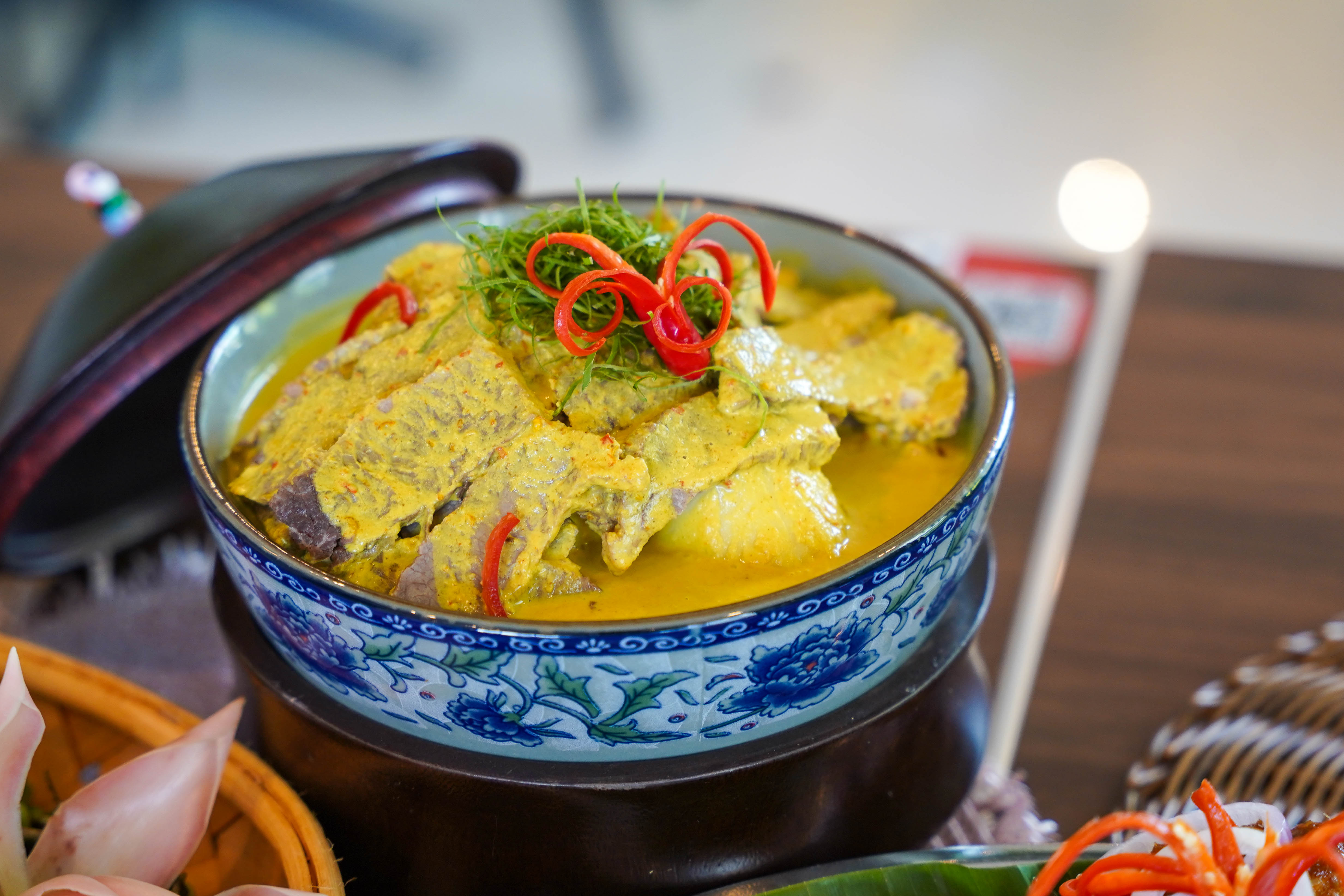 If you're ordering only one dish at Foodle, make it the Daging Masak Lemak, a beautiful braise of beef brisket that's succulent, savoury and spicy.

AHH-YUM BY KAMPONG KRAVERS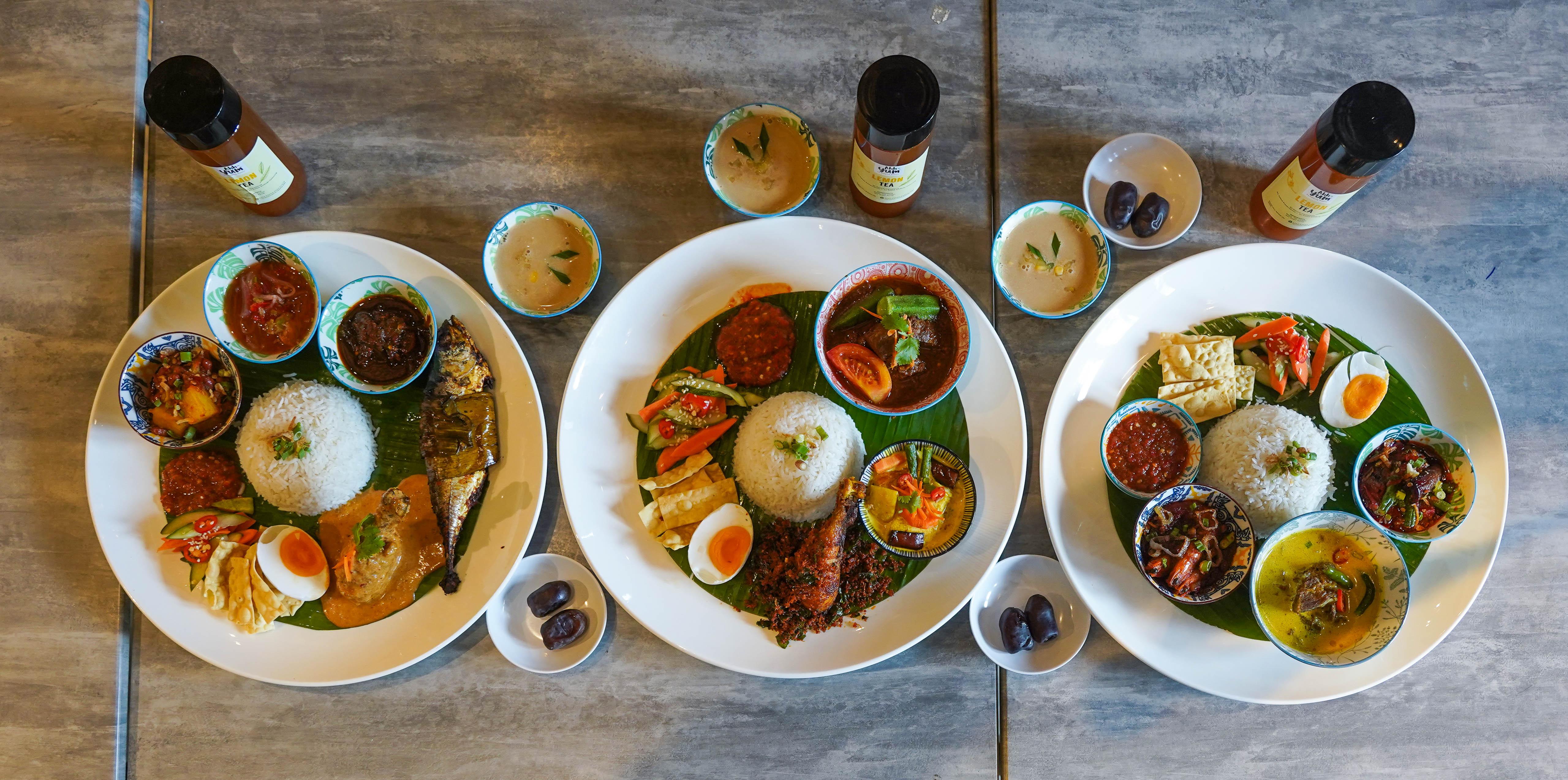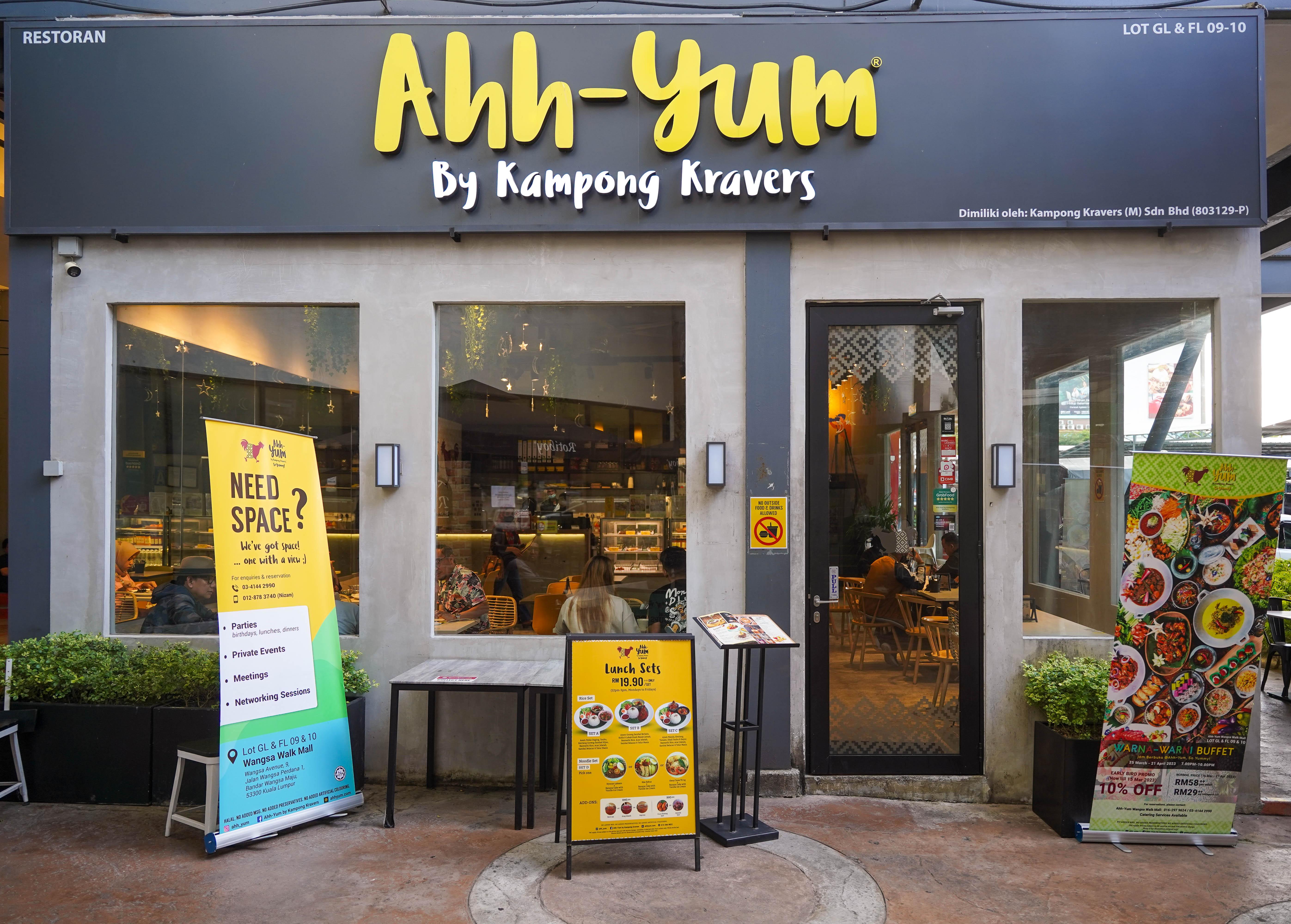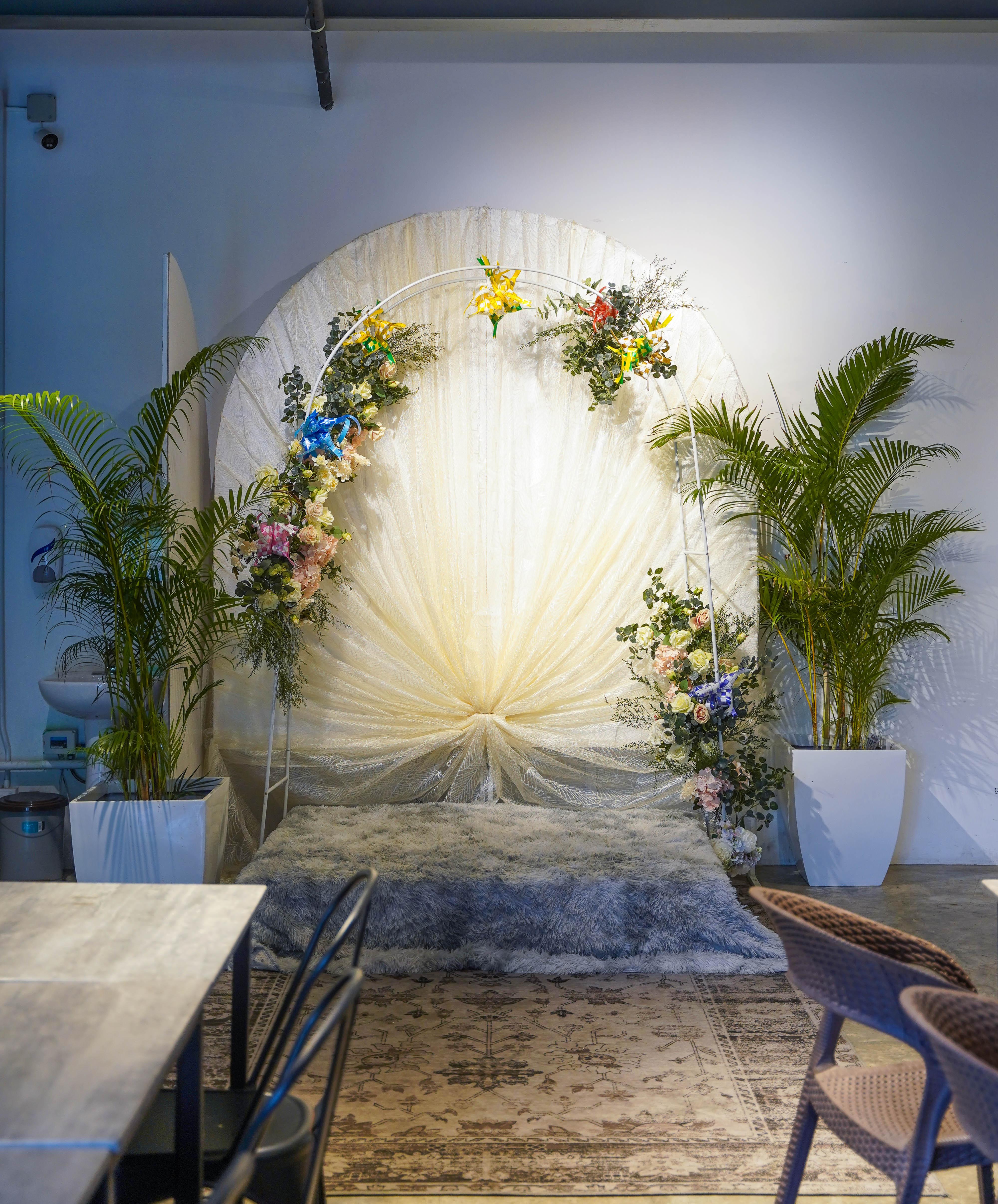 Ahh-Yum by Kampong Kravers' Ramadan promotion is themed Sajian Warna Warni, featuring a variety of single-platter sets of classic favourites until 21 April. All sets are accompanied by acar jelatah, papadom, kurma, bubur jagung and iced lemon tea.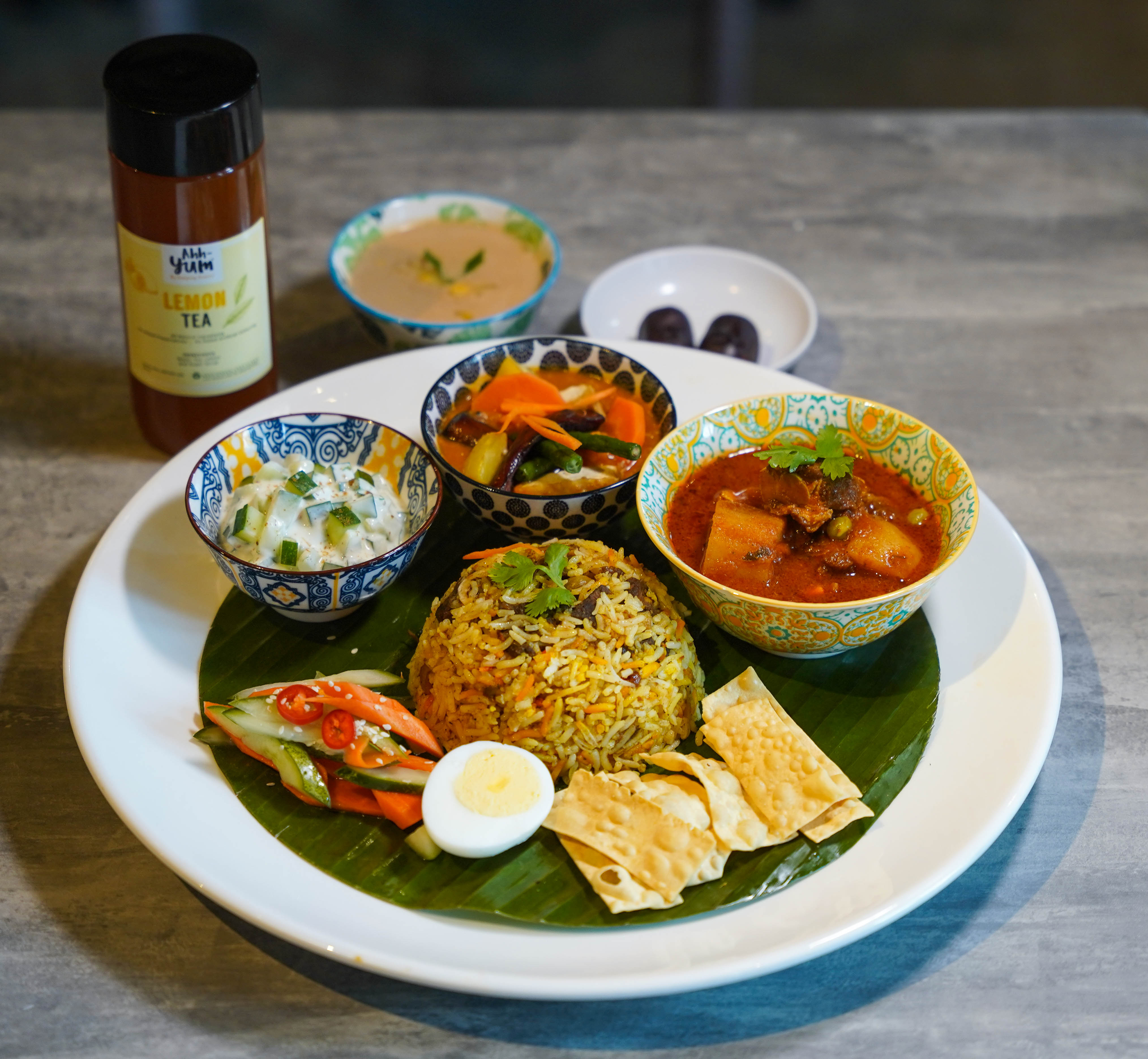 Set A is for lamb lovers: Briyani Kambing 2 Rasa (RM45++), a mouthwatering and meaty Australian lamb briyani with kambing masala, vegetable dhall, hard-boiled egg, cucumber raita, acar jelatah, papadom, kurma and bubur jagung.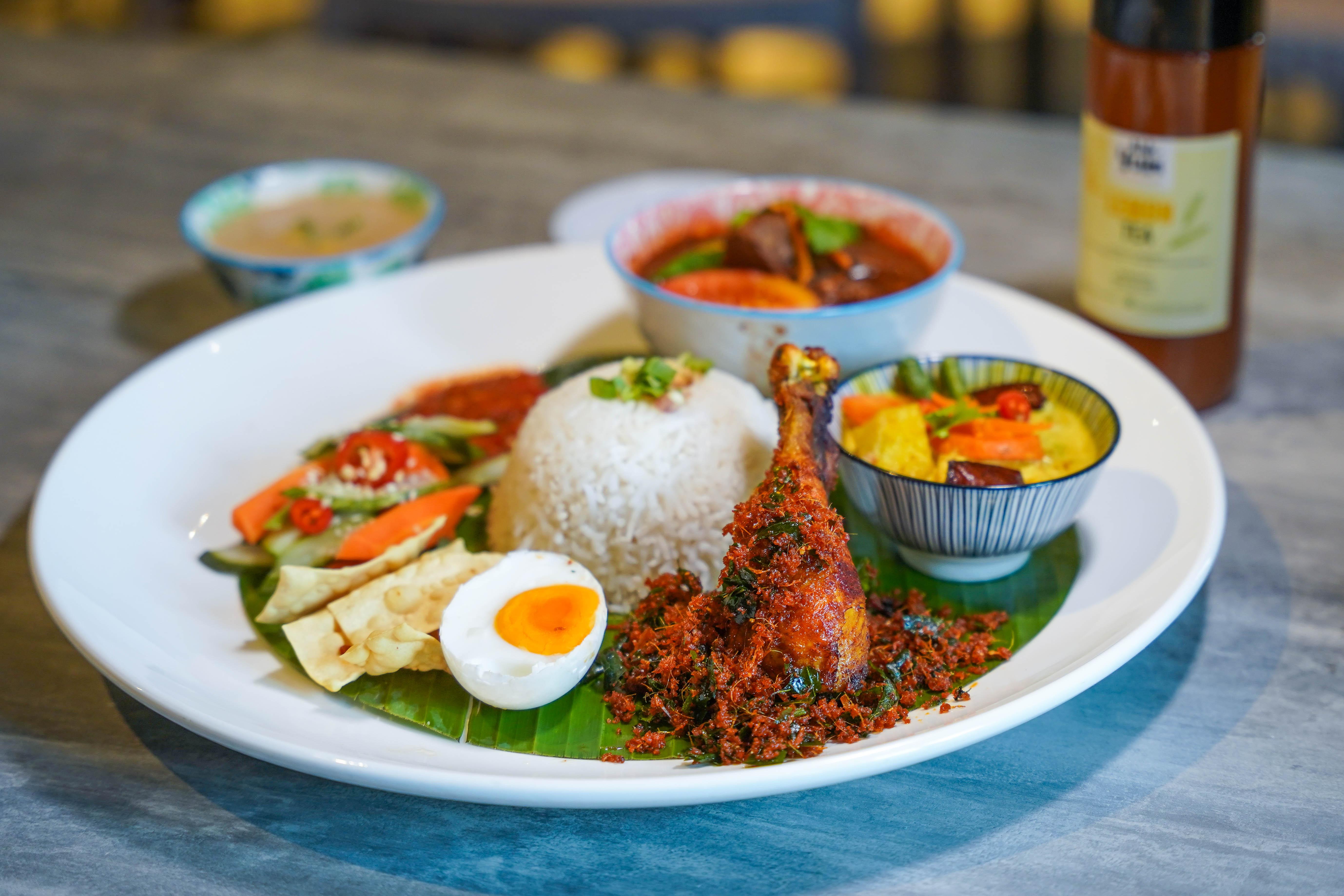 Set B (RM38++) is delicious with daging asam pedas, ayam goreng berempah and kobis masak lemak kuning, rounded out with nasi basmathi.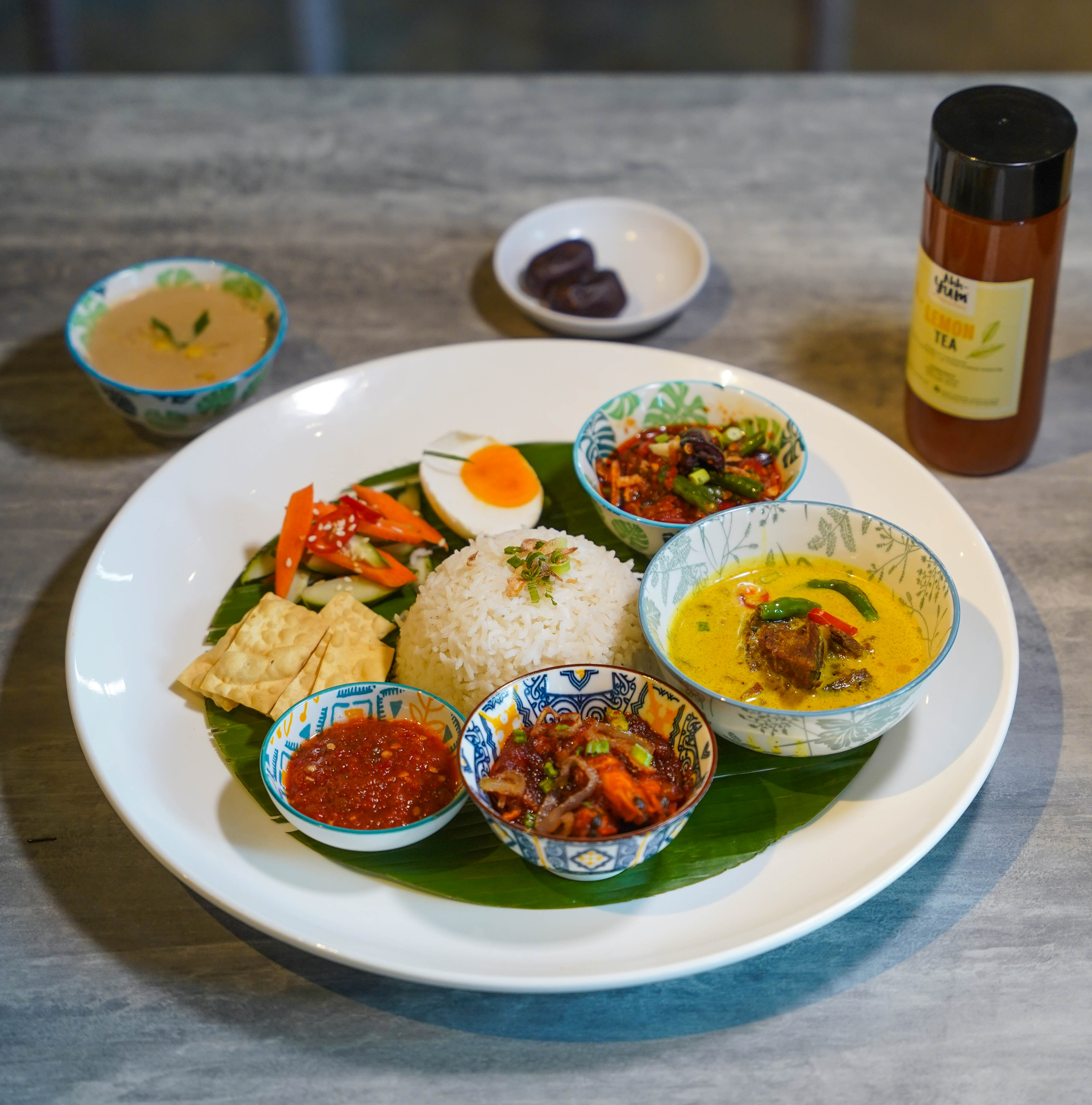 Set C (RM38++) brings together land and sea with daging masak lemak cili padi, sambal udang and terung kacang panjang bercili with nasi basmathi.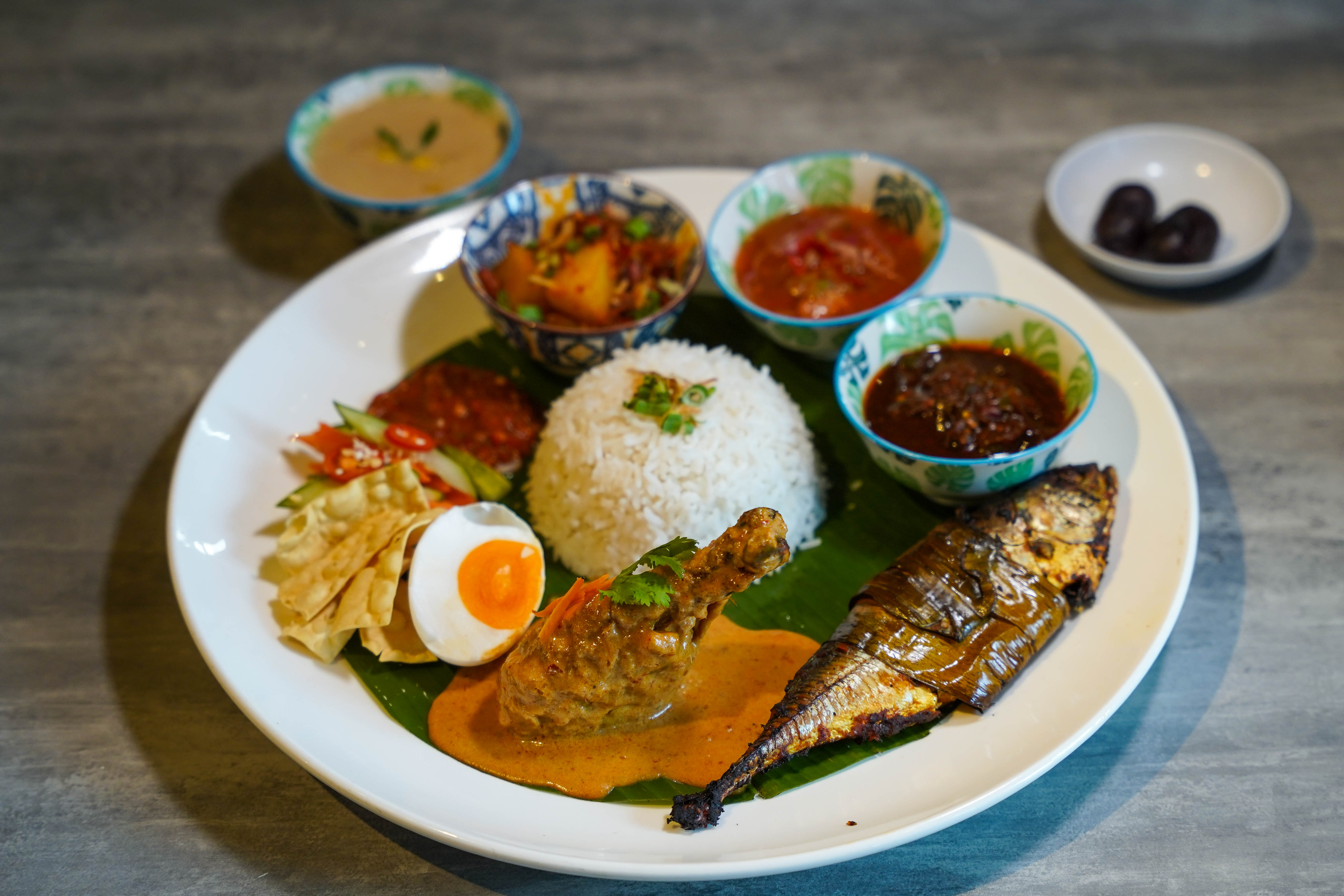 Set D (RM38++) features fowl and fish - ayam percik, ikan bakar air asam, kentang and kacang goreng bercili, with nasi basmathi.
BHAI JIM JUM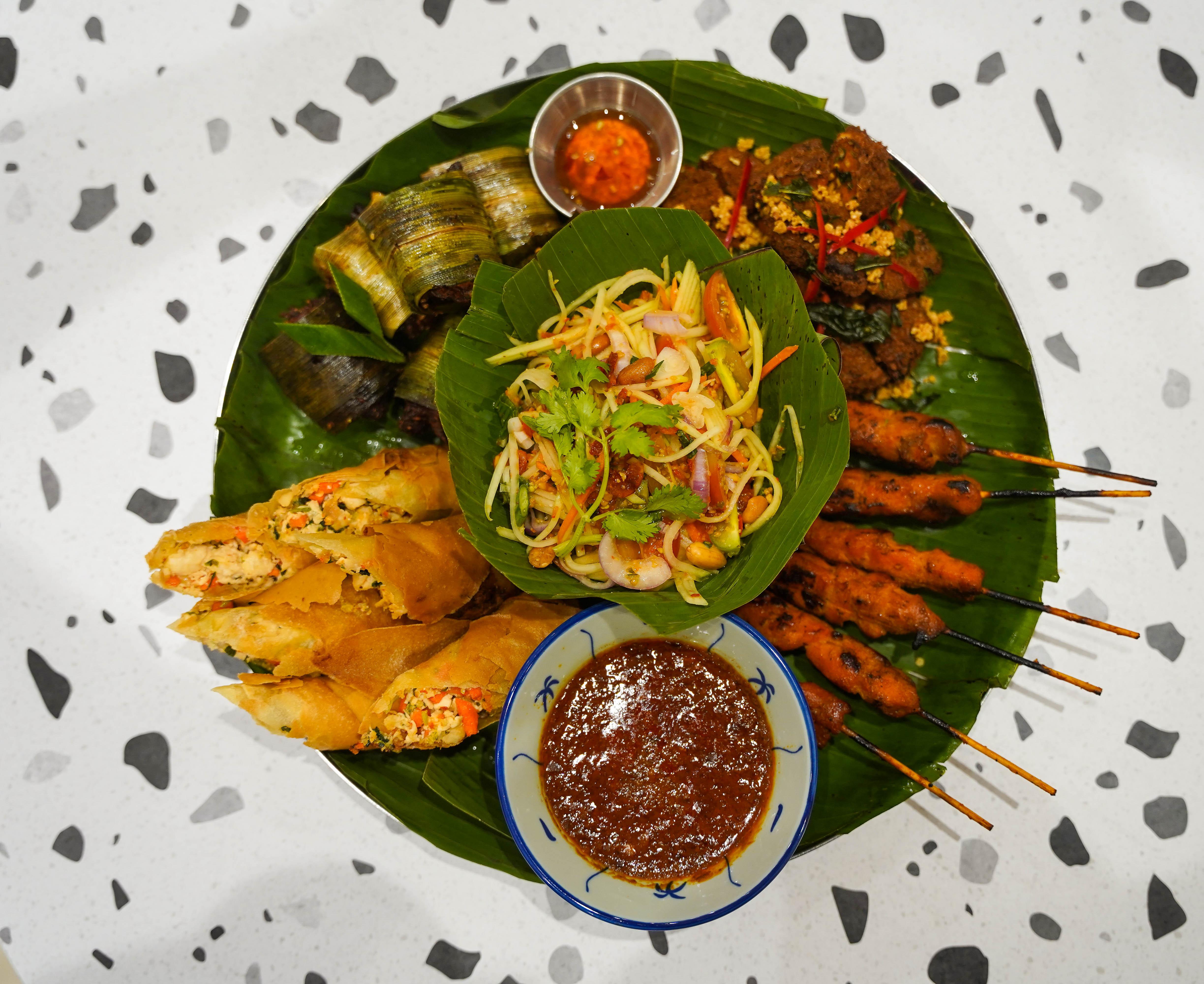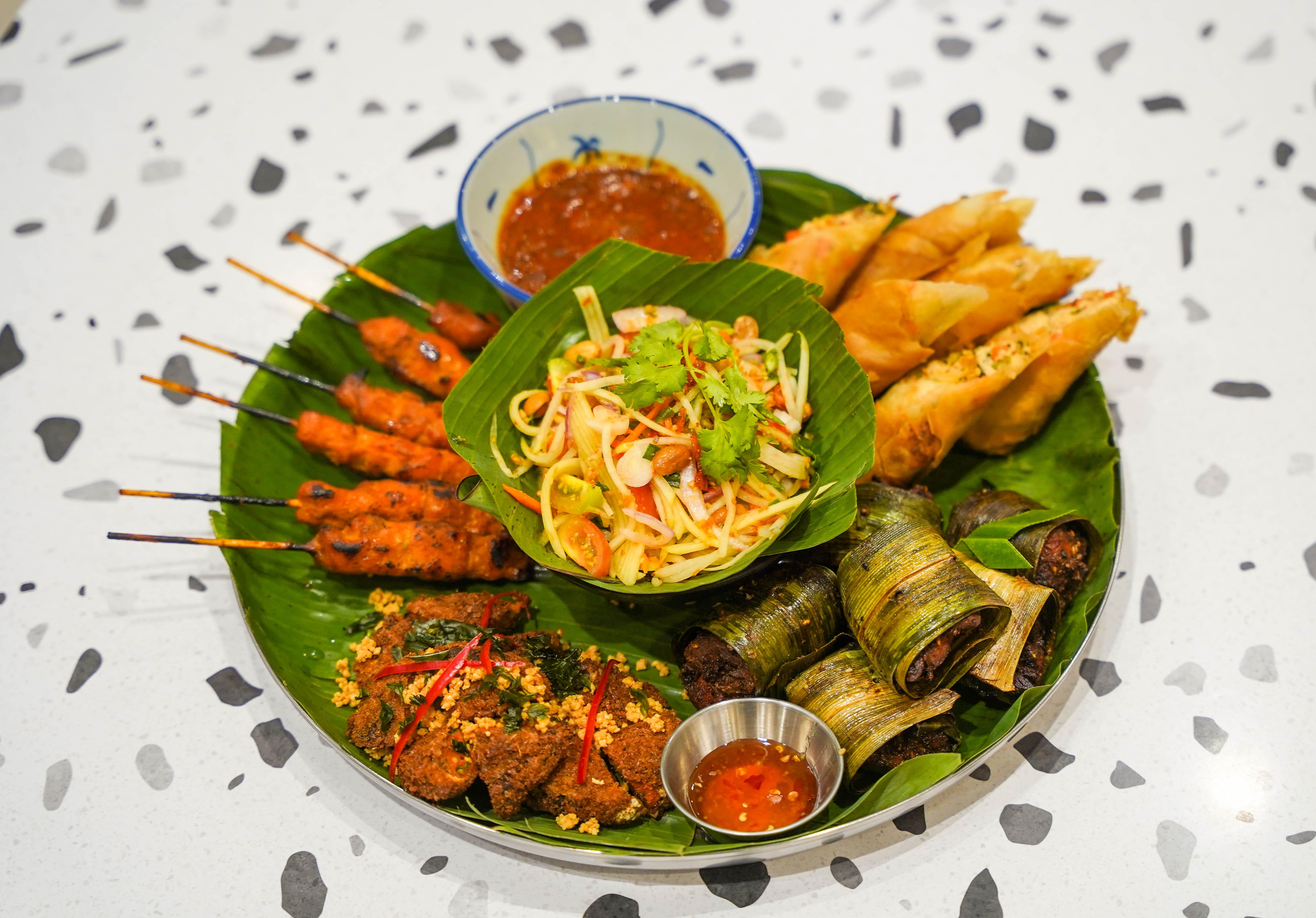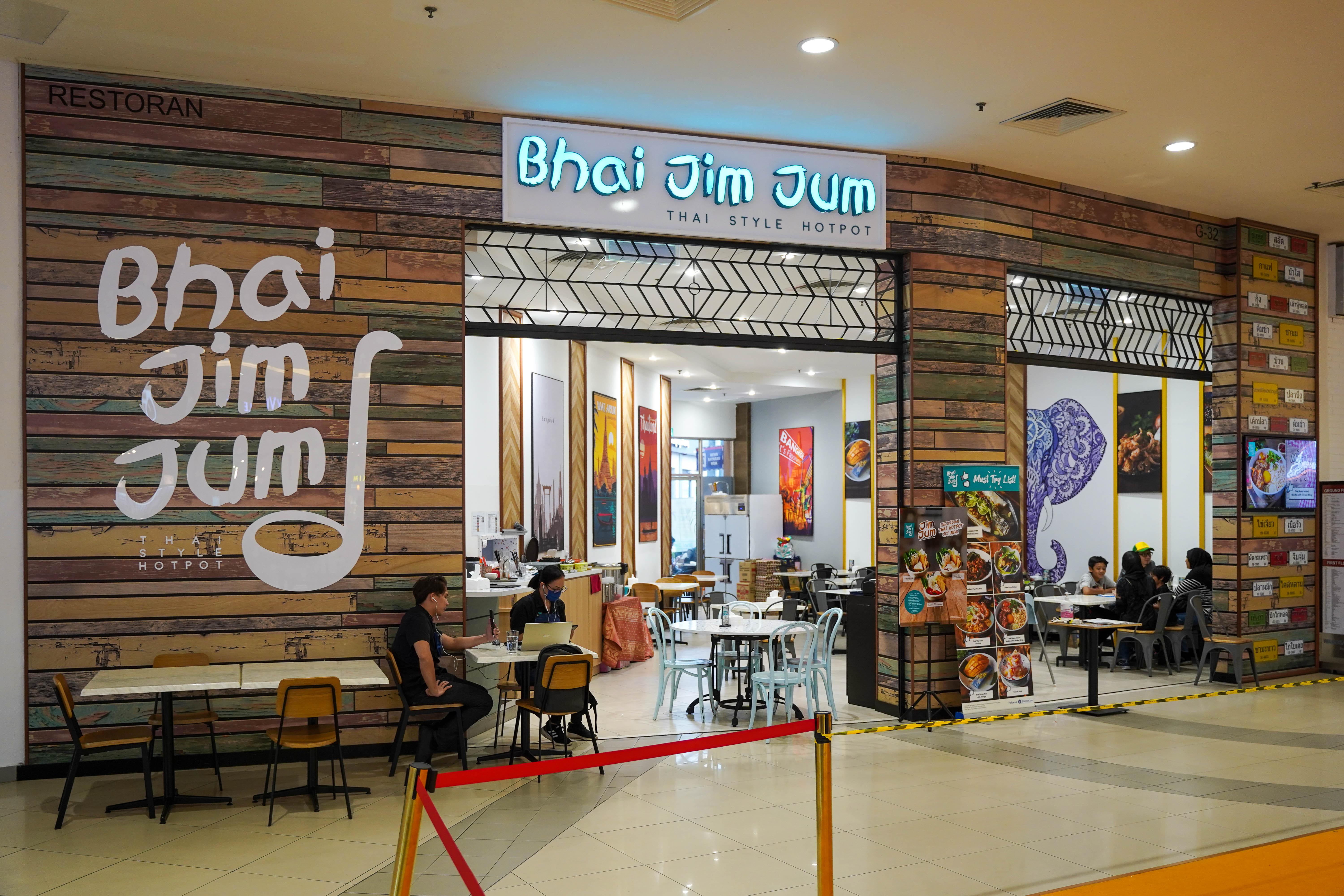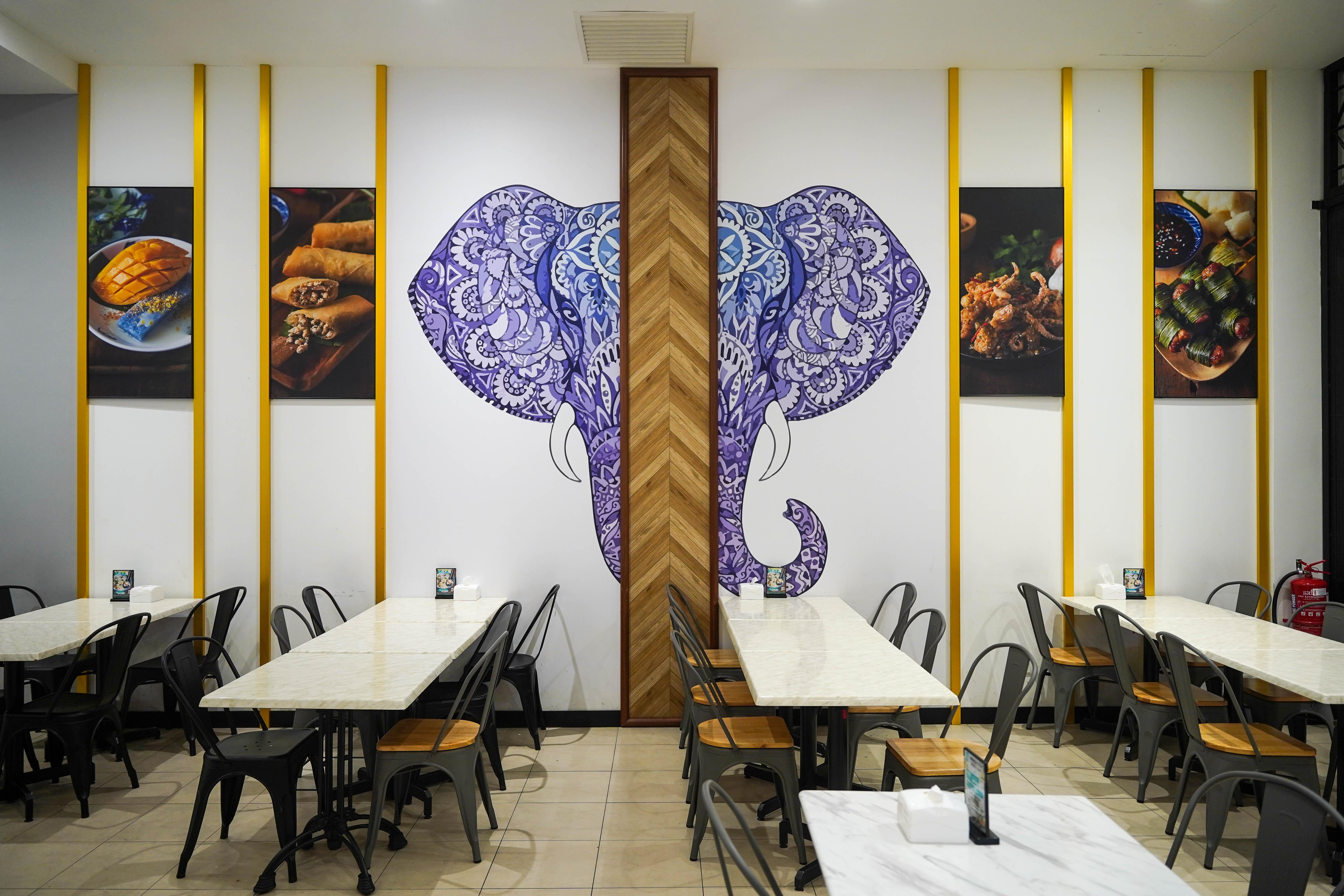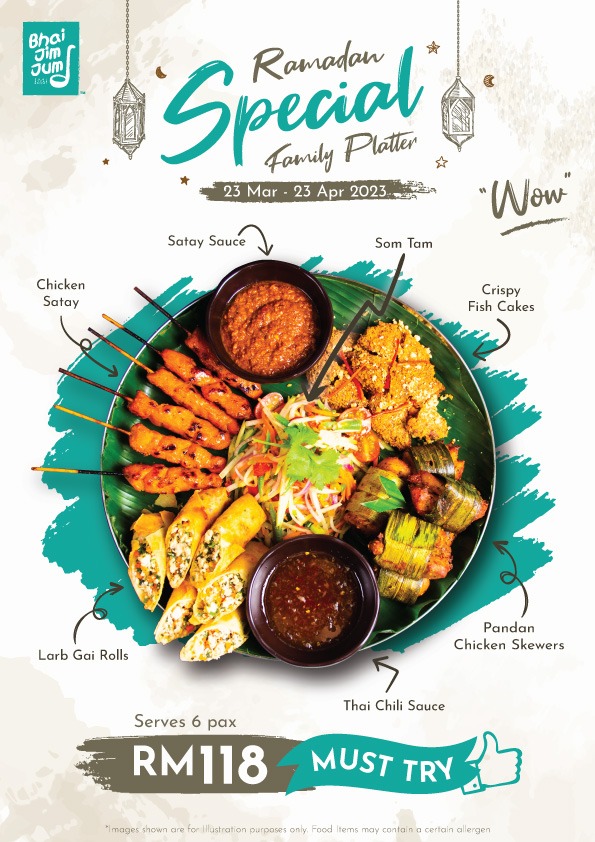 If you're craving Thai this Ramadan, try Bhai Jim Jum's Family Platter (RM78), built for big appetites, suitable for six persons. It comprises Bhai Jim Jim's crowd favourites of somtam, crispy fish cakes, larb gai rolls with minced chicken and Thai chilli sauce, and pandan chicken skewers, plus a limited-edition debut of chunky chicken satay with a rich, robust satay sauce.
DELI SUSHI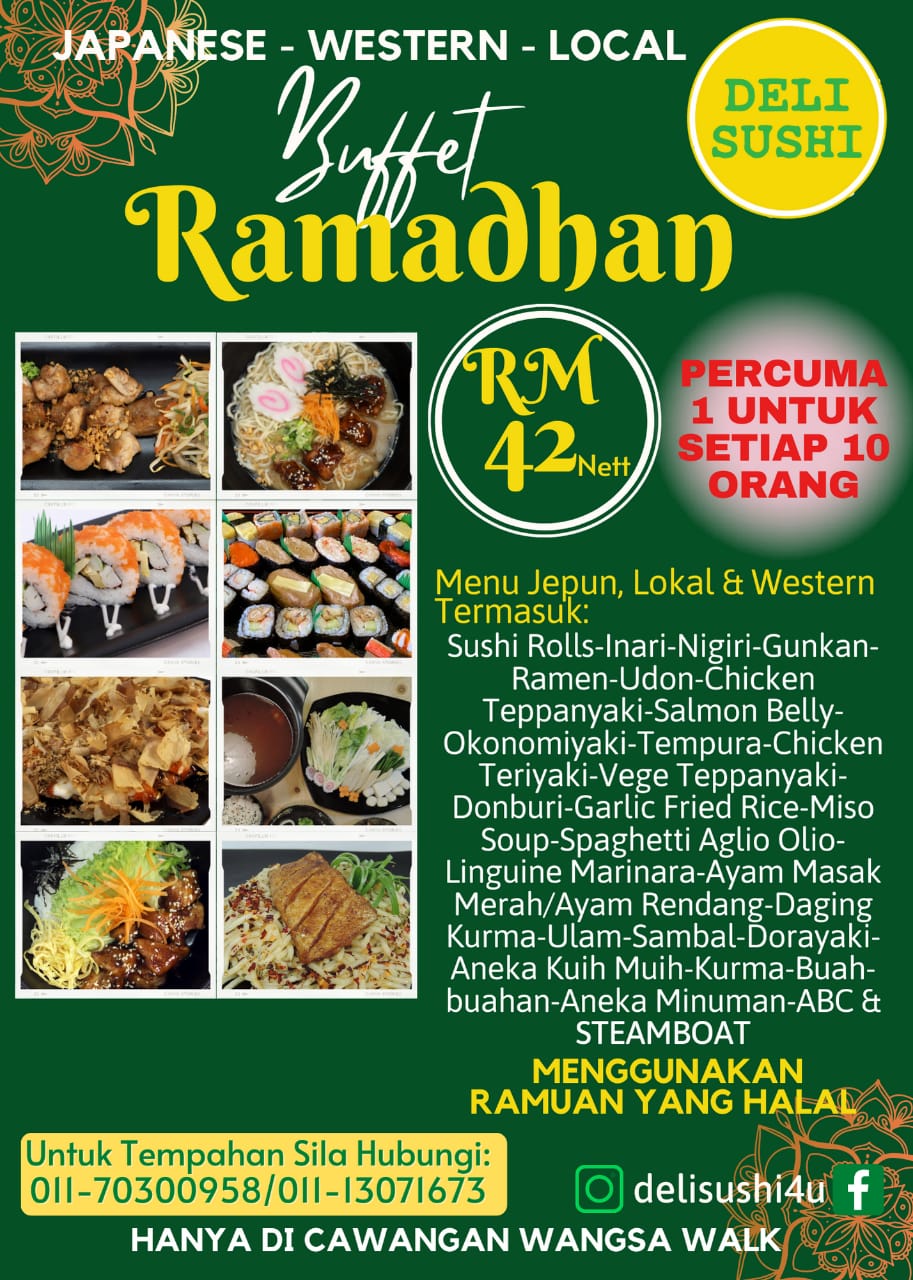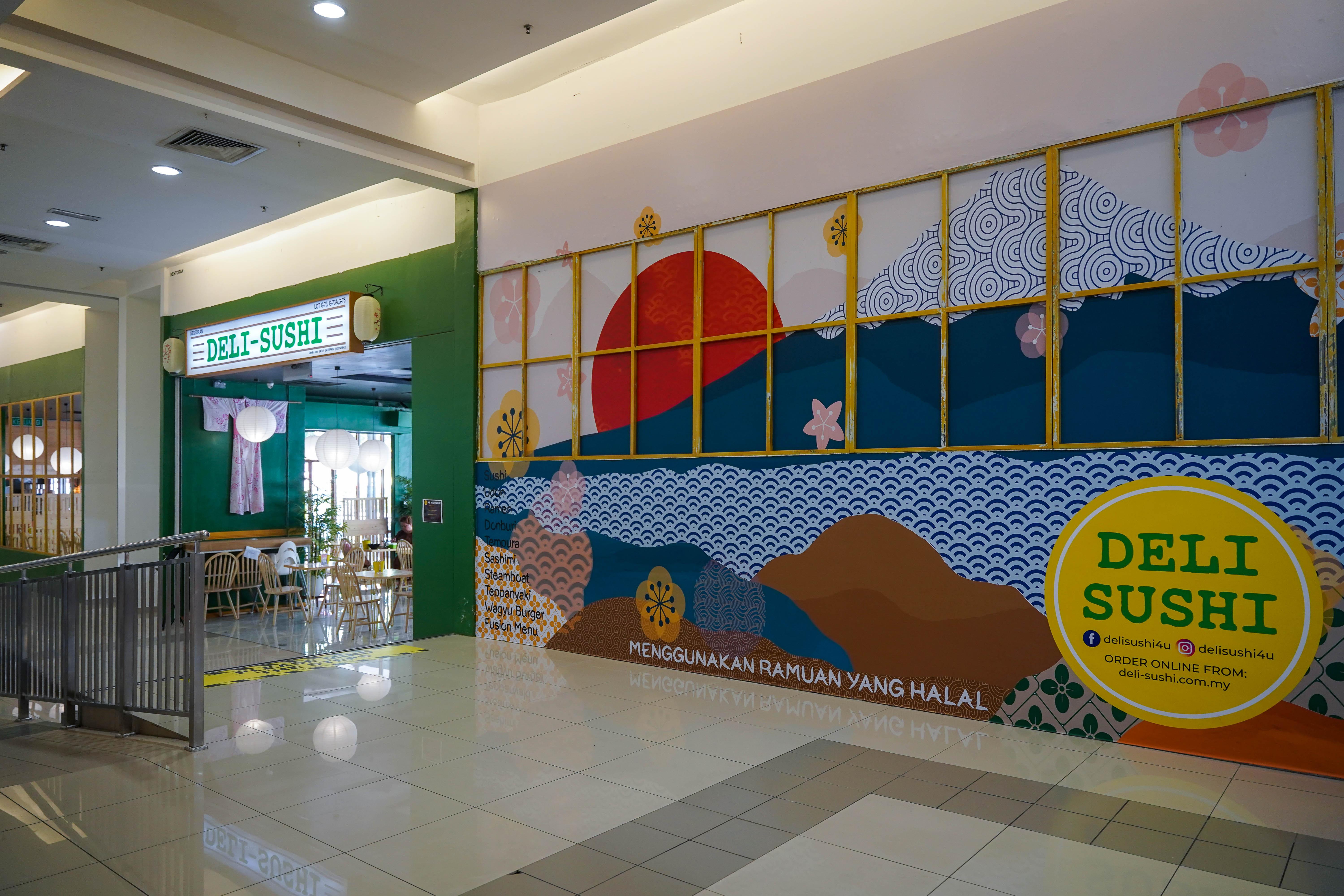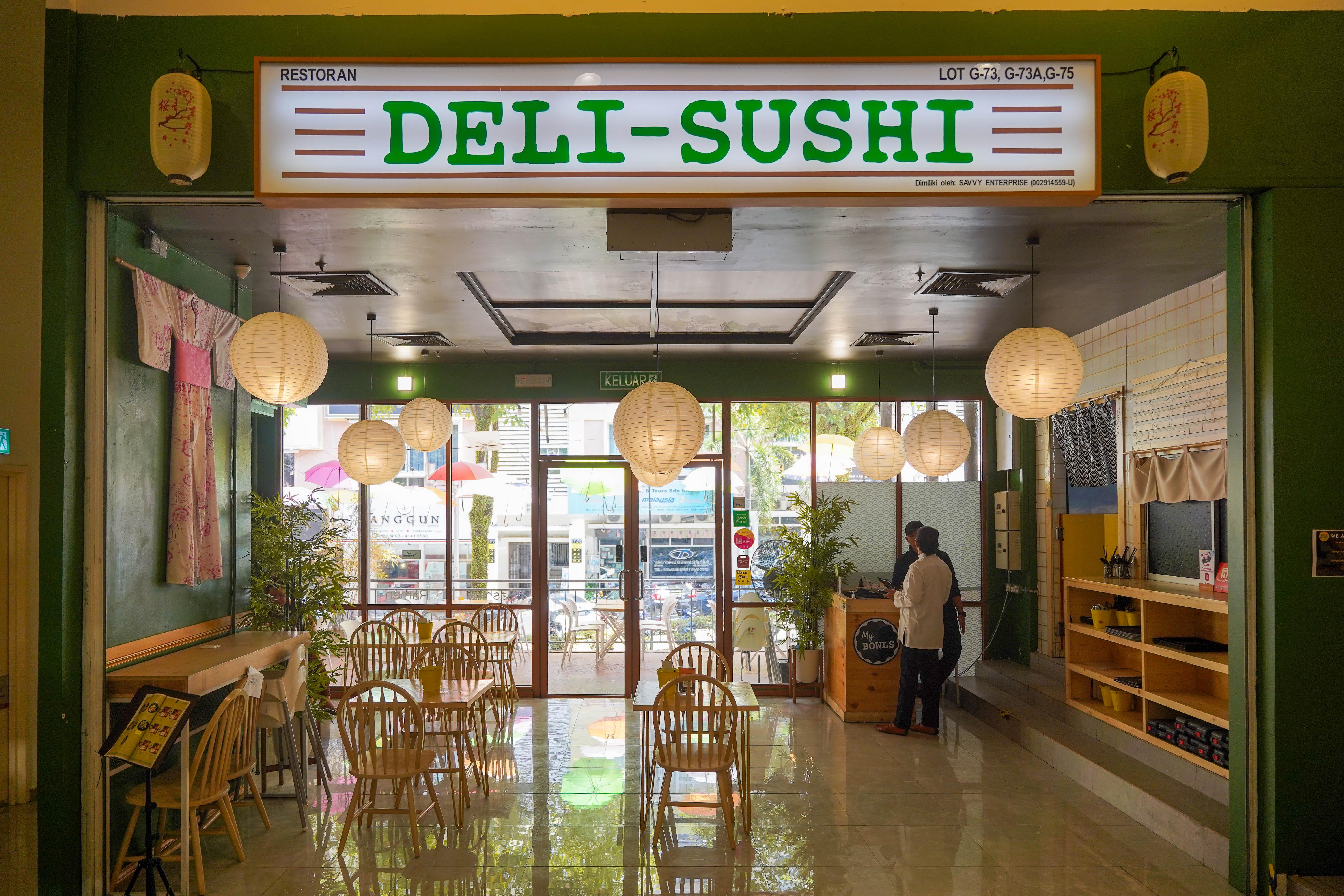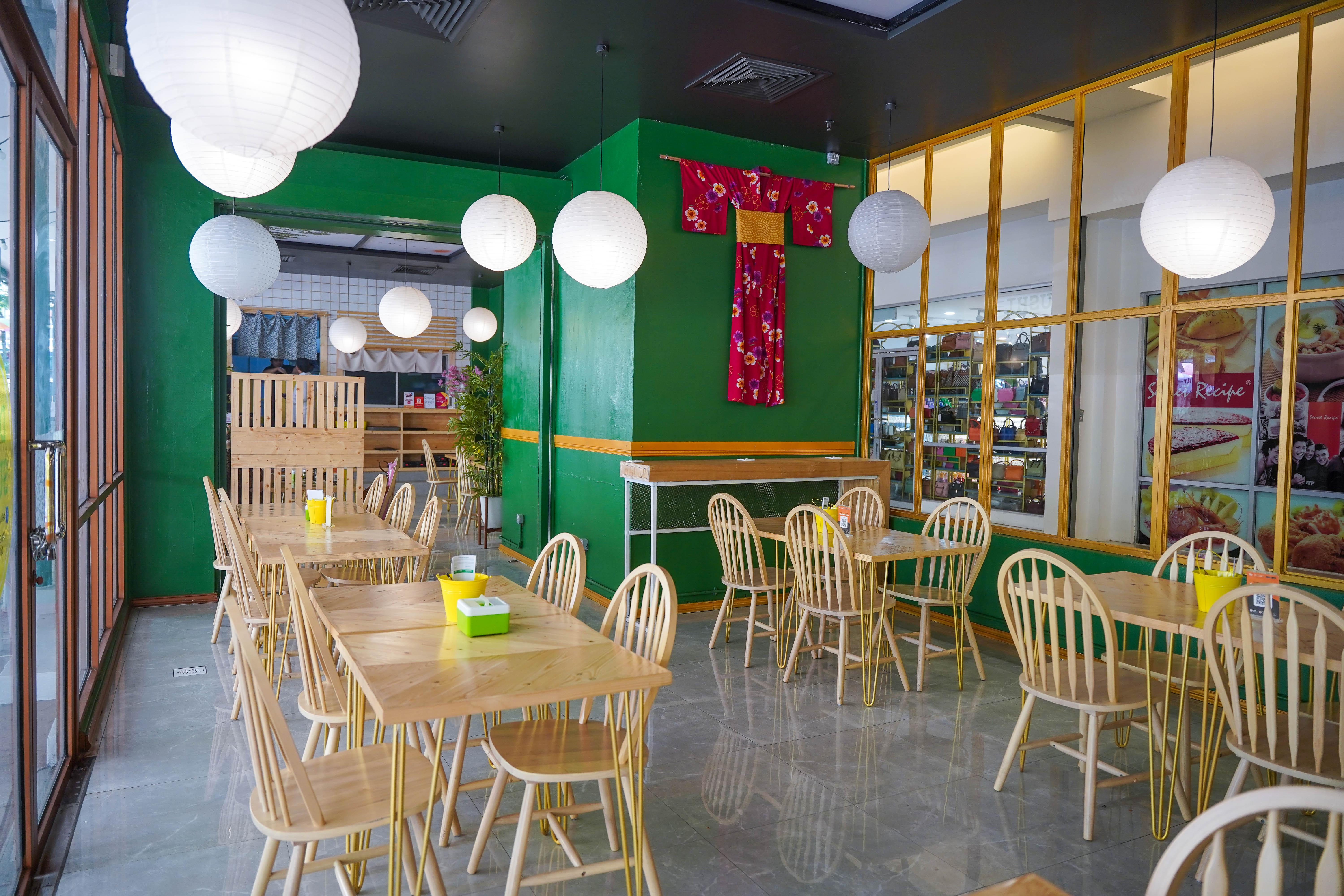 Exclusively at Wangsa Walk Mall, Deli Sushi is serving up a value-for-money Ramandan Buffet at only RM42 nett per person, with a scrumptious selection of Japanese, Western and local staples, as well as steamboat fare. Free 1 pax for every 10 pax.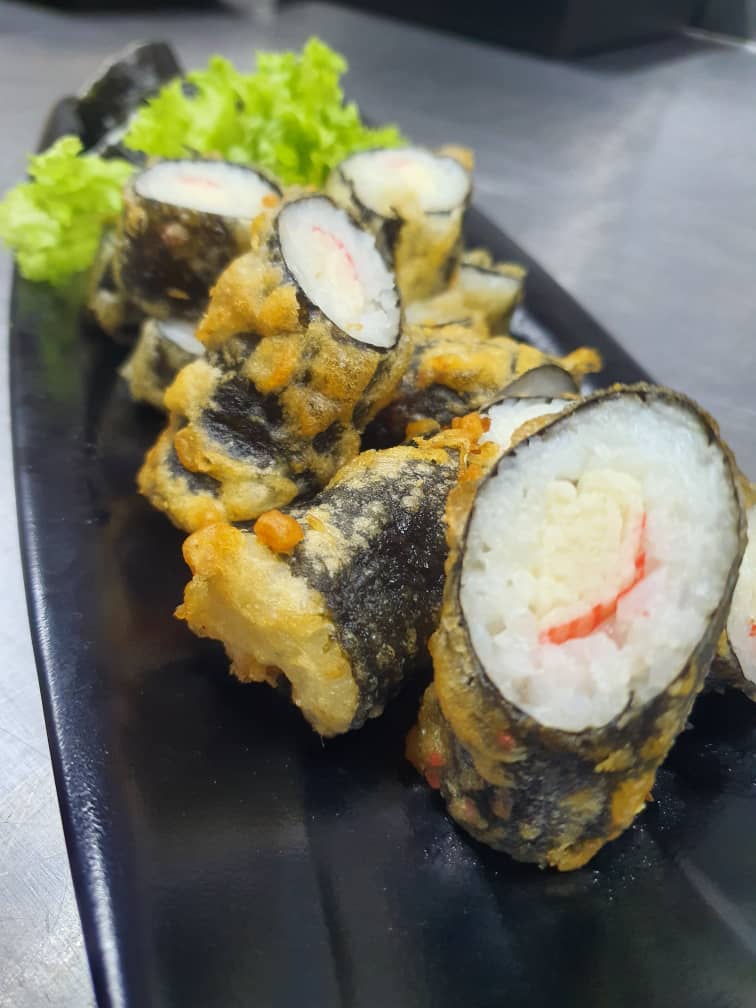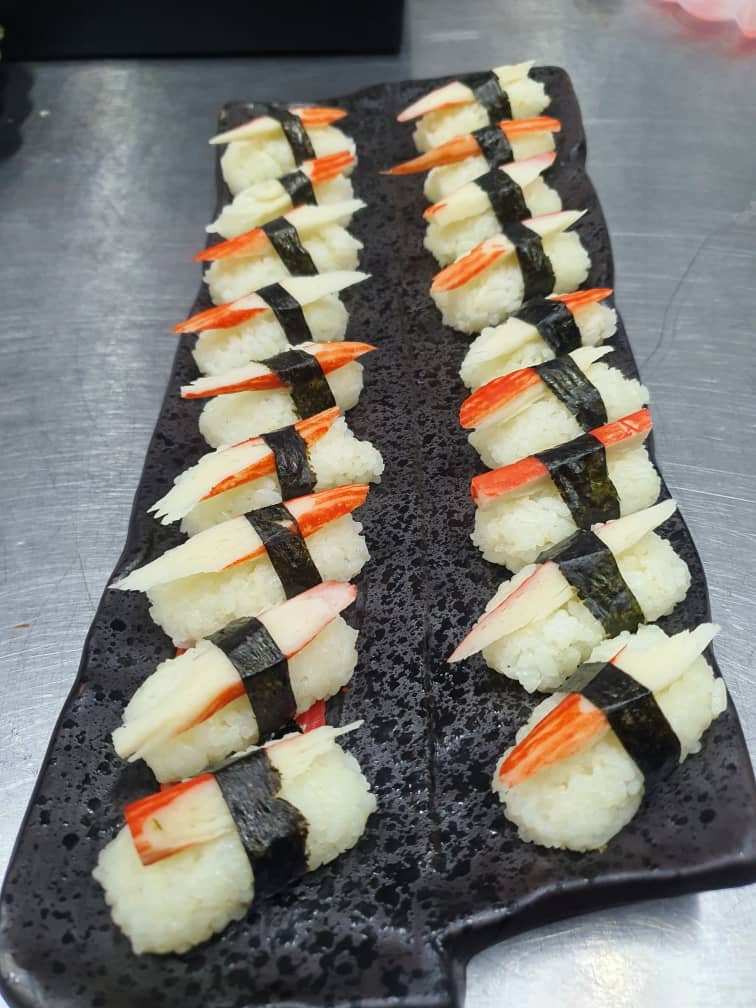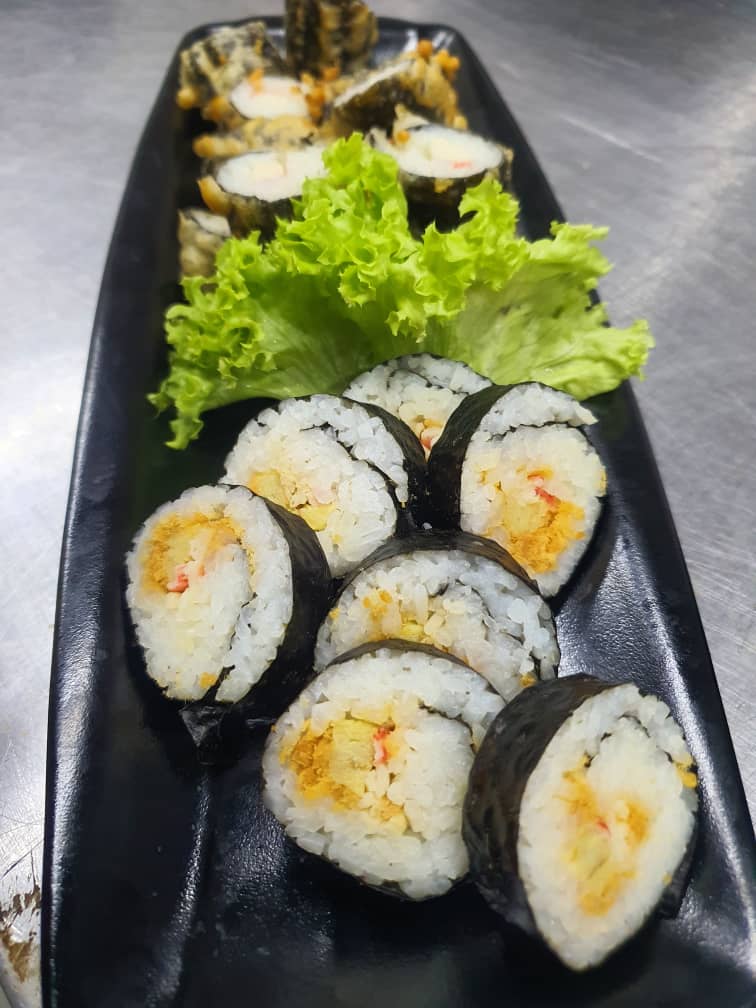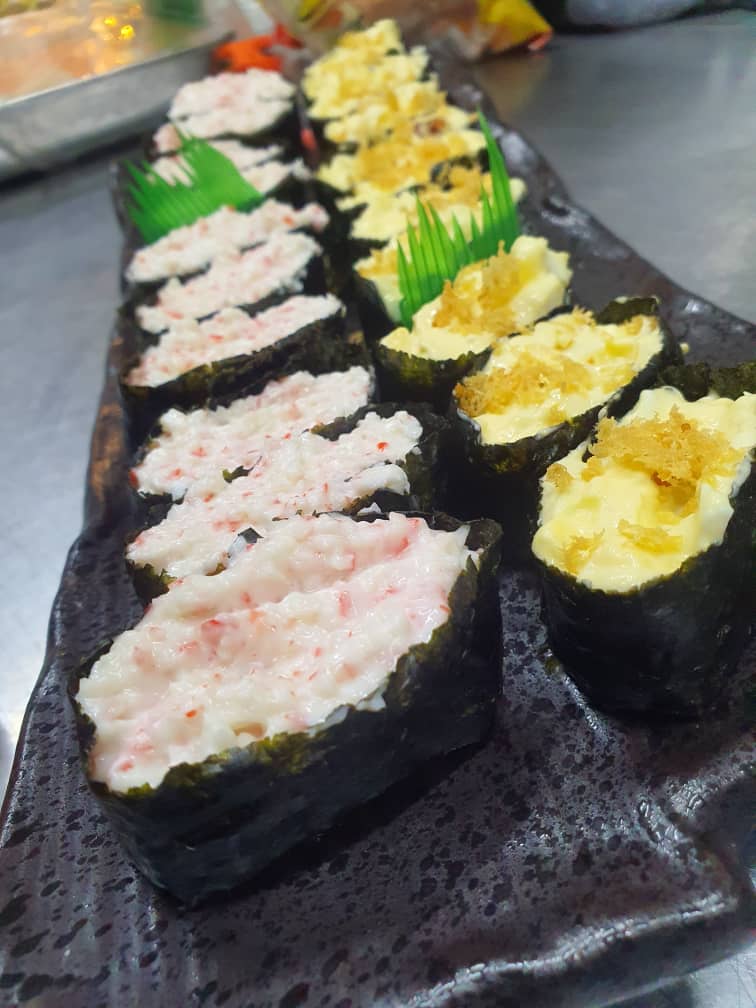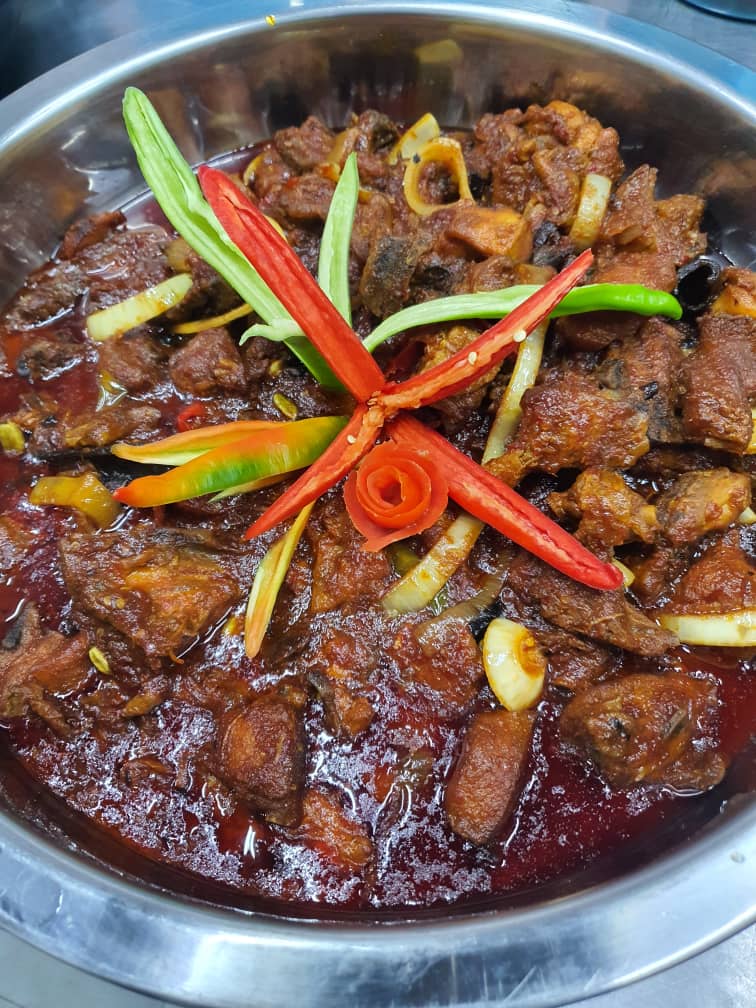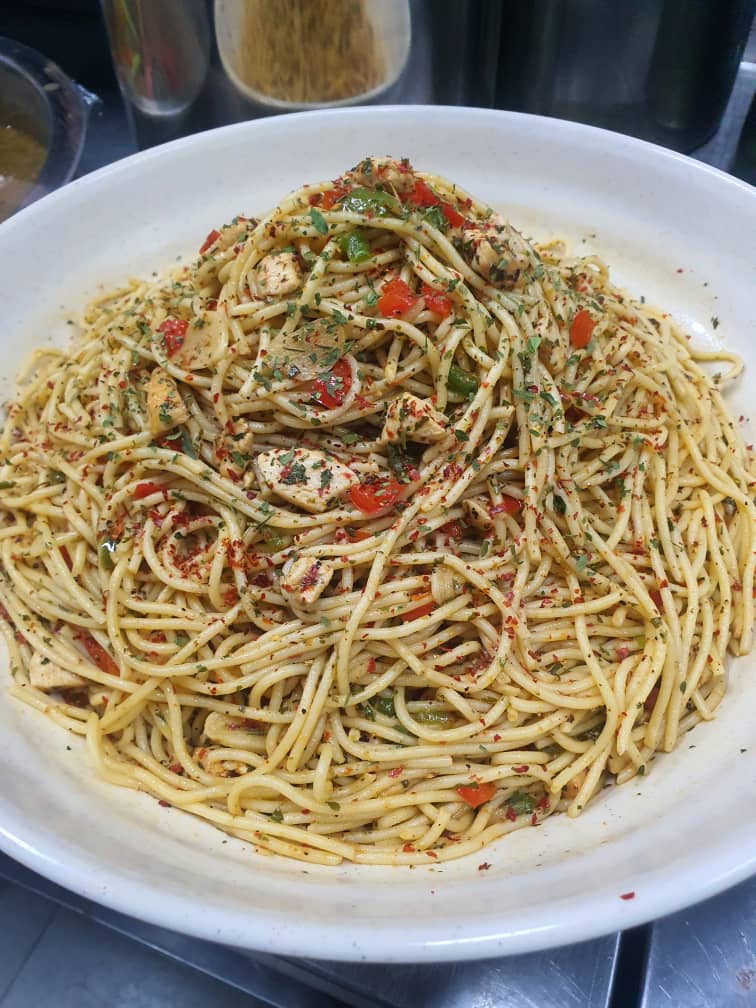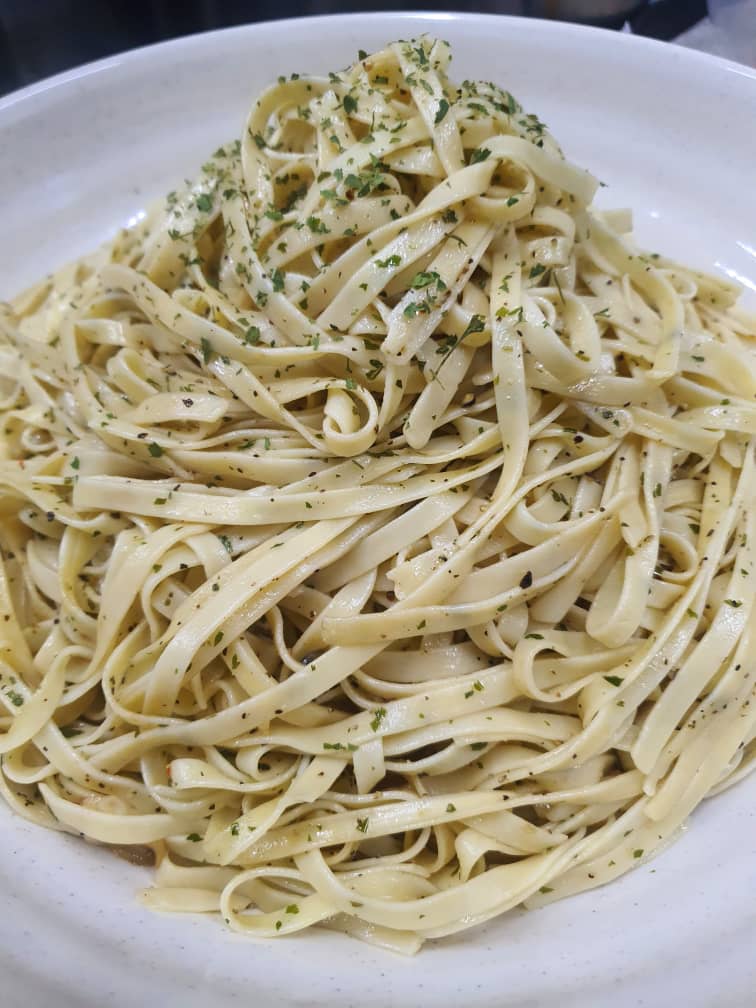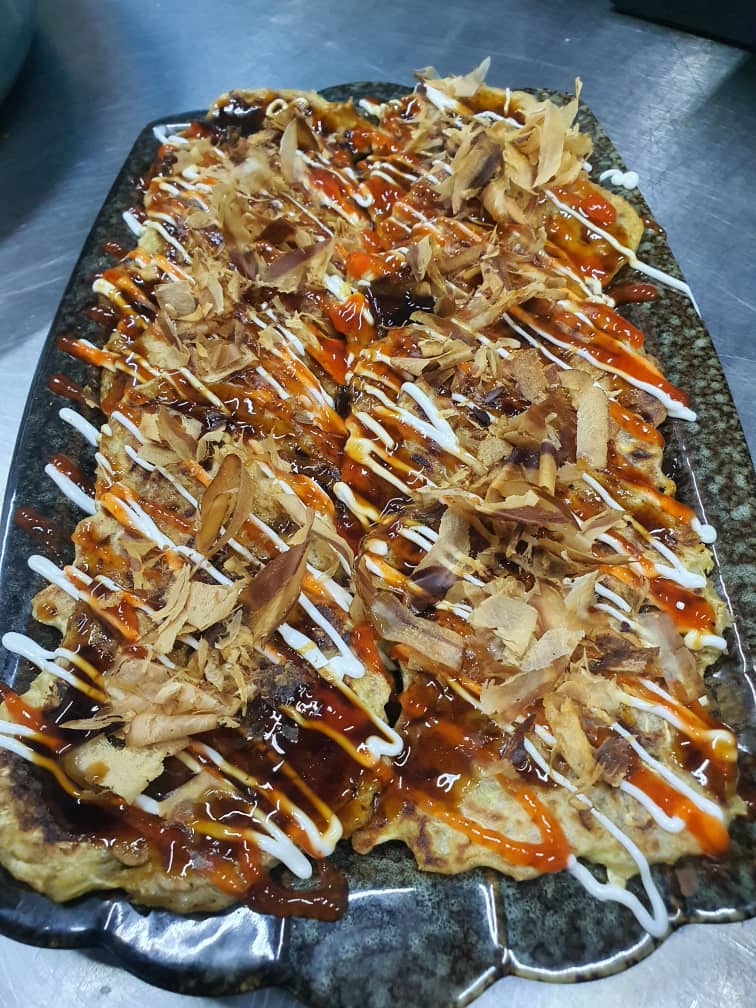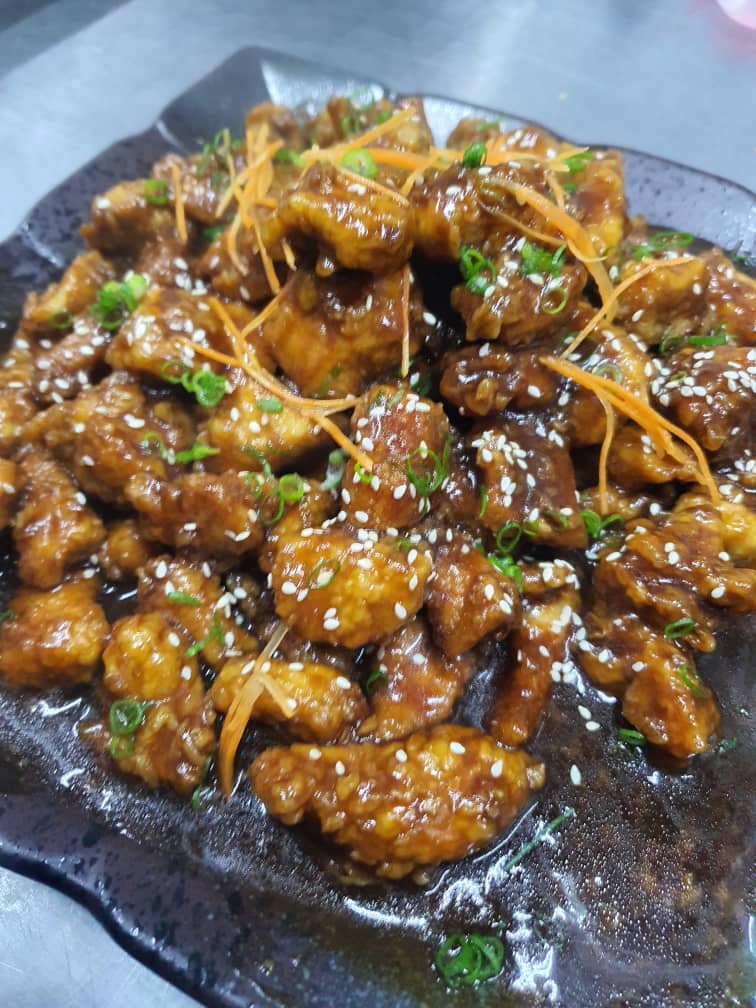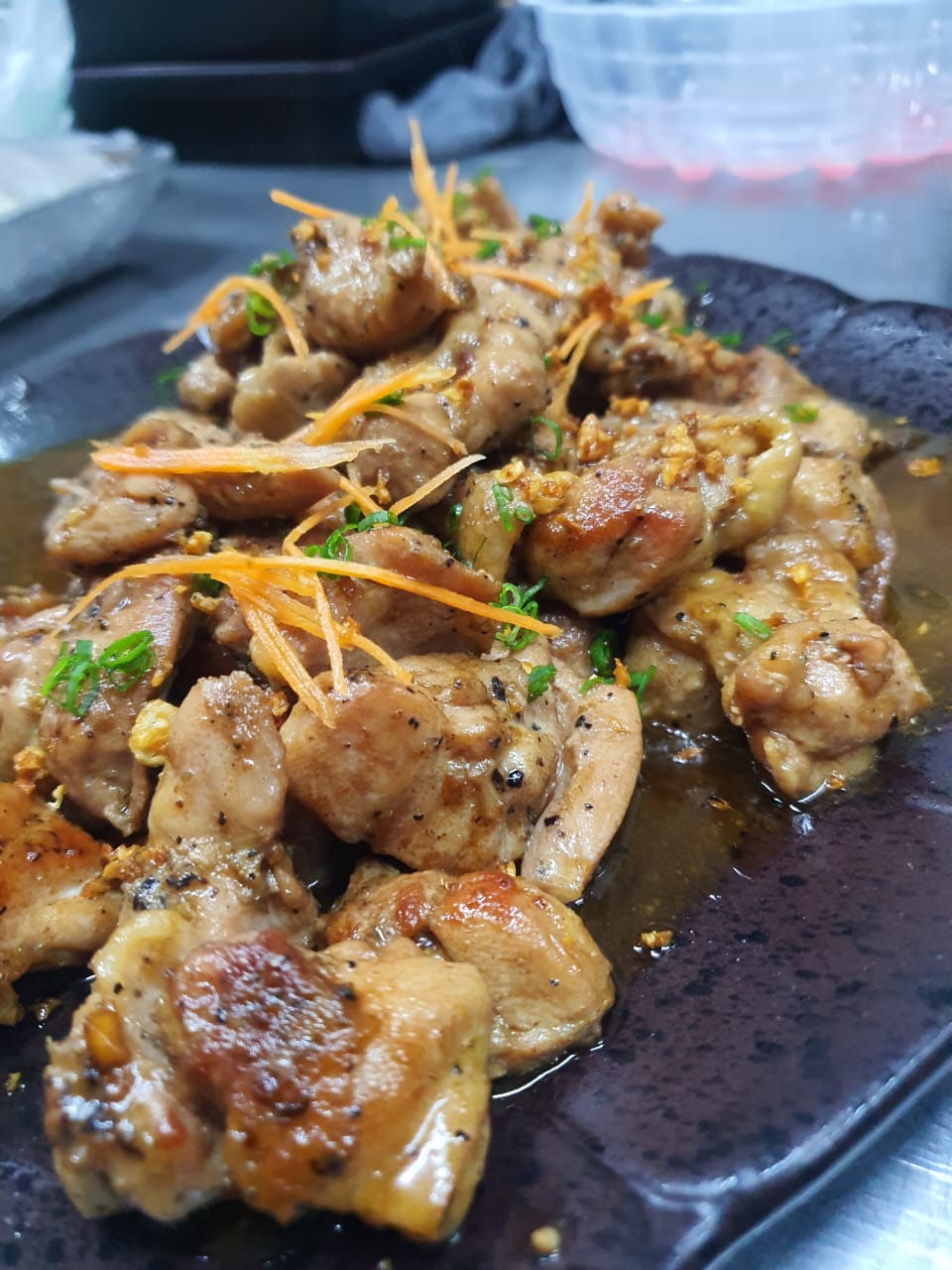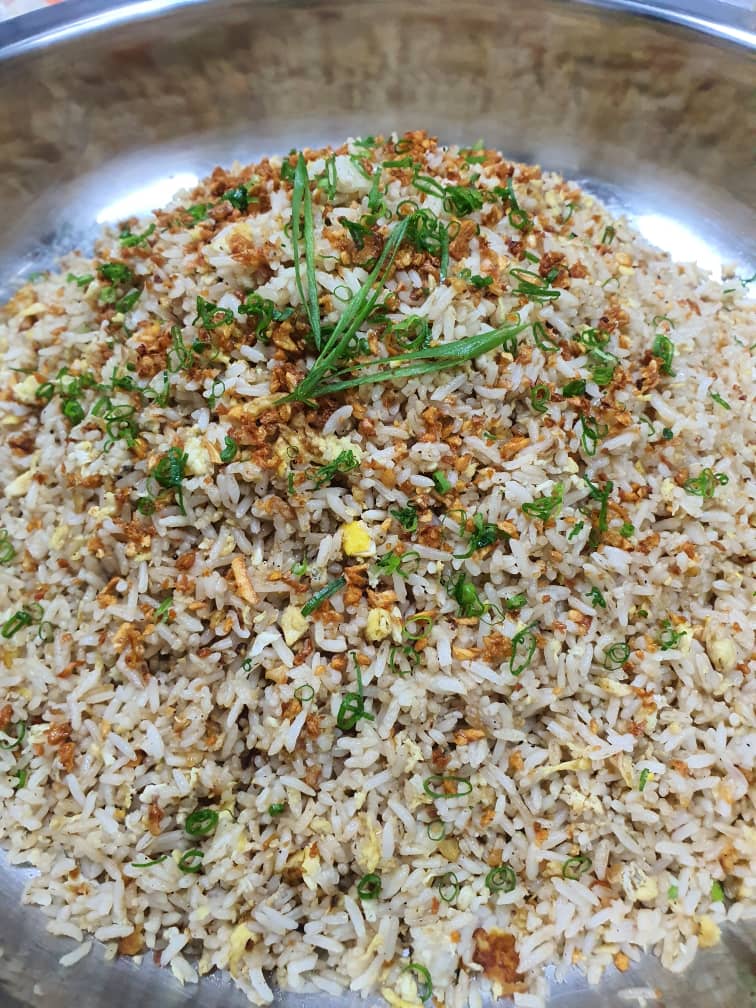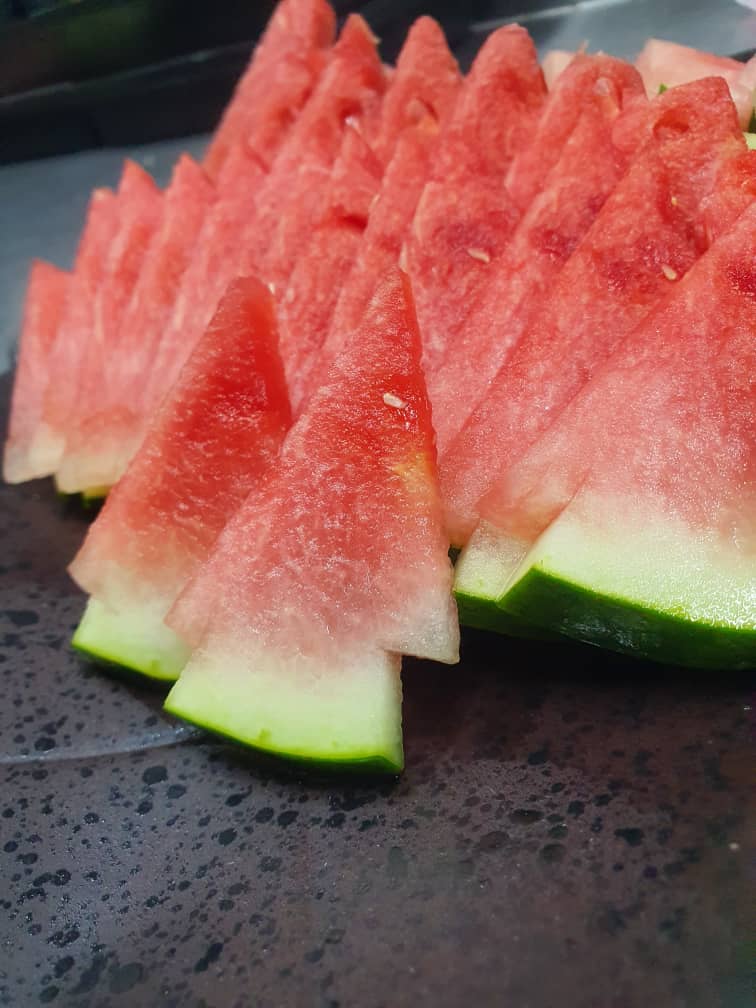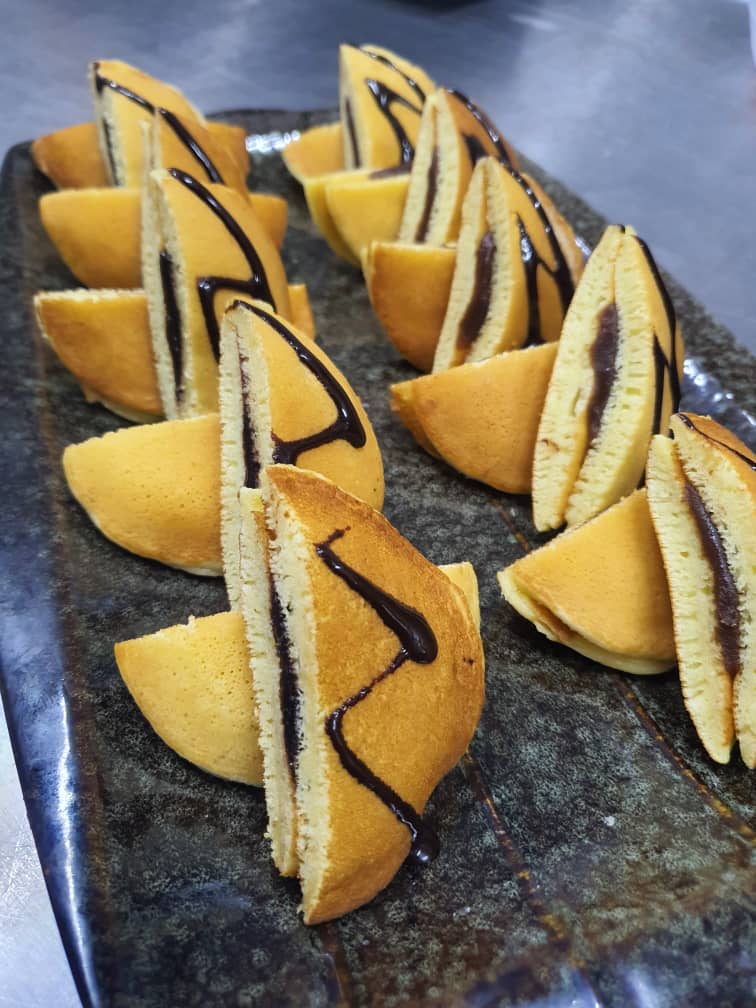 The selection includes:
Japanese: Salmon belly, chicken teppanyaki, vegetable teppanyaki, sushi rolls, inari, nigiri, gunkan, ramen, udon, okonomiyaki, tempura, chicken teriyaki, donburi, garlic fried rice, miso soup and dorayaki
Western: Spaghetti aglio olio, linguine marinara
Local: Ayam masak merah, ayam rendang, daging kurma, ulam, sambal, aneka kuih-muih, buah-buahan, aneka minimum, ABC 

AMANVILLE
AmanVille's Ramadan promotions are available throughout the fasting month, including:
Whole-day admission flat-rate discount of RM10 for each toddler or child
Iftar Promo (after 5pm): Purchase RM50 worth of food and drinks on a single receipt to enjoy an additional 20% off the playground admission fees.
Alternatively, if you enter your child into the playground, you get to enjoy a 15% discount on your food and drink orders.
Please call 017-276-2600 for more details.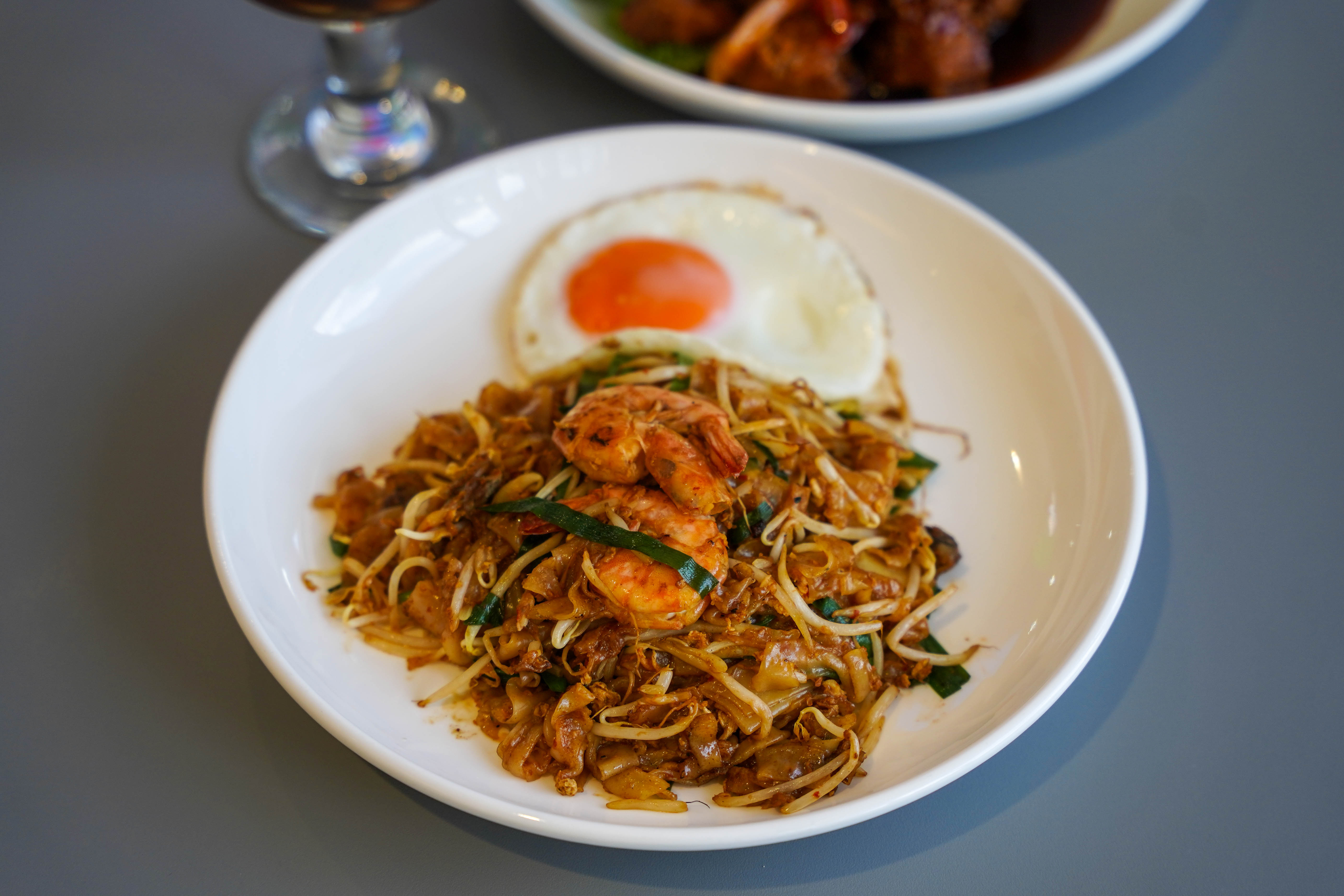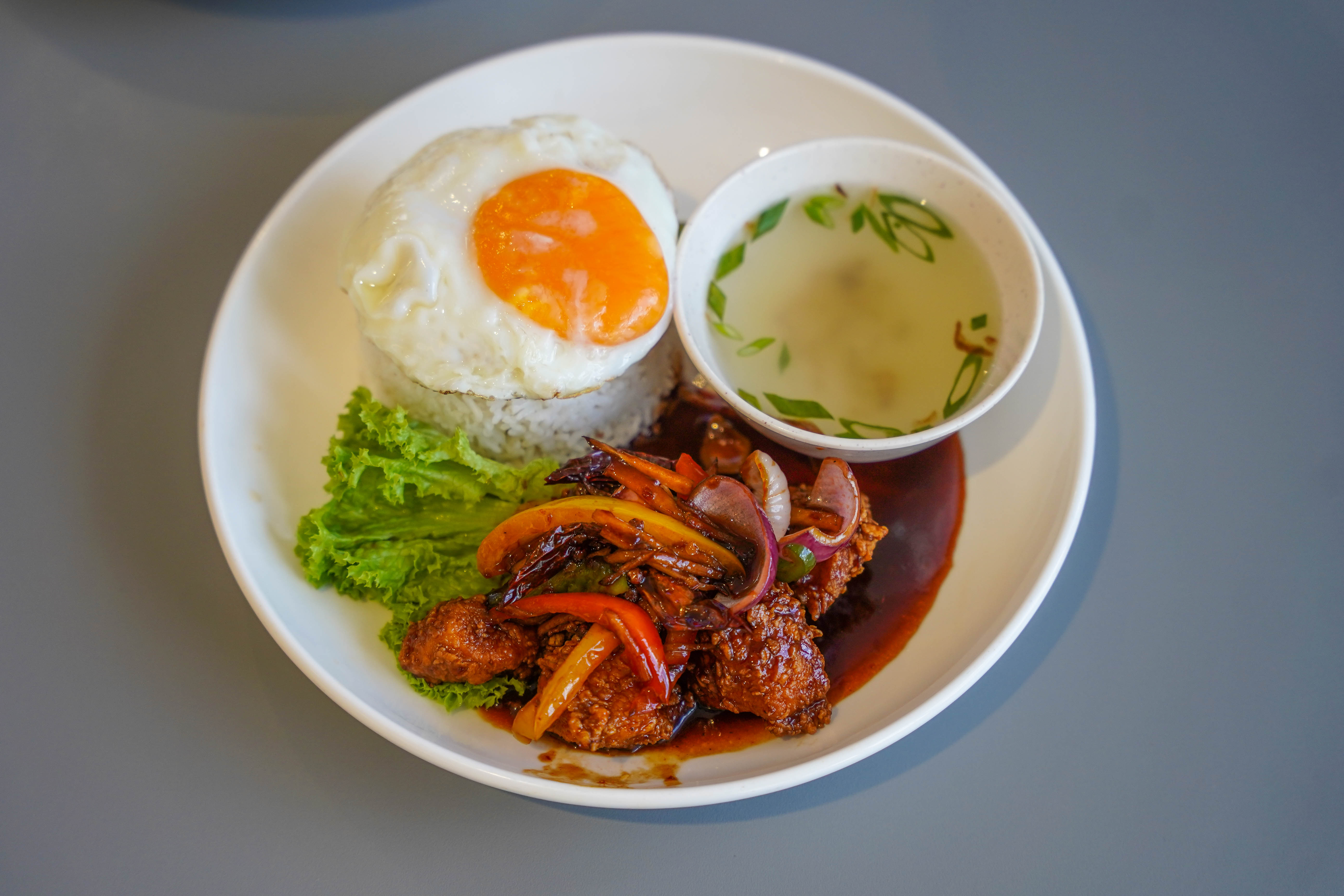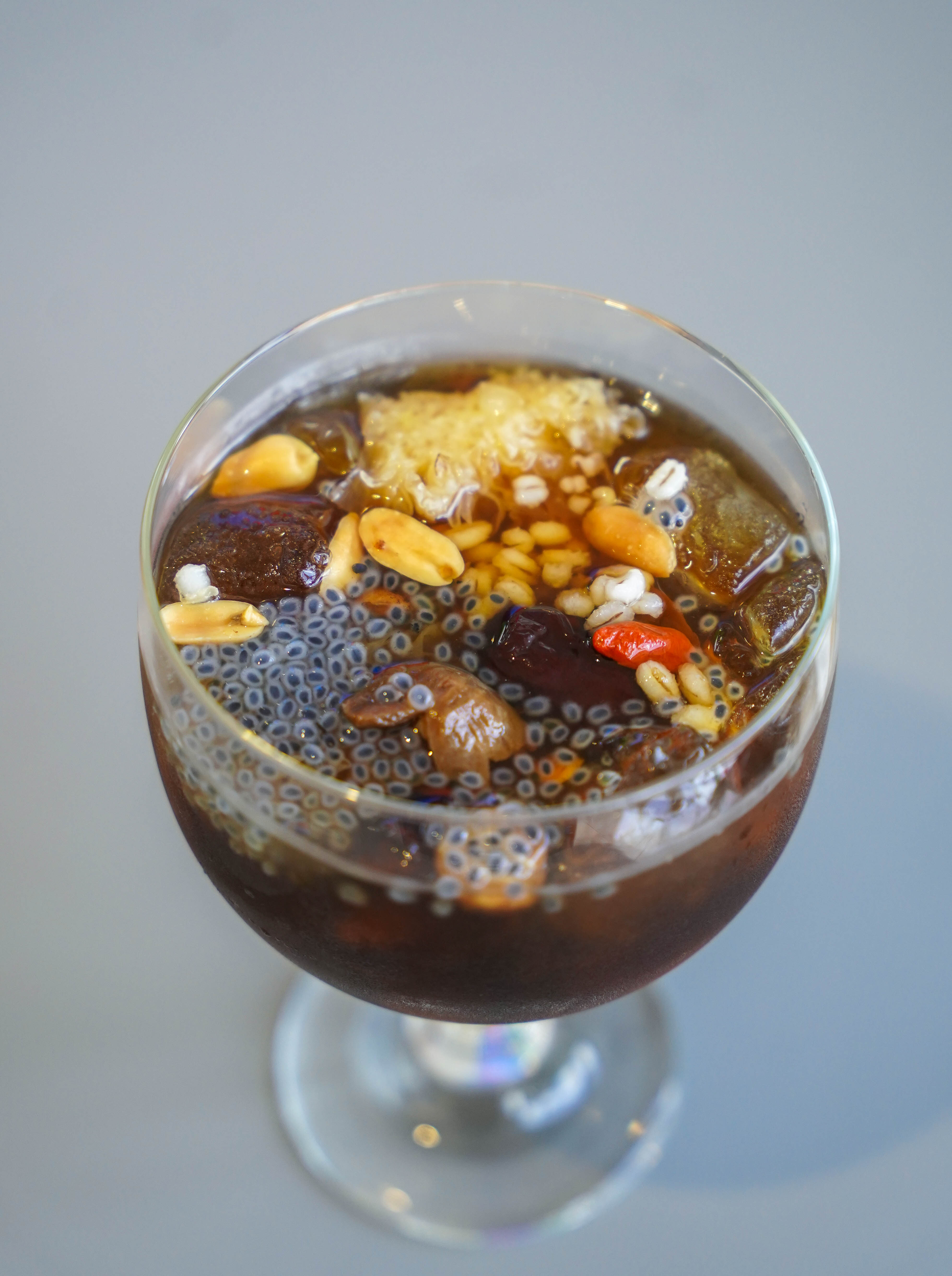 AmanVille's fare include local favourites like Penang Char Kuey Teow (RM12.90), Kung Pao Chicken with Rice (RM14.90) and Lai Chee Kang (RM9.90).
CARLOS CAFE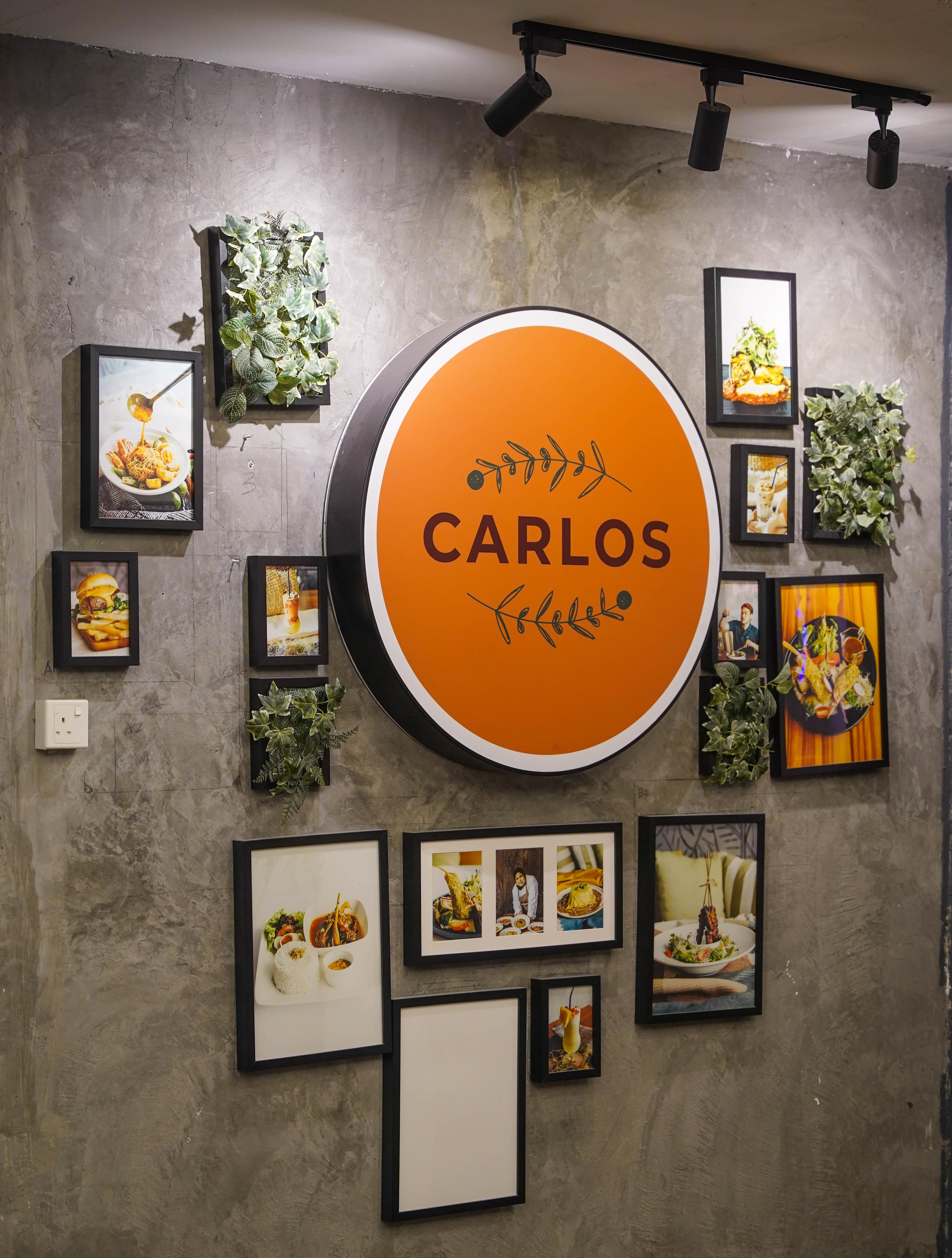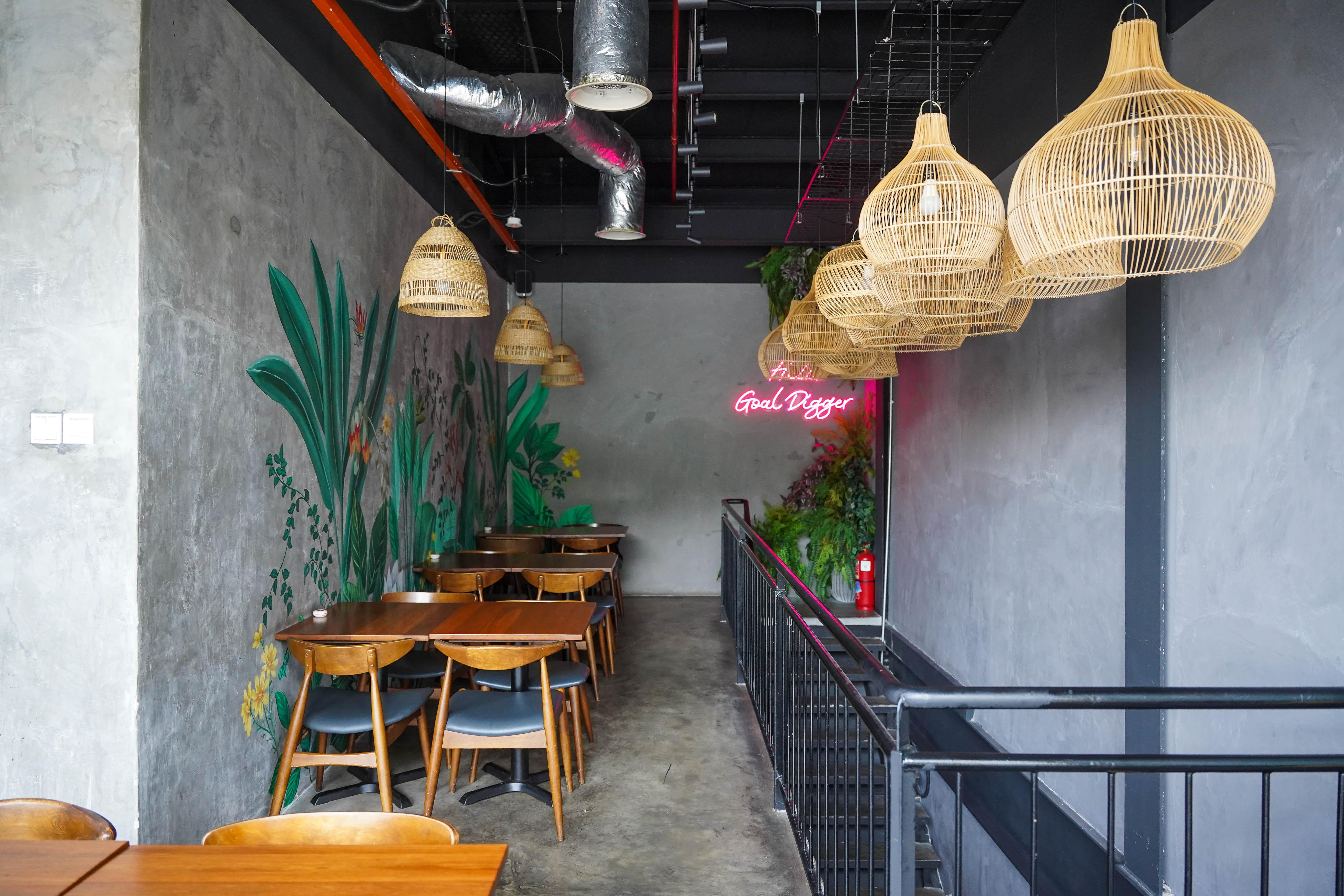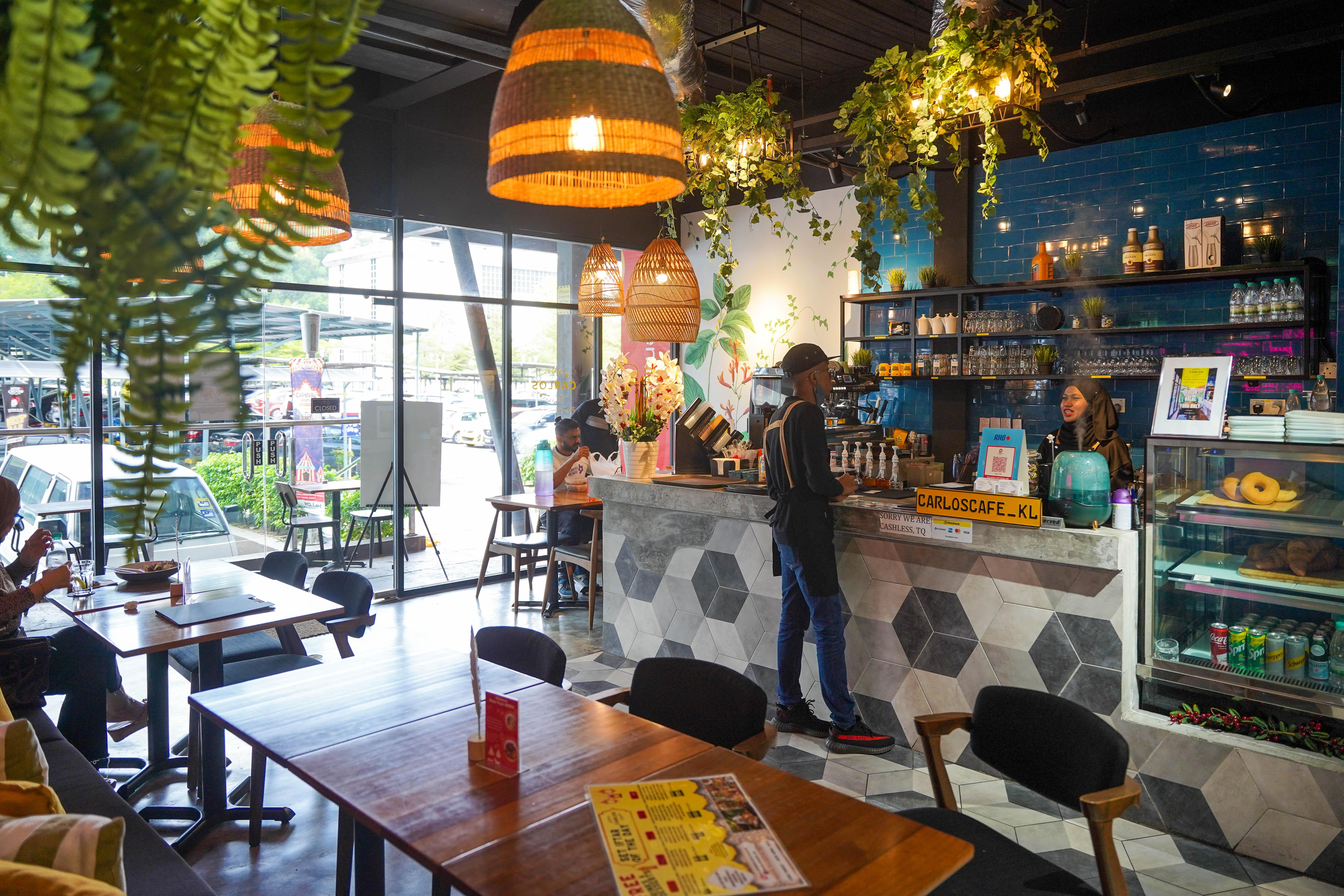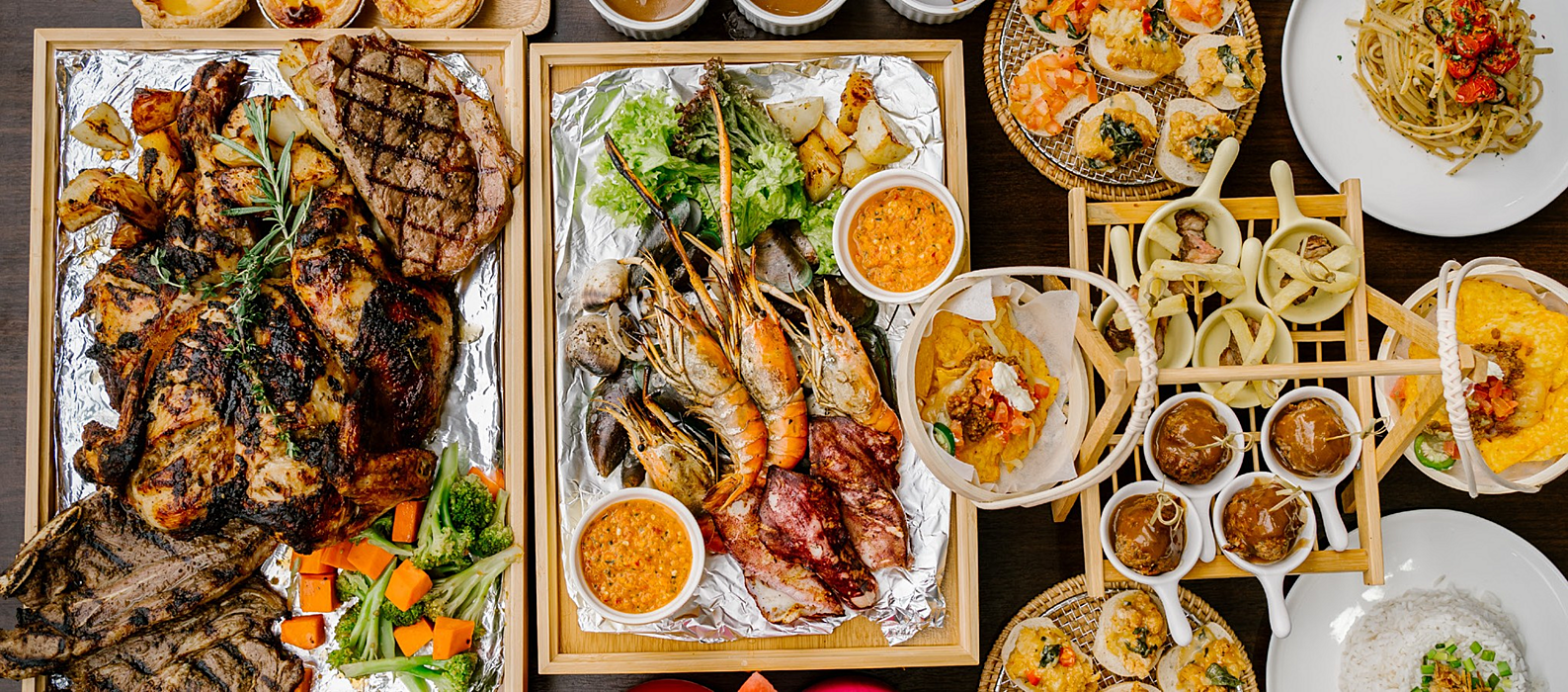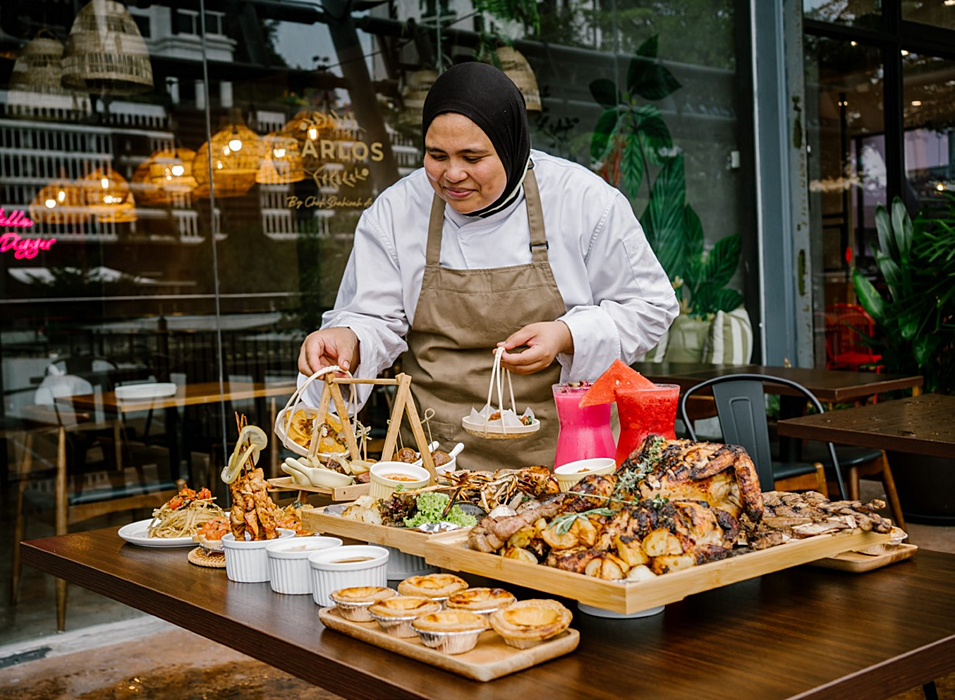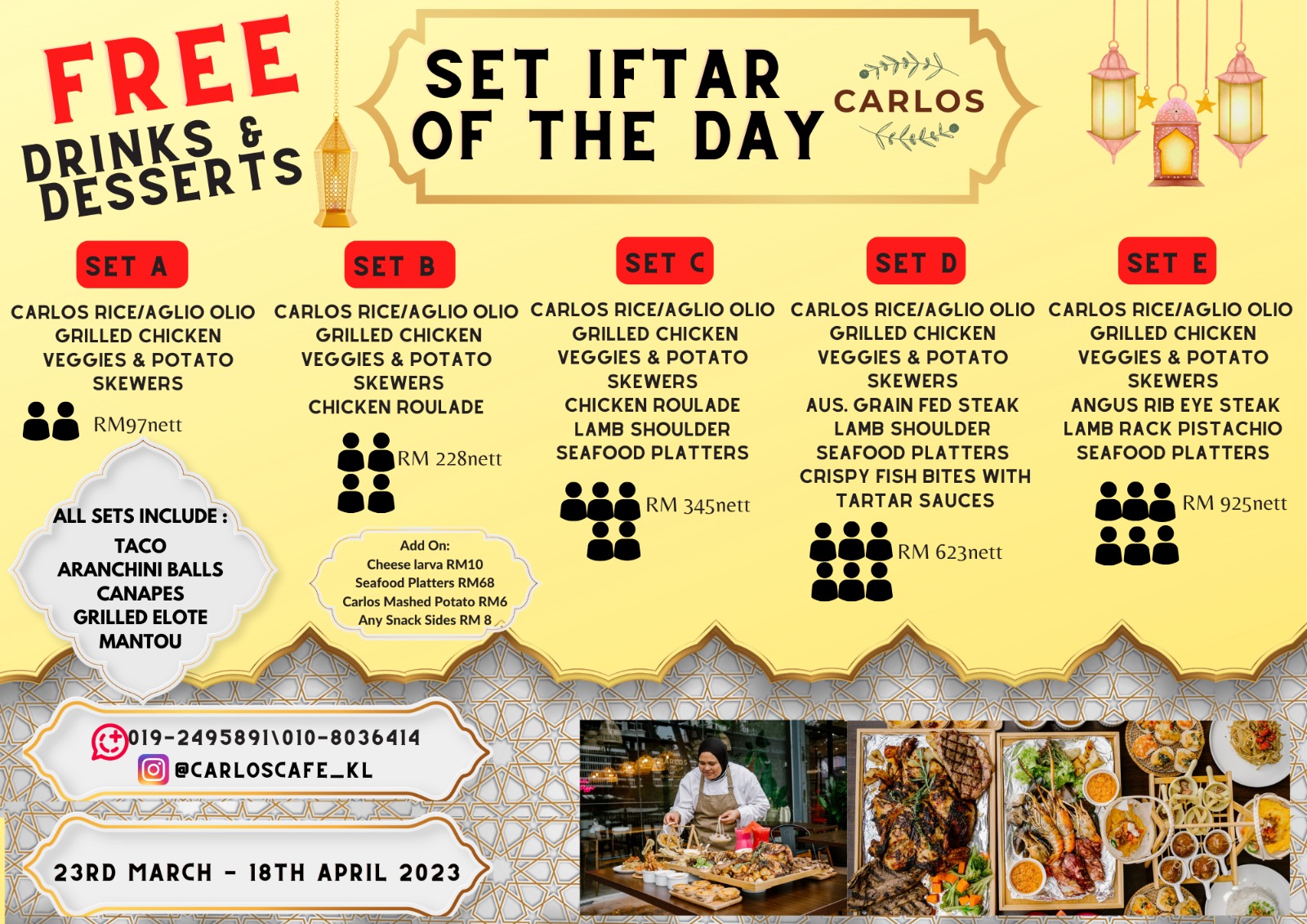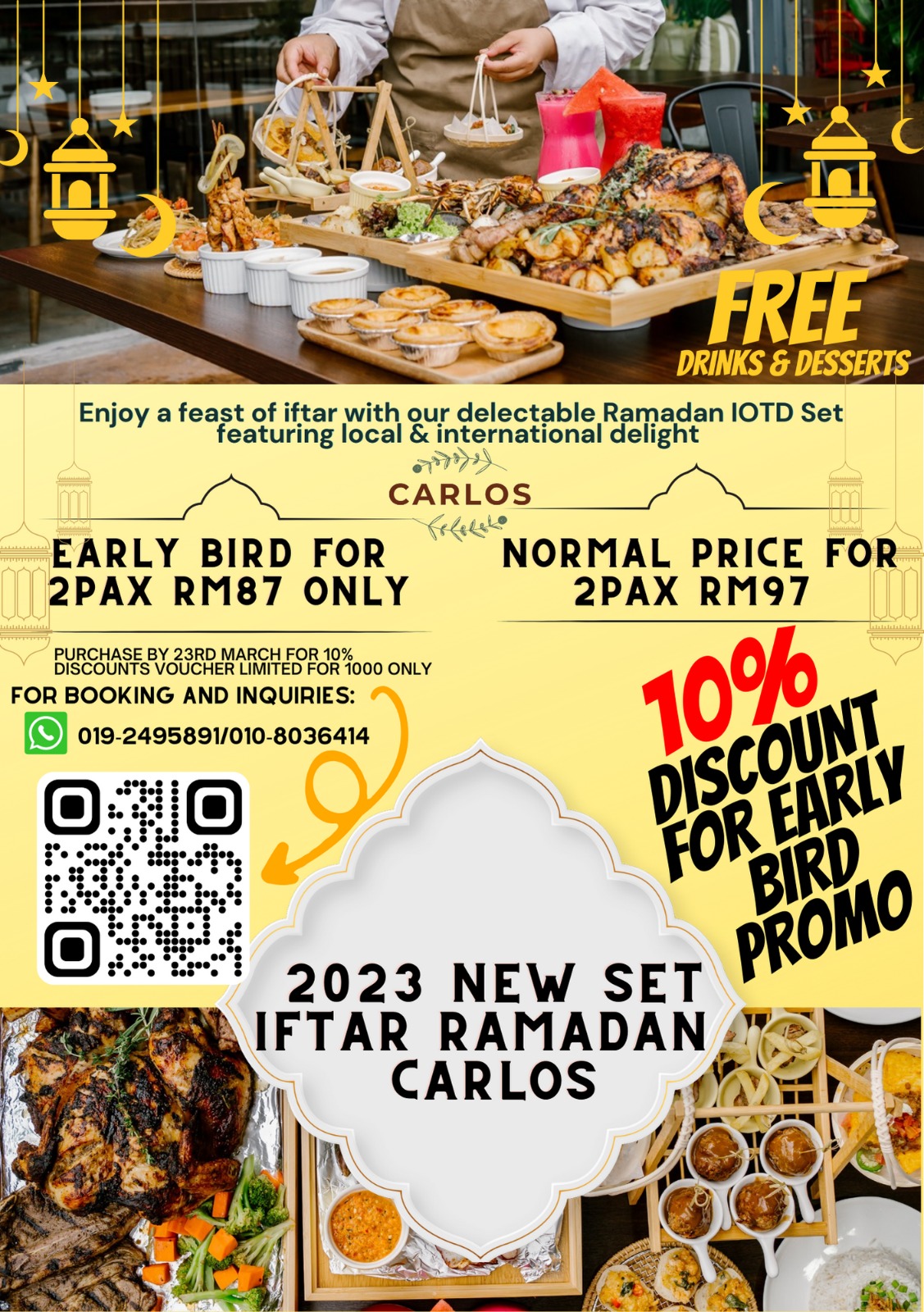 Carlos Cafe is a cool, comfortable setting for buka puasa meals - the Set Iftar of the Day includes a variety of irresistible recipes, such as Angus rib eye steak and pistachio lamb rack, complete with a dessert of the day and a free flow of the drink of the day.
PENANG CHENDUL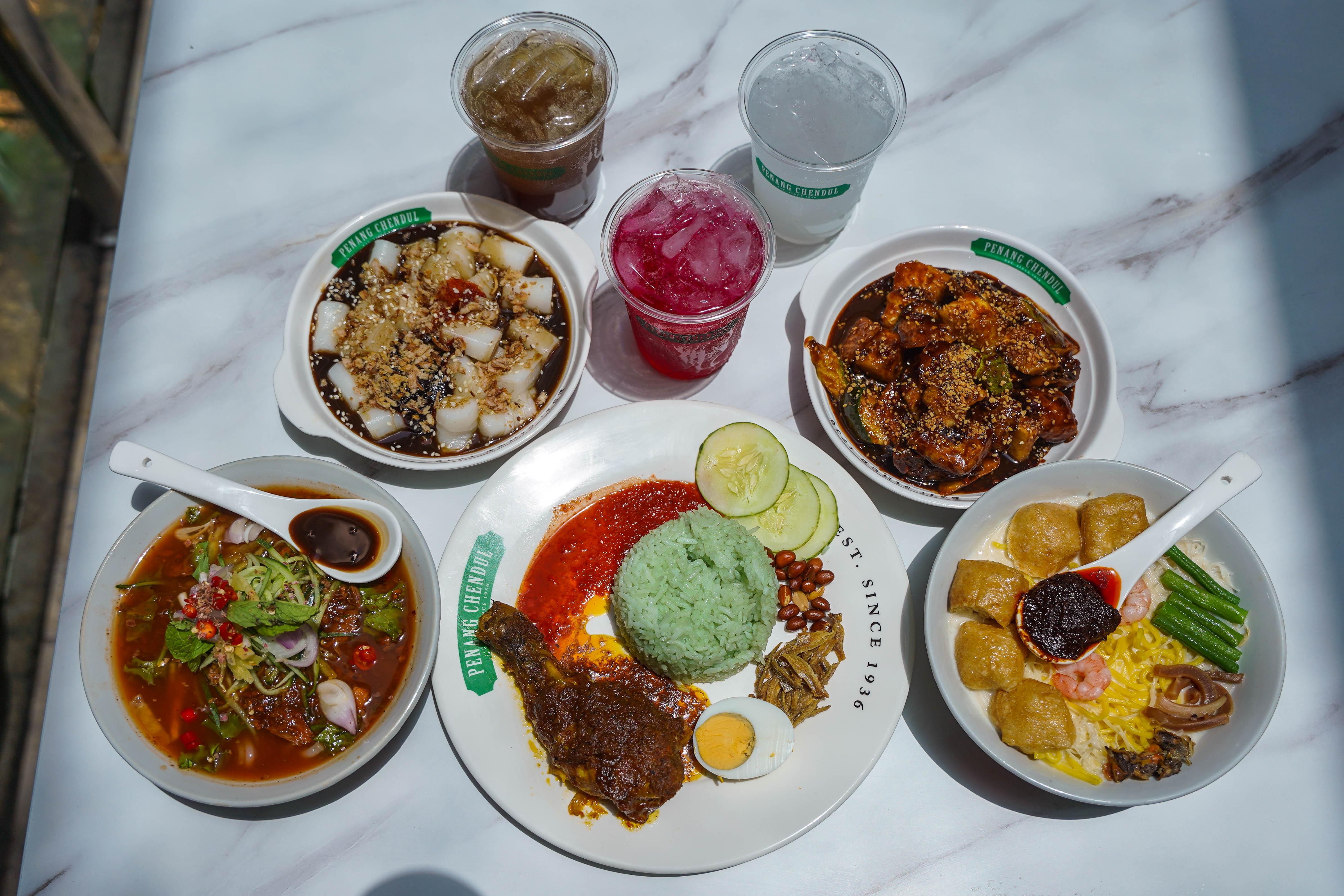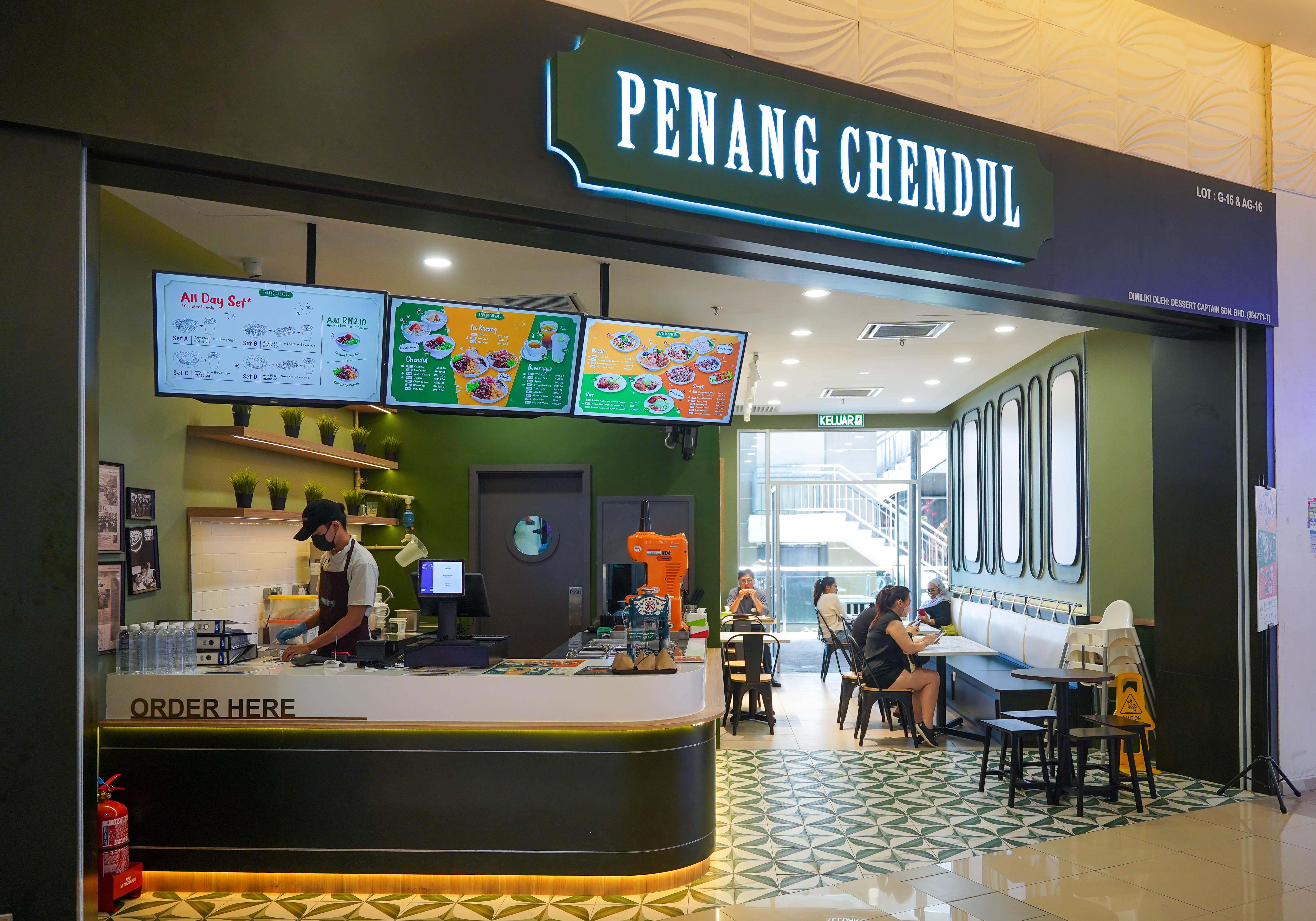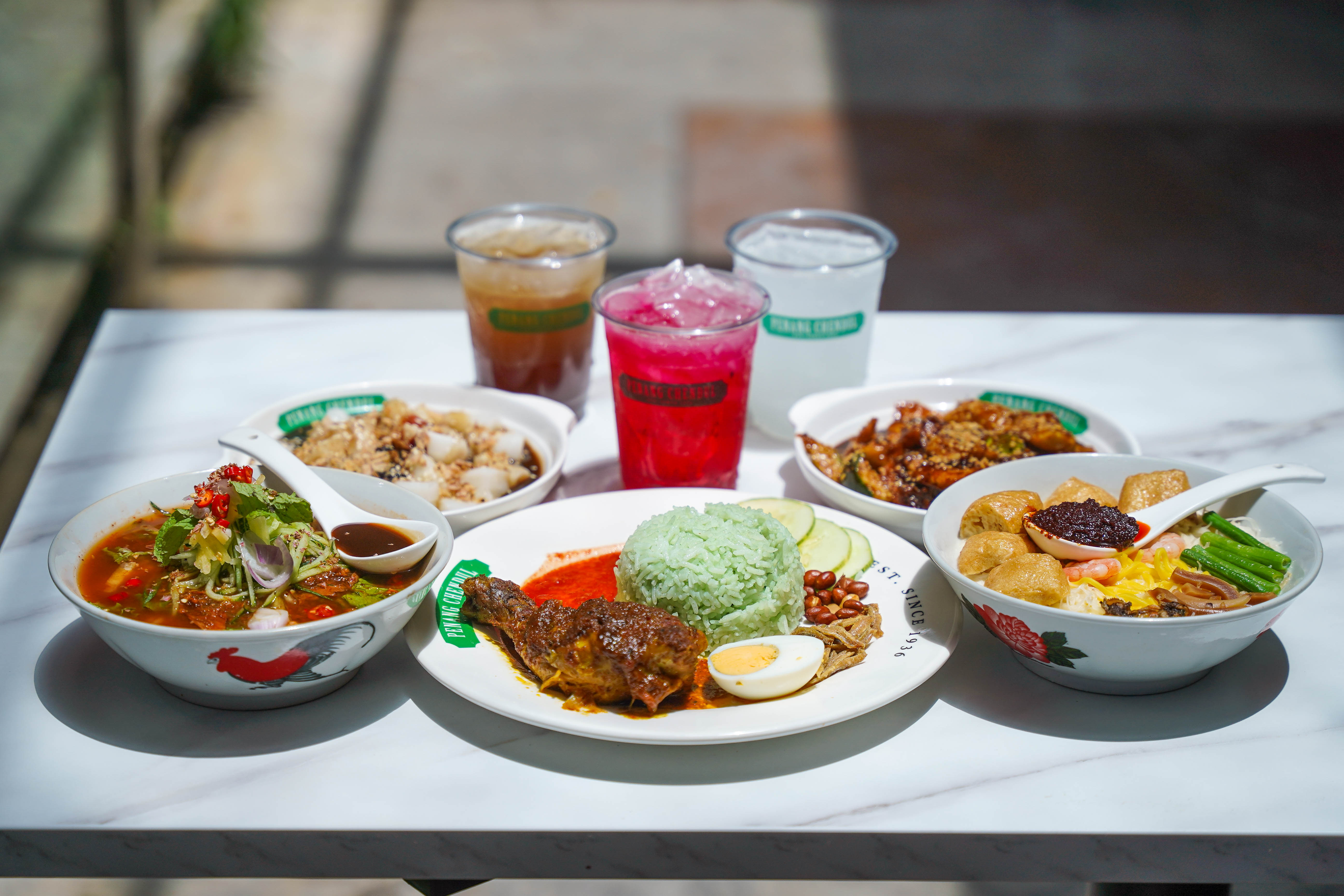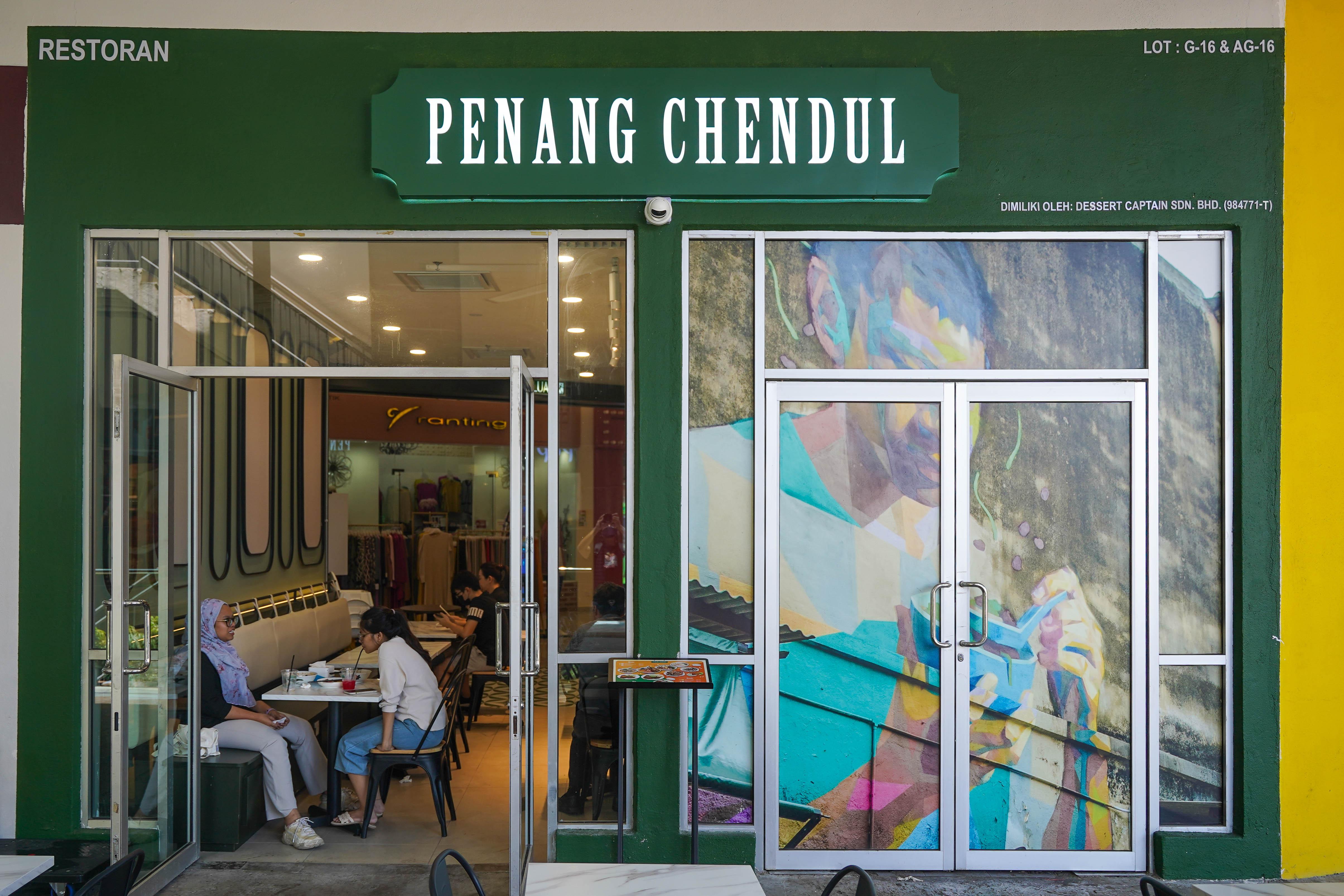 True to its name, Penang Chendul is the place to be if you're seeking pleasures from the Pearl of the Orient this festive season.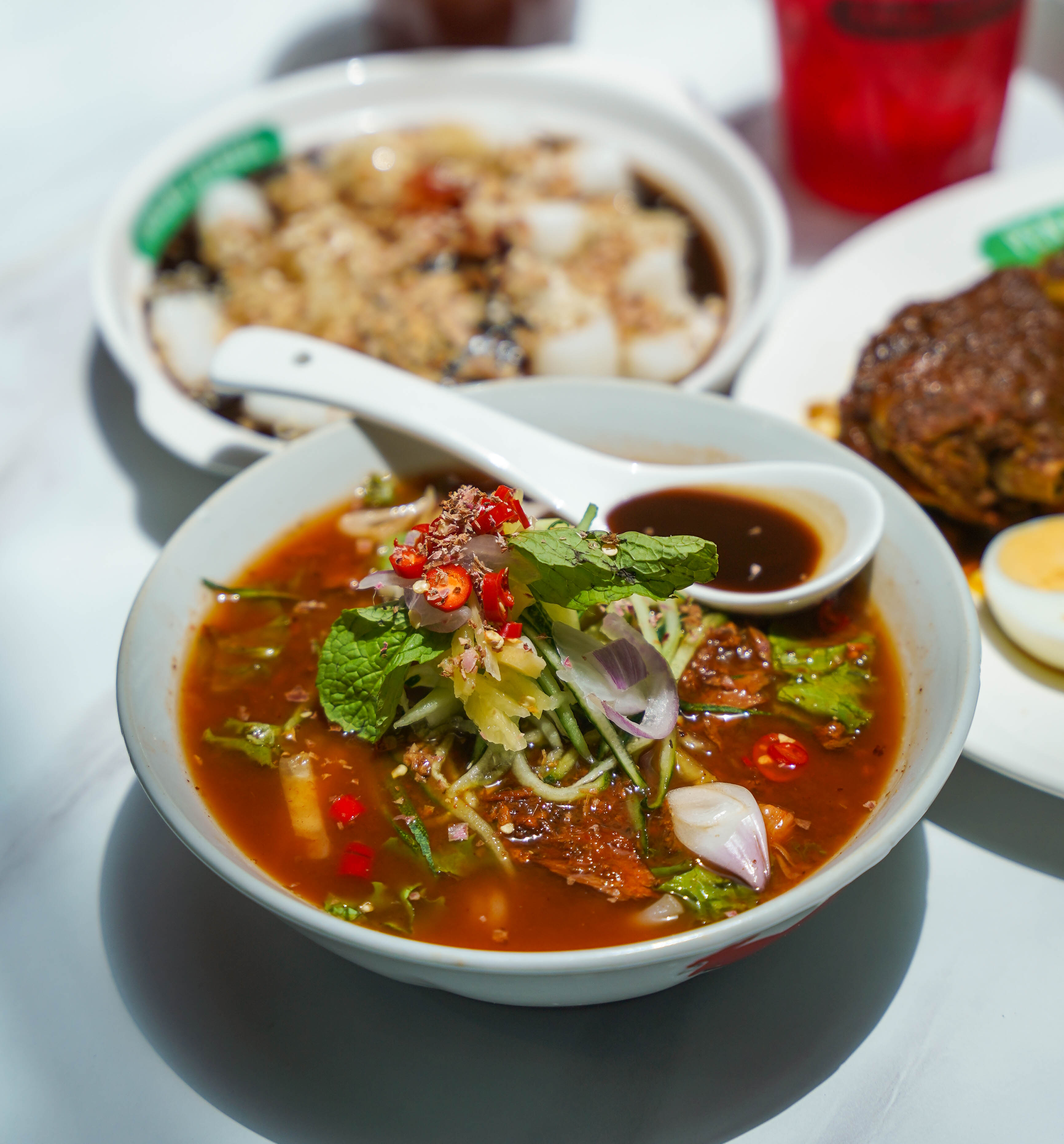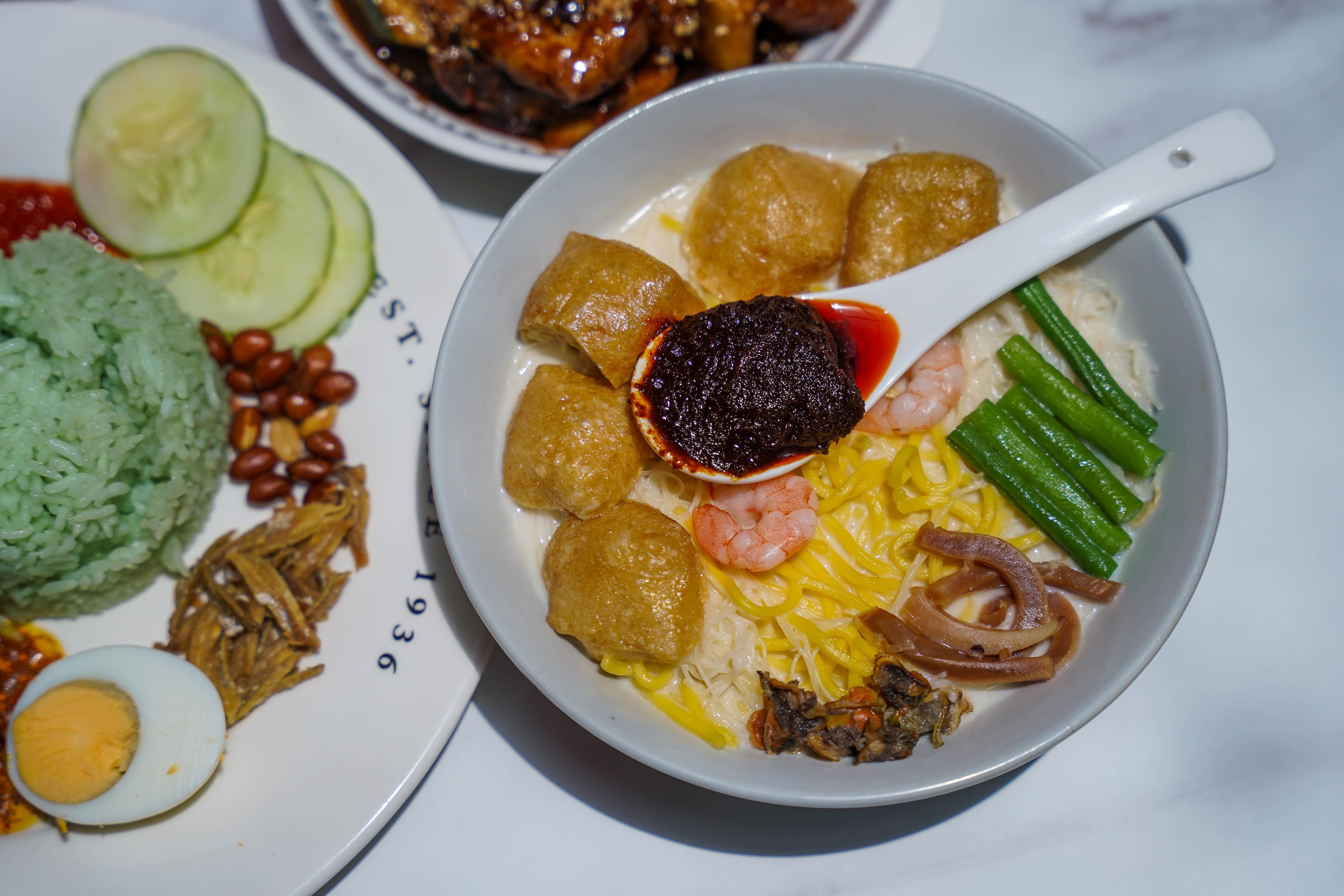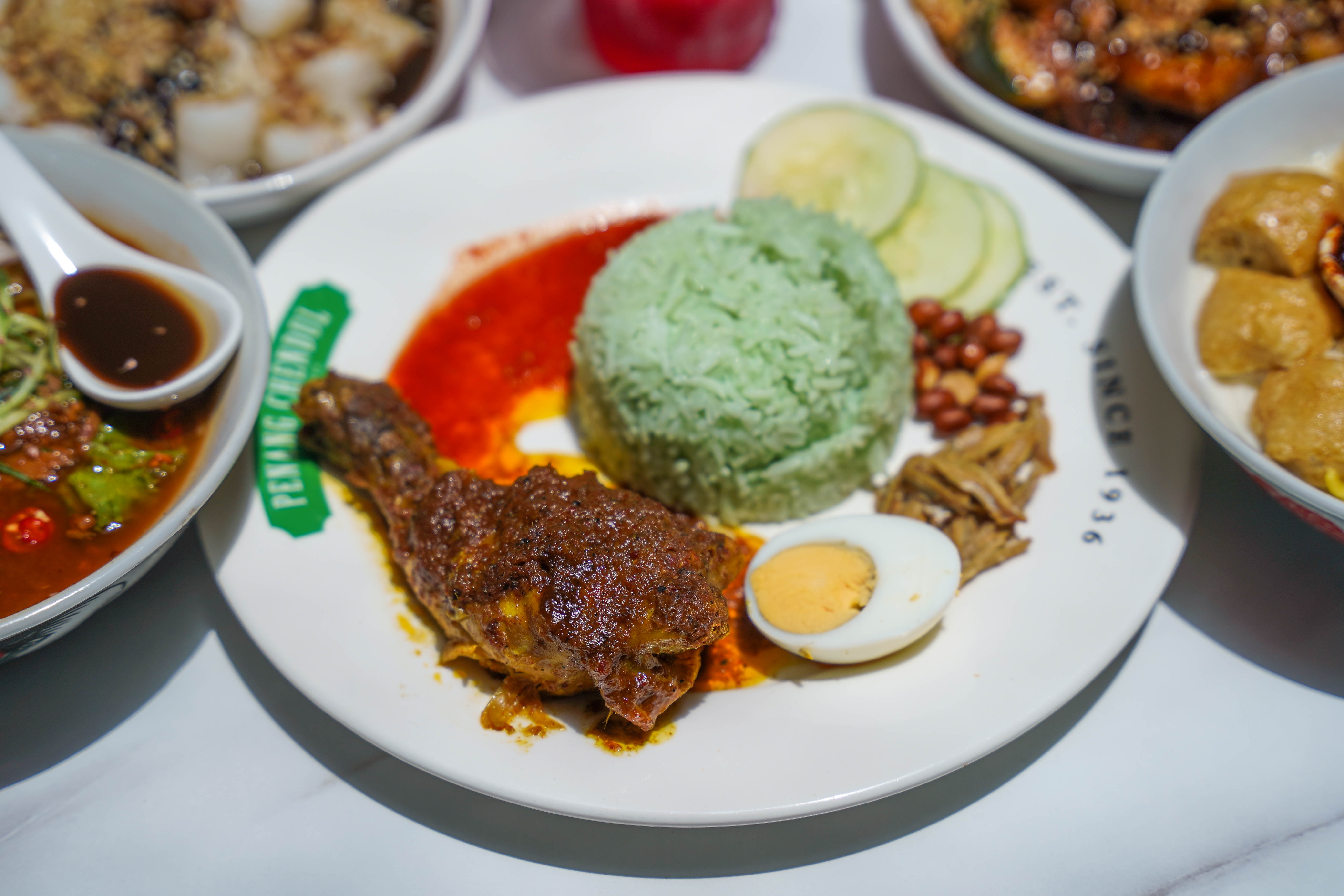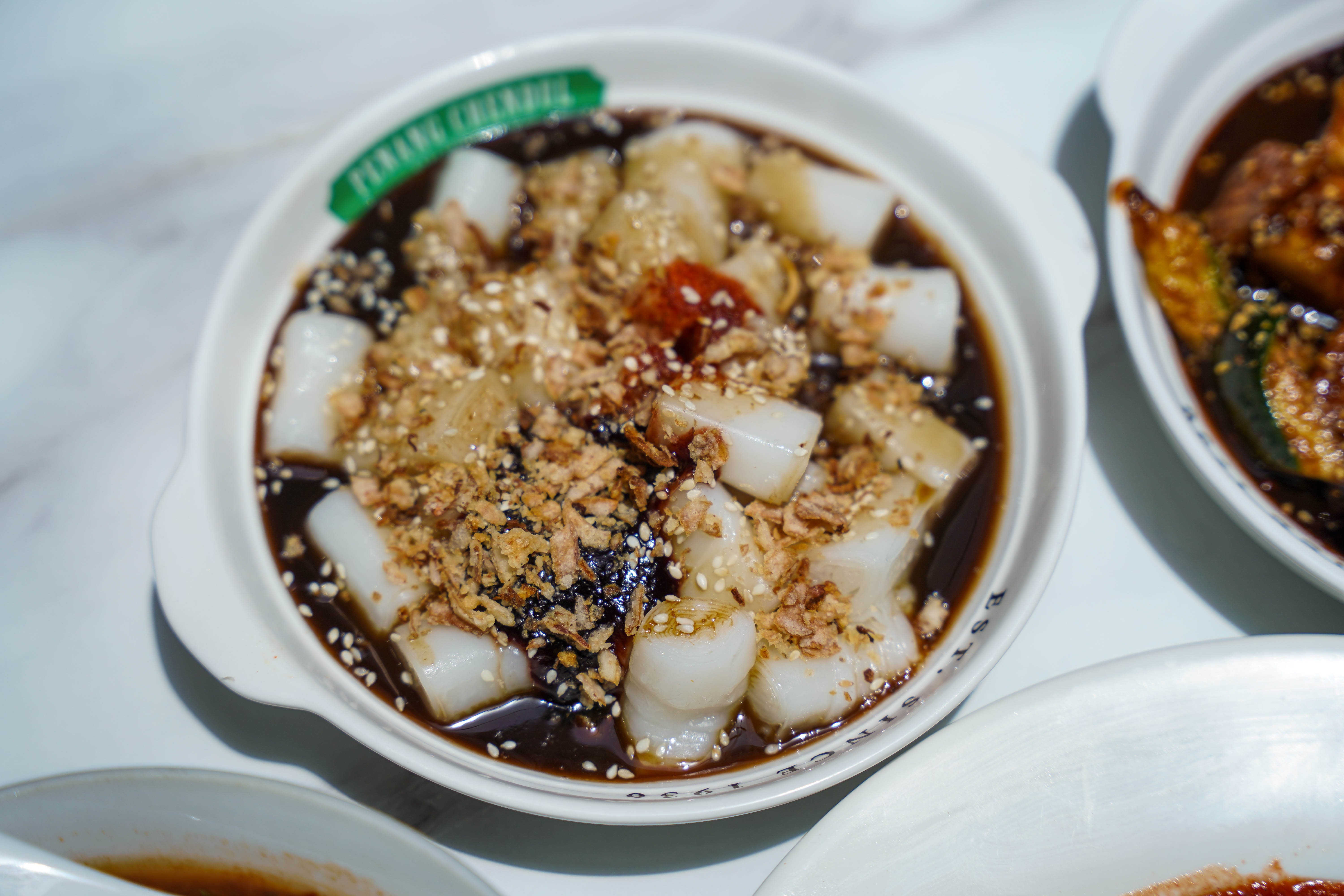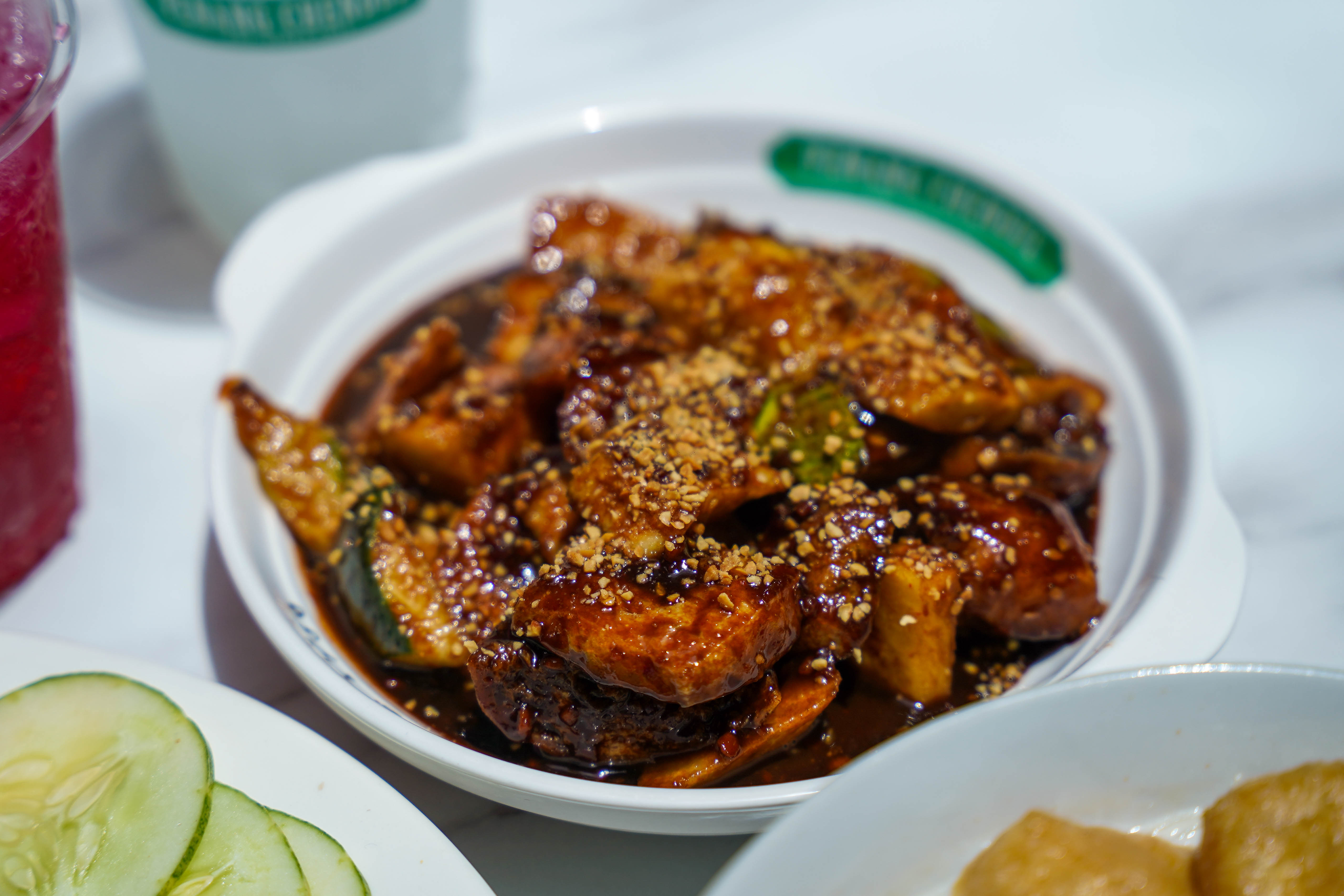 Bring your family and friends for authentic attractions like Asam Laksa Penang (RM14.70), Penang White Curry Mee (RM14.70; with a choice of mee hoon or yellow mee), 
Pandan Nasi Lemak Rendang Chicken (RM20), Chee Cheong Fun (RM9.40) and Penang Fruit Rojak (RM8.40), wonderfully washed down with Rose Syrup (RM6.30), Lemon Tea (RM6.30) and Lime Juice (RM6.30).
Wangsa Walk Mall
9, Jalan Wangsa Perdana 1, Wangsa Maju, 53300 Kuala Lumpur
---
You Might also Like