The Chamber reveals the secrets of whiskies & wines, cognac & cigars in The Starhill's sleekest sanctuary
January 11, 2023
---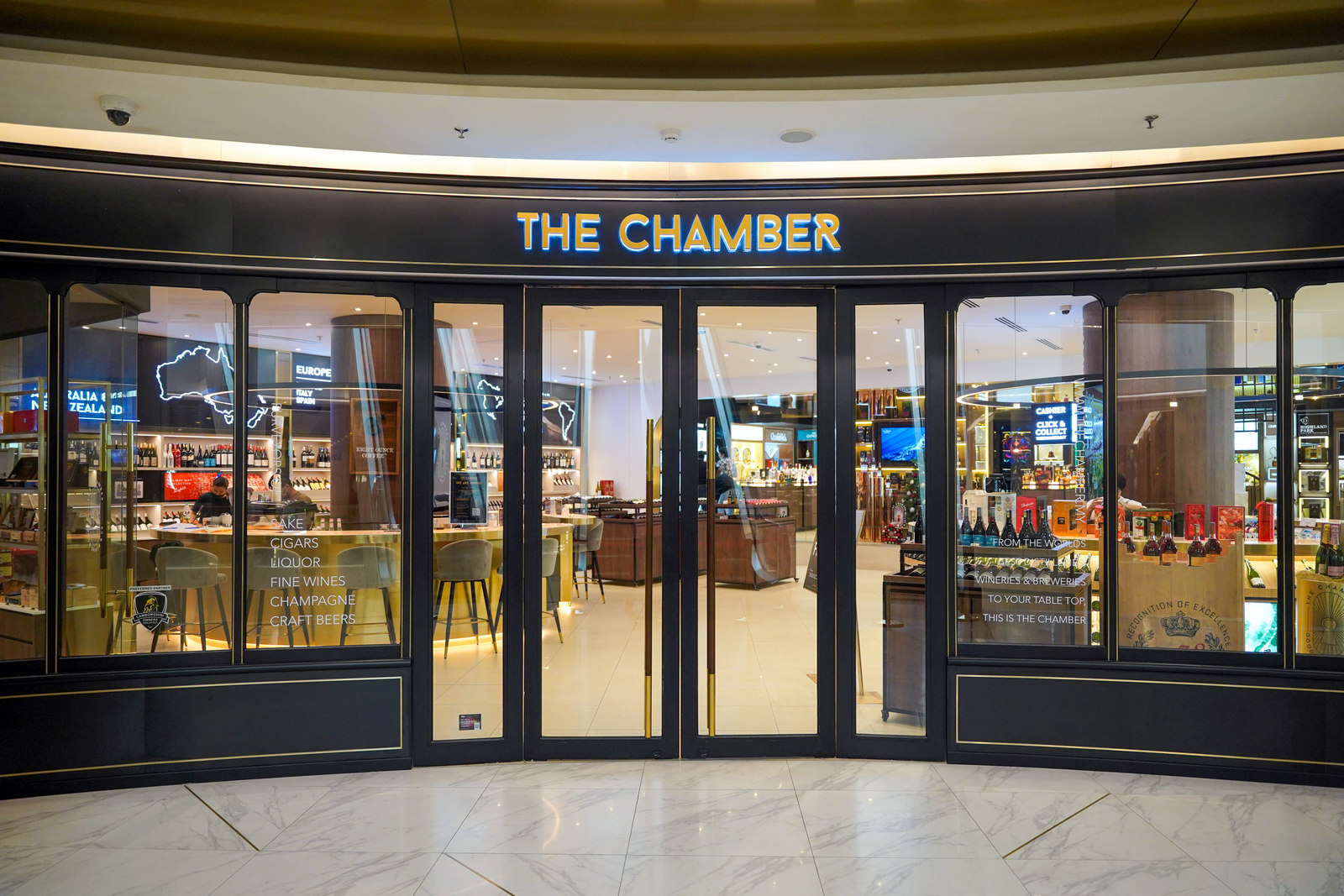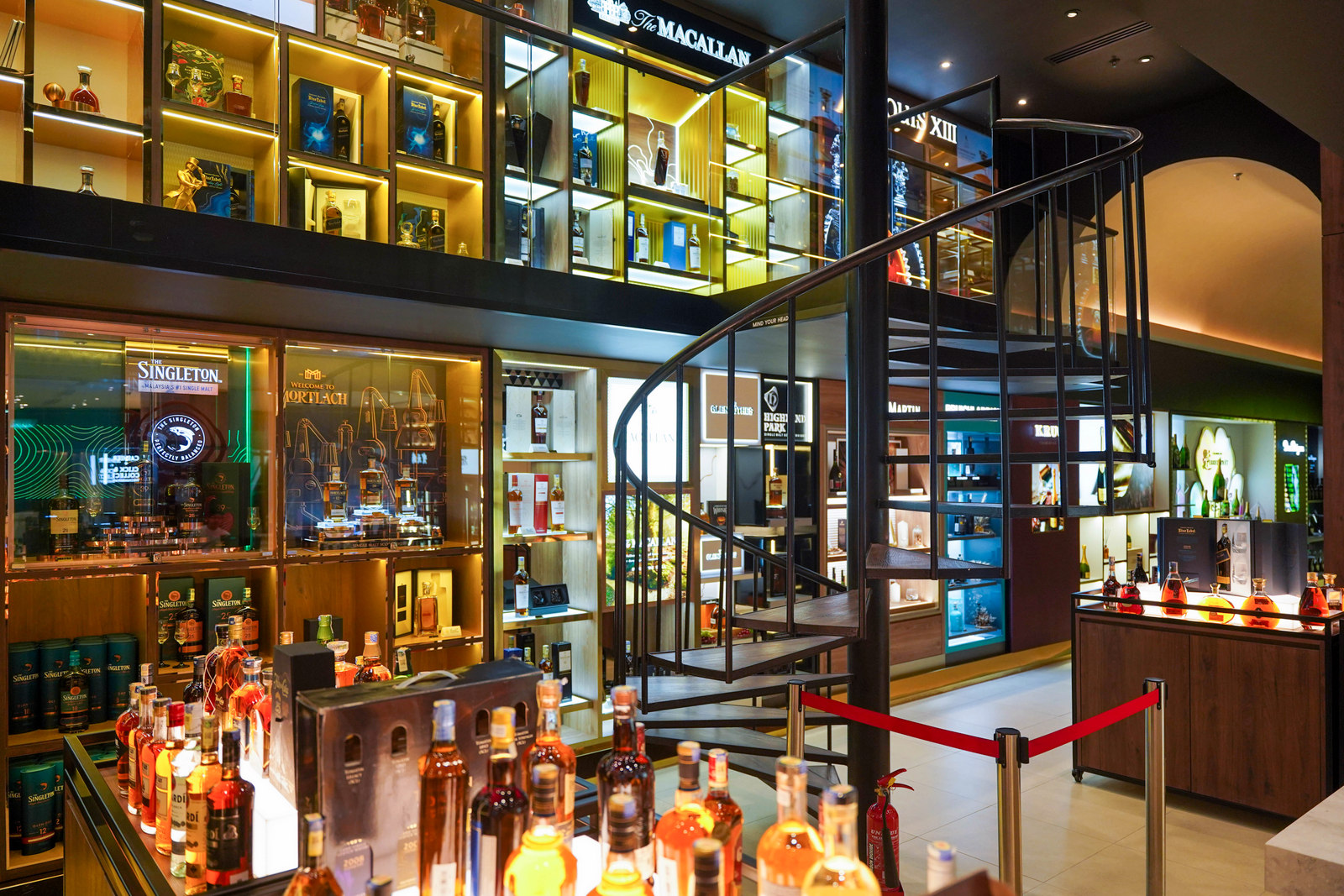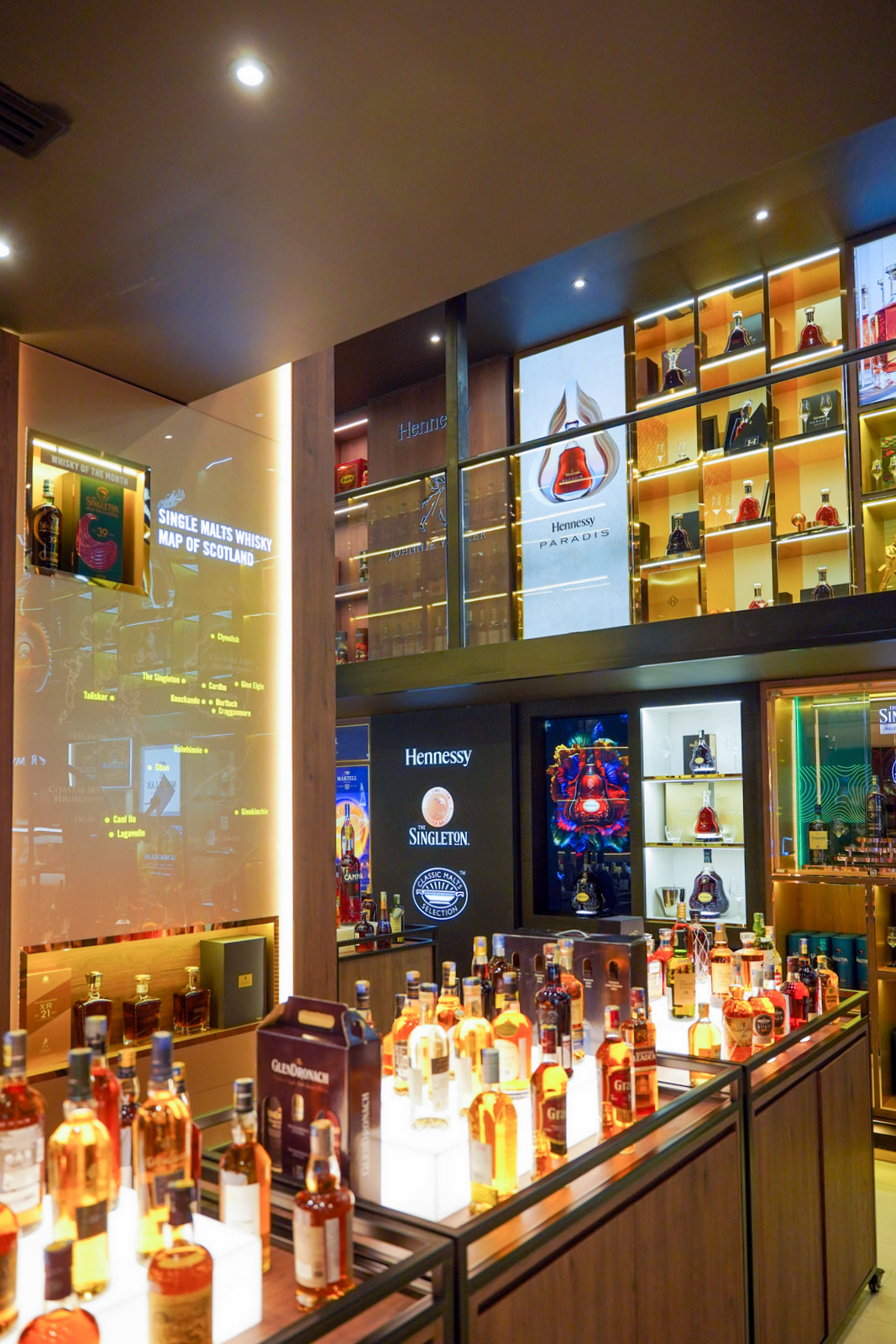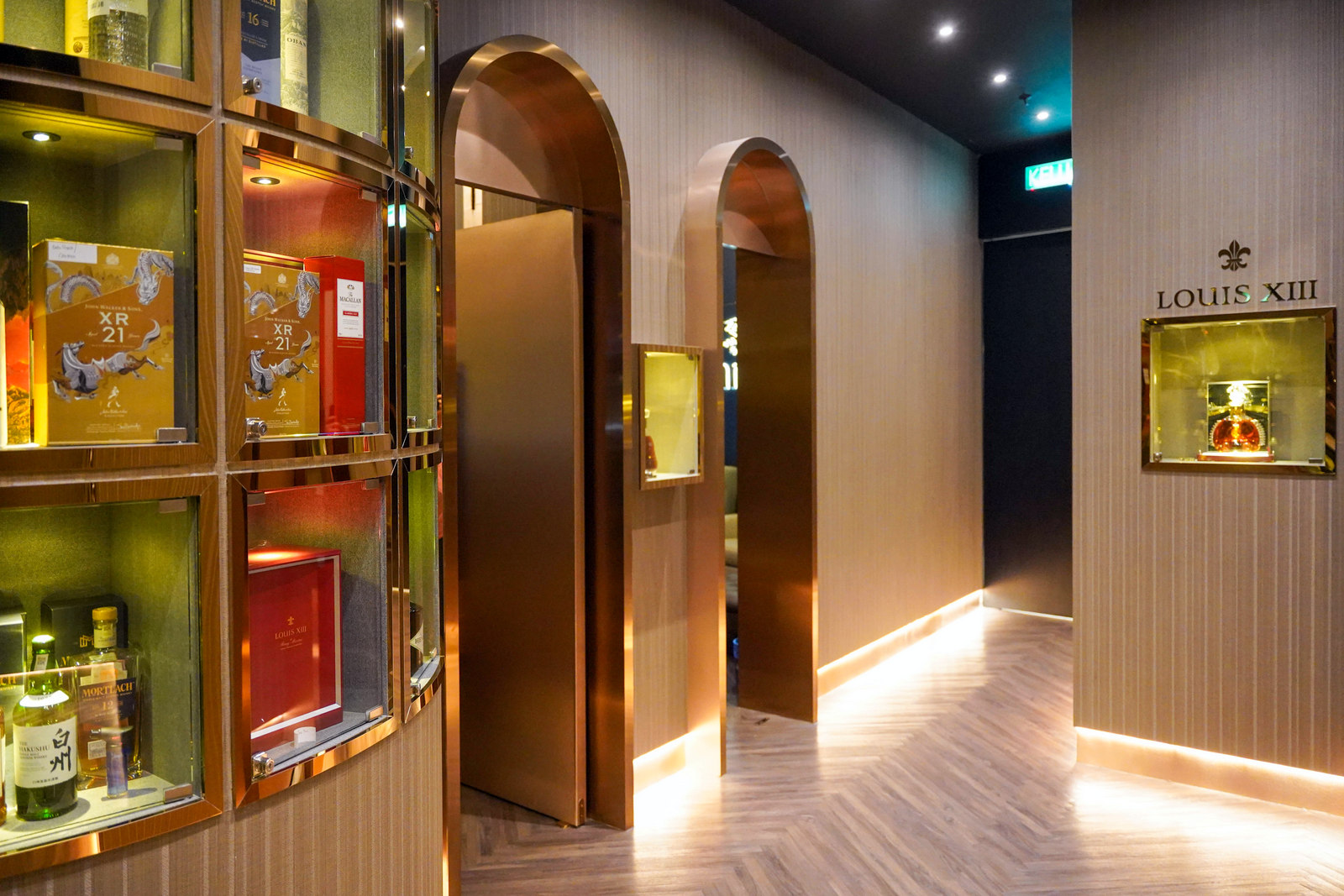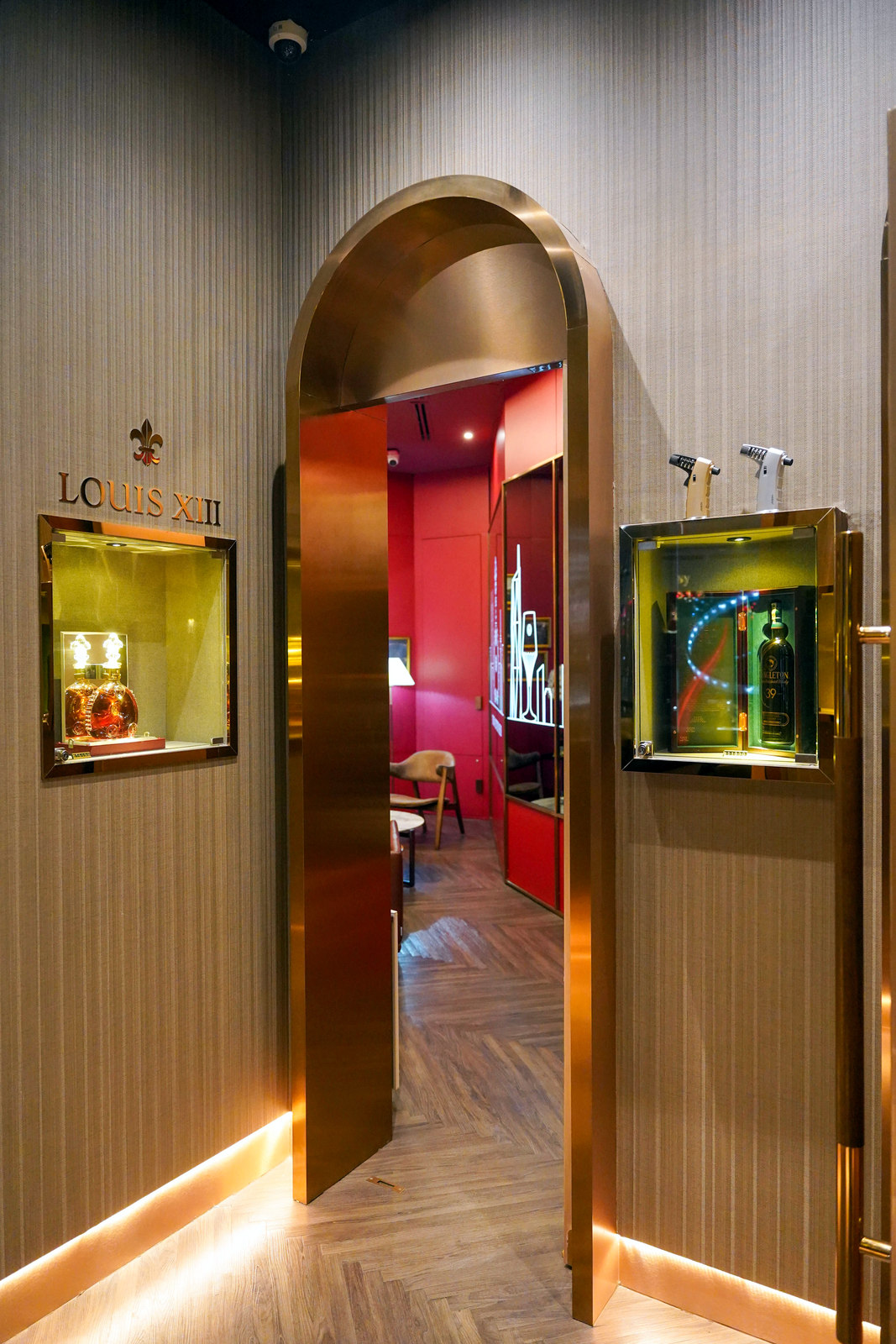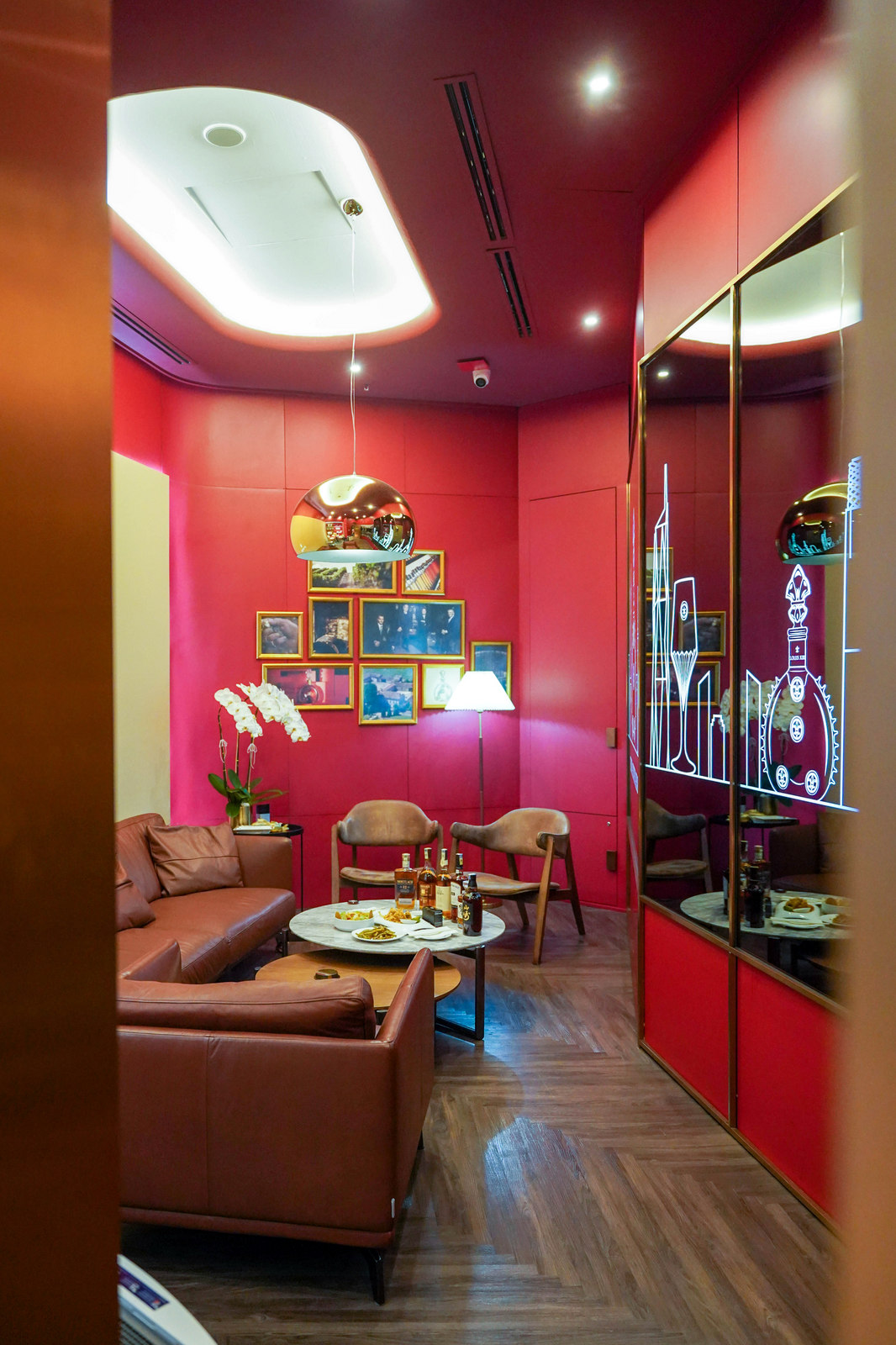 Stepping into The Chamber in The Starhill is like entering an Aladdin's cave of gleaming, glittering treasures - but instead of antiques and artefacts, explorers will discover a trove of coveted bottles that represent respected distilleries, vineyards and breweries across the globe.
The Chamber celebrates the spirit of connoisseurship and craftsmanship in its flagship space that sprawls over 4,600 square feet, nearly the size of eight tennis courts - it's a sleek sanctuary in the city's bustling heart, complete with sommeliers who can tailor an authentically bespoke experience for each patron.
The perfect bottles for the ultimate special occasion await you here, including for your most important Lunar New Year feasts - from Remy Martin's Rare Cask cognac to secrecy-shrouded Juyondai sake to Dom Perignon vintage Champagnes and Krug Champagne.
Within The Chamber, there are more chambers - three members-only private rooms designed by Hennessy, Mortlach and Louis XIII, offering intimate exclusivity in refined settings. Every patron of The Chamber, on its online platform or at its physical stores, is automatically entitled to tiered membership privileges.
We recently had lunch in the Louis XIII room, giving us a gorgeous glimpse into The Chamber's secrets of whiskies and wines, cognac and cigars. Here's a peek into the pleasures of this place, not merely a retail store but a dining and drinking destination in its own right.
Fun fact: Conceived by Malaysian entrepreneur and tastemaker Justin Lim, The Chamber can also be found at Sunway Pyramid, with its next branch launching in Pavilion Bukit Jalil later this month!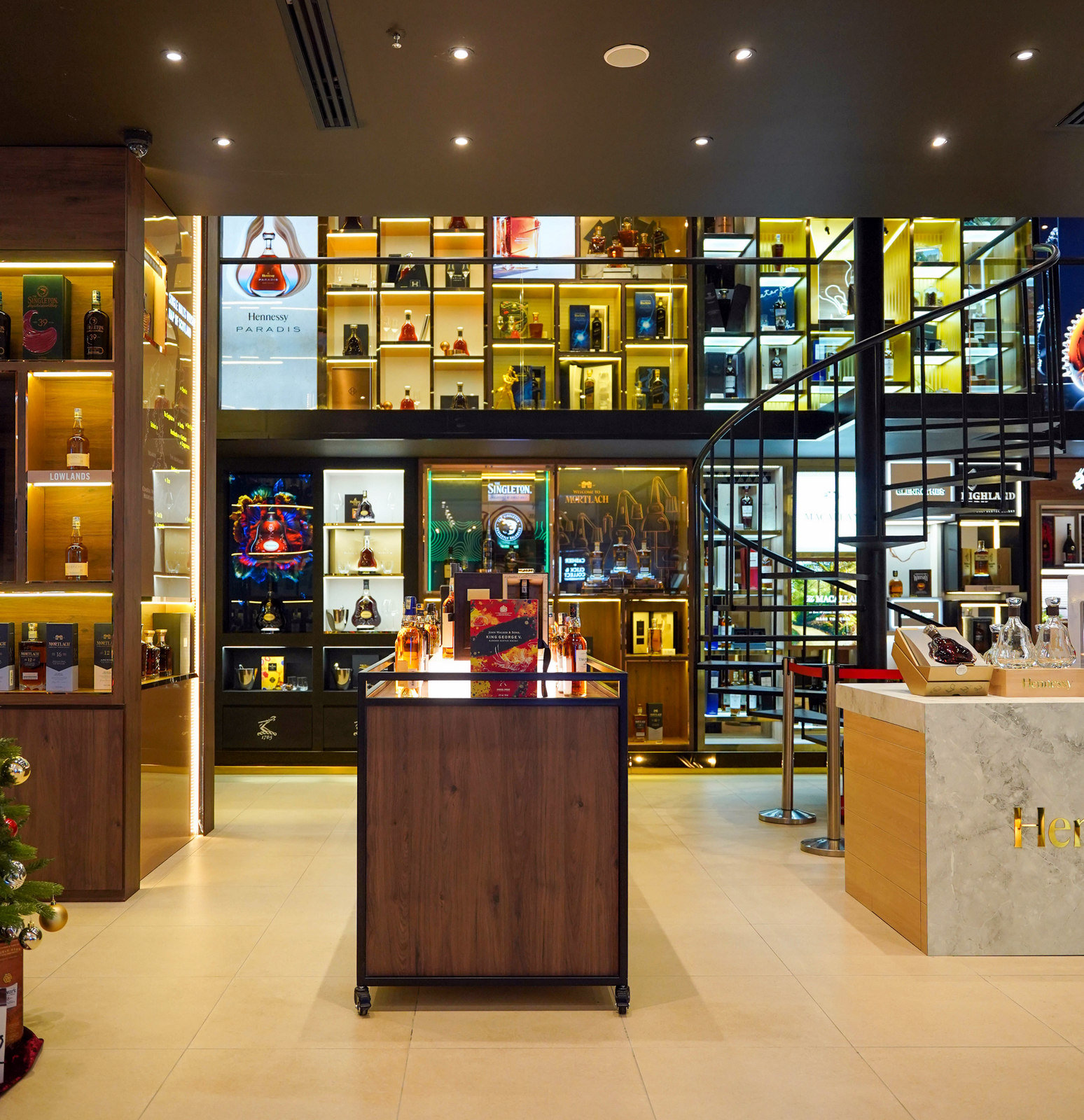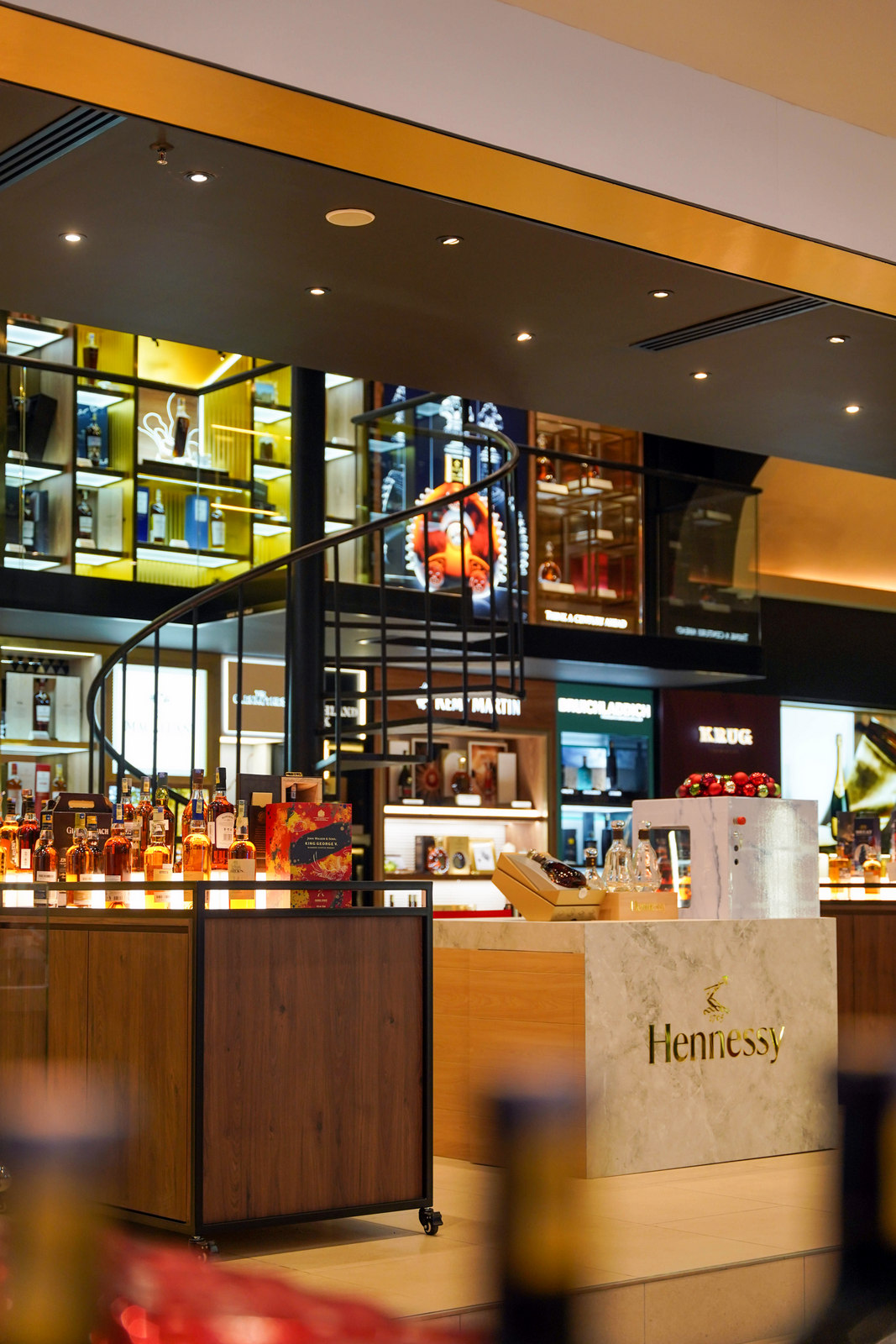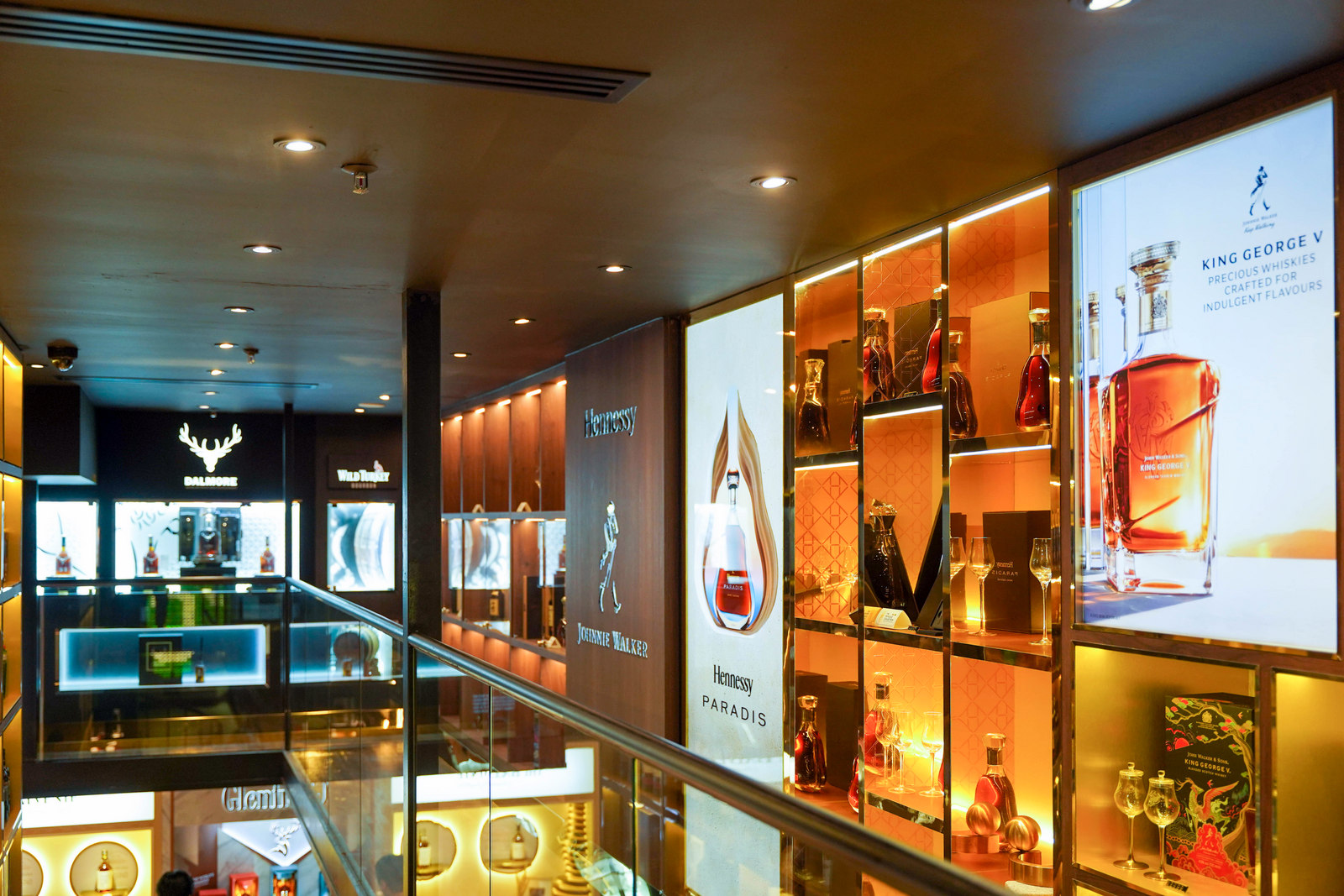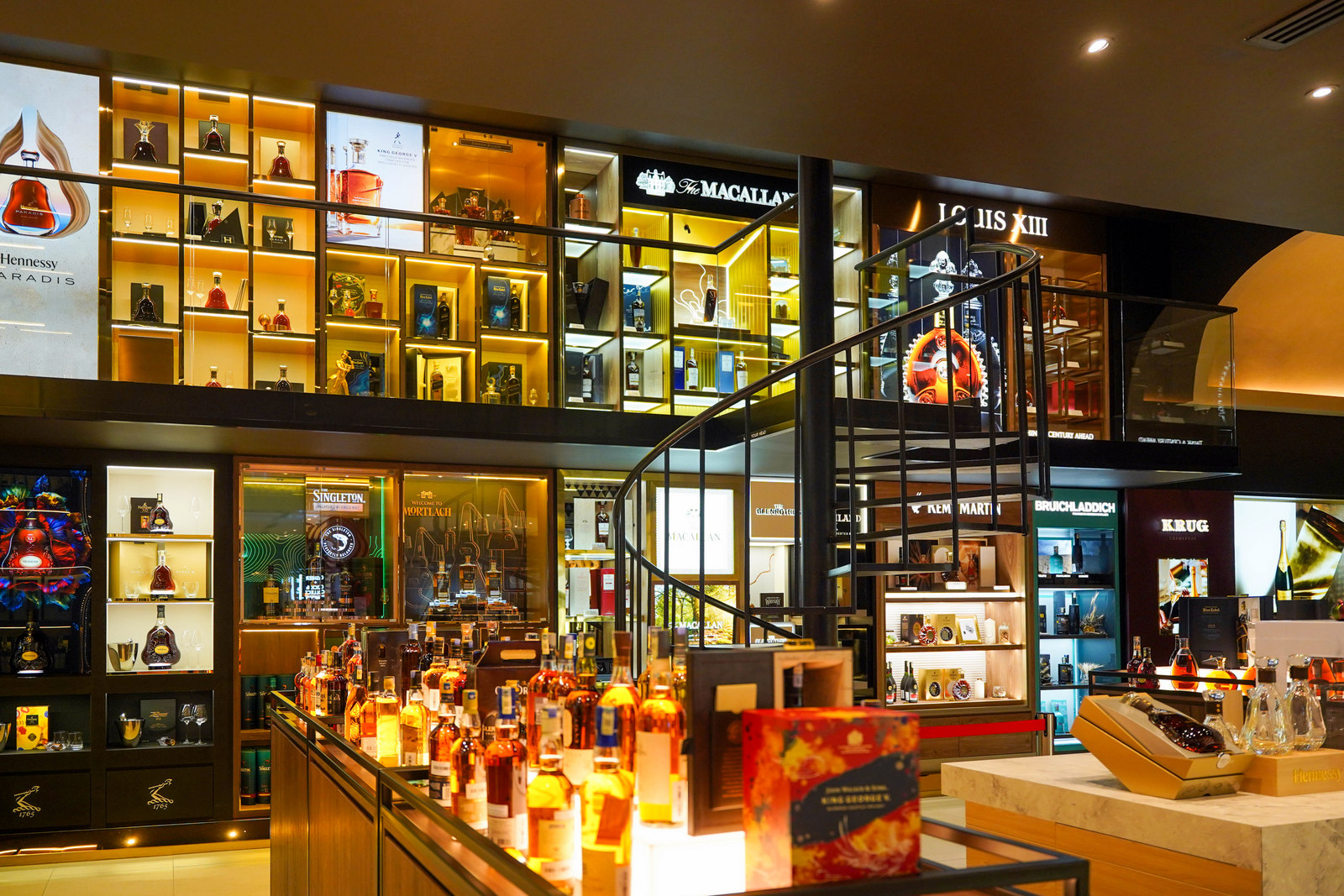 Spirits rise: Walking into The Chamber, its enormity is enunciated by walls that tower with 1,000 labels to browse - it's equivalent to a library for liquor lovers, broadening our horizons of rare collections, such as from the prestigious Premier Grand Cru ranked wine estates of Château Margaux and Château Cheval Blanc in Bordeaux.
If you're taking a deep dive into cognac, you'll surface with something spectacular - from Hennessy's Hennessy Richard and Hennessy Paradis, harmoniously embodying 250 years of the Maison Hennessy's expertise, to Remy Martin's Louis XIII, comprising a blend of up to 1,200 eaux-de-vie from Grande Champagne vineyards, ranging from 40 to 100 years in age.
Whiskey enthusiasts can marvel at at the magnum opuses of Scottish distilleries, The Macallan, Dalmore and The Balvenie, perusing the passion projects of revered malt masters. Gin, brandy, tequila, rum, vodka, and craft beers are also well-represented.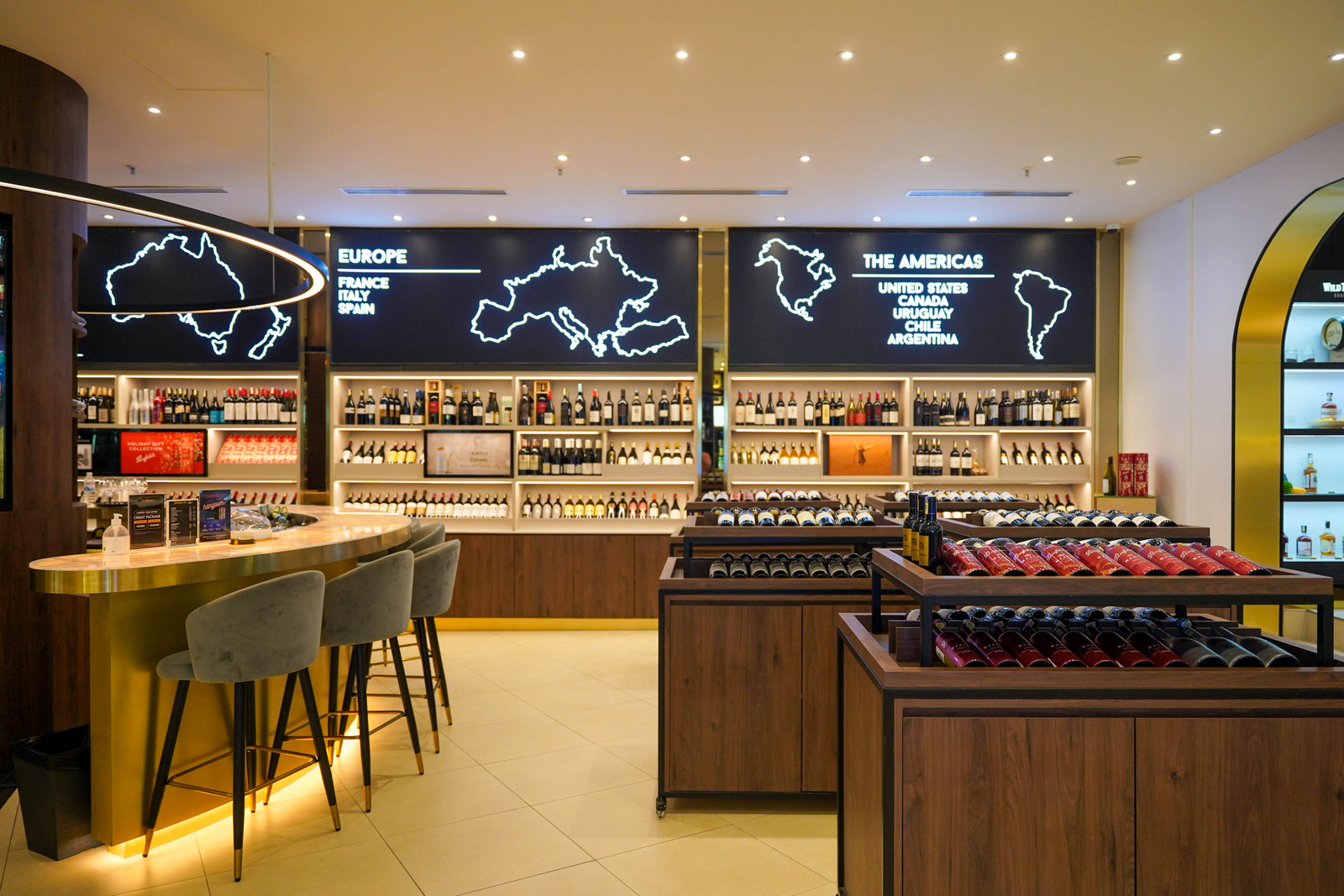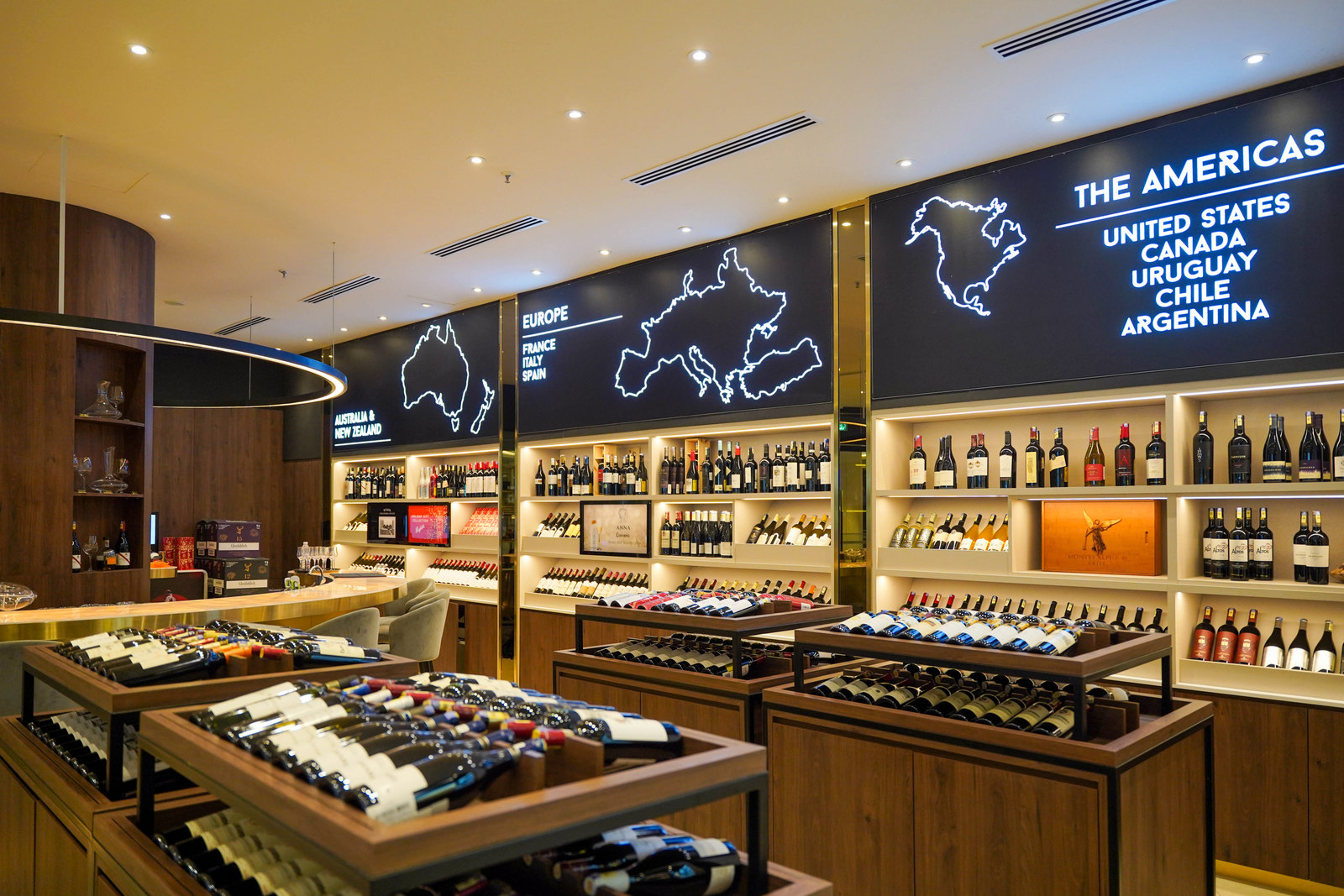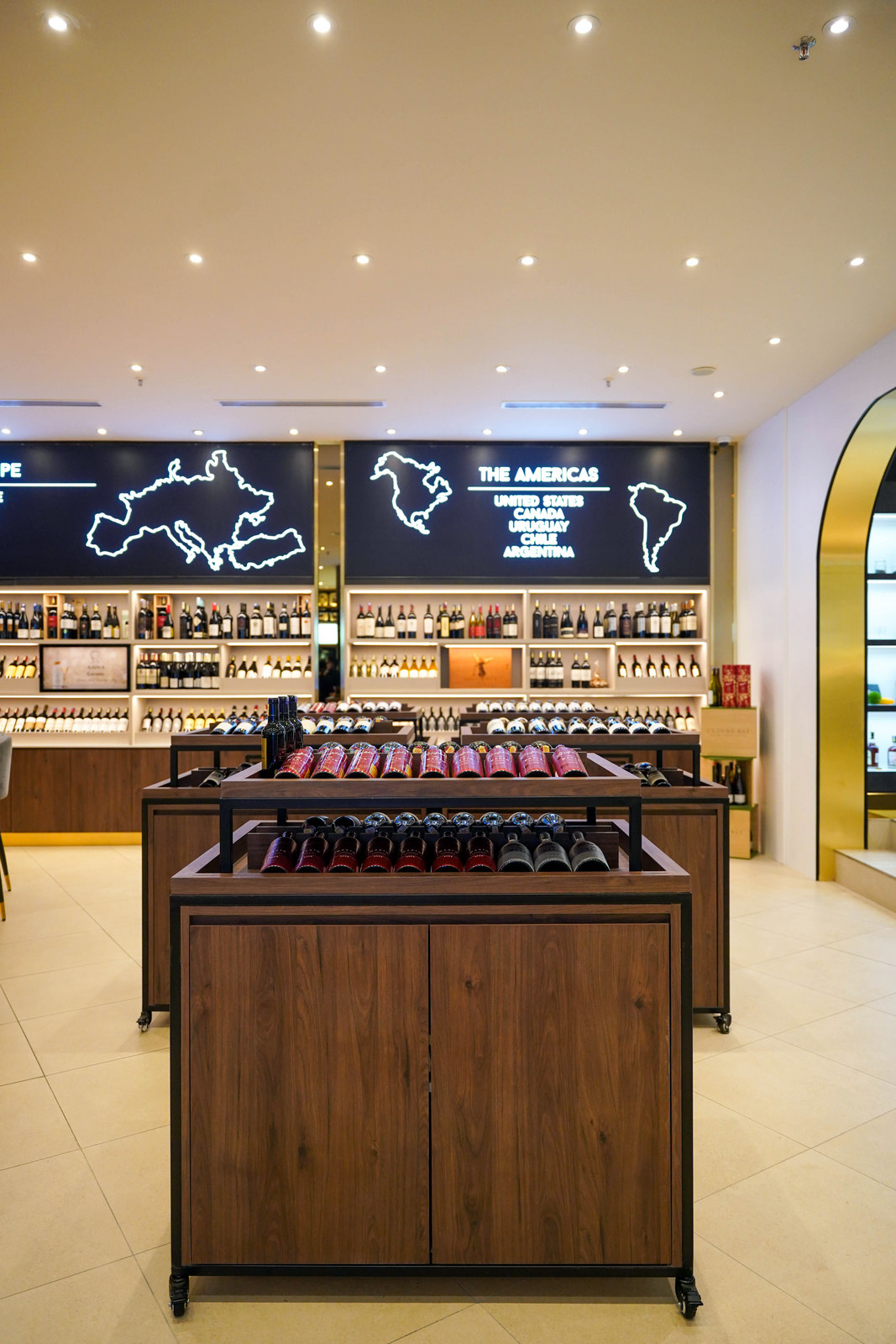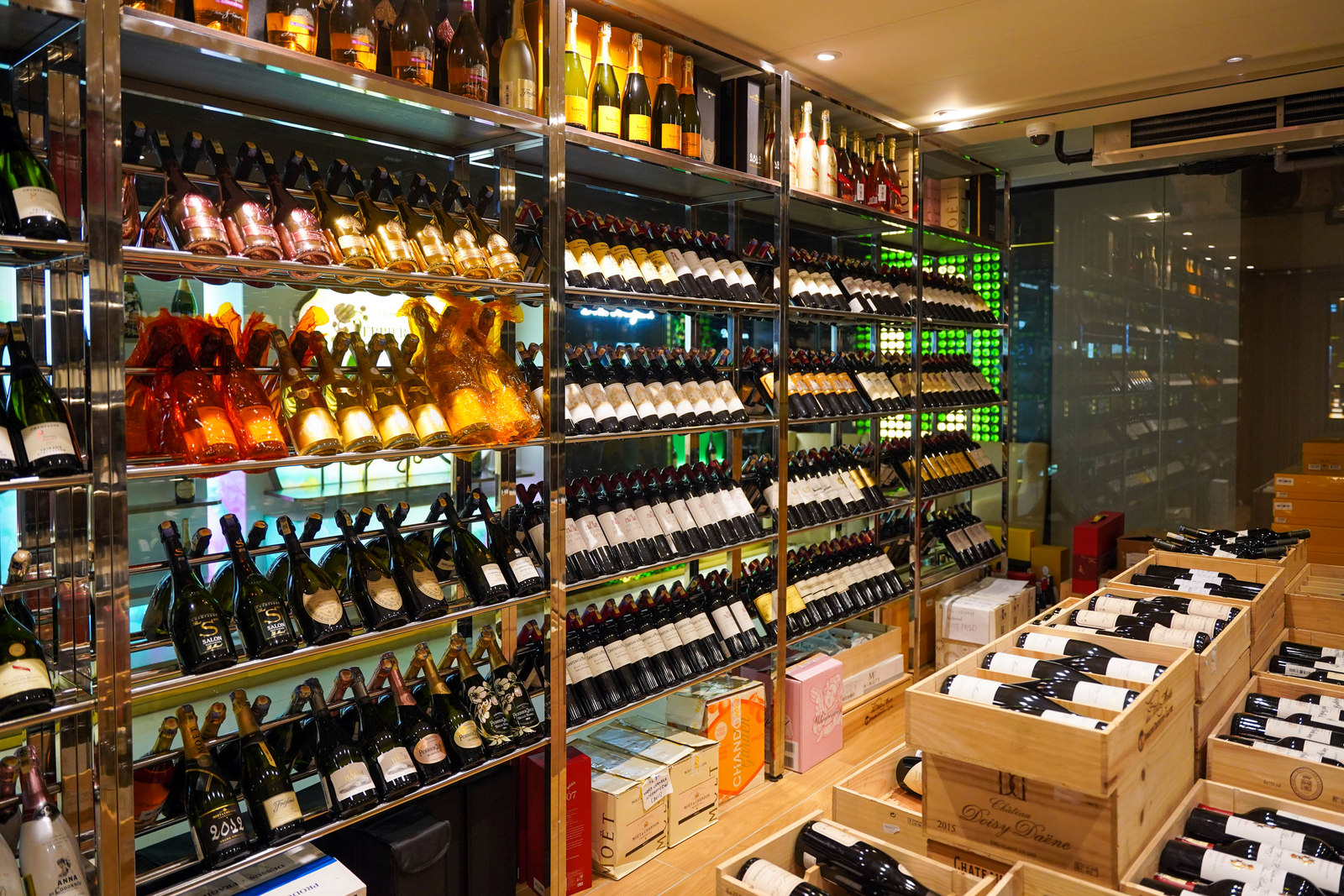 While such a comprehensive collection might sound intimidating, The Chamber is not a challenge to navigate. Everything is easily accessible - look to your left as you pop in for the wall of wines, immaculately sorted by provenance, from Australia and New Zealand to Europe and The Americas. Top-tier red wines can be found in abundance, though there are superb surprises in other varietals - the Whispering Angel is a world-class rosé whose 2020 vintage balances a bracing silkiness with a rejuvenating acidity, a pleasure for your next party.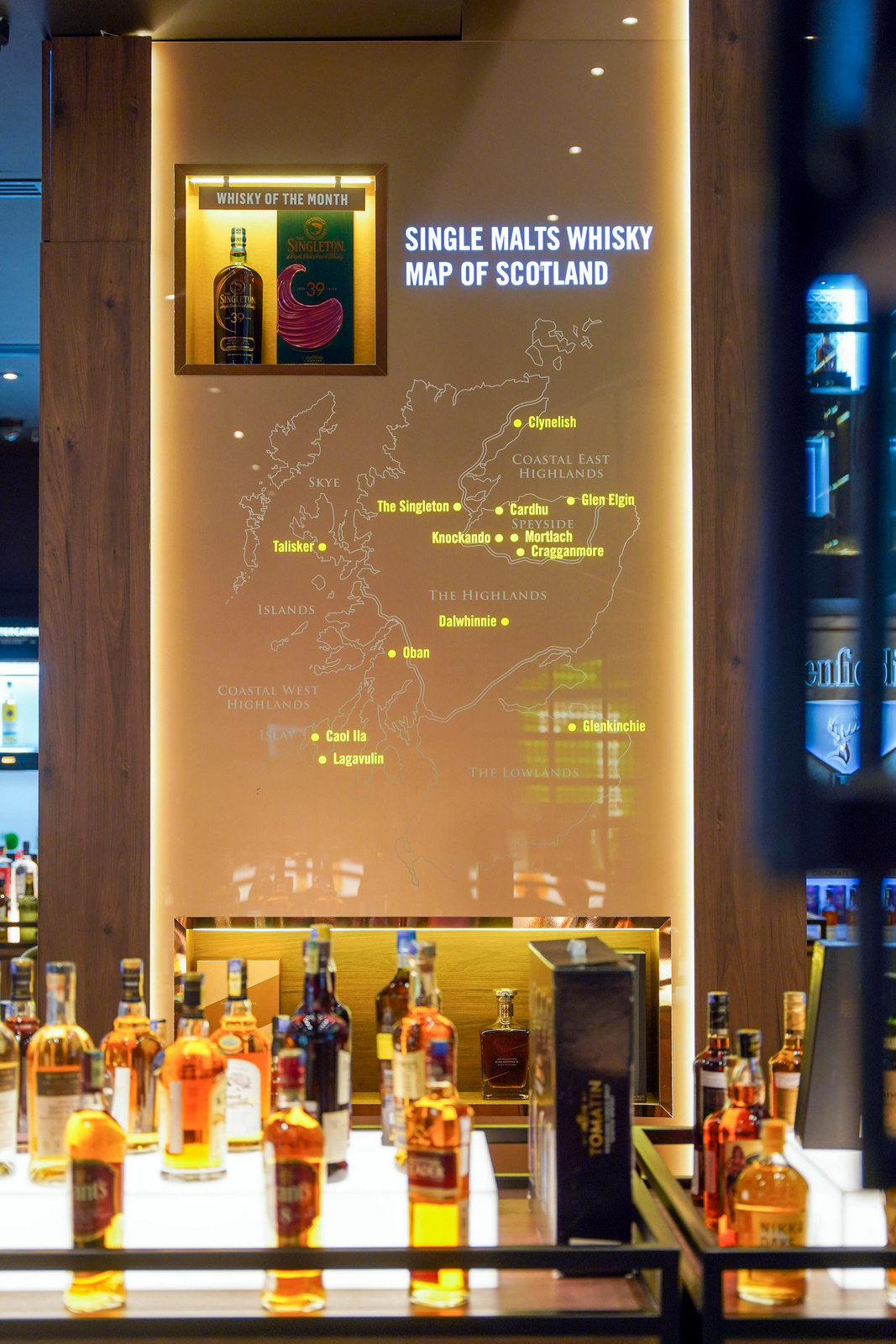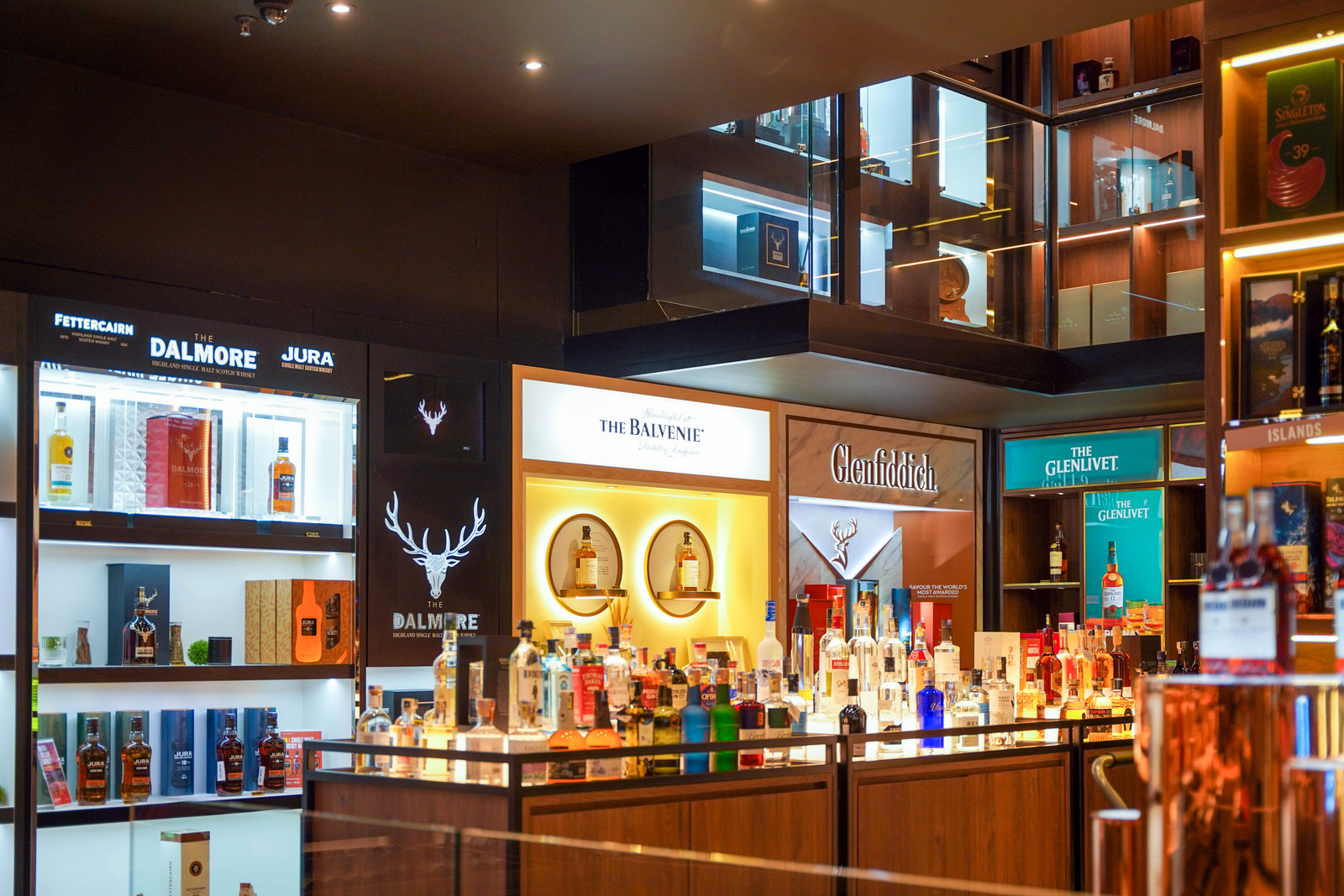 Single Malt Scotch Whiskies also merit their own map, a tour de force that can be traced from Clynelish Distillery in the Highlands of Scotland to Caol Ila Distillery on the isle of Islay. 
The Chamber channels expressions of exceptional richness, spanning The Dalmore 28 Year Old to The Singleton's 39 Year Old, of which fewer than 1,800 bottles each have been created.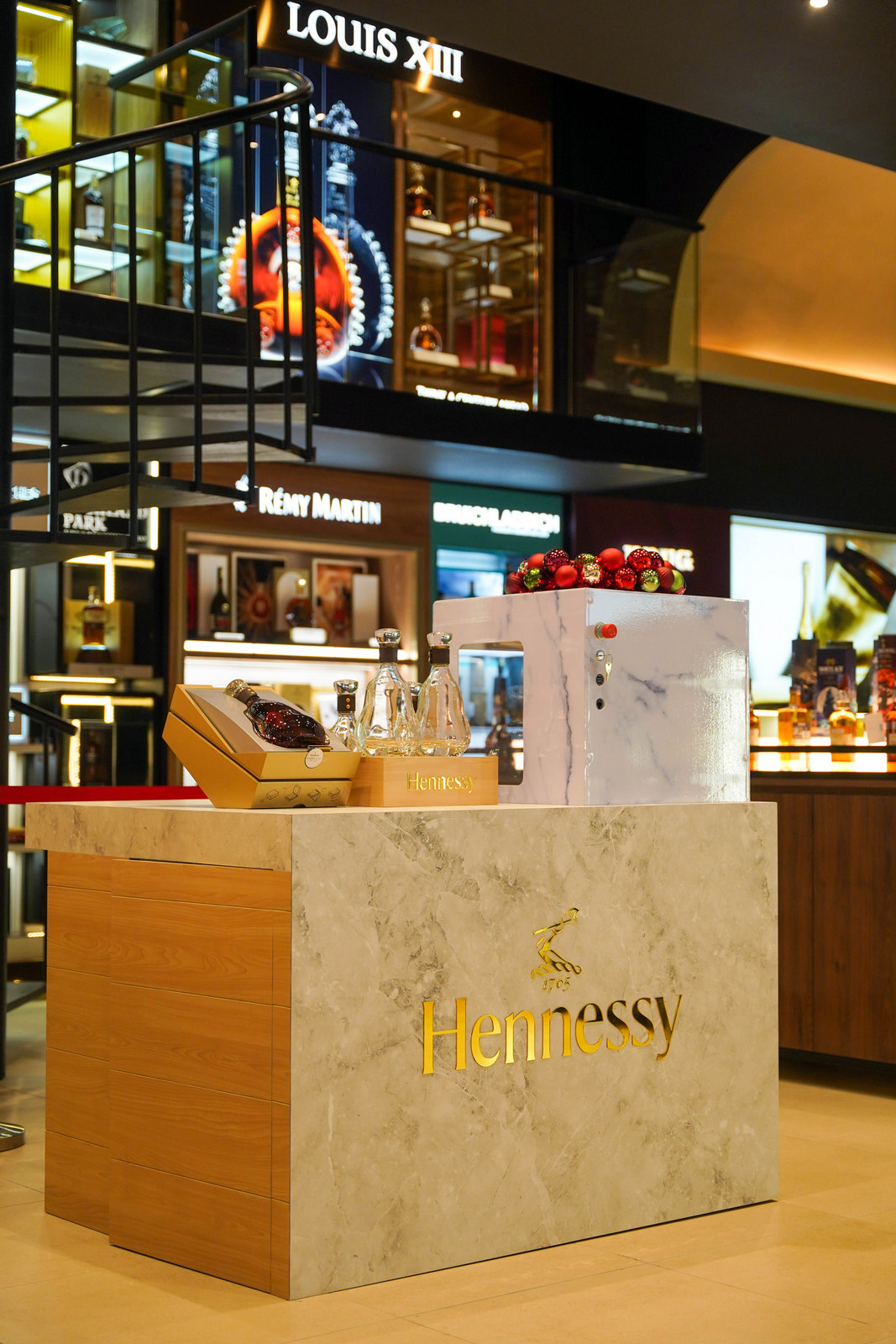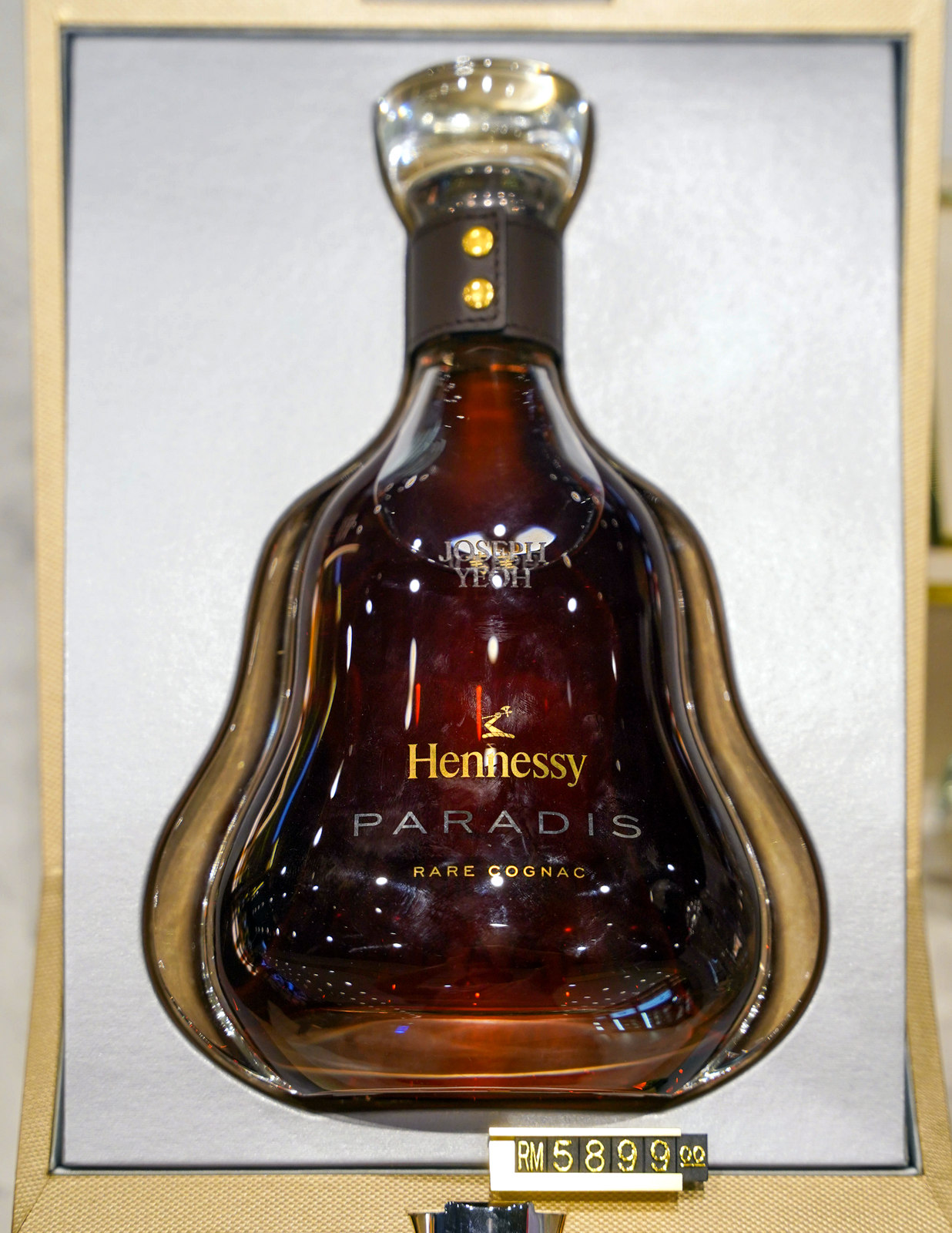 The Chamber's flagship store also houses the first Hennessy Hands workshop, a new concept by the cognac maker to bring its polished savoir faire to life and honour its legacy.
Patrons can customise their bottles by engraving their initials in silver, gold or bronze in a style of their choice. 
They can also select a feature accessory - clip or strip - in their preferred colour of beige, brown, red or grey. The personalised accessory will be fitted over the bottles, reminiscent of the art of barrel-making by the wooden hoops encircling the cognac maker's barrels.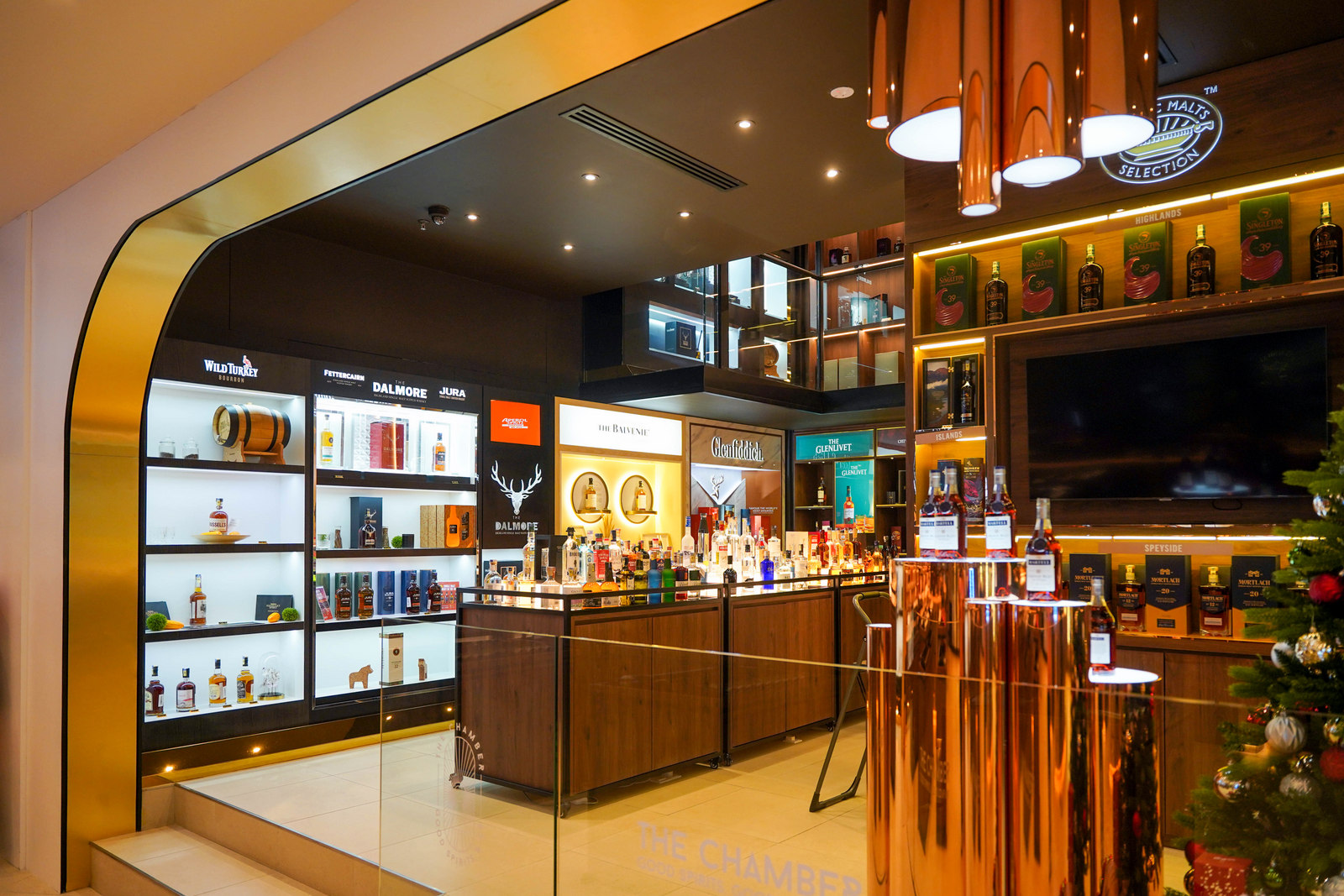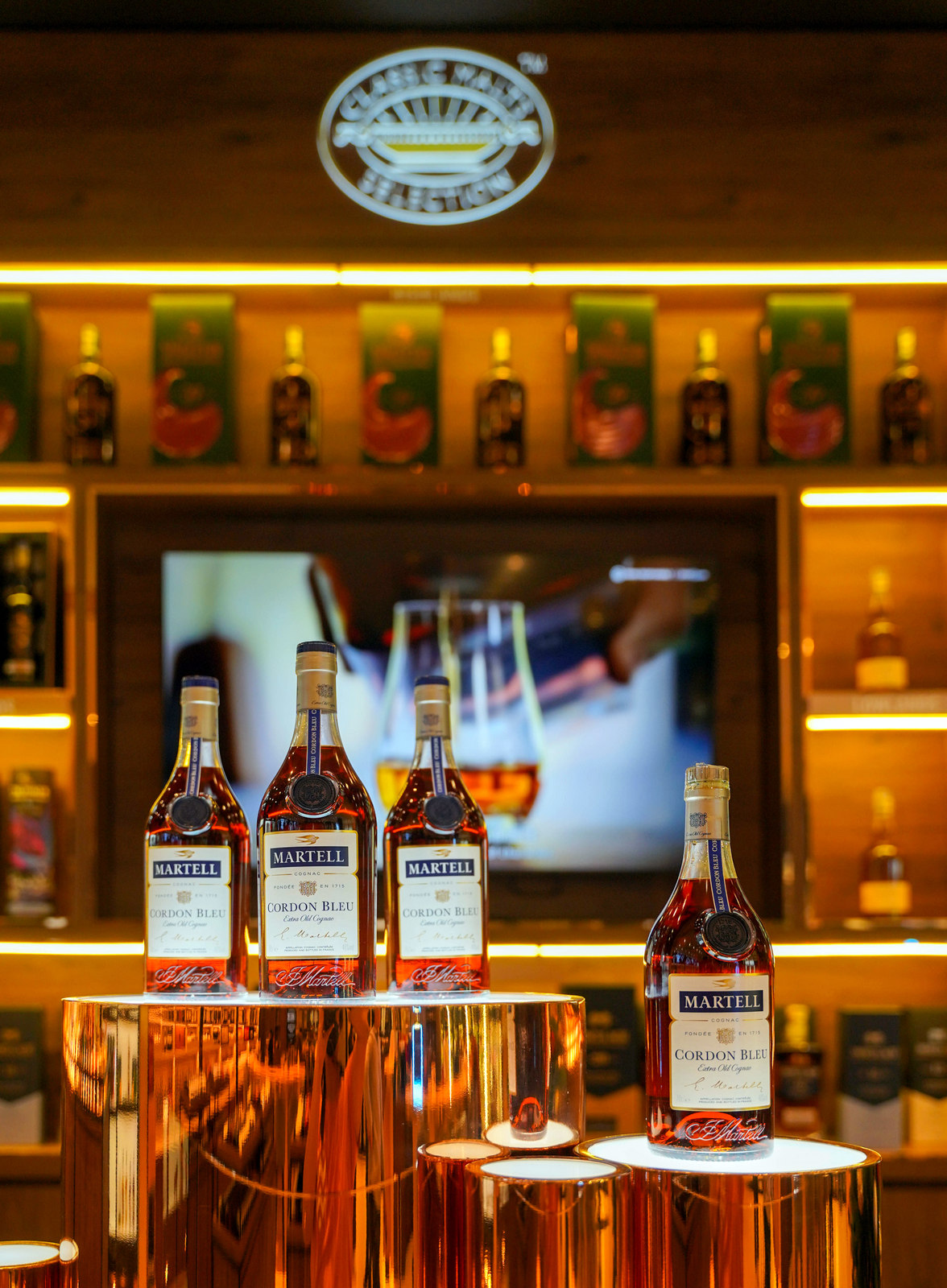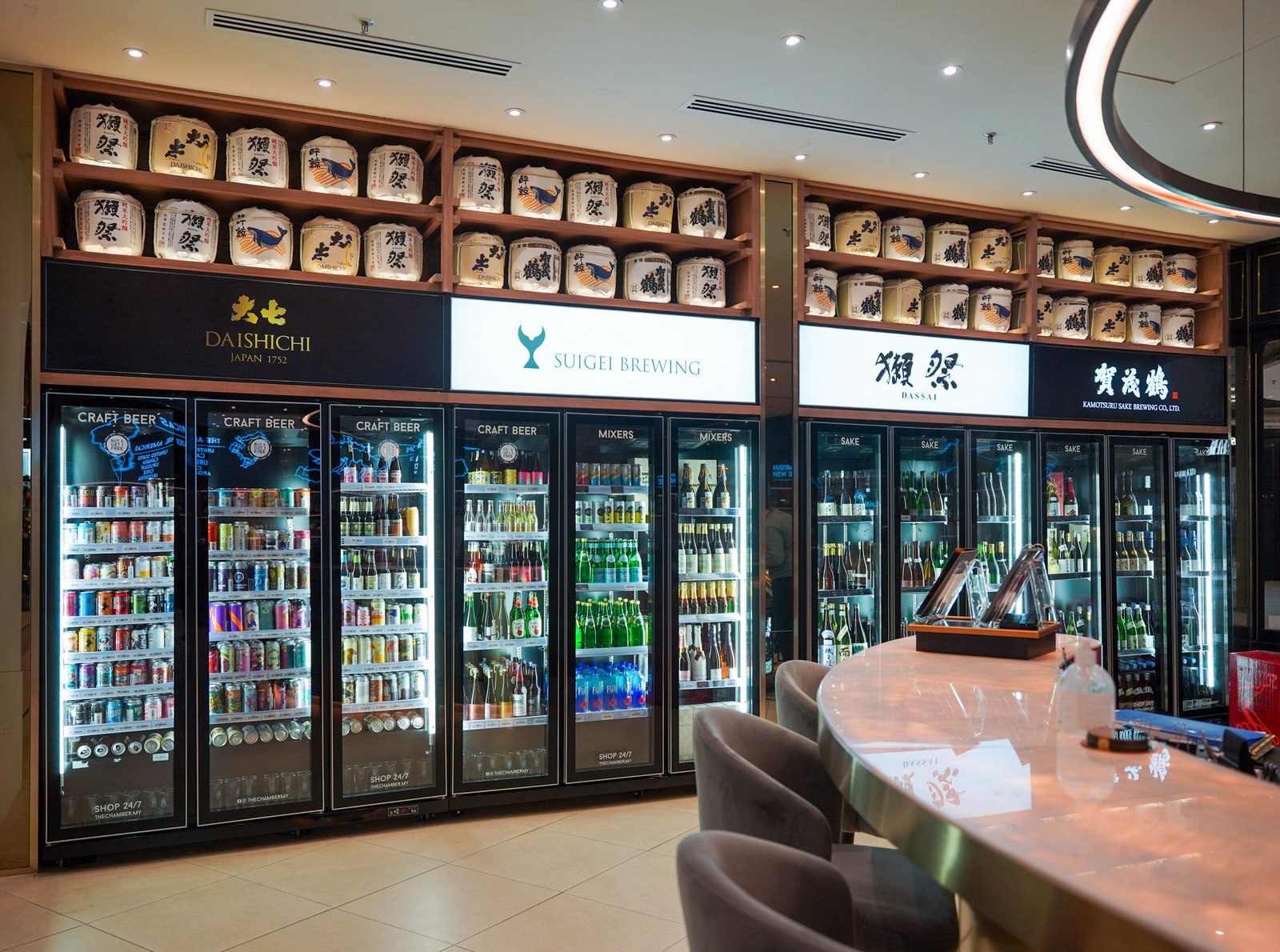 Simply by making a purchase, patrons will be inducted into a Blue membership to kickstart their journey of connoisseurship, with Silver, Gold and Emerald tiers unlocked according to total yearly bills.
Membership events include masterclasses comprising wine tasting and pairing events. In December 2022, curated experiences included a Tachinomi Standing Sushi Bar Experience with fresh sushi and overflowing Dassai 23 and Tatenokawa Phoenix, as well as a private Masterclass with Bruidladdich Distillery's newly launched 13th annual Octomore series. 
Blue Members receive 1,000 points as a welcome gift (equivalent to RM10) and a RM50 voucher on their birthday month.
Silver members have additional privileges of 5% off purchases during their birthday month, a complimentary bottle worth up to RM500, complimentary access to the Private Chambers for up to eight times, a one-time complimentary rental of the Mobile Chamber (catering to private events at home or a space of choice) and a two-day, one-night staycation at a five-star hotel.
Gold members enjoy upgraded benefits, including a complimentary bottle worth up to RM1,000, complimentary access to the Private Chamber 24 times a year, complimentary rental of the Mobile Chamber for up to two times, a one-year complimentary whiskey or cigar subscription, and a fine dining experience for two worth up to RM1,000.
Top of the tiers are Emerald members, who enjoy unlimited access to the Private Chambers, five times complimentary rental of the Mobile Chamber, a complimentary bottle worth up to RM5,000, a full-board three-day, two-night staycation at a five-star hotel, as well as a fine dining experience for two worth up to RM3,000.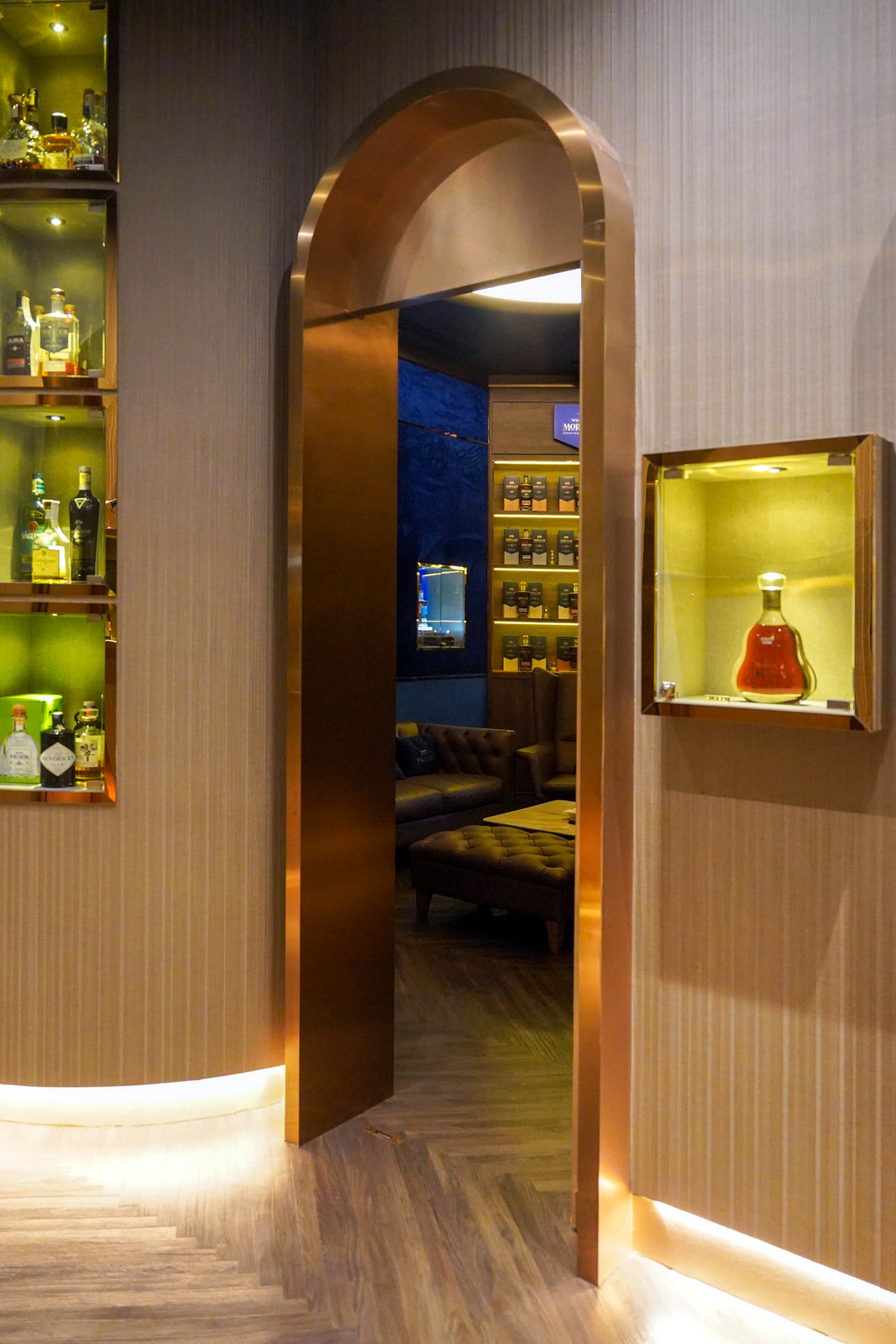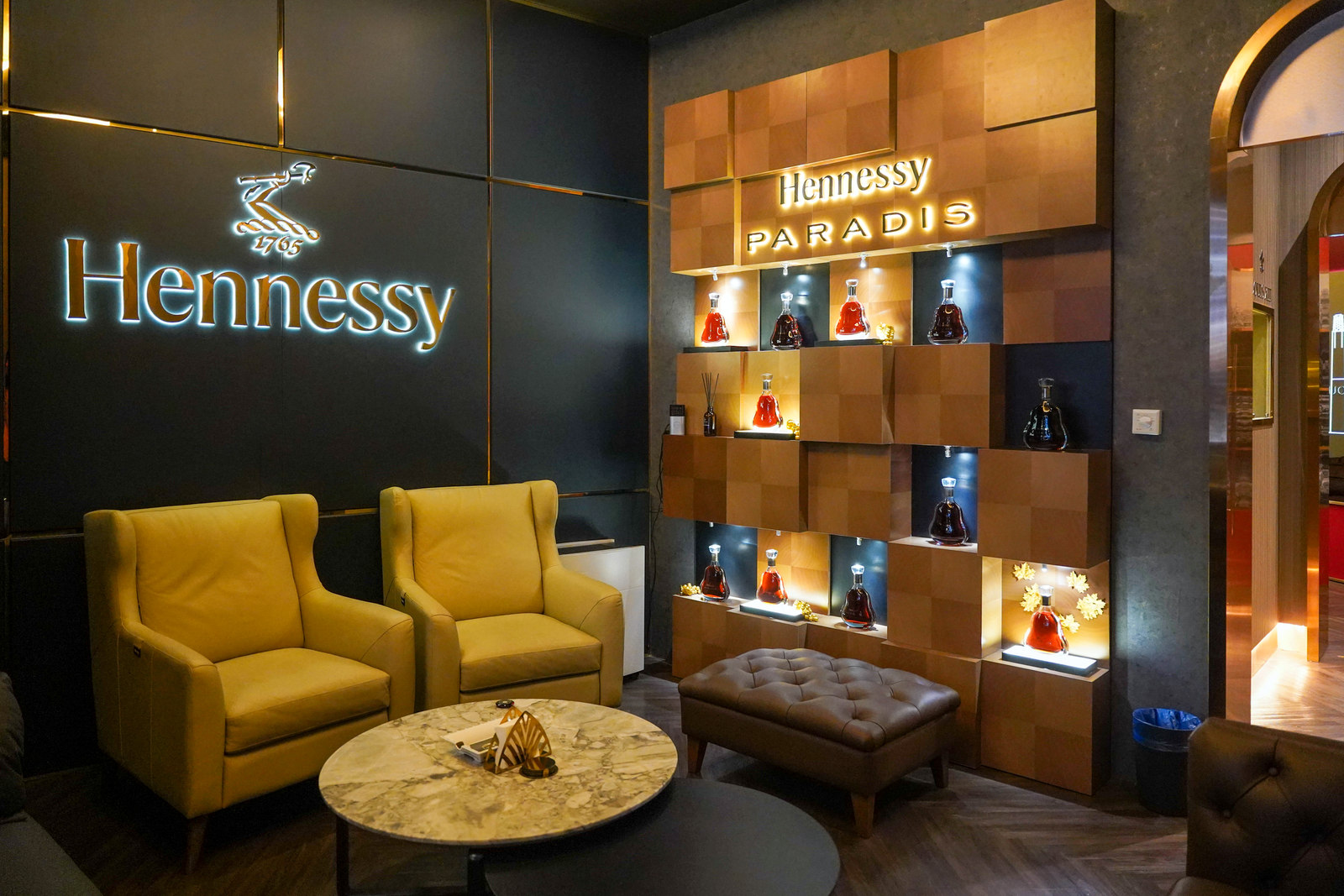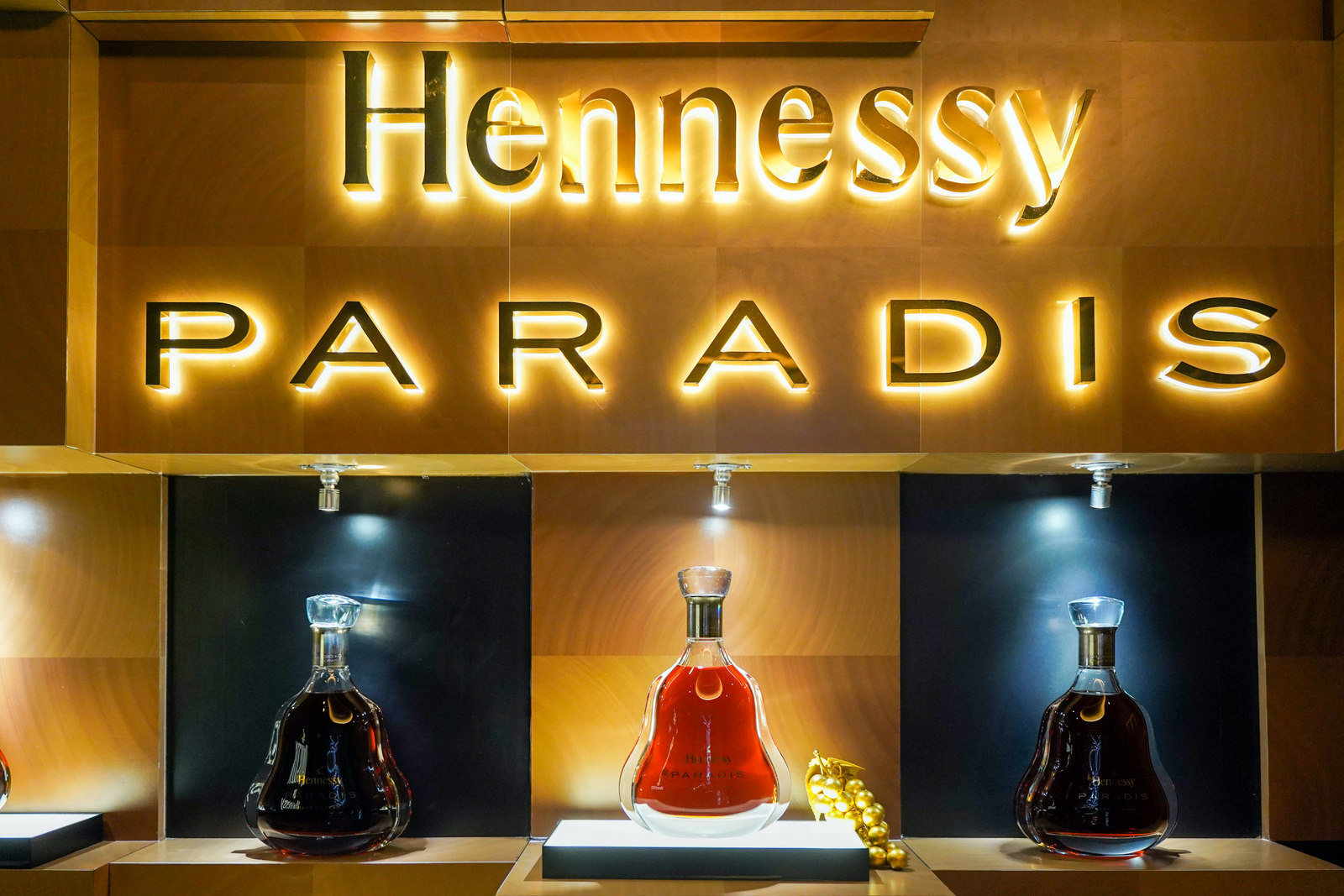 We've mentioned the Private Chambers several times so far - now it's time to venture into these exclusive rooms designed by elite brands: Hennessy, Mortlach, and Louis XIII, available only for members, each comfortably accommodating parties of six.
The Hennessy Paradis Room is enrobed in elegantly earthy tones, reflecting Hennessy's dedication to tradition and virtuosity, bolstered by its heritage that's both timeless and time-honoured.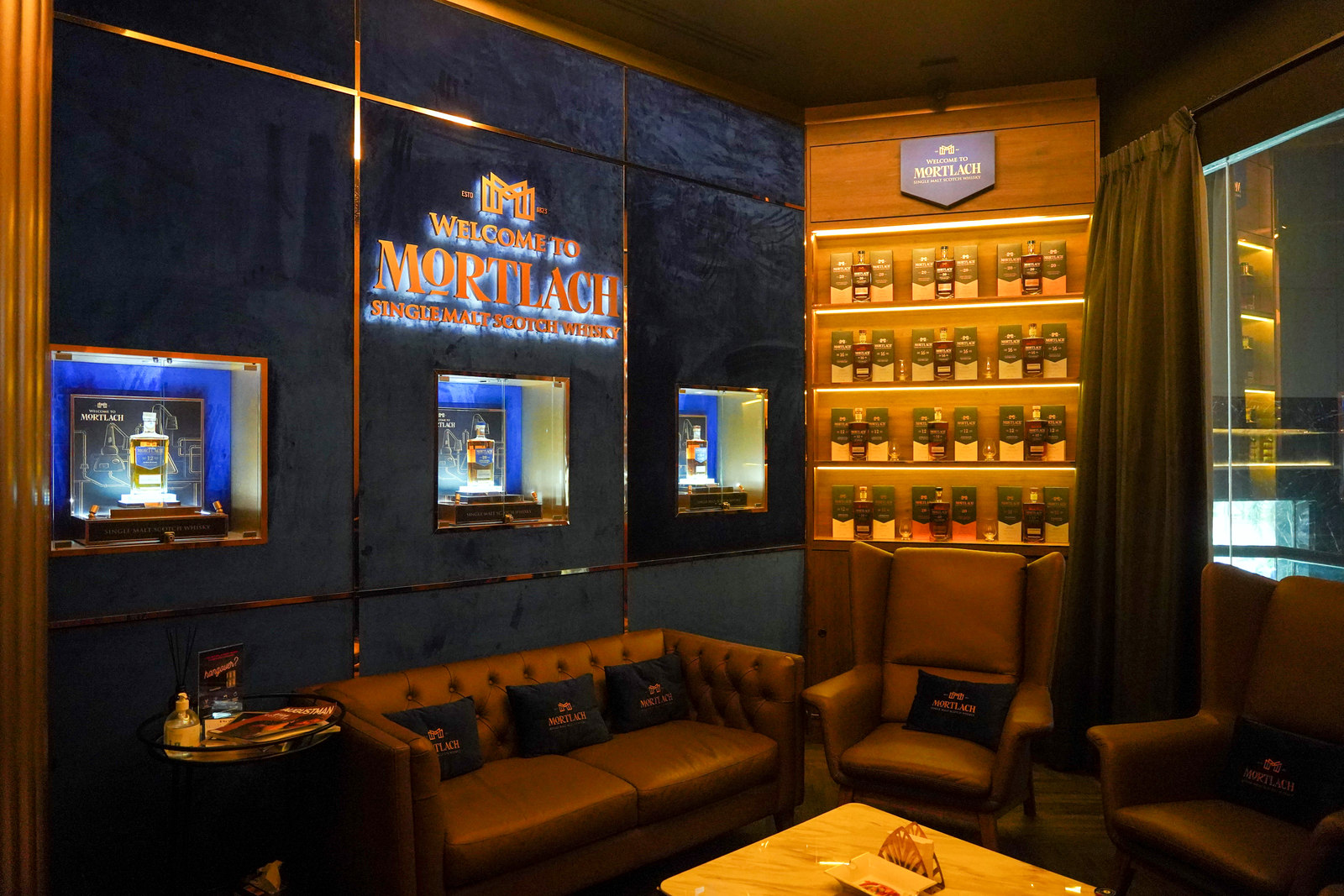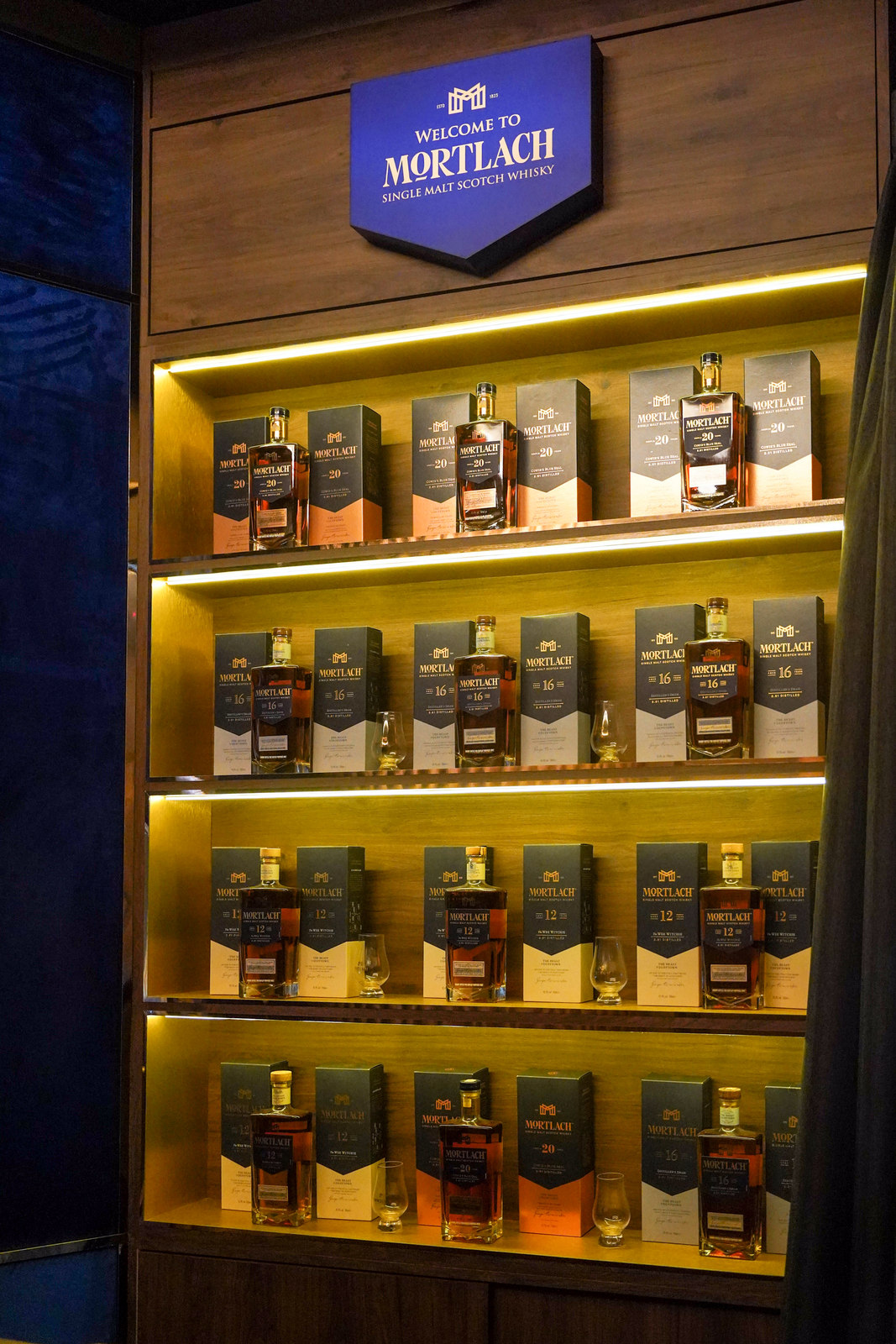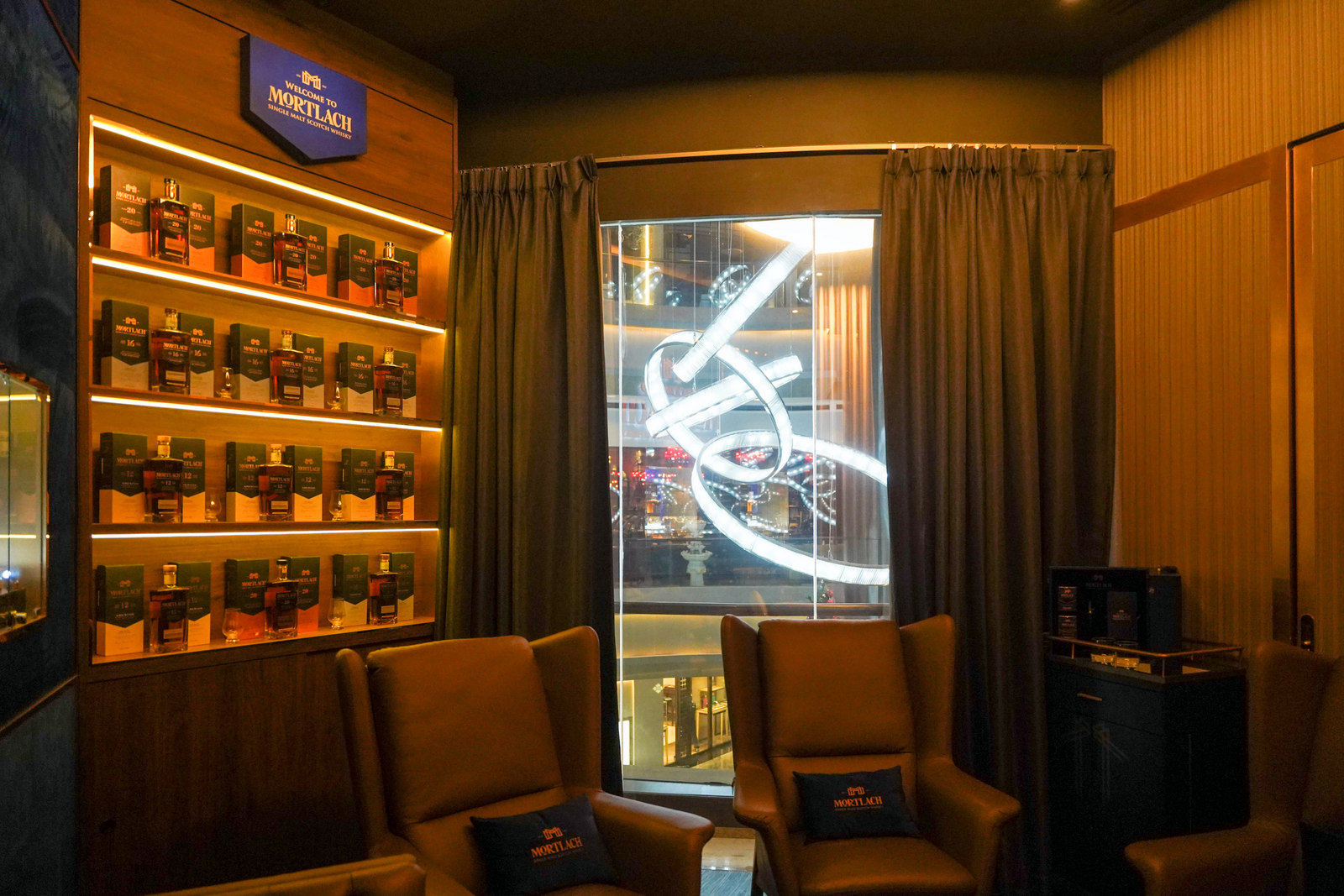 A first in Malaysia, the Mortlach Room manifests whisky's best kept secret, bedecked in the brand's signature hues of dark blue and gold, echoing its core values of boldness and complexity, showcasing its unique 2.81 distillation process that can be traced back to 1896.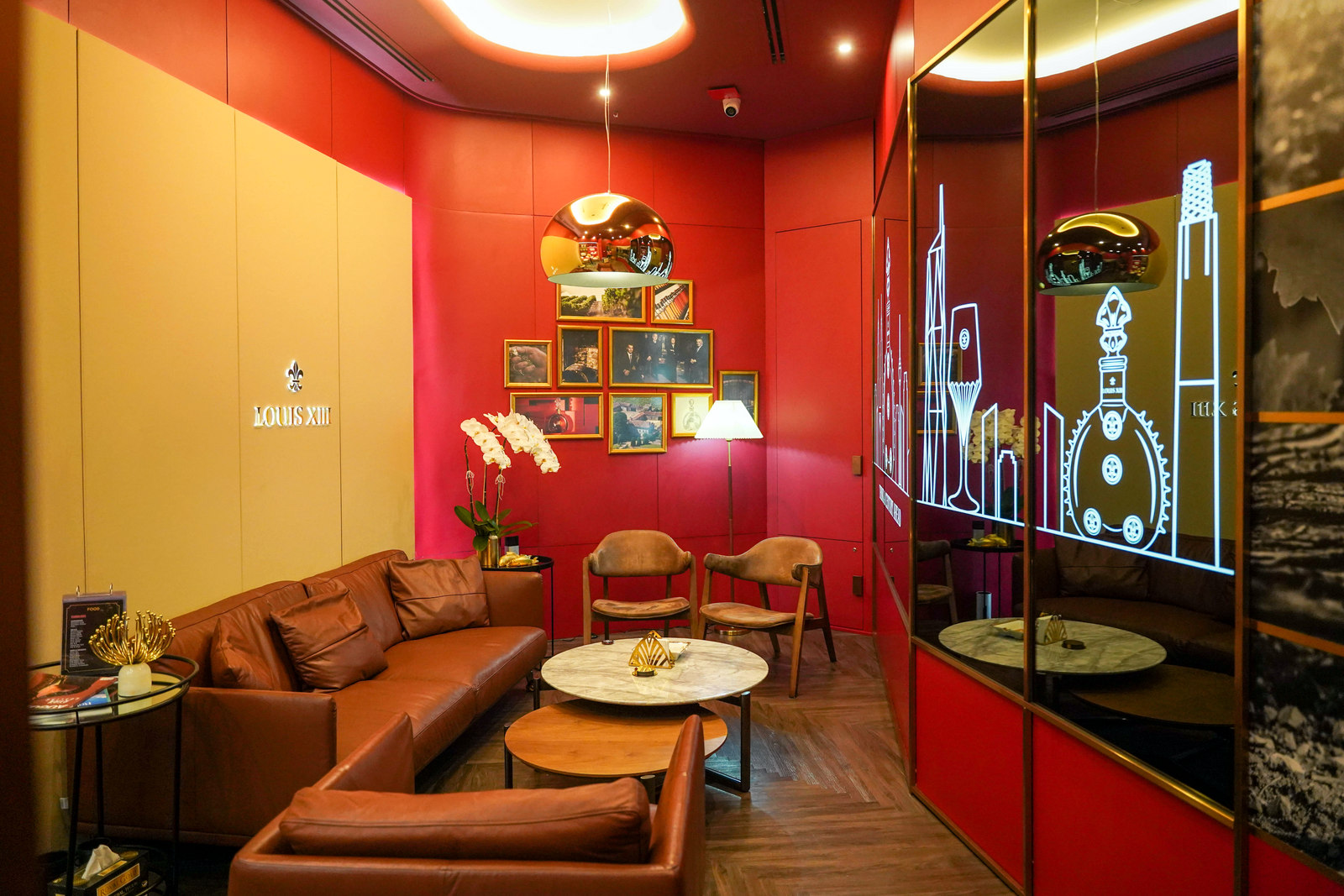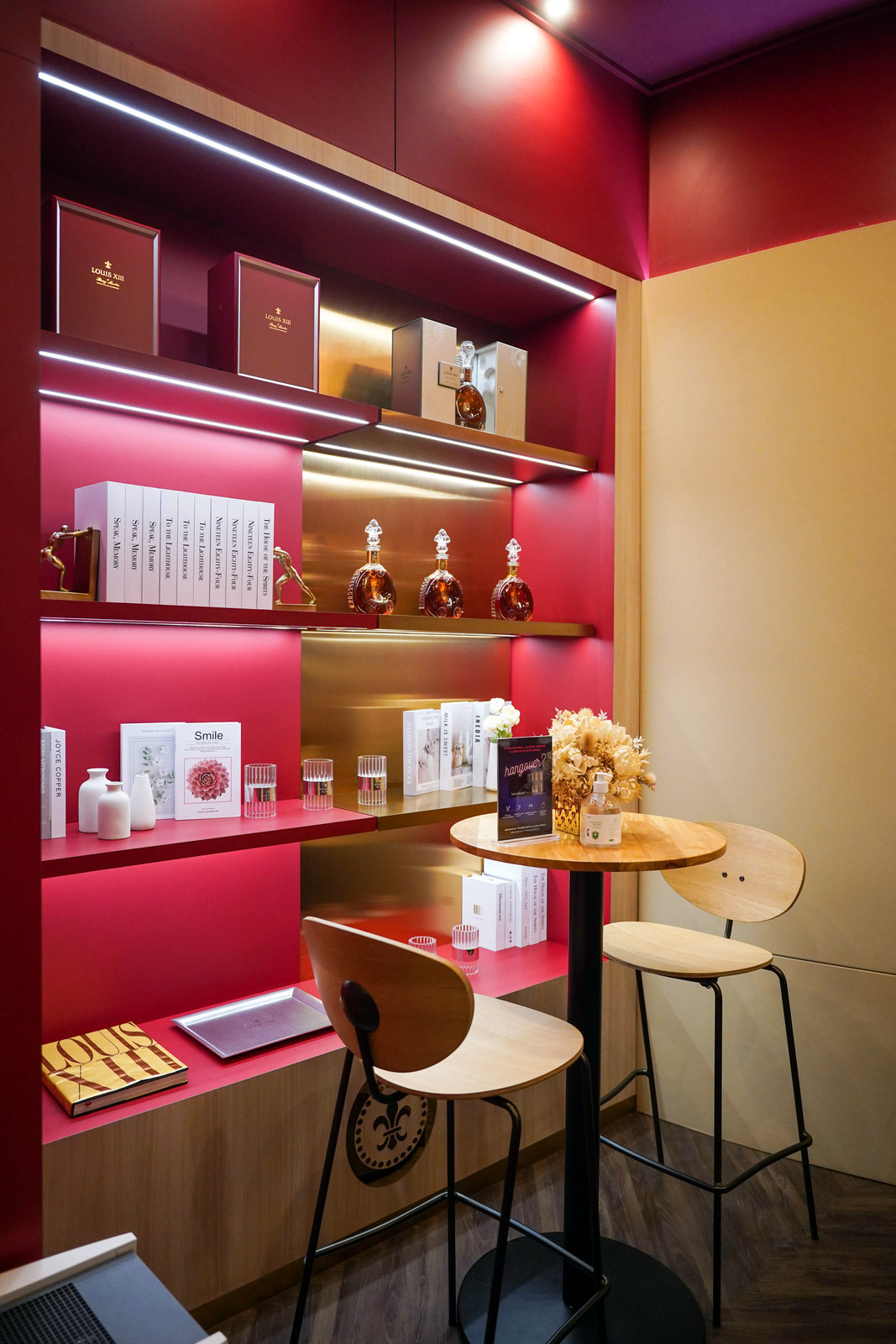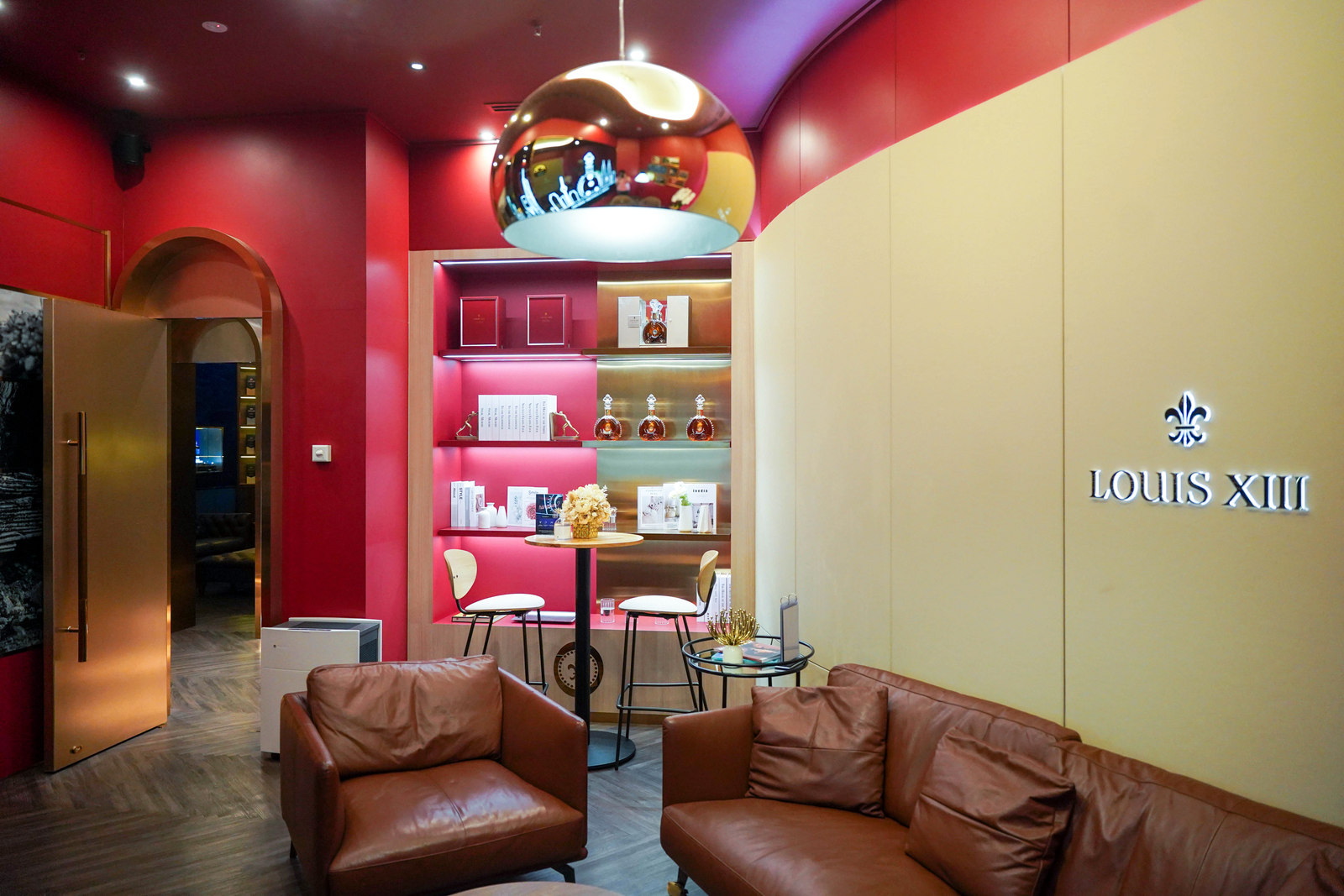 Our final stop is the Louis XIII room, immersing sojourners in a spacious red room with well-appointed touches that pay tribute to the cognac brand's legacy of excellence.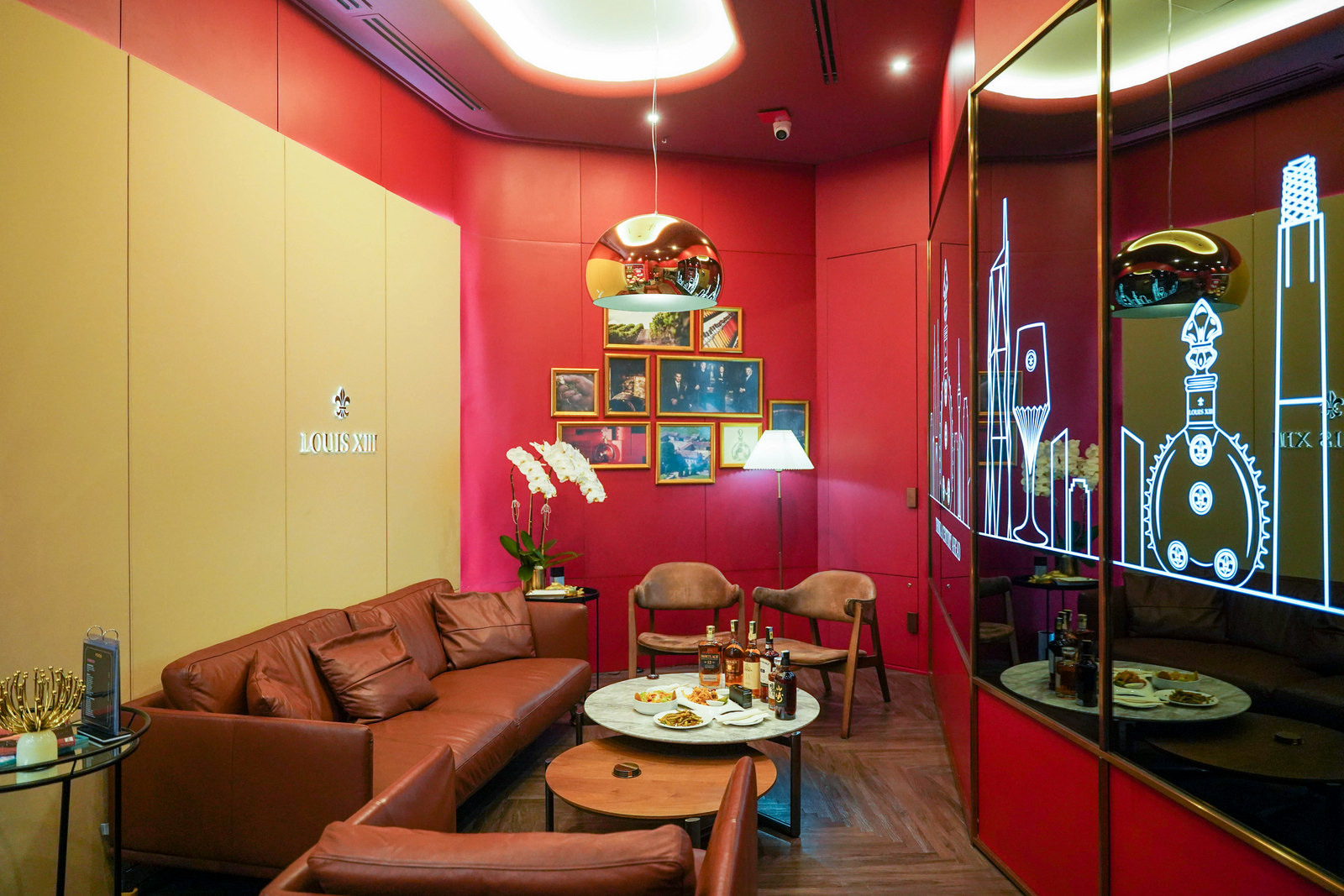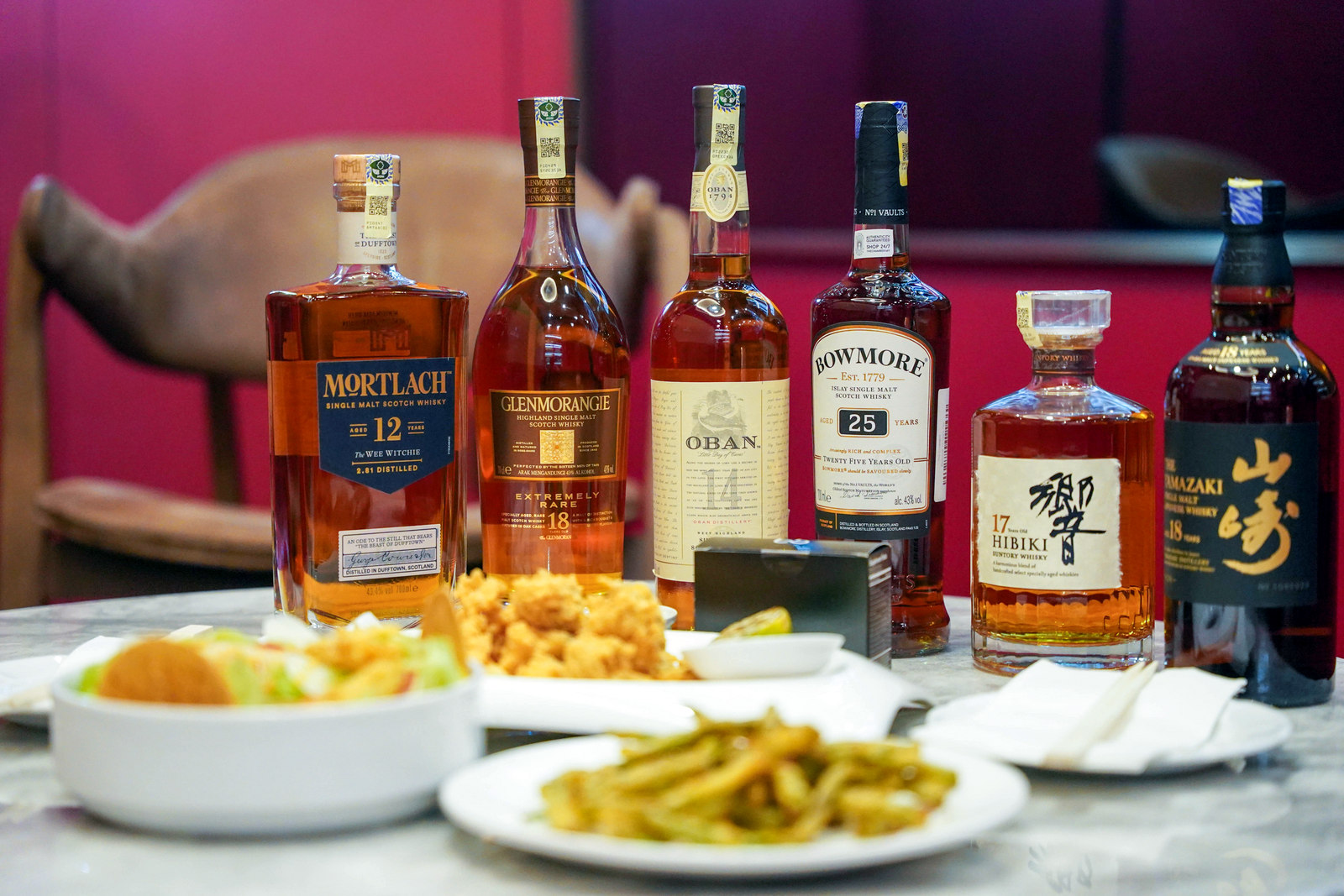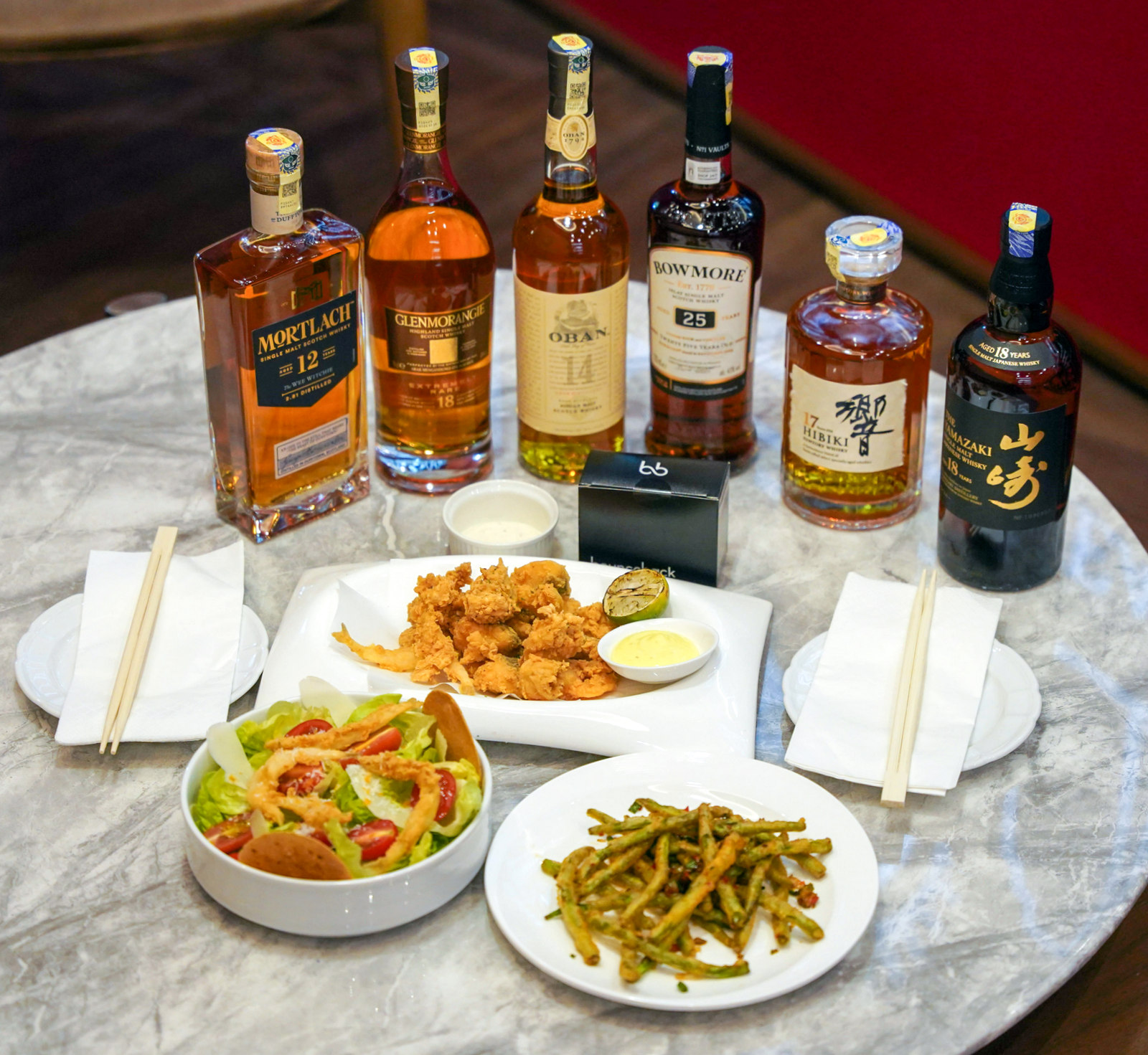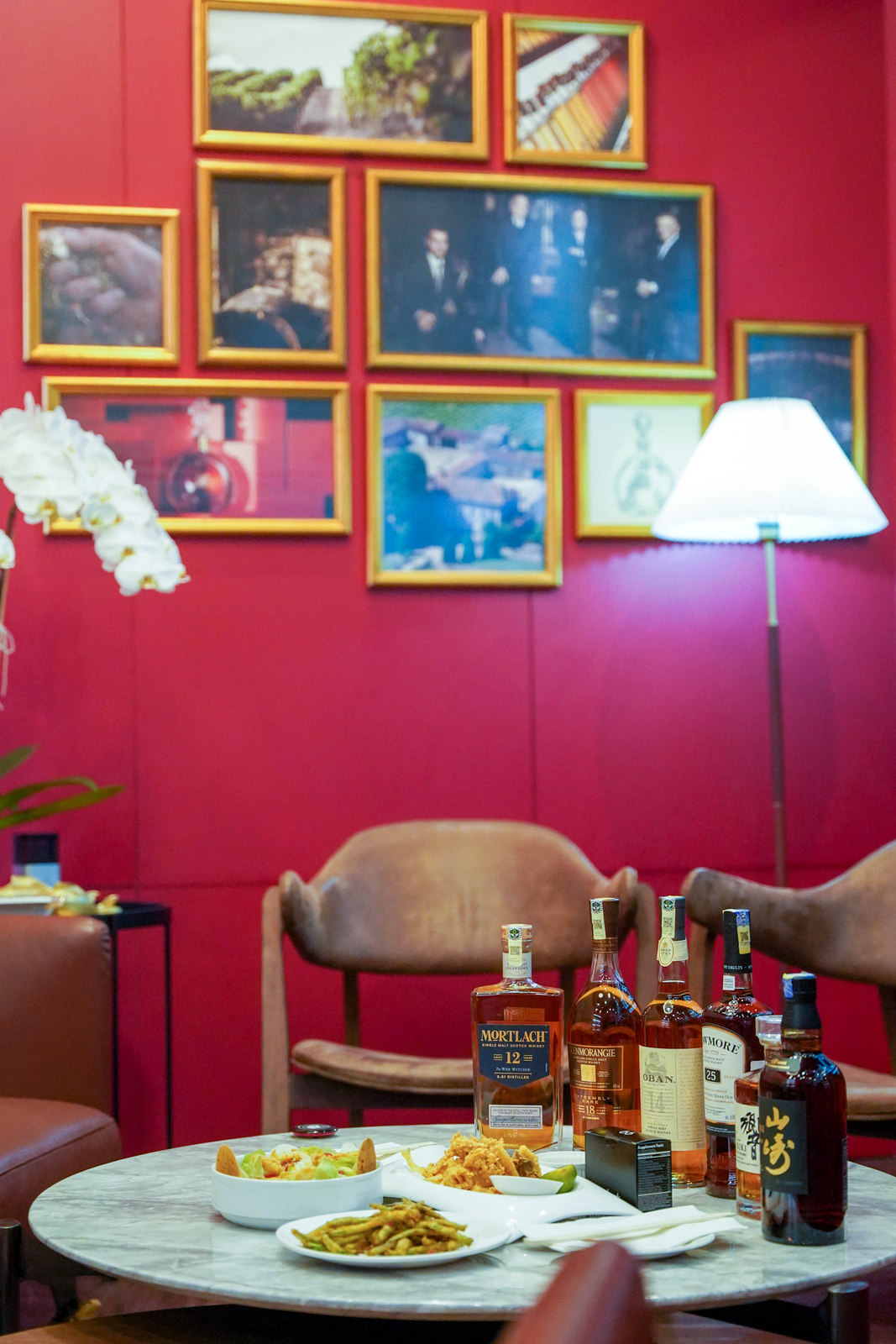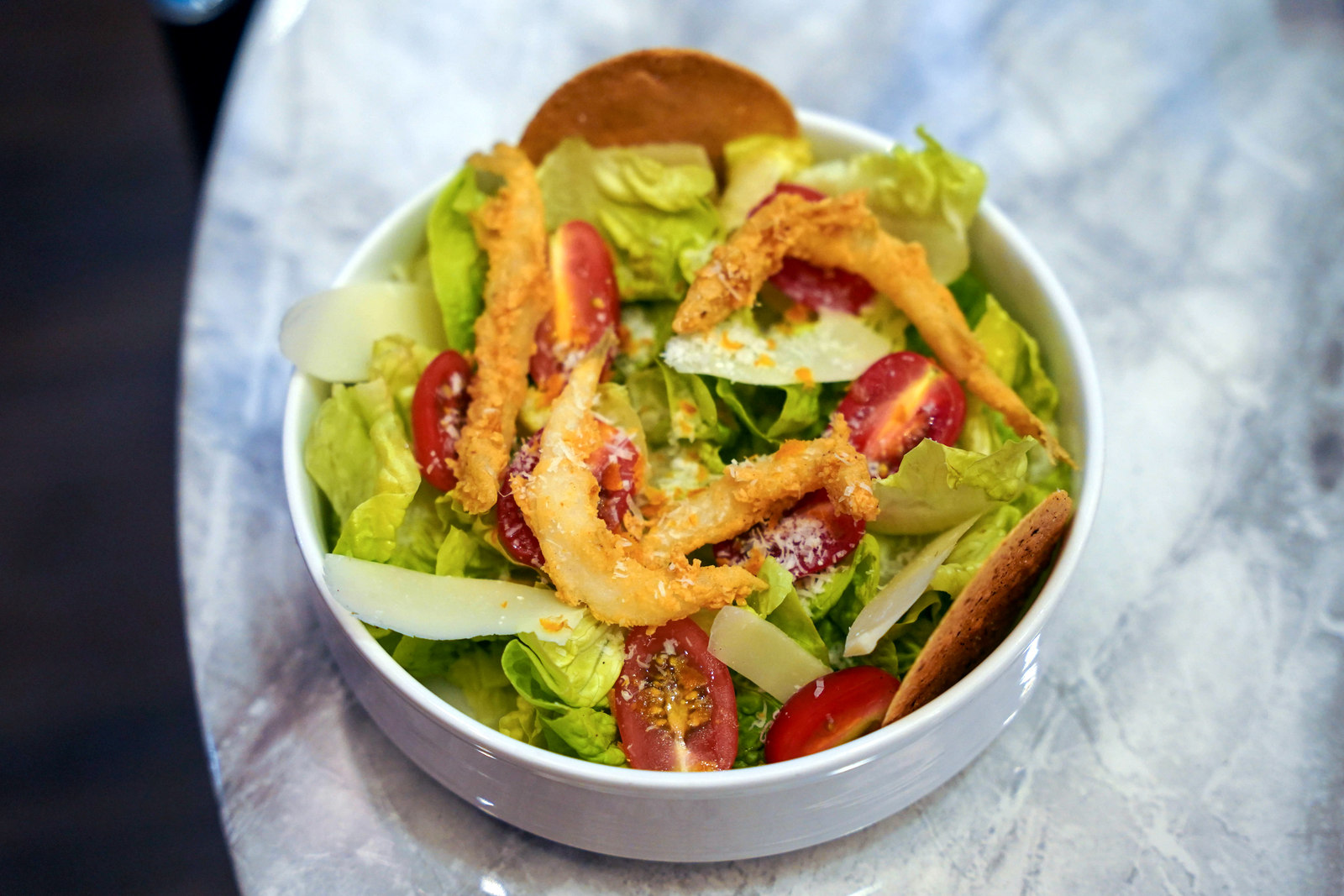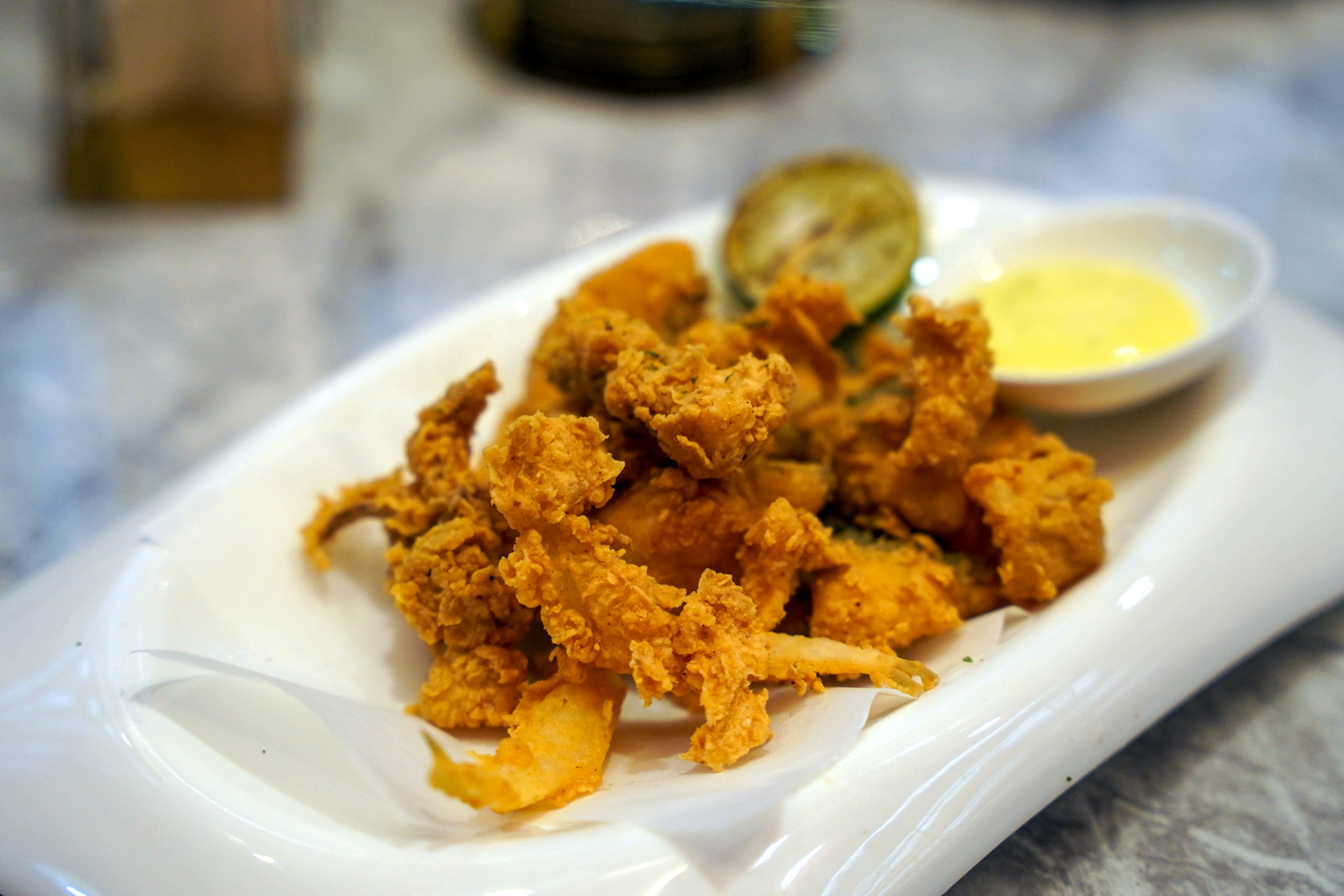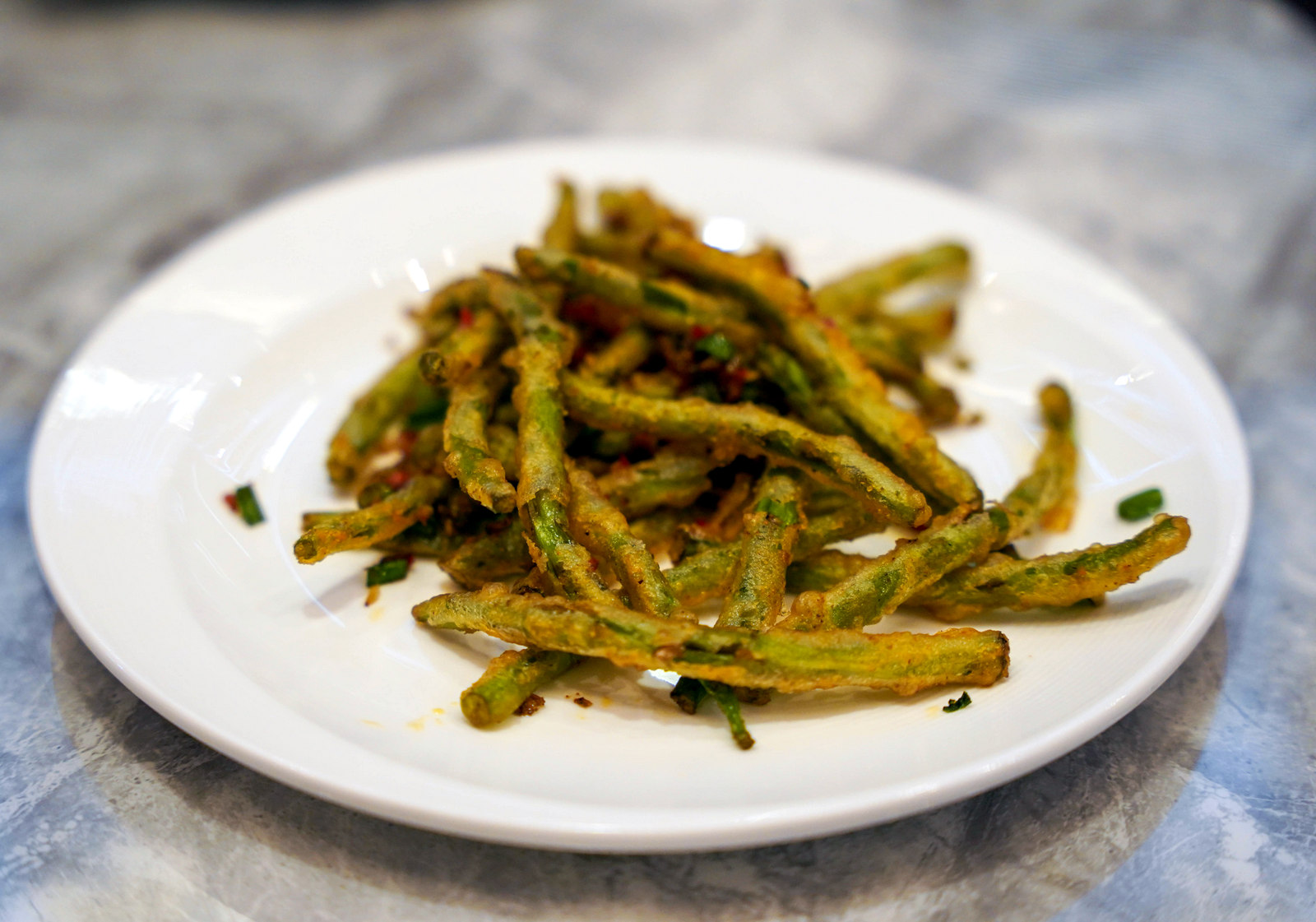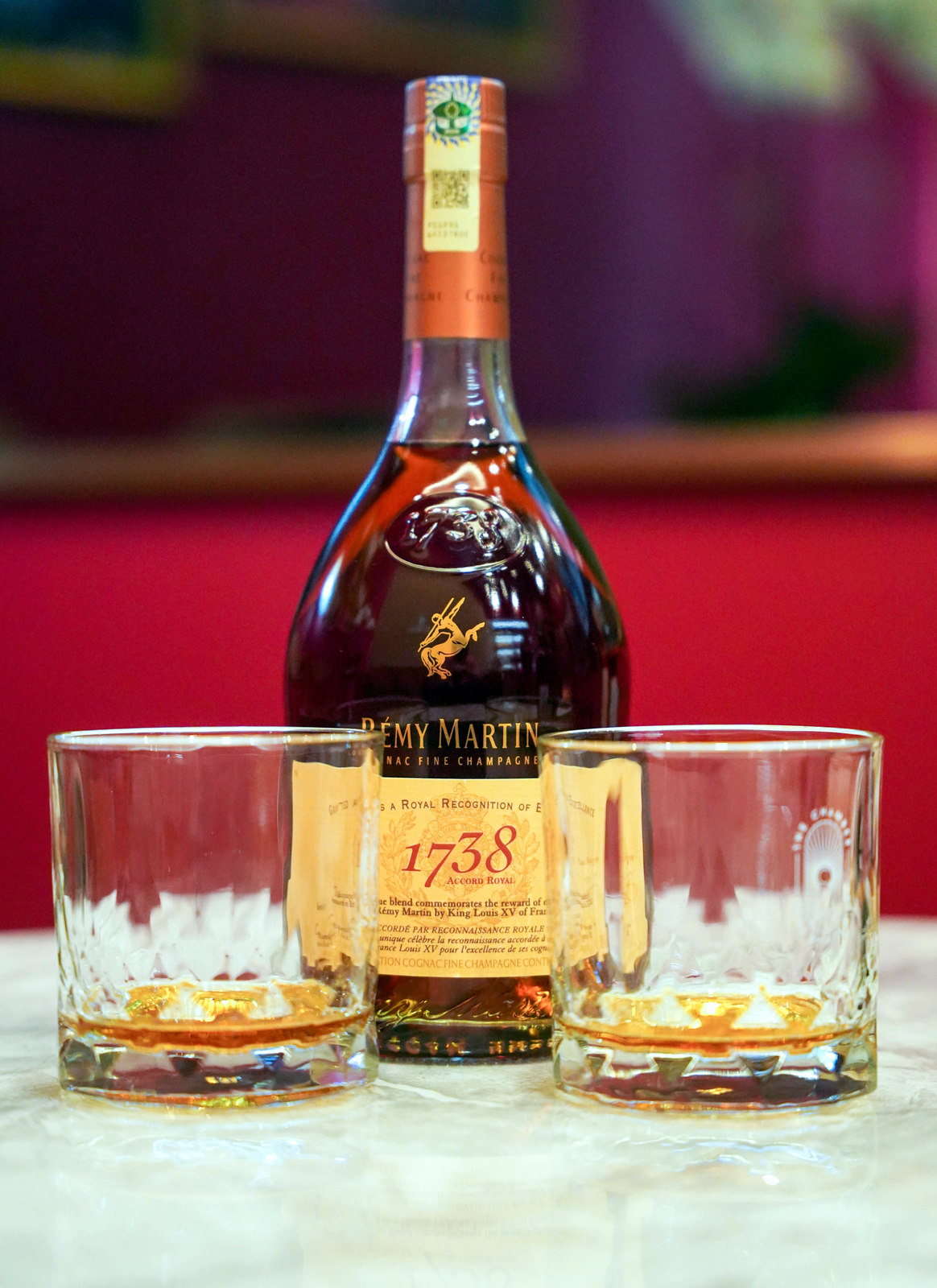 In these Private Chambers, patrons have a pick of meals from the kitchens of The Starhill's top restaurants, paired with their most pleasurable bottles.
From Okaju, indulge in contemporary Japanese robatayaki creations, such as Foie Gras Monaka with Seasonal Condiments, Surume Ika Squid with Garlic Butter Tosazu, Padro Shishito with Ponzu & Tempeh Seasoning, Chicken Karaage with Ginger Sesame Vinaigrette, and Young Corn with Smoked Umami Aioli & Seaweed Crumbs.
From Tarbush, temptations emerge from the tandoors and pizza ovens, spanning Lamb Tikka, Chicken Tandoori and Butter Naan to Four Seasons Pizza and Fatayer Cheese.
And finally, the venerable Shook! is consistently reliable with its Classic Caesar Salad, Satay Enact, Tempura Moriawase, Seafood Fritto Misto, Crispy French Beans with milled Sarawak pepper, Maguro Takka Maki, Truffle Fries and Edamame Togarashi.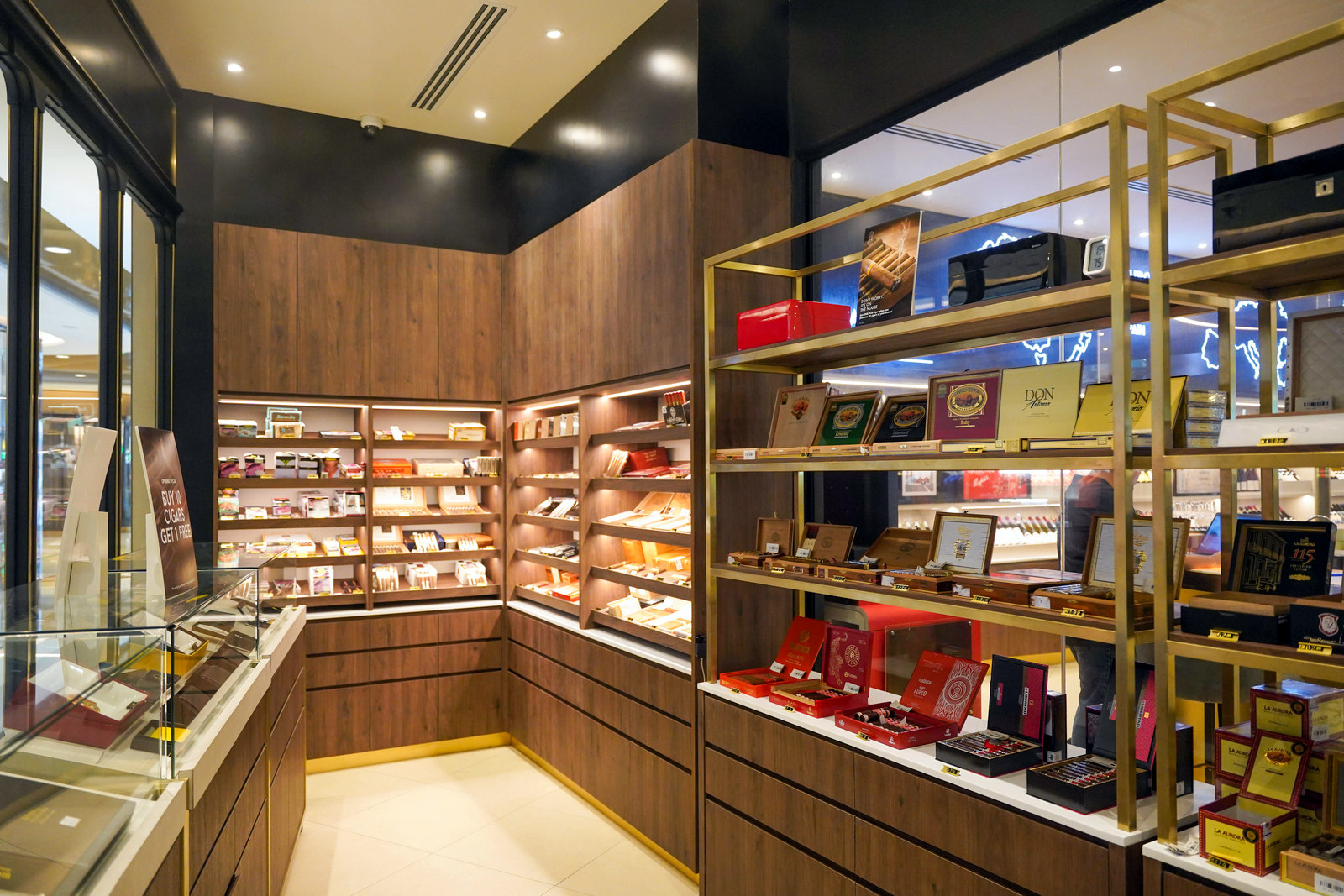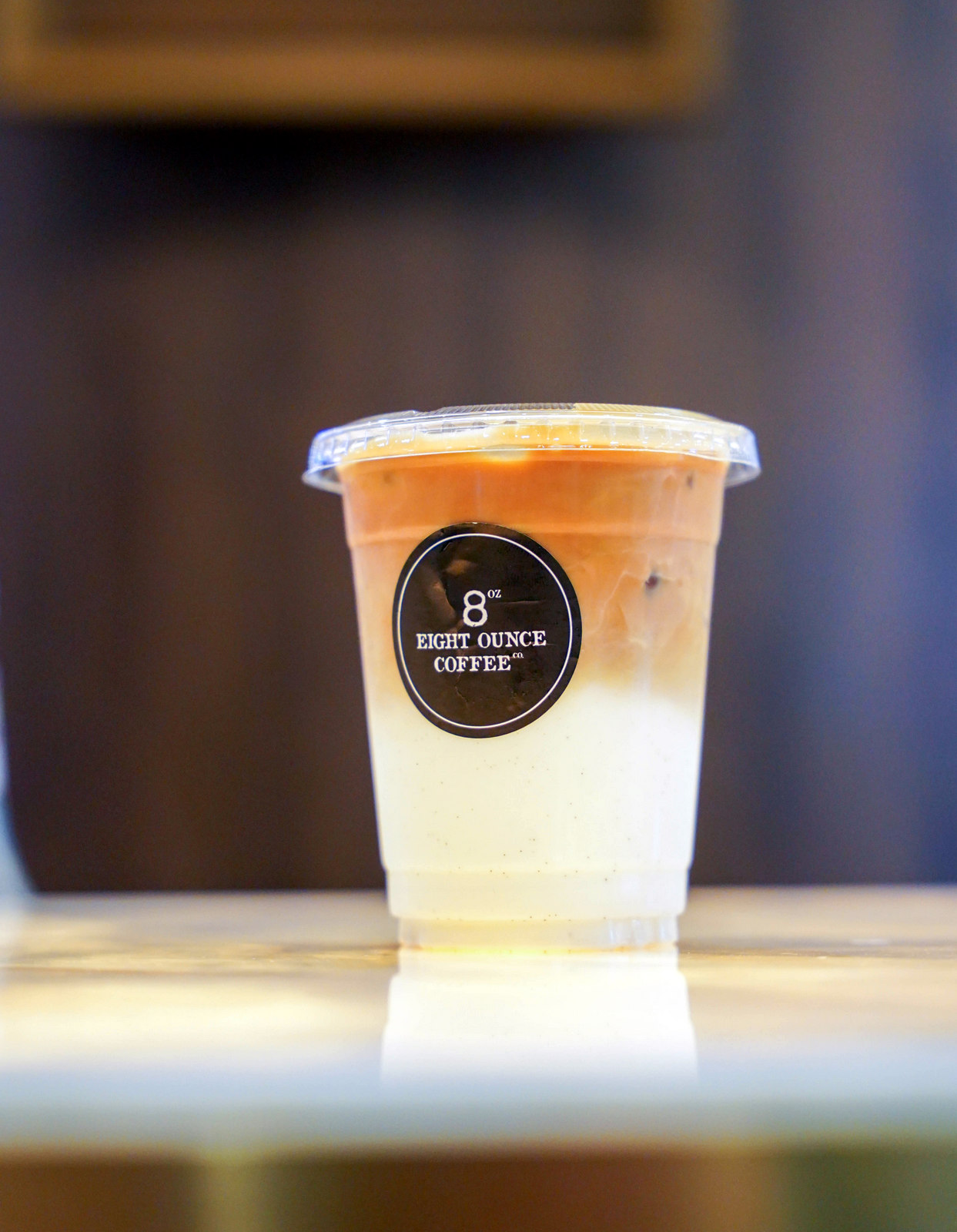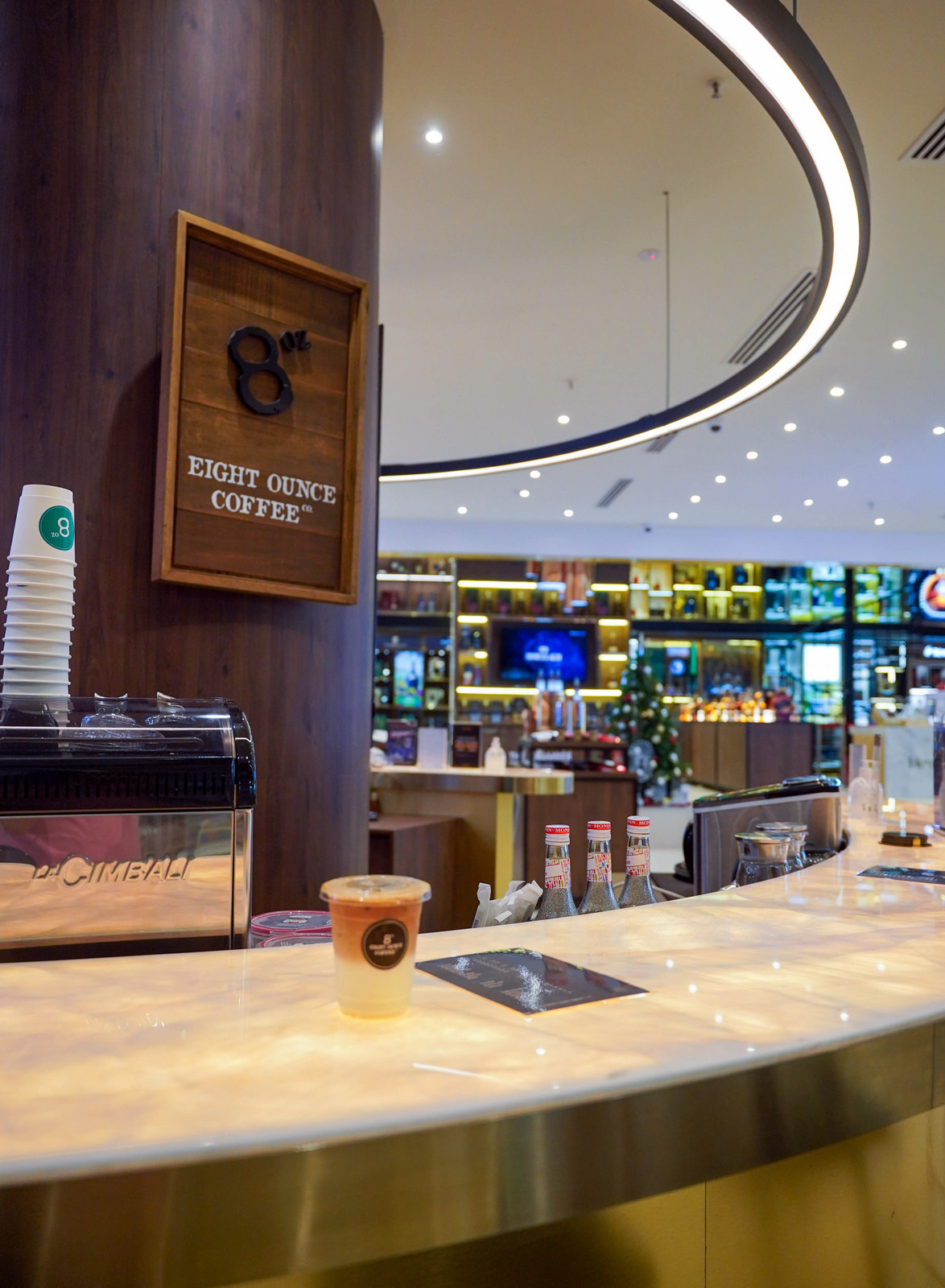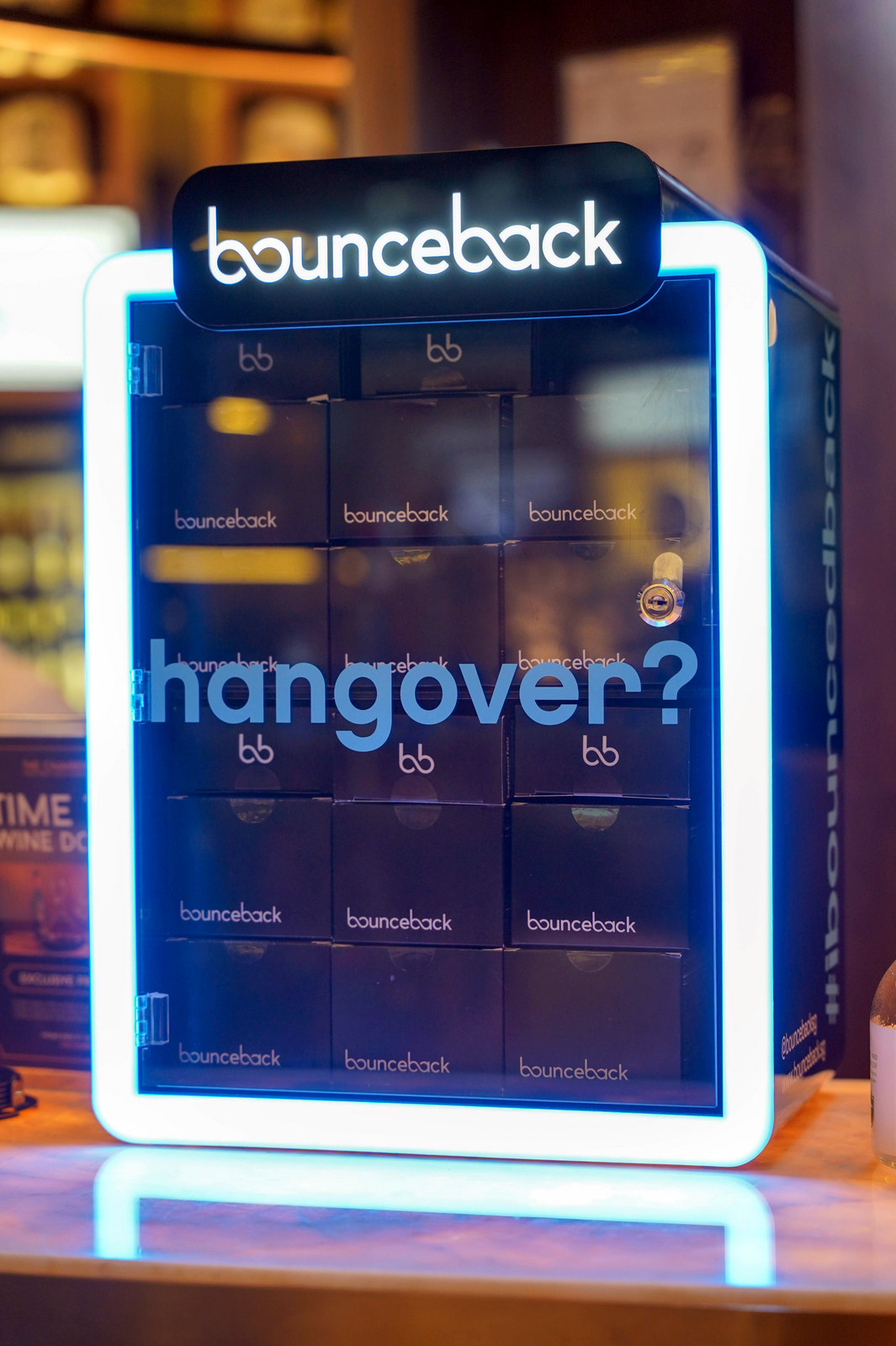 Beyond spirits, The Chamber's finer things in life include its extensive cigar collection, and even coffee for a satisfying caffeine fix, with lattes and other espresso-based beverages brewed by Eight Ounce Coffee. Even if you're not purchasing liquors, The Chamber welcomes patrons to stop by and hang out at its coffee bar.
And at the end of an exciting night, The Chambers offers Bounce Back, a liver defence-and-detox supplement, made with 100% natural ingredients, 22 vitamins, antioxidants and herbal extracts, to boost post-party recovery and help us wake refreshed without mental fatigue.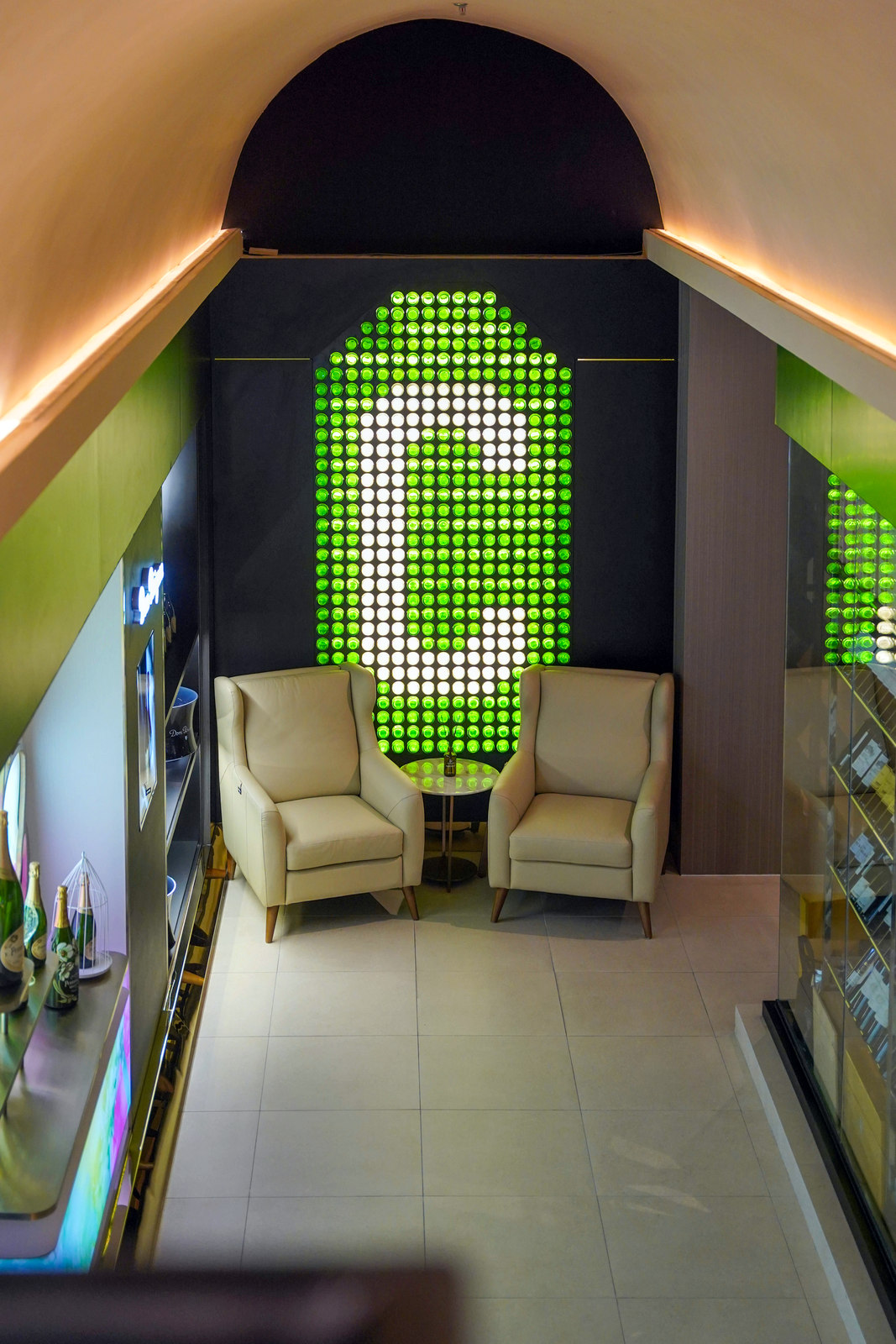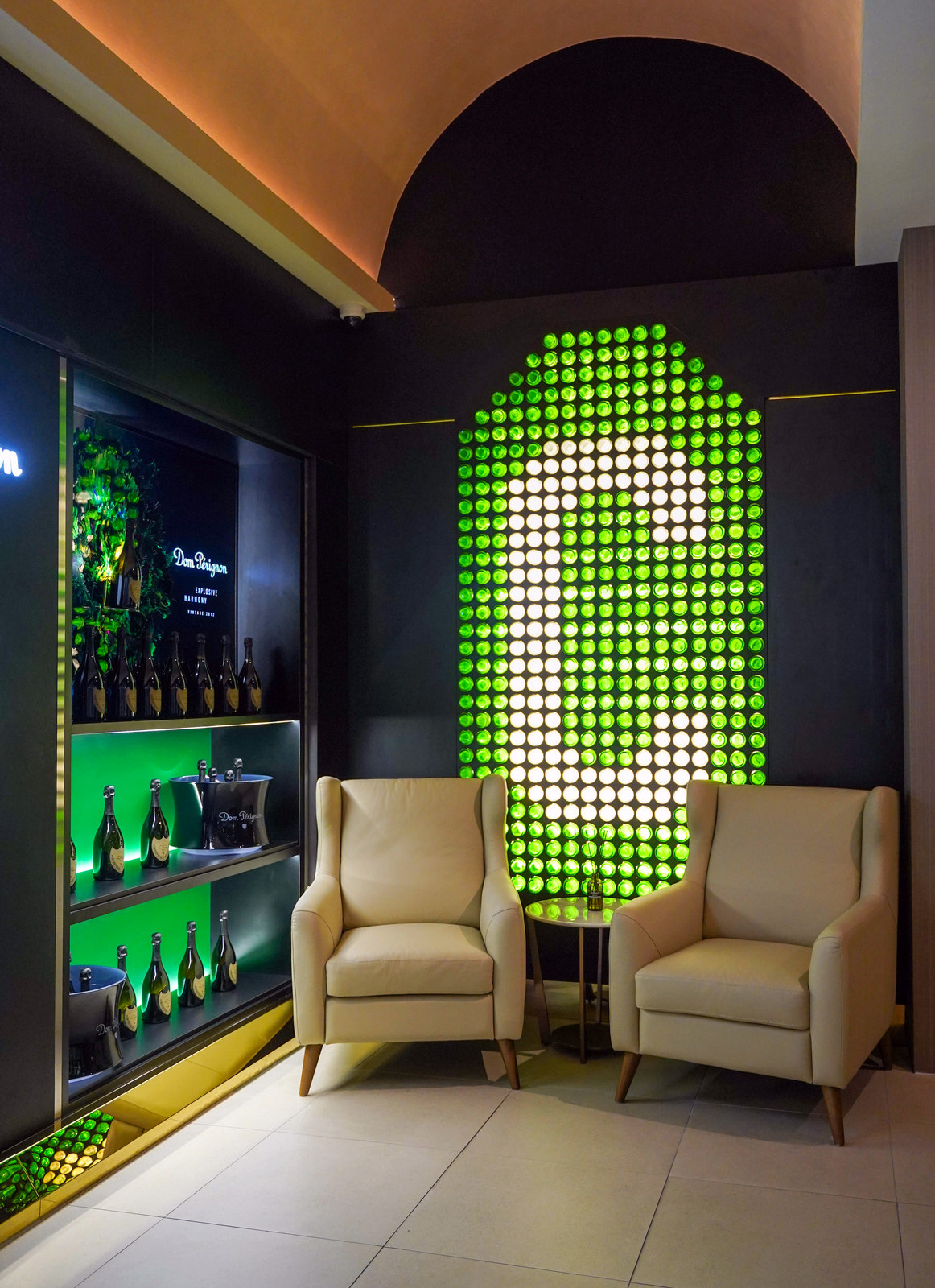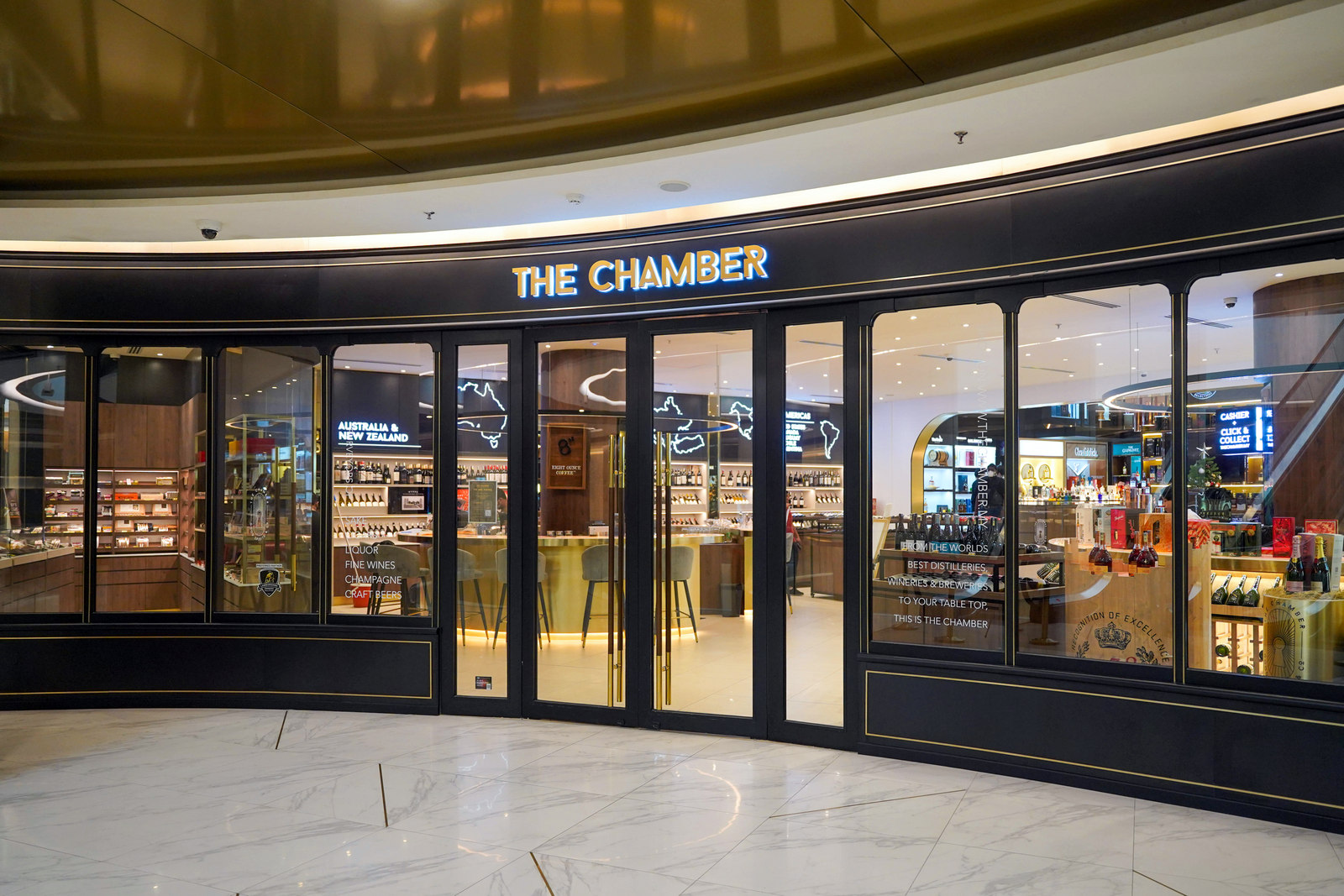 The Chamber
UG26-28, Starhill Gallery, Jalan Bukit Bintang, 55100 Kuala Lumpur.
Daily, 11am-11pm. Tel: 012-271-5236

---
You Might also Like