JustGood: Wholesome meal deliveries with farm-to-fork ingredients, conceived by a top Malaysian chef
January 20, 2022
---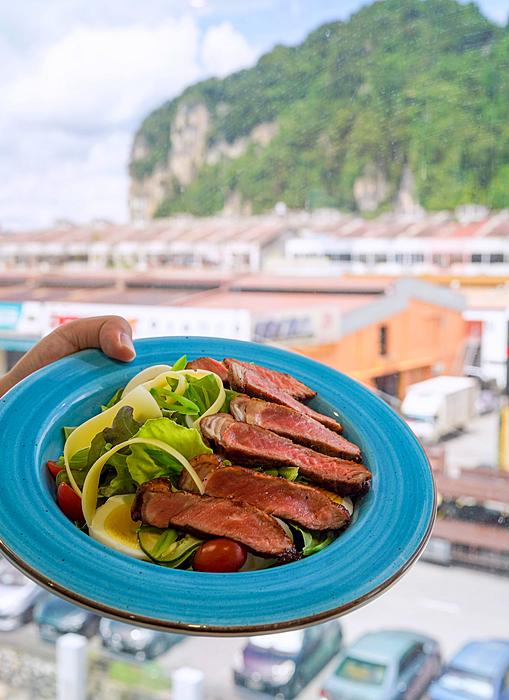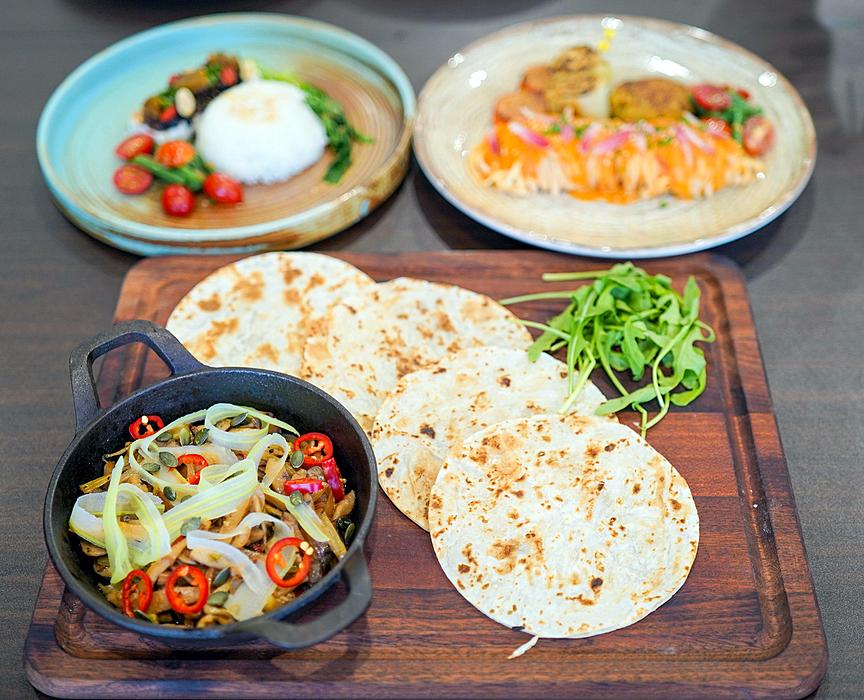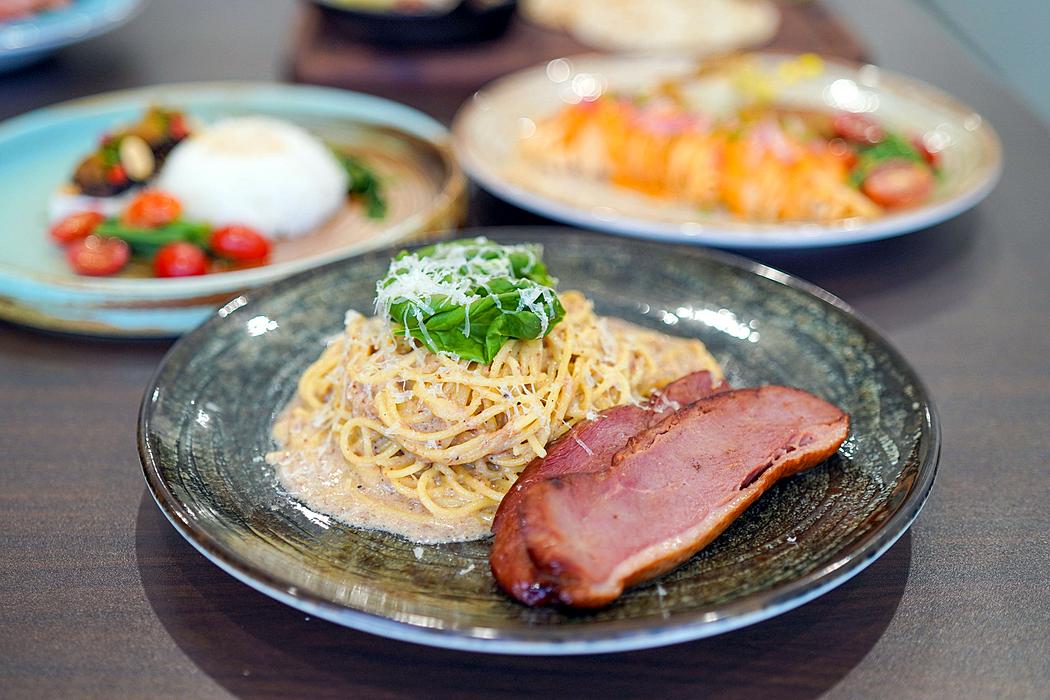 If you care where your food comes from, in support of farms within driving distance of home, JustGood is a new Malaysian produce distributor to know. 
Rooted in transparency and traceability, JustGood runs a smart farm in Bestari Jaya, barely an hour's drive from the brand's warehouse in Batu Caves. It also collaborates with independent farms to source fresh fruits and vegetables that can be purchased on its website.
But JustGood offers more than raw food that's safe and sustainable, free of chemical pesticides. It's not only a grocer for everything from lemongrass to lengkuas, corn to cili padi, mangoes to melons - it also serves complete, cooked meals for same-day deliveries.
These are exclusive, original recipes, created for JustGood by a team of culinary veterans that includes Malaysian chef Malcolm Goh, whose two-decade career spans top hotels and his own restaurant enterprises. Fans of the Asian Food Channel might remember him from productions like Great Dinners of the World and Must Try Asia.
JustGood's wholesome meals are reasonably priced, many at around RM20. They harness local and international inspirations, tempting us with everything from Buah Keluak Chicken to Smoked Cauliflower Percik, balancing natural nourishment with full-bodied flavours.
Fun fact: JustGood's meals aren't just conceived by a top chef; they're also examined by a respected nutritionist to ensure they're well-balanced for excellent sustenance, free of MSG and artificial preservatives, with produce that's minimally processed.
Choose from nearly 30 ready-to-eat warm meals throughout the day, from plant-powered pleasures to meaty marvels. Order on justgood.com.my/product-category/meals/ready-to-eat for cooked-to-order deliveries to your doorstep, on demand from 10am to 9pm everyday.
This Lunar New Year, you'll even find a special meatless Yee Sang that you can customise according to your preferred choice of ingredients, selecting from 20 different fruits and vegetables - it'll be your very own Yee Sang, a recipe that can't be purchased anywhere else! Order the Yee Sang at justgood.com.my/yee-sang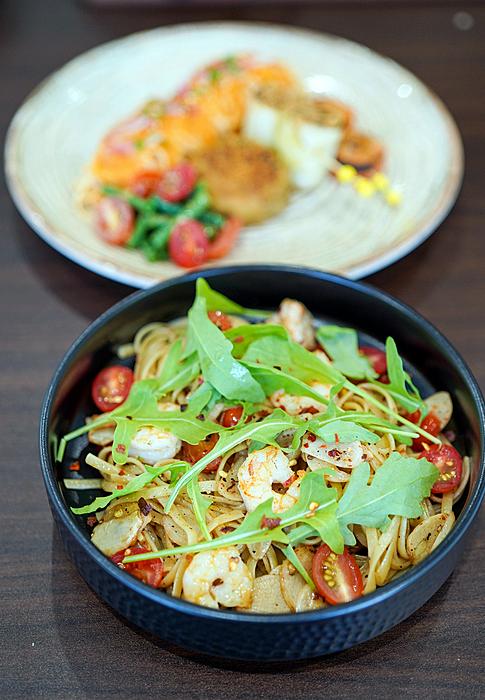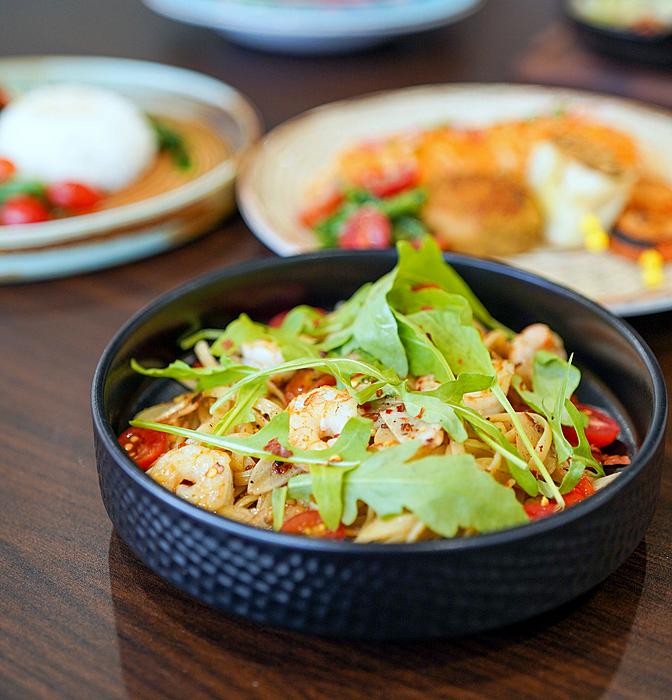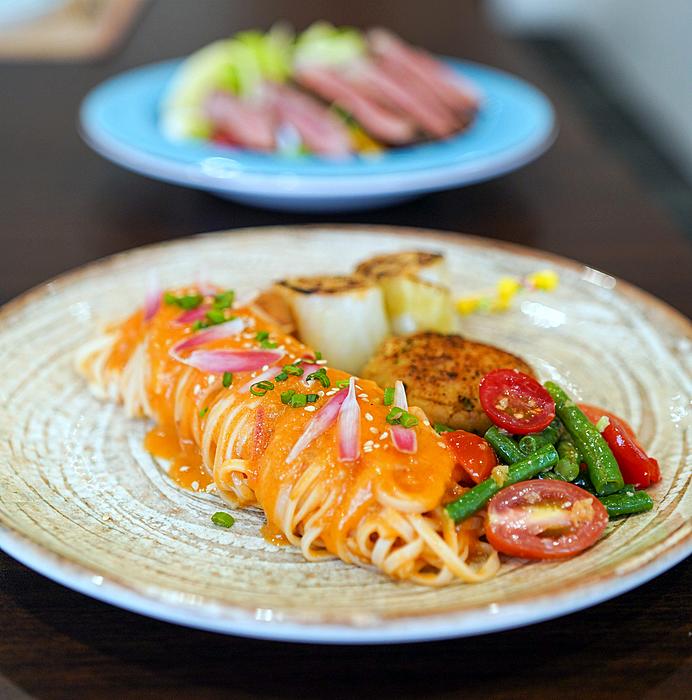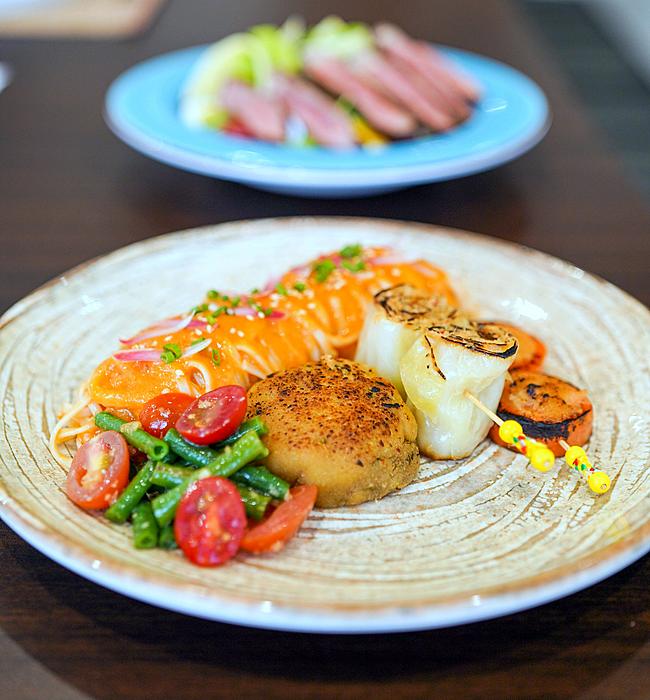 JustGood's meal selection is deliciously diverse, driven by comforting crowd-pleasers.
Pasta and noodles become a versatile foundation for vibrant fare, their vivid colours providing evidence of vital nutrients. 
For honest authenticity, the Linguine Aglio Olio with Prawns is a can't-fail classic that stays true to the integrity of its ingredients. Firm linguine is perfectly cooked in a simple, elegant preparation with succulent prawns and crisp rocket leaves, complete with chilli flakes for a lively, lovely kick (RM20).
If you're seeking unique meatless creations, the organic wheat noodles make for an invigorating meal, light and luscious, blanketed in a perky semi-dried tomato dressing that's stewed with garlic. This is beautifully rounded out with brochettes of cabbage rolls, gorgeously grilled with a soy ginger marinade, plus terrifically tender chickpea begedil with hints of toasted cumin, and a medley of various tomatoes and beans (RM20).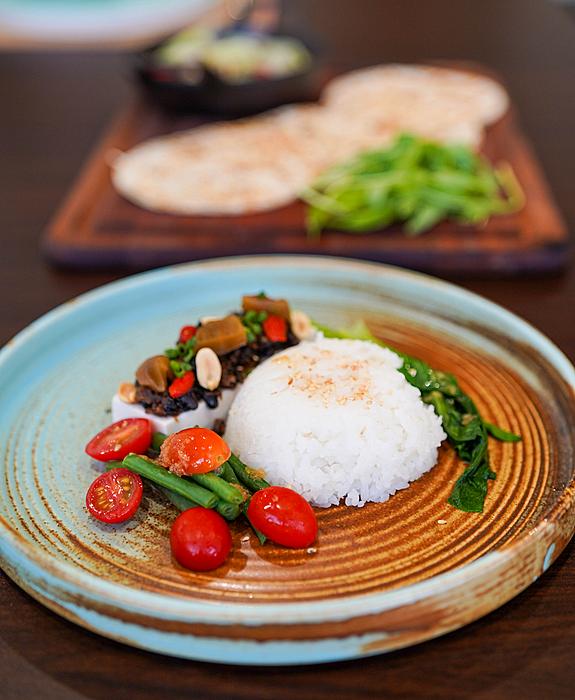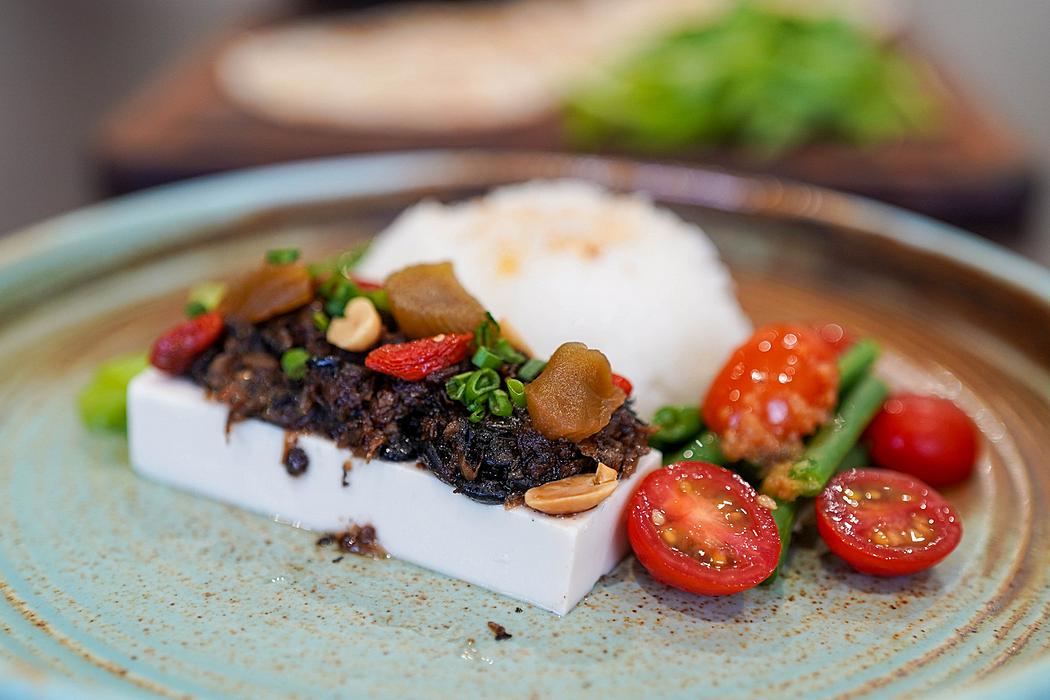 Our favourite JustGood dish is an intriguing surprise - the Silken Tofu lives up to its name, with a sultry, steamed smoothness, topped with nostalgic inspirations from Malcolm's memories of porridge meals, spanning sautéed choy poh, salted black beans and fried shallots, punchy but not overpowering, robustly savoury without tasting too sodium-loaded. Served with Japanese rice, cherry tomatoes and long beans, it's a soothing meal with familiar flavours, reassuring but reinvented (RM14.90).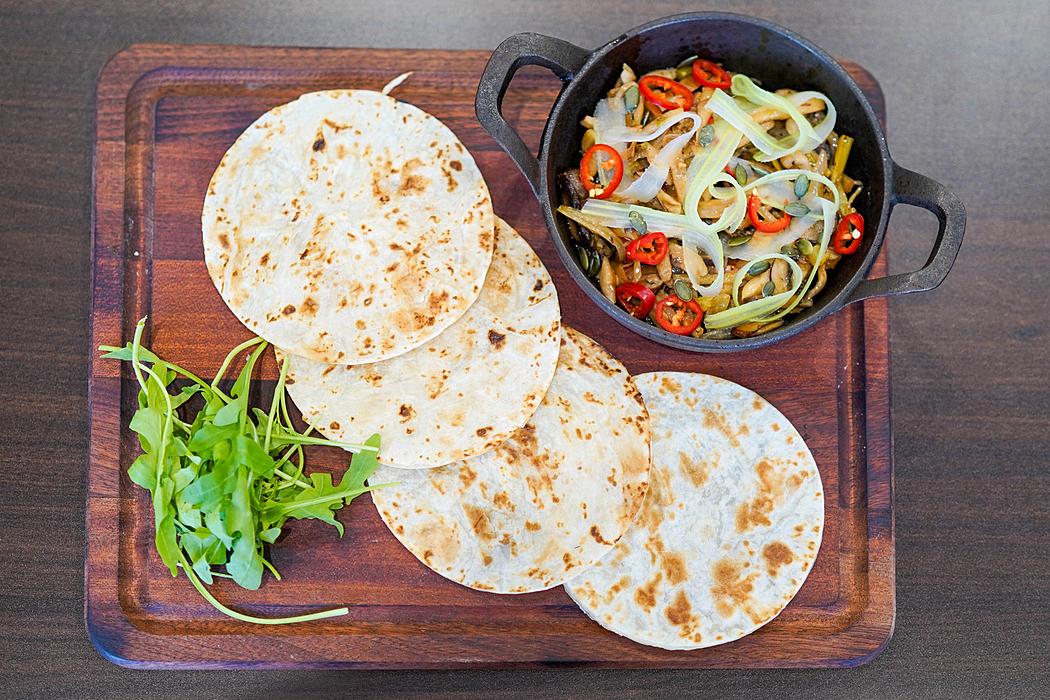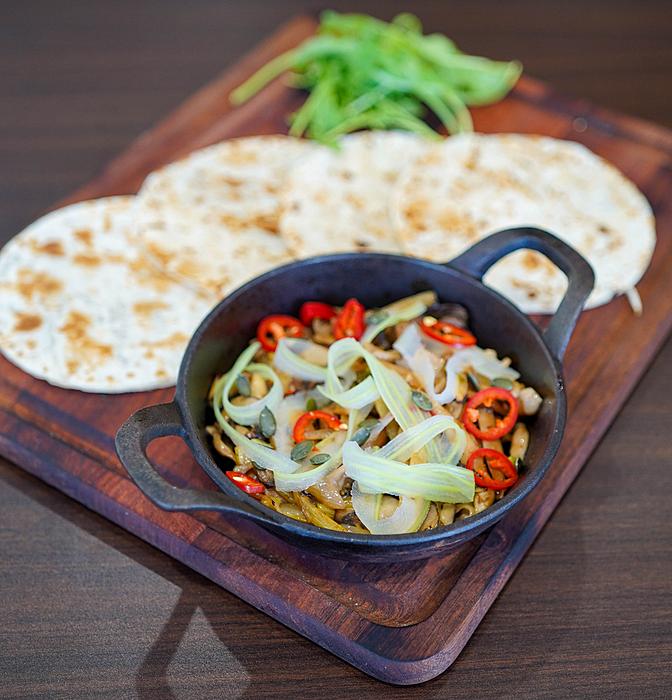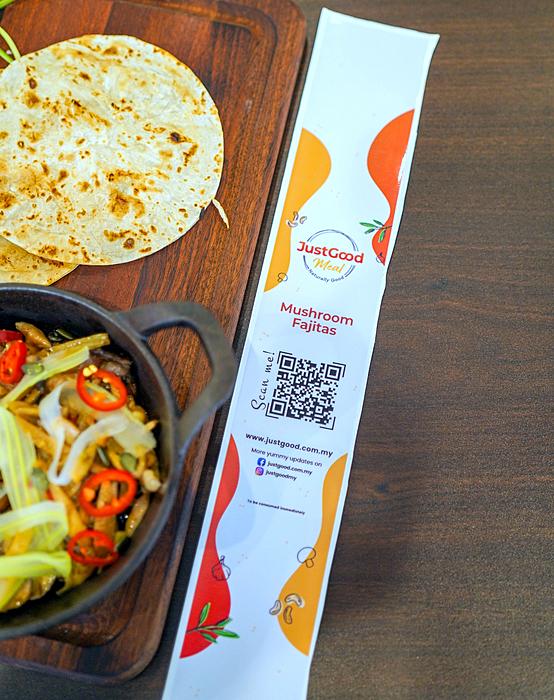 JustGood's mushroom fajitas are a little Mexican, a bit Malaysian, a whole lot mouthwatering - a ragu of caramelised shimeji and king oyster mushrooms are mixed with celery ribbons, chives, chillies and pine nuts, complete with coriander and rocket, coupled with charred roti to replace the regular tortillas (RM20).
The packaging for all these meals fulfils JustGood's pledge of traceability: By scanning the QR code, customers can track the ingredients to the farm where they were harvested and even learn about the farmer who cultivated the produce, how it was grown, its harvest date and in-store arrival date.
Crops nurtured in JustGood's Batang Berjuntai farm are harvested regularly and travel only 50 kilometres to its Batu Caves headquarters. Greenhouses in the farm run hydroponically with a recyclable irrigation system, with everything from the climate to water carefully controlled. This technological efficiency encompasses the nutrients too, ensuring that everything from the bok choy to the butterhead lettuce, the coriander to the spinach, tastes as sweet as it should.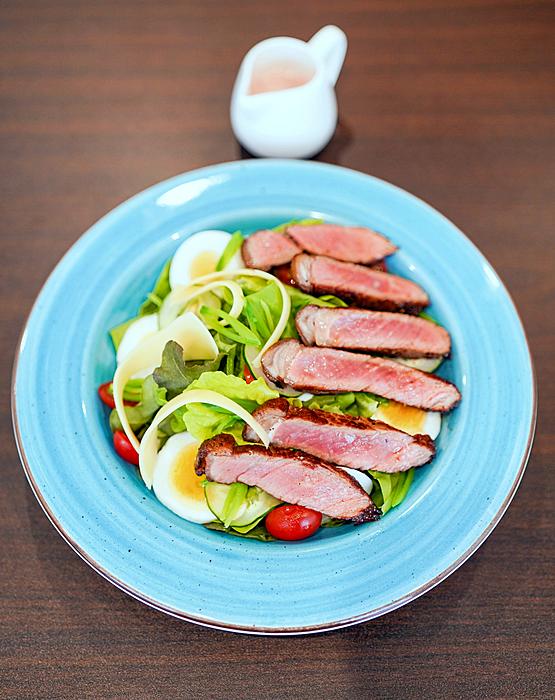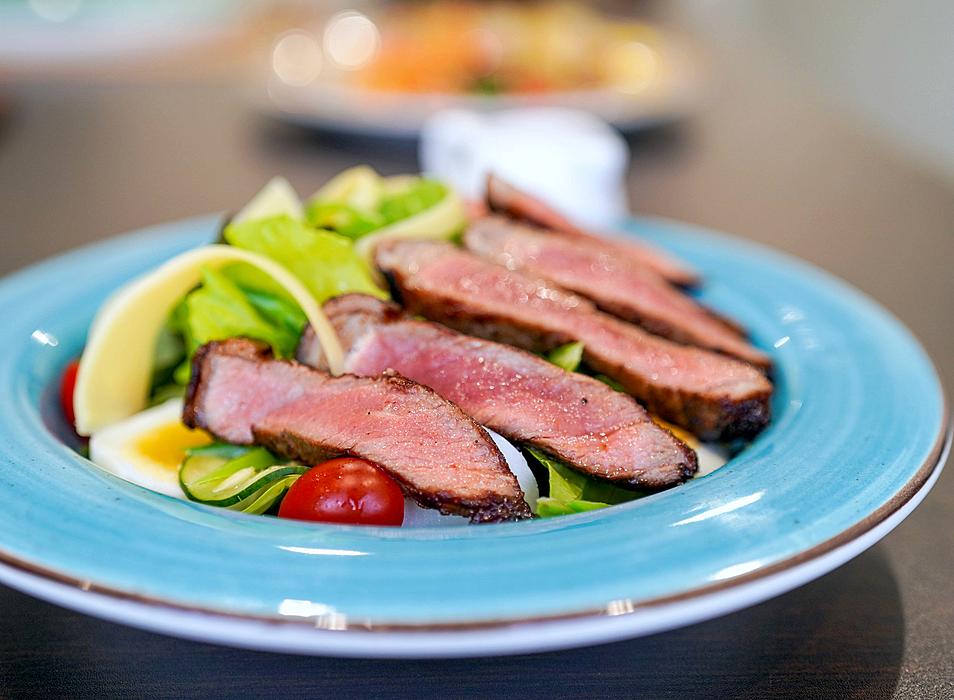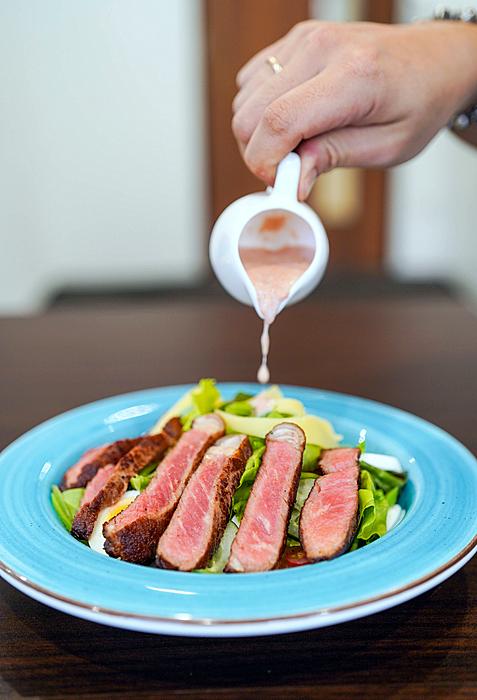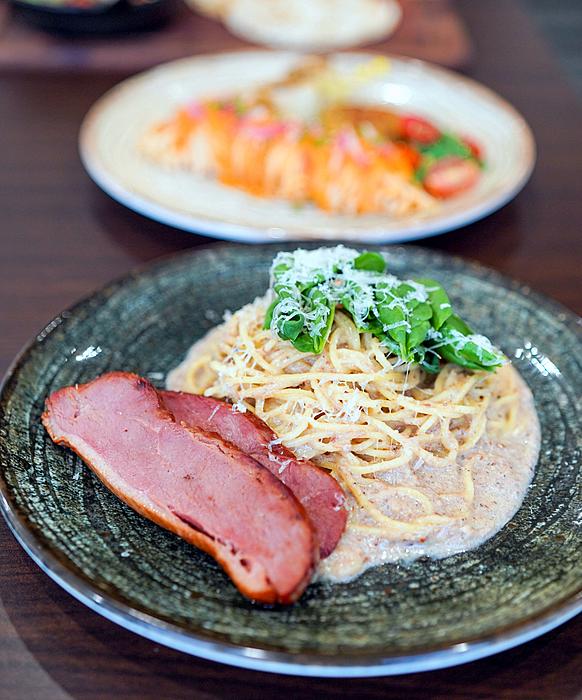 While many of JustGood's meals are plant-based, meat devotees are far from deprived.
The Grain-Fed Beef Keto is worthy of a full-fledged steakhouse - thick cuts of beef, irresistibly juicy, over a garden salad with hard-boiled egg and Parmesan. A treat even on its own, but JustGood's bunga kantan crème fraiche is the star that makes it shine brighter, a tropically aromatic sour cream to enliven and enhance this keto-friendly ensemble (RM39.90).
We're also fans of the Smoked Duck Spaghetti, a tangle of al dente pasta that does a tango on the taste buds, thanks to house-smoked duck breast that's pure poultry pleasure, paired with a rich, creamy sauce with smoked duck trimmings, finished with baby spinach (RM20).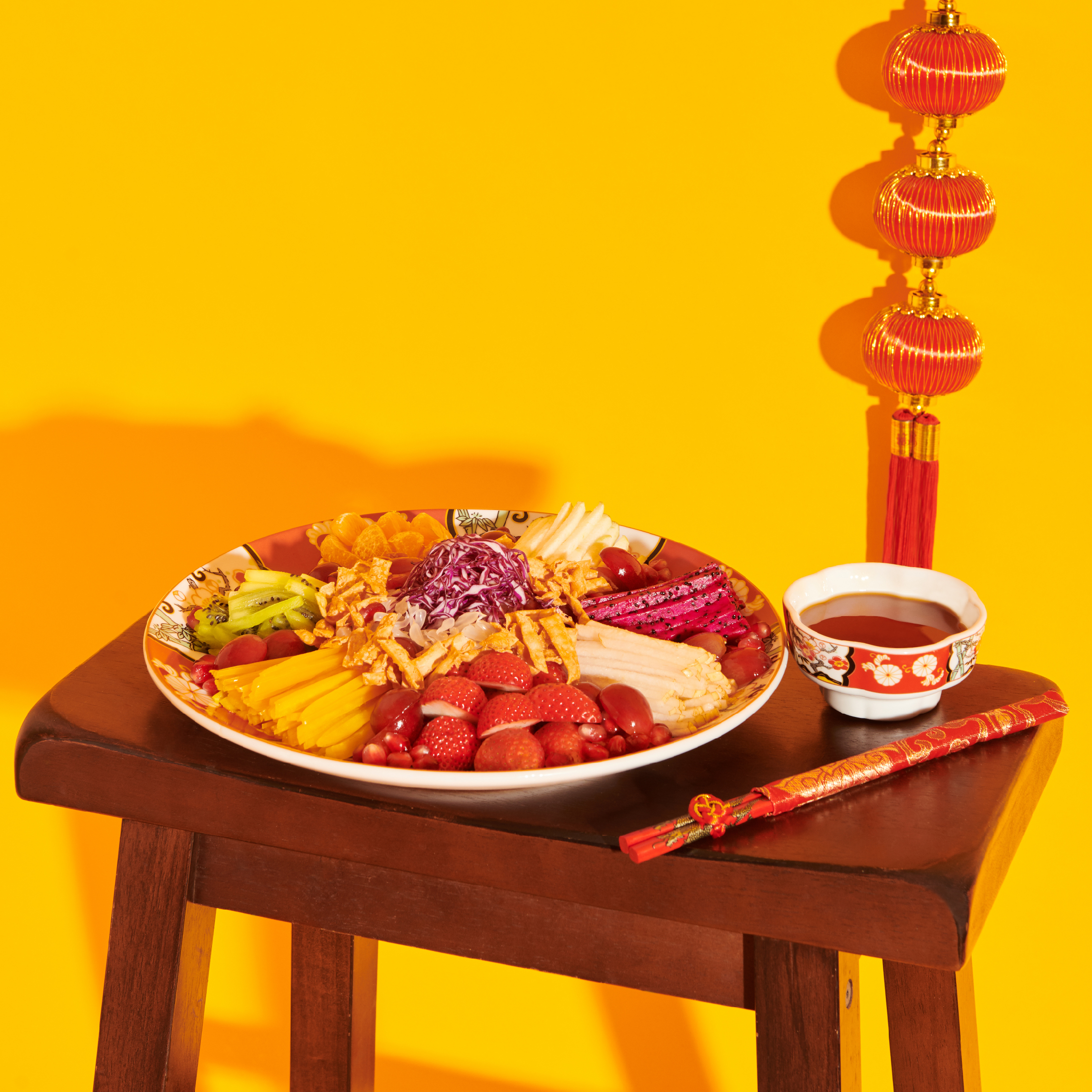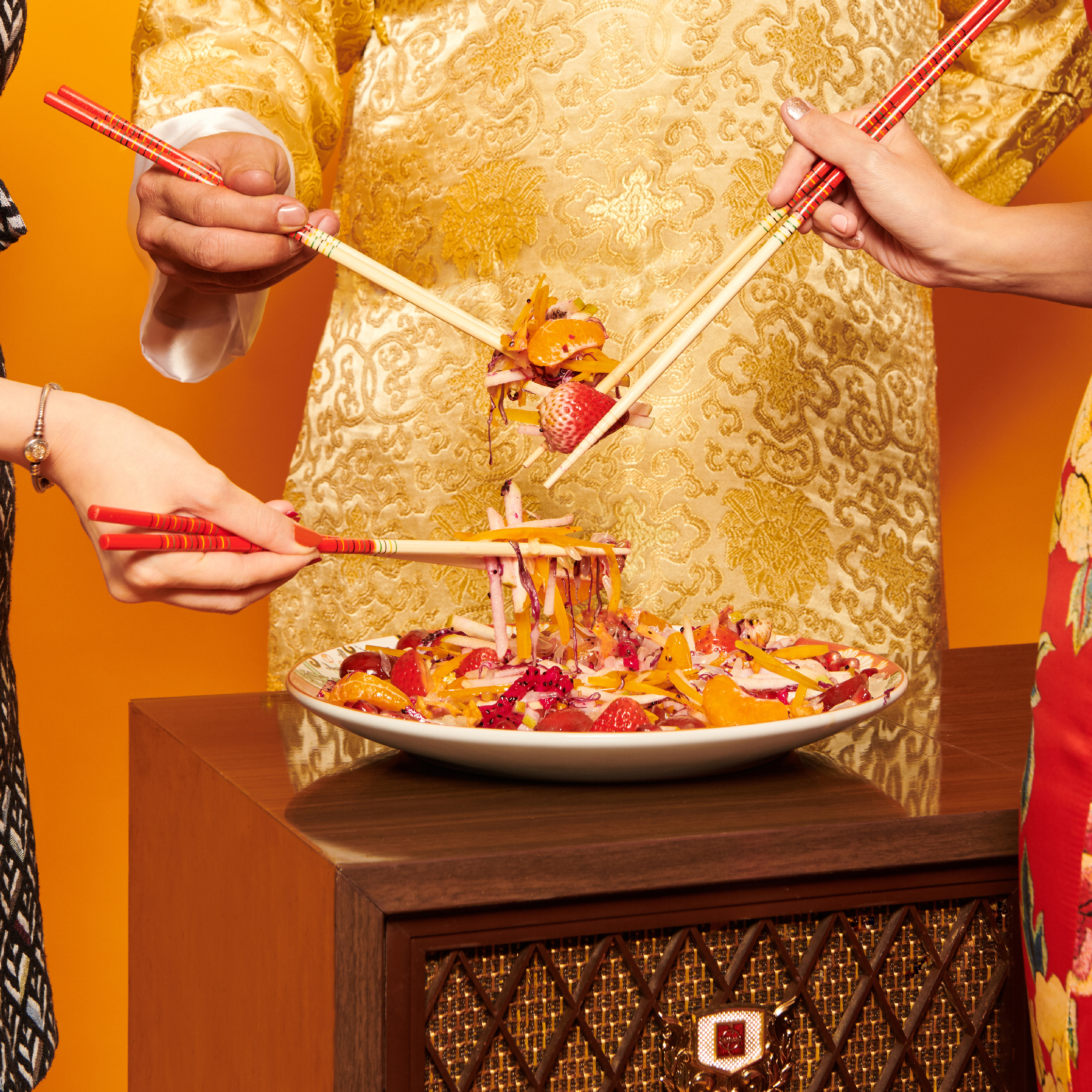 For your celebratory feast this Lunar New Year, go vegetarian with JustGood's customisable Yee Sang - create your own Yee Sang from a selection of 20 premium fruits and fresh vegetables, such as golden pear, red seedless grapes, sweet Mandarin oranges, pomegranate, red dragon fruit, guava, green kiwi, pomelo, jackfruit, Australian strawberries, carrot, red cabbage, red coral, green coral, red oak leaves, yellow capsicum, red capsicum, cucumber, Cameron Highlands tomatoes and sengkuang (RM48 for two to four persons, RM68 for six to eight persons).
To order the Yee Sang: justgood.com.my/yee-sang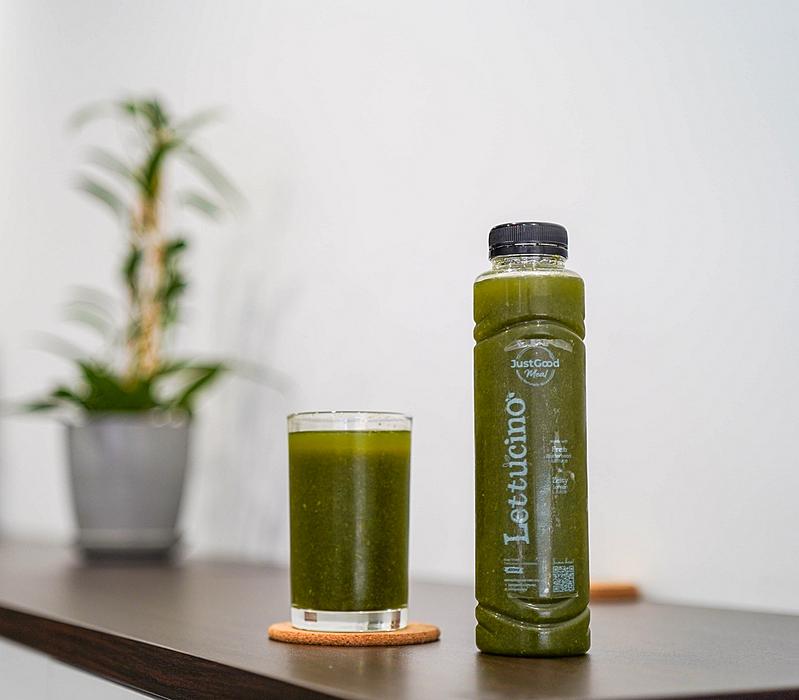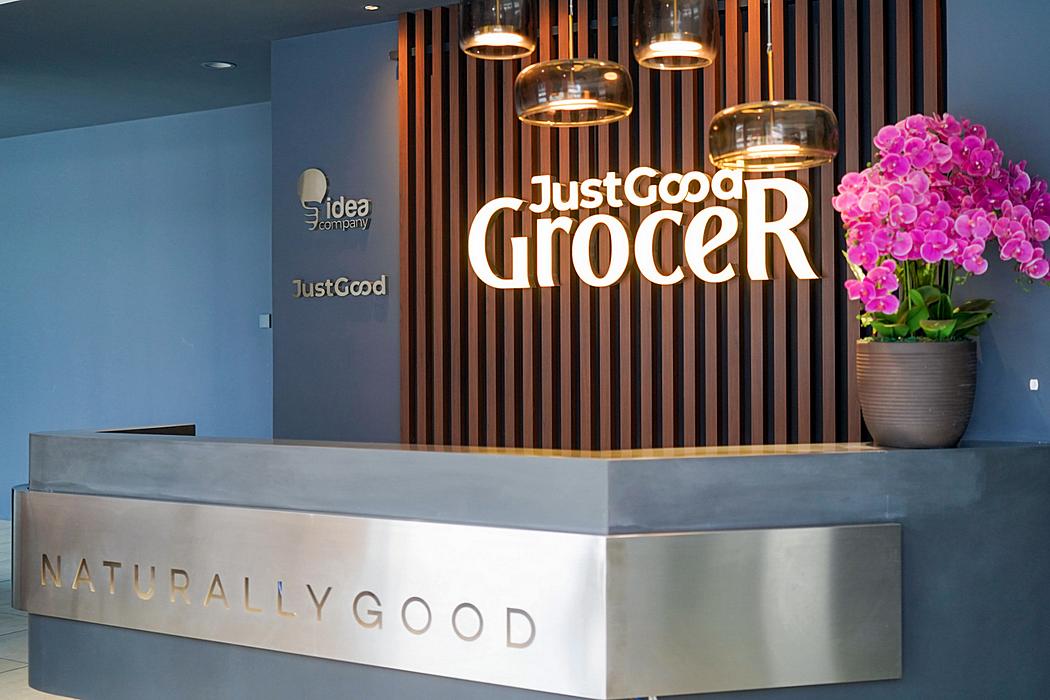 Gloriously guilt-free beverages are also available, from the Lettucino to the Cucumber Fuzz, Orange Zinger, and Beet Fuel. And if you plan to stock up for cooking, check out JustGood not only for vegetables and fruits but a wide variety of seafood, meat, bakery and dairy items, condiments, cereals, chocolates - everything you need for the household fridge and pantry. 
JustGood
justgood.com.my