FLOUR's ambitious Aarrambh menu takes us back thousands of years to time travel through food
February 22, 2023
---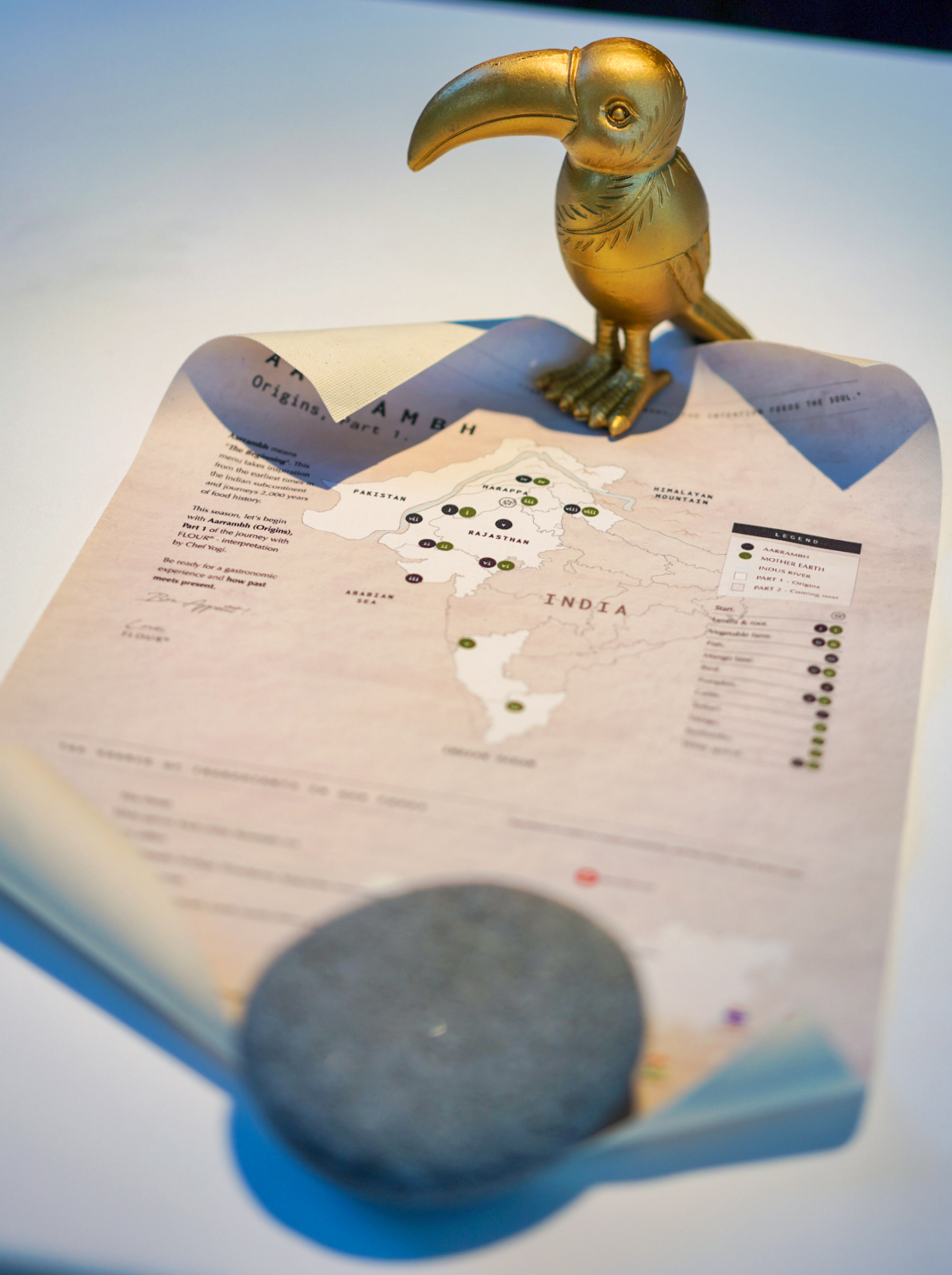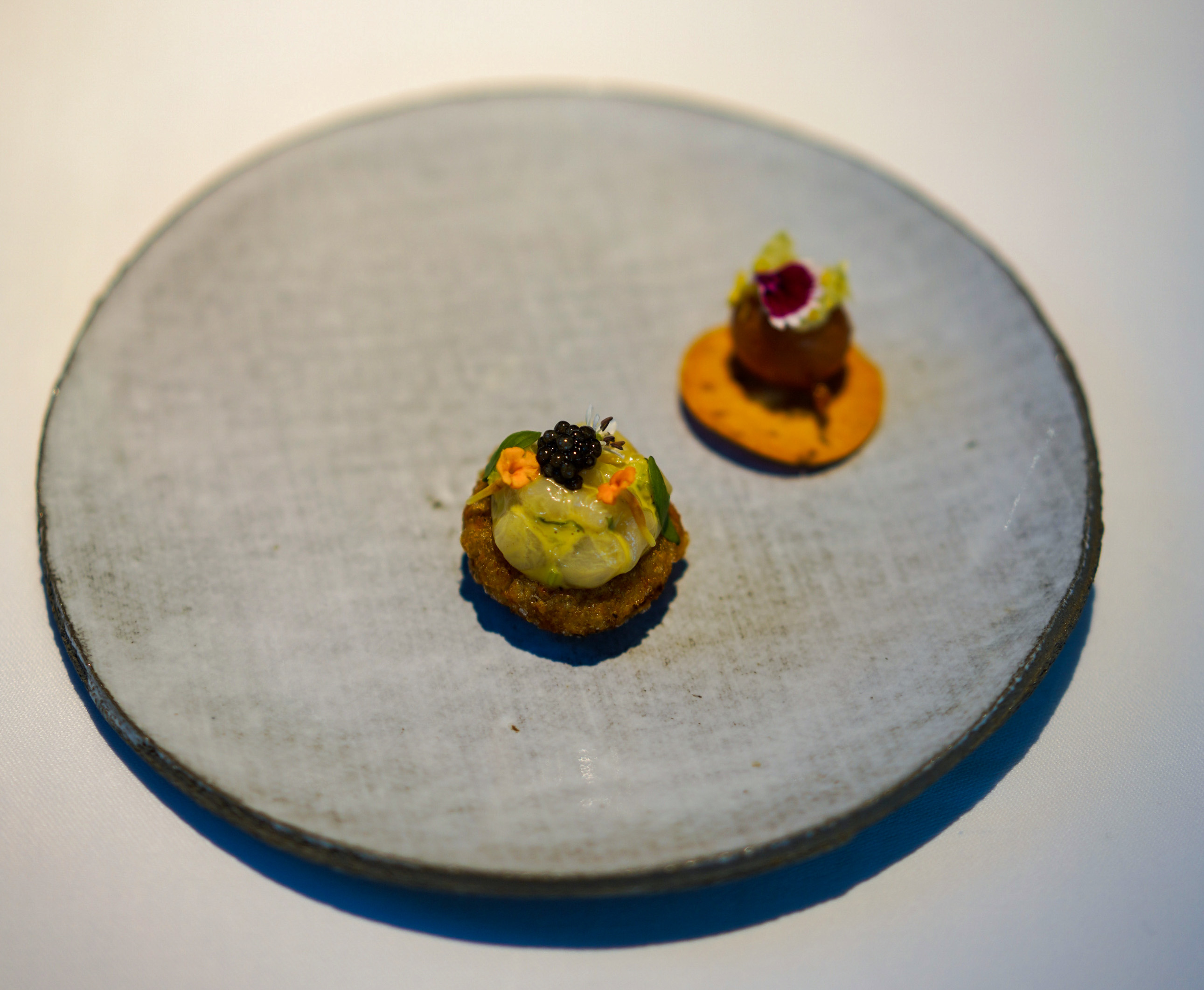 In FLOUR's previous degustation menus, chef-founder Yogi Upadhyay guided us from the heights of the Himalayas to the coasts of Karnataka, reinterpreting the relationships between India's regions and its produce, cooking styles and seasons.
In 2023, FLOUR unveils its most ambitious menu yet - Aarrambh: Origins, Part 1 takes us back to the Bronze Age civilisation in the Indus Valley, some 3,000 years before the Republic of India was even born.
Talk about a throwback: Aarambh, which means 'beginning,' traces the evolution of cuisine in the Indian subcontinent, starting from hundreds of generations before the first tandoor was lit, climaxing in the 1500s before the birth of the Mughal Empire.
This time travel through food required laborious research. Yogi plumbed for months through thick historical tomes to examine the culinary precepts of Sanskrit vedas and the favourite fare of conquering rulers. 
While nobody knows for certain what recipes were consumed millennia ago, FLOUR's latest menu is founded on the dietary ingredients and principles described in those ancient texts.
The multi-course meal commences with sago vada, bound with potatoes in a gooey patty that's sticky on the palate, topped with scallop tartare and caviar for a palate-cleanser, and a fafda savoury disc, beneath a jalebi-inspired ball of fermented flour with wasabi for a gentle kick.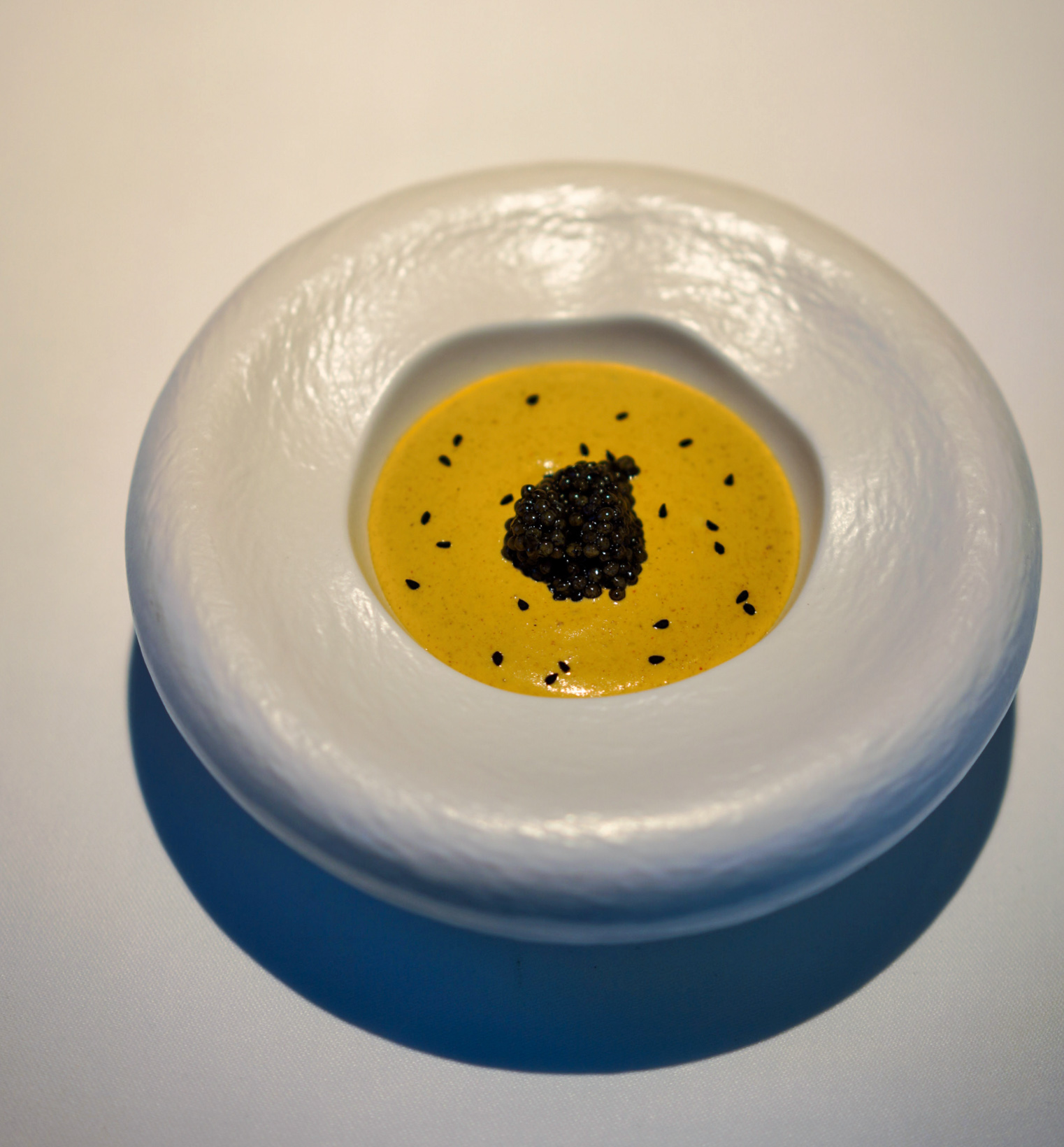 Clues of culinary habits can be acquired from archeological discoveries of utensils, hinting of how lentils and roots have long been eaten by our ancestors.
FLOUR showcases these staples in split mung lentil layered with onion cream, crowned with caviar that elevates the ensemble. It's meant to be enjoyed like a cake, with flavours that prove earthy but elegant, rustic yet refined.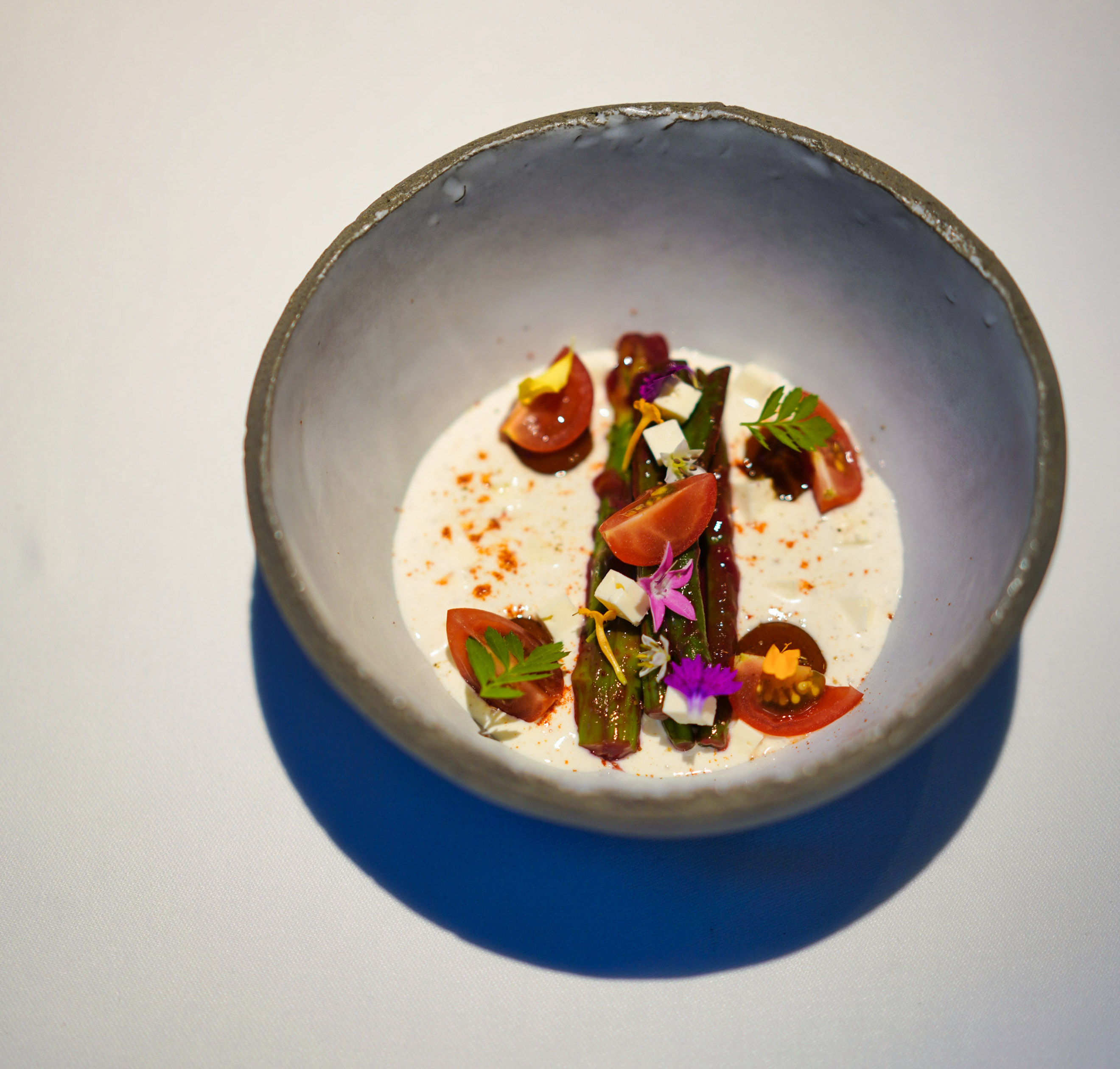 Vegetable Farm translates the harvest of yesteryear into a meal for modern times.
All of FLOUR's plant-based produce is organic or hydroponically cultivated, representing traditional techniques. In this bowl, juicy Juanita cherry tomatoes from Spain burst open in house-strained curd with single-farm French beans, Mexican asparagus, Scottish raspberry puree and Greek feta cheese, brightened with four tangy drops of tamarind.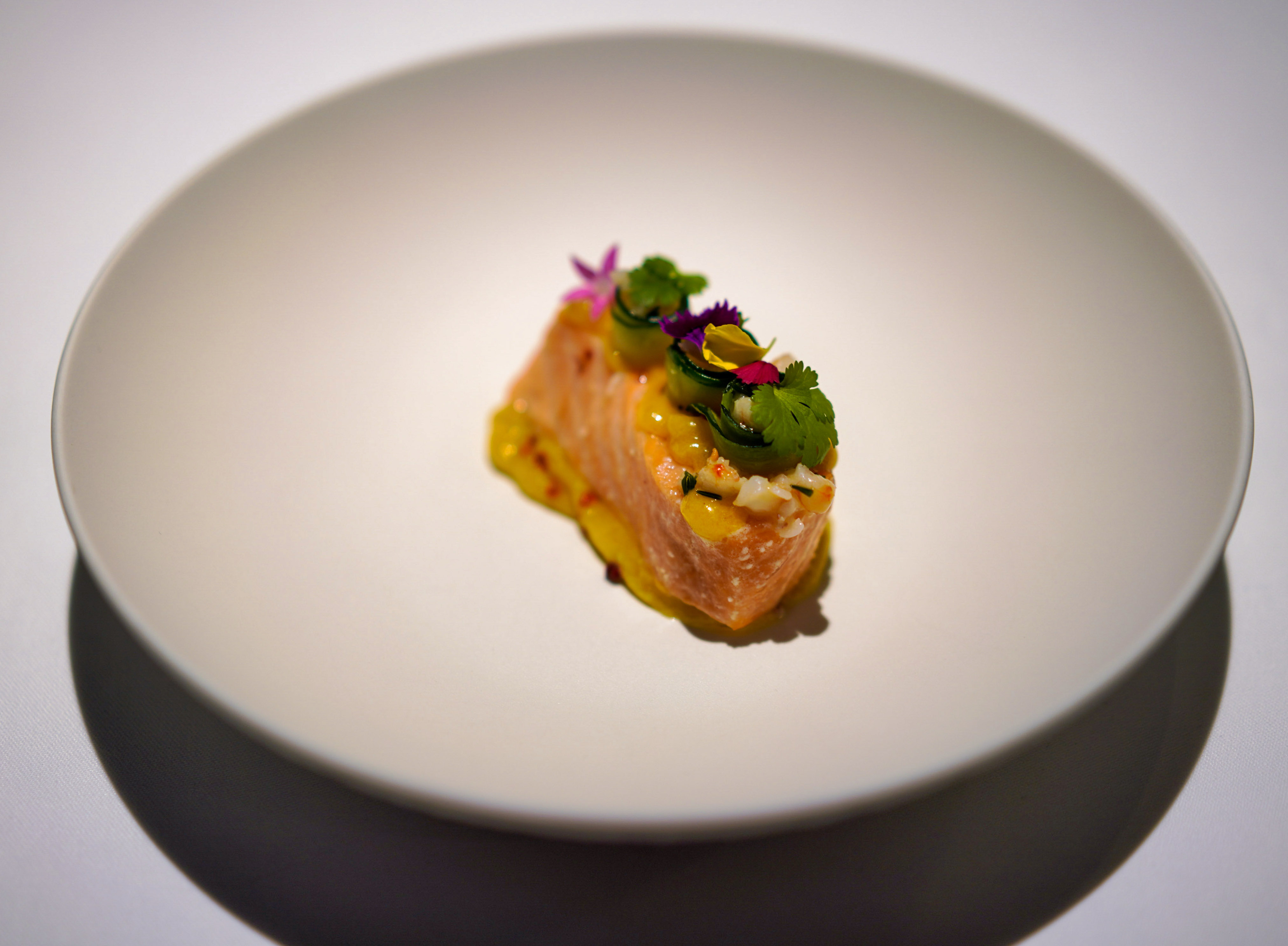 Sustainable New Zealand Ora king salmon surfaces next, propelling us to sometime circa 200 BC, when a more sophisticated sense of spices came into play. The delicate fish is dressed in a distinctive béarnaise, blended with Malaysian homemade rice wine vinegar that lends a deep sweetness, topped with zucchini stuffed with buttered prawns, conveying notes of cloves and berry-like pink pepper that supplies an appetisingly acidic zing.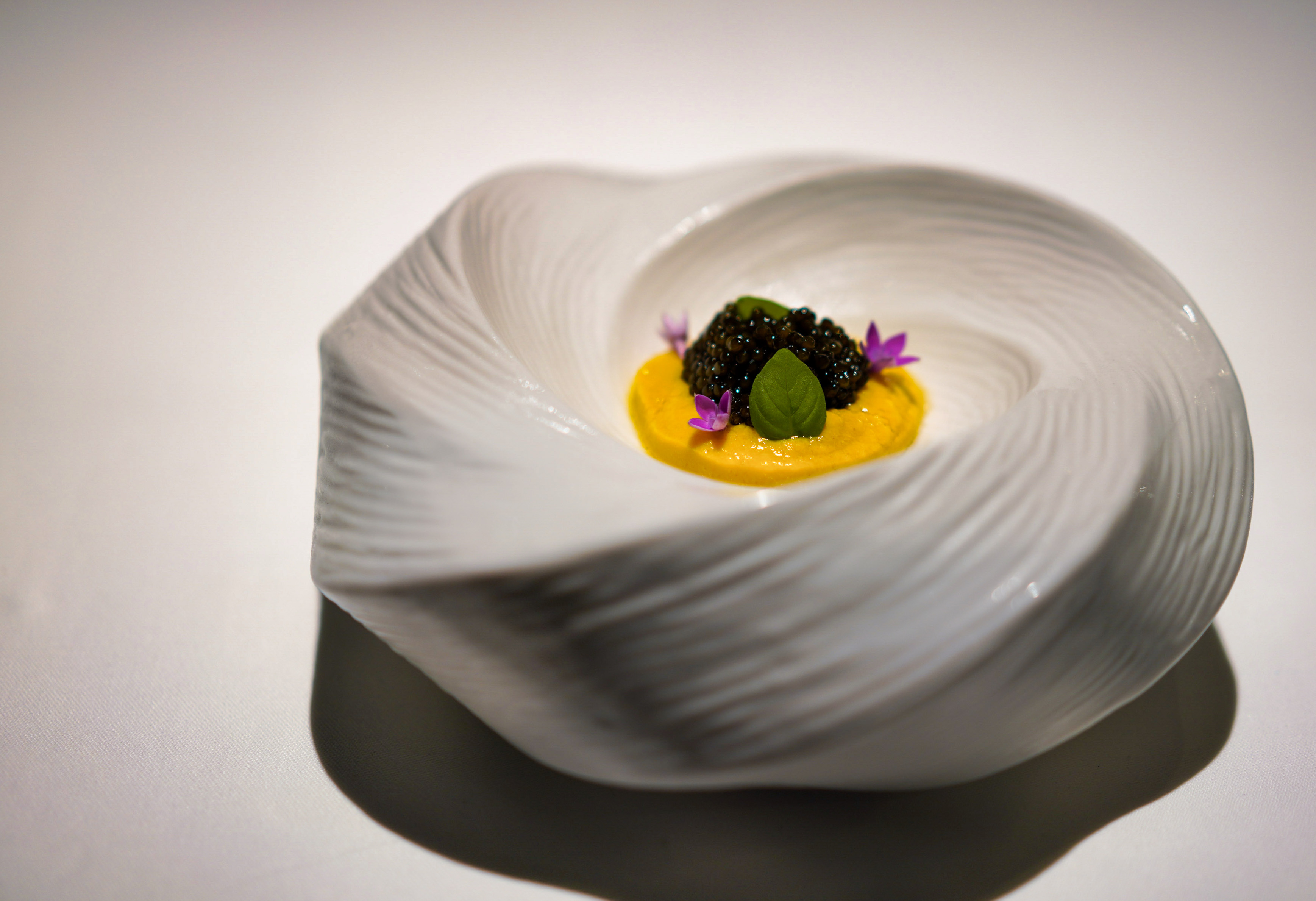 India gave the world mangoes - FLOUR gives us a transformative take on mango lassi, a refreshing interlude of creamed fresh mango pulp, a surprising base for a hearty heap of caviar, beautifully bringing together the nectarous tropics with the pristine taste of the sea.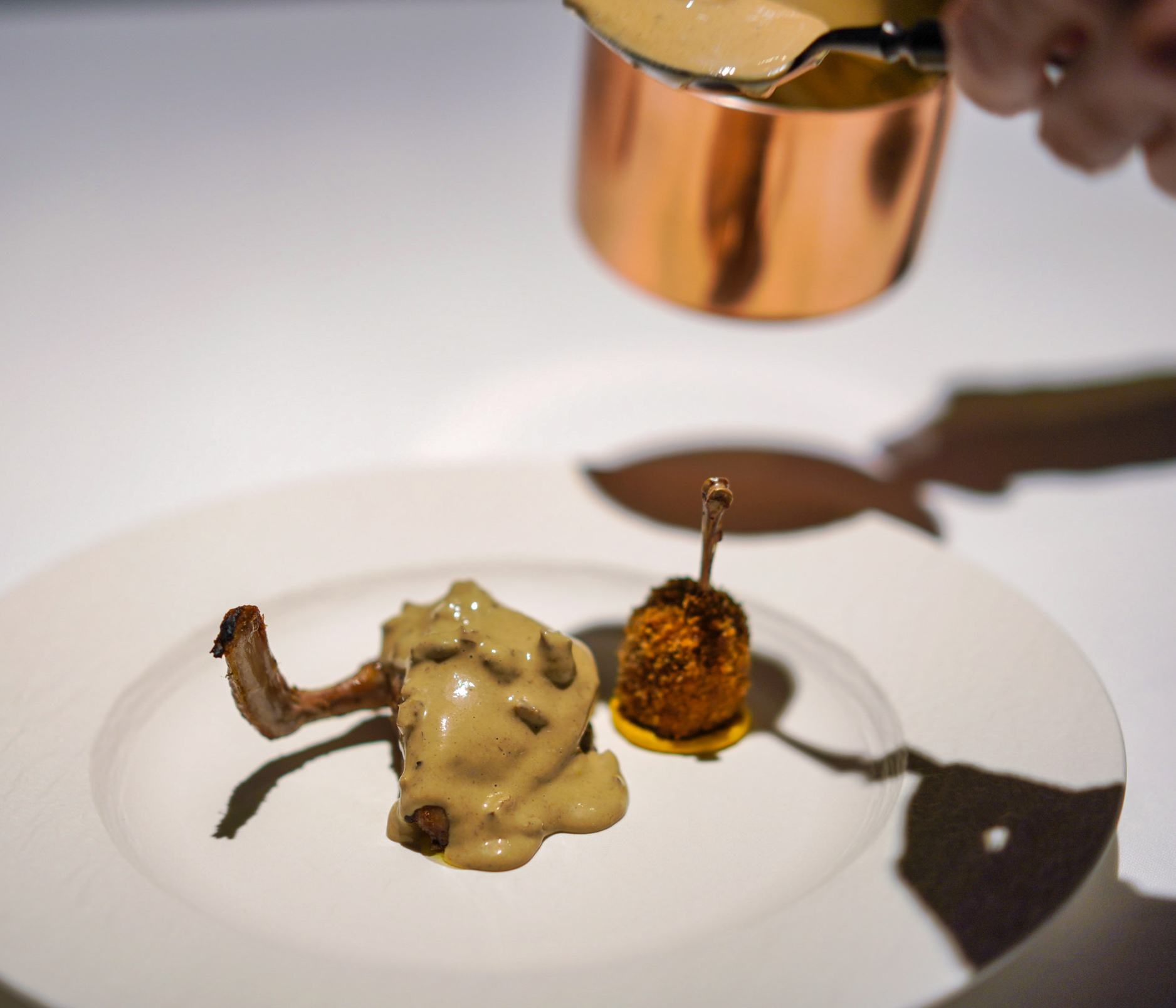 Charcoal-cooked fowl flies us to around 500 AD, when people became proficient in hunting and a more solid culinary structure took shape.
FLOUR prepares this bird perfectly - quail, partridge or spring chicken, depending on availability - roasted in the 360-degree heat of the tandoor for evenly smoky meat. It's served in a duet of the breast and wing alongside a breaded leg lollipop atop Japanese pumpkin, drenched in decadent morel mushroom sauce with raisins to balance the spice.
This is soulfully sumptuous, with a heat that lingers in the chest, warming us for awhile after the final bite has been taken.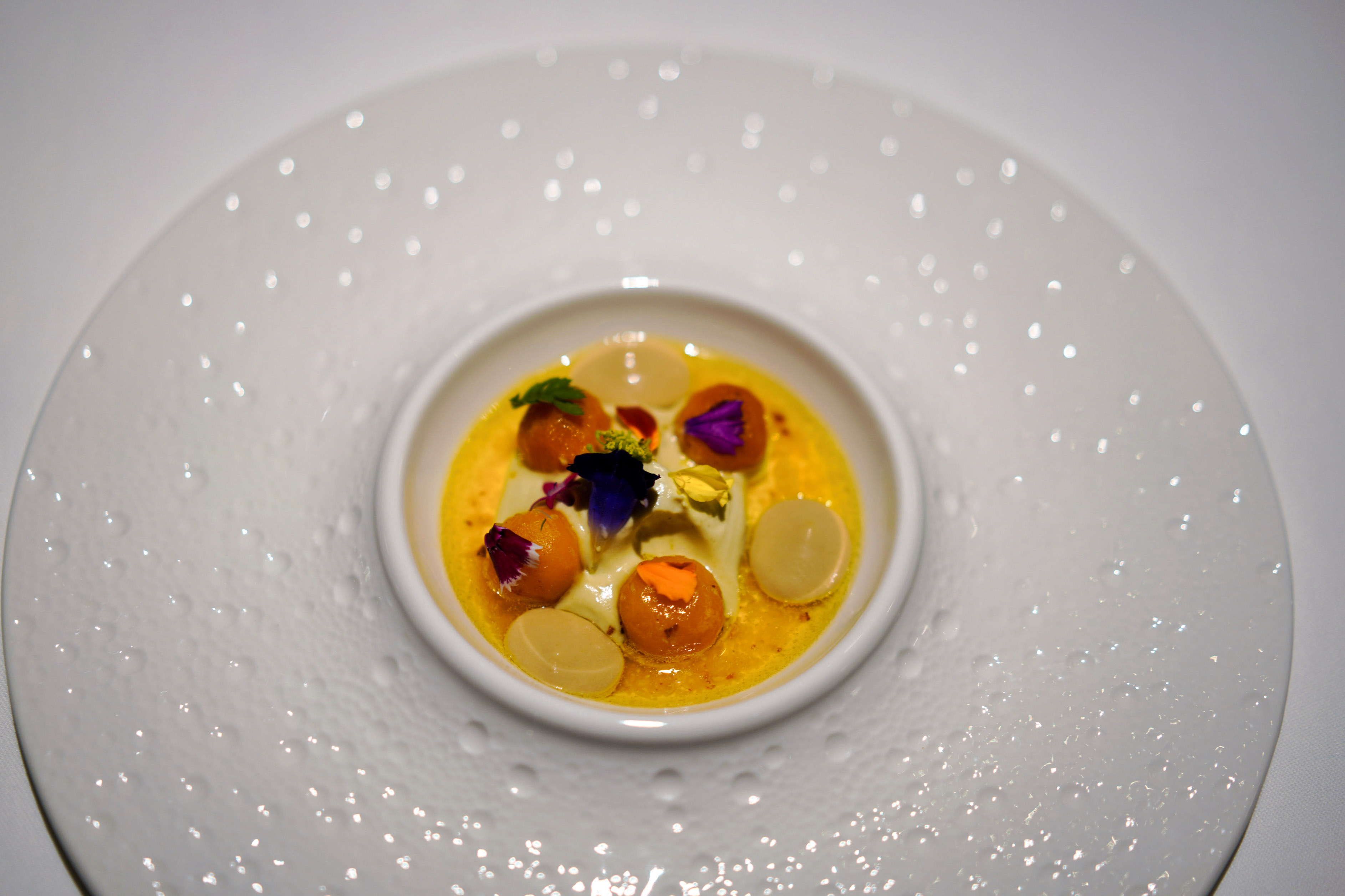 Two varieties of pumpkin soothe us next, highlighting how our culinary forebears learned to balance the nuances of fruits and spices.
Moistly baked Spanish butternut squash comes coupled with its denser and sweeter Asian cousin, smoked Japanese pumpkin, cushioned with a puree of Jerusalem artichoke and Malaysian chestnuts, surrounded by butter, garlic and chillies, buoyed by the vibrant zip of apple and pear.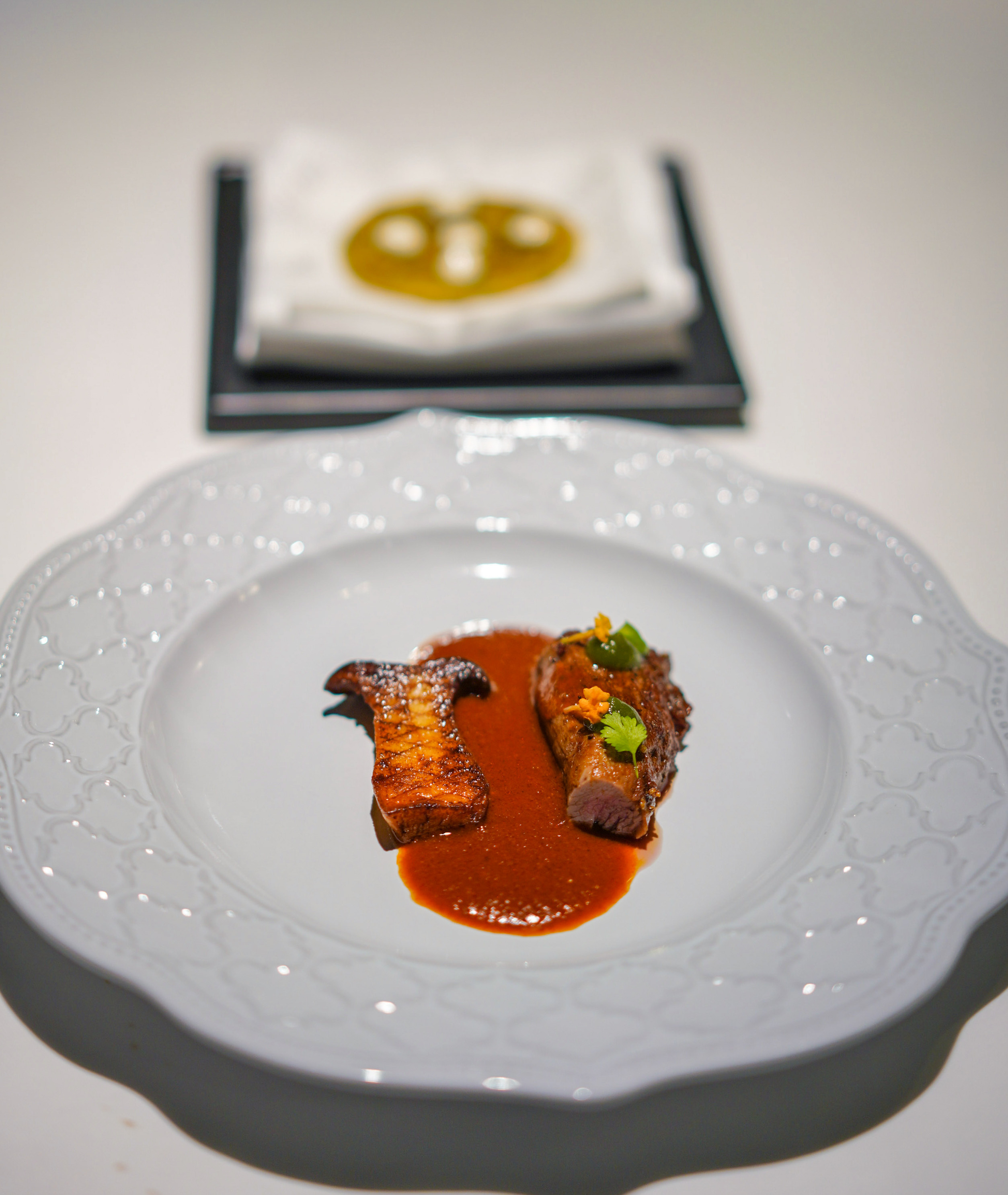 The final savoury course embraces the era of livestock, when cattle enters the landscape and emerges on the plate in the eighth century. FLOUR conveys this through charcoal-grilled organic lamb, lusciously prepared now with no necessity to mask its historical gaminess with heavy spices, dabbed with cucumber mint gel and splashed with a restrained spiced jus, served with king oyster mushroom and Gujarat-inspired thepla flatbread, fenugreek-laced with curd.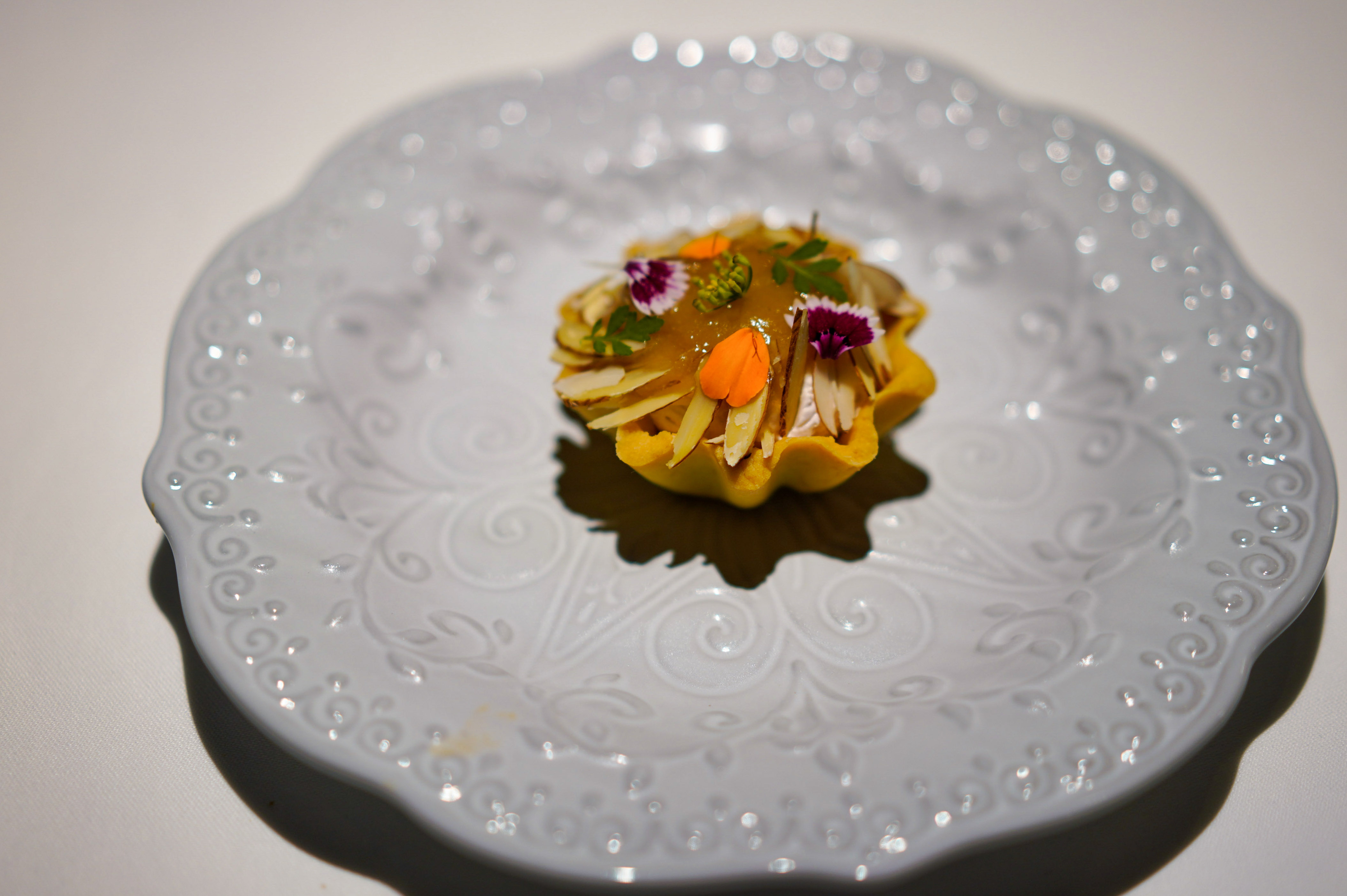 Dessert takes us to 1526, with the First Battle of Panipat that heralded the Mughal Empire. The empire's founder, Babur, was an aficionado of white apricots, considered the mother of apricots with its unparalleled richness, served with a flourish at FLOUR, in an almond tart with finely diced Japanese strawberries and lavender-scented strawberry cream.
Aarrambh: Origins, Part 1 is a perfectly proportioned dinner, satiating our hunger but not stuffing us silly. It will run through the middle of this year, when Part 2 takes over, ushering us into the next three hundred years of culinary changes. 
Don't miss Aarrambh: Origins, Part 1 - it's perhaps the most thoughtful thematic dinner to be discovered in KL right now, a revelatory experience to be relished.
FLOUR
12, Jalan Kamuning, Off Jalan Imbi, Kuala Lumpur.  
Open Wednesday-Monday for dinner. Tel: 012-960-0053
---
You Might also Like